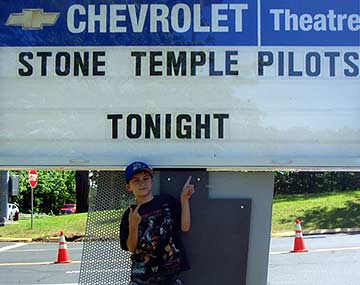 We're Having Much More Fun!
By David Iozzia
X photos by Julie Bee and Steve Campbell
STP photos by Mitch Lafon and Dave Iozzia
Sometime, somewhere, back in the 1970s, my grammar school teacher asked the inevitable September question of "What did you do this summer"? I don't remember my answer, but it probably involved the beaches and boardwalks of the Jersey Shore.

Sometime, somewhere, back in the 1970s, the rock band Chicago posed the musical question "Does Anybody Really Know What Time It Is"? My answer in 2008, with gasoline prices and concert ticket prices at an all-time low (LOL), it's time to hit the road and put a few hundred miles on my Honda Accord. It's time for Dave's On Tour to go on tour and check out a couple of bands and a couple of new concert venues.

There were a bunch of really good New Jersey concerts that I attended this summer. Although I don't count them as road trips, they were really special evenings that I have to give mention. Dancing with my 13-year-old daughter Diana on the lawn of the PNC Art Center was a lot of fun. John Mellencamp and his band were playing "Rockin' in the U.S.A." and "Crumblin' Down" as we danced beneath the moon and stars on a cool and breezy evening. I also spent two nights grooving in the seats and aisles of Red Bank's Count Basie Theatre with my wife Barbara. The musical performances of Blondie and Joe Jackson were incredible. Hanging out backstage after those shows, courtesy of two of my favorite drummers, Dave Haughton from Joe Jackson's band and Clem Burke from Blondie, was so much fun. Thanks guys, you rock!

Because of the price of gas and the cost to pay tolls on East Coast highways, or even to park your car in New York City, any concert outside New Jersey counts as a road trip for me. Picking favorites for this story would be difficult, but two concerts in two nights in two states run on Memorial Day weekend, the unofficial start of summer, have to be my choice.

To be perfectly honest, the first venue on my road trip is not a new venue. Irving Plaza in New York City has a new name, The Fillmore New York at Irving Plaza, and I would watch the show from a new vantage point in this venue. New to me anyway. After standing as close to the stage for many memorable concerts past and present, like Ultravox then and Gary Numan now, for this show I would watch from the safety of the mezzanine. Fearing the claustrophobia I'd get in a sold-out, hot and sweaty club, as well as the physical battering I'd receive standing near the mosh pit, I chose to watch and listen to the legendary Los Angeles punk rock band X from the balcony.

Even the second venue is not new, as I found out long after purchasing tickets from Ticketmaster that included the unexplainable and totally unnecessary convenience fees. The newly named Chevrolet Theatre, two-plus hours from home in Wallingford, Connecticut, was hosting the newly reformed Stone Temple Pilots. Back in the late 90s, I saw Emerson, Lake and Palmer rock the place when it was called the Oakdale Theatre.

My eight-year-old son Michael and I chose the comfort of reserved orchestra seats in faraway Connecticut over the general admission lawn seating (standing in the rain) at the nearby PNC Art Center in Holmdel, New Jersey. We opted for interstate travel to hear "Interstate Love Song" and all of the Stone Temple Pilots classic material on their 2008 reunion tour. After discovering the songs of Scott Weiland and Stone Temple Pilots through his love of Slash in Velvet Revolver and Guns N' Roses, Michael was begging to attend one of STP's shows. How could I say no? It's cool when your children enjoy the music of bands that you and their mother listen to. It's even cooler to enjoy the experience of a live concert with them.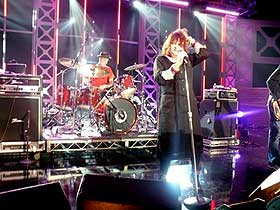 If X was a Hollywood film, it would be "National Treasure." As one of the forefathers of the punk rock movement, X has been rocking since the late 1970s. Touring in 2008 to commemorate their 31st anniversary, X hasn't missed a beat as they continue to make their audience's hearts skip a beat. X blends a rockabilly edge with the vocal harmonies of singer Exene Cervenka and bass guitarist John Doe around the incredible musicianship of lead guitarist Billy Zoom and drummer D.J. Bonebrake. Their setlist in New York City included their well-known cover of The Doors' "Soul Kitchen," and the Otis Blackwell penned "Breathless," which was made famous by Jerry Lee Lewis. Yet it's the band's original songs that are the integral part of X's trademark. Occasionally slow but most often played at a break-neck tempo, X's well-crafted songs are melodic and very poetic. Unlike many of their peers from the 70s and 80s punk rock scene, X is recognized and should be revered for their songwriting, not their sneer, attitude or antics offstage and on. Simply said, a national treasure, and a band that's sadly been overlooked by the Rock and Roll Hall of Fame.

X's sold-out show in May 2008 at Irving Plaza, or whatever it's technically called these days, did not disappoint.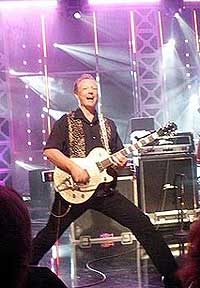 This band's performances never cease to amaze. Before one of their slower tempoed songs, "My Goodness," John Doe joked that maybe the jam-packed audience had at least enough room to sway in place. Yet during hard rockin' songs like "Johny Hit and Run Pauline" or "Los Angeles," the mosh pit erupted. I've been battered and bruised at many of the X concerts I've attended. For this one, I was glad to be up in the mezzanine, far away from the flying elbows and fists in the pit. X played most of their fan favorites and a couple of mine like "Because I Do" and "Sugarlight."

Backstage after the show, and on the telephone a few weeks after as the tour winded down, I spoke with my good friend, X drummer D.J. Bonebrake. Compliments were in order and D.J. acknowledged that "it was really hot inside the club, probably because so many people were packed in. Management was running around trying to fix the air conditioner. The temperature inside made it that much more intense." After 31 years of touring, selling out a New York City venue thousands of miles from their home base of Los Angeles has to provide X with some sense of validation, and D.J. concurred. "No doubt! Any time people come to any show it does. Sellouts are an amazing thing because I go through my whole career expecting the night that no-one shows up. I'm always wondering if this will be the night. Knowing people want to still see your band play makes you want to come back the next time." I asked D.J. if seeing those big crowds becomes the inspiration to keep it going after 30 years. "It certainly does,' said D.J., "but I also get inspired when I see a tour is coming up. What we do as musicians is kind of abstract because we don't work every day. I'm always trying to get gigs as a sideman but you need a sense of purpose as a musician. When I wake up on a day that I'm not playing, I find myself wondering what to do. You can fiddle around or practice but knowing that I'm touring in a few months gives me motivation."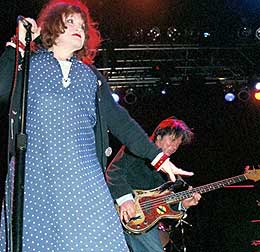 X sold out their New York City show weeks in advance and that had to make for a comfortable drive to Manhattan. Yet I wondered what it was like 31 years ago when X made their New York City debut. D.J. told me that "we had a single out called 'Adult Books' on Dangerhouse Records. We booked a couple shows at C.B.G.B.s and we booked Max's Kansas City for the following weekend. I bought a $300 trailer at the last minute to haul our equipment, and Billy Zoom and I looked at it in the middle of the night. We hitched it to John Doe's station wagon, and the axle broke at the California/Arizona border in the middle of the night. We waited at an all-night coffee shop, and we had the axle welded first thing in the morning. It broke again, and we had to rent a U-Haul trailer. After a three-day drive, in John's leaky station wagon, we all had colds and we all were pretty tired. Then we load into C.B.G.B.s, which had plenty of history because of all the people who played there. But it was a dump like many of the old clubs. I could barely stand up behind my drums, and I wondered why I drove 3,000 miles for this. But that's what you do when you're young. In hindsight, it was a good move. We got our name out there, and we gave New York City a little taste of what the Los Angeles scene was all about. We also saw the New York scene first-hand and met a few of the bands there."

Thankfully, my ride to Connecticut was less eventful than X's first trip to New York City. When I told D.J. about what I had up next, I also asked him what X's future plans are, especially since they are a veteran band co-existing with younger bands in a musical era dominated by MySpace and digital downloading. "X is definitely talking about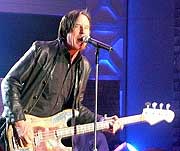 putting live material and possibly new material on our website," according to D.J. "It's something we should do but there's no concrete plans. It's harder for older bands to make that transition. I know on my part, I've been really slow getting into the new technology. Plus, our band sounds better now than ever. We can definitely pull something off."

I couldn't agree with D.J. any more. X can pull off anything they attempt. To D.J., Billy, John, and Exene: thanks for an amazing night in New York City and thanks for 31 years of wonderful muisc. I can't wait for whatever you do next!

---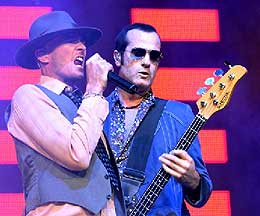 Following the X concert, after a couple hours sleep, after a 150-mile one-way drive, and after throwing a handful of coins into the many toll booths we had to endure, my son Michael and I landed in Wallingford, Connecticut, for the Stone Temple Pilots show. If this band was a Hollywood film, on one hand the Stone Temple Pilots could be "The Greatest Story Ever Told," yet on the other hand they could be "Titanic." Only time will tell. The first person we met at the venue was the drum tech for Stone Temple Pilots drummer Eric Kretz. We didn't catch his name, but he set the tone for an incredible day by giving Michael one of Eric's stage-used and abused drumsticks. Following a quick dinner break at a nearby Friendly's, my son and I bunkered down at the closest spot to the tour buses and backstage door that the venue's security would allow. With the drumstick in one hand and his autograph book in the other, Michael was very motivated to meet up with one of his favorite rock bands when they arrived. Before the first bus rolled in, we met another autograph seeker and Stone Temple Pilots fan. It was the one and only Junior The Farter, who is a member of radio icon Howard Stern's Wack Pack.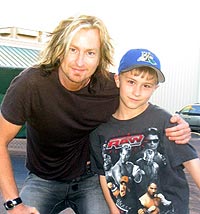 A few minutes after the first bus arrived, Stone Temple Pilots' lead guitarist Dean DeLeo and bass guitarist Robert DeLeo walked over to us, signing autographs and posing for pictures. Michael made quite the impression on Dean and vice versa. Dean stated that he hopes his own son grows up to be cool like Michael, attending concerts with his father. Moments later, drummer Eric Kretz emerged from the bus and walked over to sign his drumstick for Michael and an autographed CD for Michael's cousin Calvin. Eric told us that singer Scott Weiland would arrive on his own bus closer to show time and that's exactly how it happened. As Scott walked off the bus, he declined to walk over and sign any autographs yet he promised to stop by after the show. I must admit that as a somewhat jaded concert-goer, I doubted Scott Weiland's sincerity.

Michael and I jogged from the tour bus parking area to our seats with not a minute to spare. And what a concert it was! Unlike many of the online reviews I've read from the current Stone Temple Pilots tour, this show was magical. Chemistry is more important than chemicals for me. Scott may have taken a five-minute break mid-set and he may have slurred his words a bit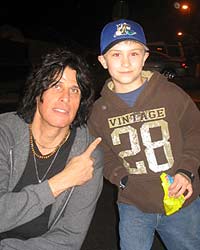 introducing songs. Given his track record with substance abuse, behavior like that will always raise a few eyebrows. Because of Scott's history, most music fans and the media will always speculate, rightfully so, on his sobriety with every mis-step he takes. Given my personal misadventures, I've learned to forgive and support others struggling with their sobriety. Scott's song "The Last Fight," written and performed with his previous band Velvet Revolver, continues to inspire me on a daily basis. Its lyrics: "this fight could be the last fight," and "one time could be the all the time, should we decide to end the misery," are all so true. At the last Velvet Revolver show I attended, Scott dedicated that song to his late brother, Michael Weiland, who had recently lost his final fight with substance abuse.

On this night in Connecticut, the chemistry of the Stone Temple Pilots was undeniable. I thought Velvet Revolver played great versions of STP songs like "Crackerman," "Vasoline," and "Sex Type Thing" until I heard the real band play them. Nobody can play those songs like the Stone Temple Pilots can. Hearing the rest of their classics being performed for the first time, with a lot of heart and a lot of balls, I wondered how many bands have that unique and often elusive ingredient called chemistry. Many bands have had the songs and the chops but lacked cohesion.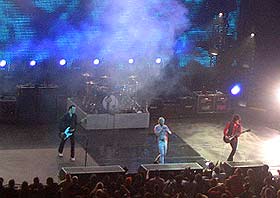 Backed by a video screen and impressive light show, Stone Temple Pilots changed speeds, and moods, with each song. Slower-tempoed songs like "Big Empty," "Creep," and "Interstate Love Song" were spread out, as were their pop-flavored songs like "Sour Girl" and "Lady Picture Show." For my money, the band really hit their stride on the heavier tunes like "Down" and "Wicked Garden."

Any band with the energy and chemistry of Stone Temple Pilots, together with such an impressive song catalog, would be media darlings destined for superstardom. Yet this band may never overcome the demons from their past and the skeletons in their closets. They certainly haved burned a few bridges behind them. The late great singer of Quiet Riot, Kevin Dubrow, once told me that on any given night, any given band can be the best band in the world. On that night during Memorial Day weekend, far from home in central Connecticut, Stone Temple Pilots grabbed the title of World's Greatest Band. Another band somewhere in the world took away their title the following evening. My only hope is that the new album they plan to record, and their subsequent tour to support it, presents Stone Temple Pilots with another chance to sit at the throne. Their Connecticut performance proved to me, and hopefully to them, that the Stone Temple Pilots can still deliver the goods and that they, on any given night, are still a major force to be reckoned with.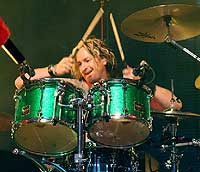 After snagging autographs from the three Stone Temple Pilots not named Scott Weiland before the concert, my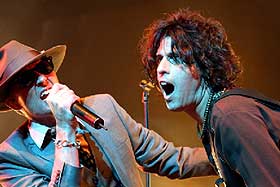 son Michael was a man on a mission following the show. Immediately following the band's encore, "Trippin' On a Hole in a Paper Heart," we ran to the fence near Scott's tour bus. I tried to prepare my son for the disappointment if Scott Weiland refused to sign autographs. With his wave of the hand and half-hearted promise before the show, I was expecting the worse. After chatting again with Dean DeLeo, Scott and a contigent of security guards started walking towards his bus. I gave it my best shot, yelling to Scott that he promised to sign an autograph for my son prior to the show. It grabbed his attention and he walked our way. Was I ever wrong. Security lined up the dozen or so autograph seekers in single file, with my son Michael being singled-out as first in line. Scott was very gracious and he asked my son about the show. Michael told him that he loved the show and that he loves Stone Temple Pilots. Scott asked my son what his name was to personalize the autograph, and the name Michael stopped Scott dead in his tracks. He turned ashen and his hands shook when Scott told my son that he shared the name Michael with Scott's late brother. He phrased the autograph, To Michael, Be good and strong.

Scott Weiland might not remember my child, but I hope he remembers his own children and the children orphaned by his brother's drug overdose, whenever the demon calls or temptation sets in. Keep rockin' Scott, be good and strong, and thanks to you and your band for an evening Michael and I will never forget.