It's late February in 2017 and it's unseasonably warm on the Jersey Shore. The snow has all melted, and the flowers have been fooled by Mother Nature. I have seen her tricks before, and another snowstorm is a certainty. Yet on this day, it is 70 degrees and sunny. I have cabin fever, and I'm steppin' out. I'm heading to Asbury Park. If I walk on the beach, I will take off my socks and shoes and wade in the chilly Atlantic Ocean. But I'll come home full of sand and my wife won't like that. I could walk the boardwalk, but hardly anything is open. Madame Marie, the fortune teller made famous in a Springsteen song, is closed. I couldn't foresee that. Having her look into my future was not in the cards. Everybody's favorite street magician, the Dork of Deception, has disappeared. If I had a pocket full of quarters, I could play vintage pinball machines at the Silverball Museum. What to do?
Live music it is! Asbury Park has great music venues to choose from: the historic Stone Pony, The Saint, the Wonder Bar, and a new kid on the block called the House of Independents. I saw great shows at each of these venues in 2016. My choice on this February evening, a great selection if I do say so myself, was seeing Nashville's The Steppin' Stones at the Wonder Bar.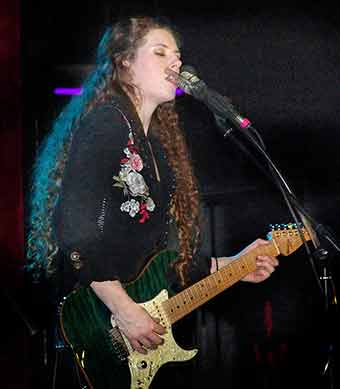 I first heard The Steppin' Stones, a rockin' power trio, at B.B. King's Blues Club in New York City in 2016. They were opening the show for The Outlaws, a southern rocker band I've crossed paths with on the rock and roll highway many times. I knew I had to see a headlining set by The Steppin' Stones, and what a set it was. The band is led by lead guitarist/lead vocalist Hannah Wicklund. She was joined on stage by a rhythm section that's been with her only six weeks, bass guitarist Tyler Chase and drummer Nicholas Amend.
The Steppin' Stones were everything I expected and more as first-time headliners in Asbury Park. They rocked the joint with songs like "Time To Kill" and "Versus the Villain" from their 2014 album "Looking Glass." Their latest record is 2015's self-titled album. Two of my favorite cuts, "False and Hollow" and "Givin' Into You," were played. The band blazed through an awesome cover of the Crosby, Stills, Nash, and Young hit "Ohio." The Steppin' Stones ended their set with "Mama Said," a song that features Hannah on the talk box.
I talked with Hannah a bit after their set and a few days later by telephone. I complimented her on two new songs the band played: "Dark Passenger" and "Rattle and Ride." Hannah stated that "I'm starting to write for a new record we hope to record over the summer." I asked her the band's plans for the summer of 2017, and she told me that "we'll be playing in the North again this summer. We're be back at the Rock, Ribs, and Ridges Festival in Augusta, New Jersey, on June 24th. We played there in 2016 and that was our first big northeastern show. We're also playing at the Firefly music festival in Delaware." Hannah added that, "We're touring Europe for the first time in October. We're real excited for that."
The Steppin' Stones didn't have time to do any sightseeing in Asbury Park, but I gave her a brief history lesson on the town's music venues. I saw so many great shows in Asbury Park in 2016. Howard Jones brought his synth-pop to the House of Independents. King's X rocked The Stone Pony. Def Leppard's Phil Collen brought his side project Delta Deep to the Wonder Bar. The Security Project, a tribute to the early solo music of Peter Gabriel, played an incredible show at The Saint. This band features ex-King Crimson stick guitarist Trey Gunn and ex-Peter Gabriel drummer Jerry Marotta.
I asked Hannah her thoughts on playing in a historic music town like Asbury Park. She replied that, "It's great to play in Asbury Park for the first time. When we got to the Wonder Bar, the sound guy told us that's he's mixed Bruce Springsteen playing on the same stage we were standing on! The Wonder Bar reminded me of the Exit Inn in Nashville where everybody from Bob Dylan to Neil Young to Tom Petty have played. You feel extra special and that you have to do a better job when you're playing historic venues."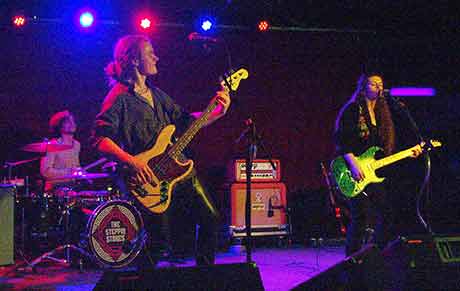 The 2017 music season is off to a slow start in the northeast, despite warmer than normal temperatures. Yet The Steppin' Stones braved the weather and started the ball rolling for 2017 with their Asbury Park performance. Say on the lookout for bigger and better things from this band. The Steppin' Stones rock!