The Sons of Apollo are a new and incredible rock/progressive metal supergroup. Period. I was thrilled to attend one of their first live performances when they rocked Asbury Park's House of Independents on February 15, 2018.
But first, a short history lesson. Apollo is the son of Zeus, and he's the Roman and Greek god of both poetry and music. Apollo was a bad ass, mythologically speaking. He killed Python, a serpent living in the center of the earth, when Apollo was four days old! During the Trojan War, he guided the arrow shot by Paris into the heel of Achilles.
Apollo's "Sons" formed a bad ass rock band in 2017, and they are not riding Apollo's coattails. Jeff Scott Soto is the lead vocalist, and he's sung with Trans-Siberian Orchestra, Yngwie Malmsteen, and many others. Lead guitarist Bumblefoot had a stint with Guns N' Roses, and I saw him tour with Art of Anarchy in 2017. Drummer Mike Portnoy and keyboardist Derek Sherinian are Dream Theatre alumni, and they've played in many other bands. Same for bass guitarist Billy Sheehan. He's played with Mike Portnoy most recently in the Winery Dogs. Not enough space on this page to chart out the rock family trees of the Sons of Apollo!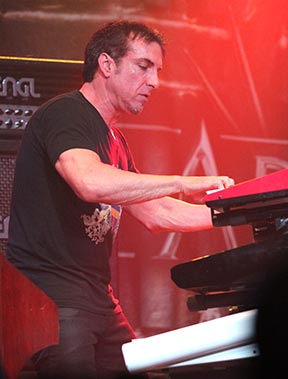 The band's debut album, "Psychotic Symphony," was released in October 2017. They played on two rock cruises before playing headlining shows in February. I love this record and couldn't wait to hear the songs played live. The Sons of Apollo setlist for the Asbury Park show featured all nine songs from the record plus a handful of surprises. At least for me they were surprises, because I don't read the setlists from previous shows via the internet.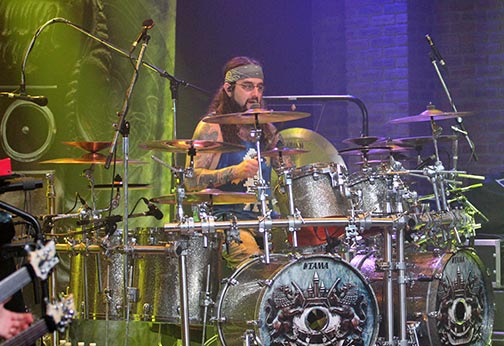 Providing direct support for the Sons of Apollo was a progressive metal band from Los Angeles called Sifting. Horns up to these guys. They rocked the stage in Asbury Park gaining more and more applause after each of their songs. I ran to the merch booth after their set to buy their latest CD, "Not From Here," and to chat with the band. I had a lengthy talk with drummer Joey Aguirre, who was glad to sign a drumstick for my collection. Knowing it was Sifting's first trip to the east coast and that they were "not from here," I asked Joey to talk about the tour. "It was very special, everyone received us with such a warm welcome in every city." I laughed when Joey added "even though it was so cold." I didn't have the heart to tell the guys that this February had relatively mild weather! I would guess the band's first east coast tour, never mind opening for Sons of Apollo, could be very intimidating. Joey replied that "sharing the stage with Mike Portnoy and everyone in Sons of Apollo is something I never thought that I would accomplish at my 21 years of age. It was truly a learning experience for me and the rest of the guys in Sifting. We loved every second of it. The long drives, the cold, sleeping in the van, it was all worth it."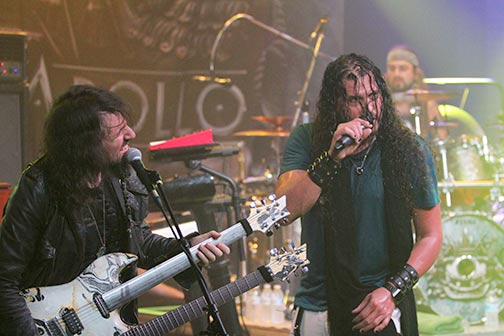 The Sons of Apollo paid homage to Van Halen by taking the stage to a taped intro of the instrumental "Intruder." They would later encore with "And the Cradle Will Rock." Vocalist Jeff Scott Soto coaxed a couple hundred fans in attendance to scream out on cue, "Have you seen Junior's grades?" I wouldn't have expected anything less! Other surprises in the set were two Dream Theatre covers from their "Falling into Infinity" record: "Just Let Me Breathe" and "Lines in the Sand." Jeff Scott Soto would pay tribute to Freddie Mercury and Queen with a mash-up of "The Prophet's Song" and "Save Me."
Bumblefoot added an instrumental version of the Pink Panther theme. Derek and Billy added keyboard and bass guitar solos, respectively. And Mike Portnoy's energetic drumming and athletic drumstick spinning, flipping, tossing, and catching captivated me. As always!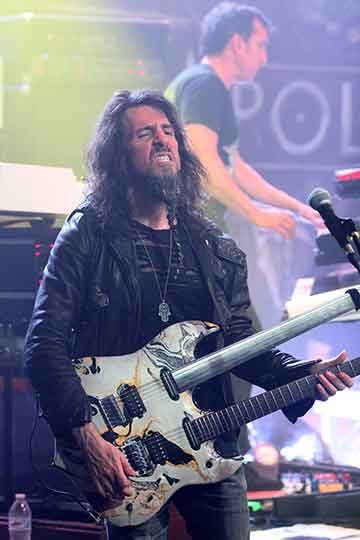 Yet the highlights of the show for me were songs from the new record. The band's 11-plus-minute epic "God of the Sun" opened the show. That song, and their instrumental "Opus Maximus," which was played near the set's ending, were my personal favorites.
The "Sons" seemed to really enjoy playing together. They are a serious band that didn't take themselves too seriously. They had fun and I had fun watching them. I'll look forward to an increased level of chemistry once the guys have a couple dozen shows under their belt. In print, they've called the Sons of Apollo a full-time band and not a musical project. That is music to my ears!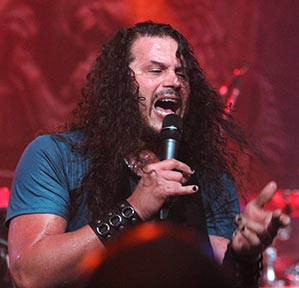 I spoke with Bumblefoot a few days after the show. He quoted a song from "Psychotic Symphony" and said it was a "coming home for real. It was great to play my home state. The crowd was fantastic."
This quote, "The fight of our lives are signs of the time," comes from the chorus to their song "Signs of the Times." The music industry of the 21st century doesn't provide bands like this with radio airplay and huge record sales. Sons of Apollo will have to pound the round and win over new fans in the cities they play. All five band members were very gracious with their time chatting with the fans and signing autographs for those that waited an hour after the show. I can't wait for another show in 2018 and possibly new music. My wish was quickly granted as a full North American tour has just been booked for April and May 2018! The Sons of Apollo will have to be fighters to keep the machine rolling. Given Apollo's efforts slaying serpents and fighting in the Trojan War, I know his "Sons" are ready for the fight!