Sober since January 2005 and happily married since 1982, the only vices I have left in my life are coffee and live rock concerts. A "tribute" band reinterpreting the music of early Peter Gabriel called The Security Project was playing in Asbury Park, N.J., on November 1, 2016. As expected, I showed no self-control. I grabbed the largest cup of coffee Wawa would sell and jumped on the Garden State Parkway.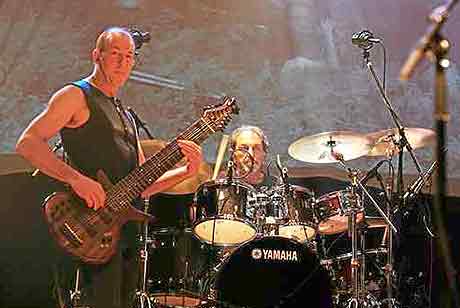 The Security Project has been touring for a couple of years. The show in Asbury Park was my first time seeing the band, but hopefully not the last. They put on an incredible performance. My jaw was agape all night, returning to normal only when I was screaming out applause and requests for more music. Knowing something about some of the musicians, I walked into the venue with expectations. They were exceeded in the opening minutes.
Drumming for The Security Project was Jerry Marotta, who I had the pleasure of watching many times in Peter Gabriel's touring band in the late 70s and early 80s. Joining Jerry in the rhythm section was none other than Trey Gunn who played Warr touch guitar and percussion. Trey played with King Crimson between 1994 and 2003. I saw Trey perform with King Crimson a few times, including the memorable "double trio" format. Michael Cozzi played lead guitar and percussion. All three added backing vocals throughout the set. David Jameson played keyboards. Happy Rhodes sang lead vocals.
Peter Gabriel played shows at the historic Capitol Theatre in Passaic, New Jersey, in 1977, 1978, and 1982. The audience last night reminded Jerry that they also played in Asbury Park's Convention Hall in 1980. I attended all of those shows so I have a lengthy history with the solo music of Peter Gabriel. To loosely borrow from the great American poet Robert Frost: Two roads on the rock and roll highway diverged in a wood, and I— I took the one less traveled by, and that has made all the difference. I, as a rock music fan, could not travel both the roads of Peter Gabriel solo, and the rock band Genesis without Peter. I'll stand by my choice.
The only time I saw Genesis live was on their "And Then There Were Three" tour at Madison Square Garden in New York City on July 28, 1978. Watching Phil Collins' first attempt to front a rock band, I was not impressed. Watching Peter solo both a year before and again a few months later, I was trapped forever in Gabriel's fishing net. Commercially speaking, rock history would say I made the wrong choice. Genesis sold out arena tours worldwide throughout the 80s and 90s. Top selling albums and Top 40 singles were released one after the other. But this rock music fanatic is picking "I Have the Touch" over "Invisible Touch" every time!
The Security Project opened their Asbury Park show with "Lay Your Hands on Me" followed by my favorite Gabriel song, "Intruder." "Family Snapshot" was up next, followed by an incredible take on "No Self Control." I was wondering what the floor toms in front and at the edges of the stage would be used on. Trey Gunn and Michael Cozzi pounded the floor toms adding extra percussion to the song. The band showed a reverence to the original versions, while reinterpreting, rearranging, and adding musical elements that blew this Peter Gabriel enthusiast away. Vocalist Happy Rhodes sang a great version of "Humdrum" next. Her vocal range is remarkable. It seemed like each song was sung in a different voice, in a different range, by a different personality. Wow! Michael Cozzi told me after the show that "Happy's range definitely allows for some very interesting approaches to Gabriel's melodies."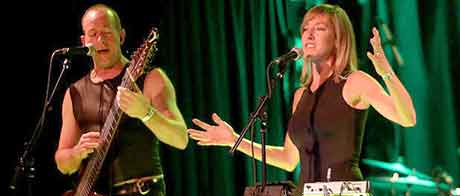 Trey Gunn stood out with the soundscapes he wove with his Warr touch guitar on "The Family and the Fishing Net." Jerry Marotta stood up after the song and thanked the sparse yet avid crowd. He invited everybody up to his home in Woodstock and joked that we could all come at once. Somebody yelled out that they'd be bringing the potato salad. I'll bring dessert. Thanks Jerry.
I moved with the movement woven by Michael Cozzi on "I Have the Touch." That's another favorite of mine. It was followed by "Family Snapshot." My highlight of the evening was next. Trey and Michael unstrapped their guitars, grabbed drumsticks, and manned the floor toms. "Rhythm of the Heat," with all the added percussion, brought chills to my body. The hairs on my neck stood up at the song's haunting conclusion when Happy Rhodes screamed out that "the rhythm has my soul."
A cover of Kate Bush's "Mother Stands for Comfort" and a Happy Rhodes song called "Collective Heart" were the only "non-Gabriel" songs performed. "Collective Heart" is from Happy's 1994 record Building the Colossus that Jerry Marotta drums on. But then again, what record hasn't Jerry Marotta drummed on? The Security Project quickly changed tempos and direction for "I Don't Remember" and "Red Rain." Jerry commented to the audience that a pop song like "Red Rain" was actually more difficult for The Security Project to interpret playing live than the Peter Gabriel "epic songs."
A mystical version of "San Jacinto" and a magical version of "Lead a Normal Life" followed "Red Rain." I kept thinking that the band would try a song from the Peter Gabriel-era of Genesis. I guessed right with "Fly on a Windshield" That song was followed by an excellent electric piano intro by David Jameson into "The Lamb Lies Down on Broadway." Happy Rhodes stood out again on this song. She added a bit of aggression and attitude to her vocals befitting the defiant character Rael from the Genesis concept album The Lamb Lies Down on Broadway.
As the crowd cheered for "one more song," I was hoping for another half dozen classics. I respect the challenge of creating and sequencing a setlist when an artist like Peter Gabriel has such a deep catalog. I hoped for "Biko," yet I was thrilled when they encored with a great version of "Games Without Frontiers." The set was sequenced perfectly. I would have hoped for another song or two from Peter Gabriel's first two solo records, perhaps "Moribund the Burgermeister" or "On the Air." The Security Project does mix up the setlist nightly, and I saw on the Internet that they've played my noted omissions at other shows.
A two-man band called boaR, which is a side project of the New Jersey band Daughter Vision, opened the show. With electronics, violin, and some unique instruments that I've never seen before, boaR performed spellbinding instrumental music. I spoke with drummer Steve Honoshowsky after his set and The Security Project's set. Steve offered that "Peter Gabriel's music is a perfect setting for Trey Gunn to be expressive while serving." Steve was also impressed, as was I, with how clean and clear the performance and overall sound was.
After the incredible performance of The Security Project, the band hung around to meet and greet their fans. Jerry Marotta and I talked a bit about my collection of more than 2,200 autographed drumsticks. Michael Cozzi and I watched a few minute of The World Series. Who would've thought a Welshman would like American baseball more than British football? The band graciously signed everything presented to them. They've released two CDs, Live 1 in May 2016 and Live 2 in October 2016. Live 1 was recorded on the band's European tour in 2015. Live 2 was recorded both in Europe and the northeast U.S. These terrific recordings are available at shows and at www.securityprojectband.com. Check out a show, or some videos on the Internet. You won't be disappointed.
This night in Asbury Park was magical. I walked in and I found a venue half full. The band was approaching the end of their northeastern U.S. tour. It reminded me of when I saw ex-Bauhaus vocalist Peter Murphy touring to support his "Dust" record. The crowd was small, and to the disappointment of that crowd, he would play no Bauhaus songs. Despite constant requests from the audience. Peter did play some solo songs like "All Night Long" and "Cuts You Up." The majority of his set though was his diverse new record. He could've mailed it in, played for 90 minutes, and headed to the airport. That tour was ending in Old Bridge's Birch Hill following New York City and Philadelphia performances. Instead, they played an intense two and a half hours that I'll never forget.
I mentioned to Trey that I so respected The Security Project and how they delivered such a strong performance to a small crowd near the end of their tour. Trey grinned and said that The Security Project "doesn't know how to play any other way." It is bands like this that make every mile I travel down the rock and roll highway worthwhile. Keep rockin'.