Religiously speaking, fallen angels are cast down from heaven to either earth or the depths of hell. Musically speaking, lead guitarist Punky Meadows from the 70s rock band ANGEL is back! He has a brand new solo record called "Fallen Angel." Punky was cast down from somewhere heavenly. Like the Times Square Ball on New Year's Eve, Punky and his rockin' band landed in Times Square, on Manhattan's 42nd Street. They played an awesome record release show at B.B. King's Blues Club on June 14, 2016.
ANGEL played a few magical shows in the late 70s in New York City at The Palladium. A heavy metal band you may have heard of, Judas Priest, opened one of those shows. I still have the t-shirt, but it doesn't fit. Many attending the recent show still fit in their t-shirts, or found a way to order a bigger size. ANGEL has played sporadically with different lineups over the years, yet Punky has been off the musical grid for 35 years. Punky didn't disappoint the house jam packed with music fans and rock and rollers. He didn't let down the ANGEL fans in attendance. Punky played five ANGEL songs, but most of the setlist was songs off "Fallen Angel."
Punky and his band opened their setlist with one of my favorites off the new record, "The Price You Pay." Then they powered right into the ANGEL classic "Feelin' Right." Punky's incredible live band was essentially the same band from ""Fallen Angel." Chandler Mogel was the perfect choice for lead vocalist. He's young, energetic, and has a lot of range. He delivered the goods, and he knew when to take a step back. Chandler paid homage to the ANGEL songs by just singing the parts. He gave Punky the space to shine on the classics. Chandler also fronts the Greek rock band Outloud.
Keyboard player Charlie Calv sounded great where I stood, which was front of the stage between him and Punky. I've seen Charlie before with Bronx Casket Company. He has a new project called Radio Exile. I'm really enjoying the self-titled debut record chock full of classic rock. Chandler Mogel is the vocalist on that record also. You can hear more about Radio Exile at a recent interview I did with Charlie.
Danny Farrow played rhythm and acoustic guitars. He's been called the driving force behind "Fallen Angel." He co-wrote and co-produced the new record. Danny like me, hails from Old Bridge, New Jersey. Yes, as in the Old Bridge Metal Militia. Danny also plays in the band Lords of Mercy. Before the show, Danny told me that "ANGEL and KISS were my all-time favorite bands, and Punky Meadows was always my favorite rock star. I felt that Punky had so much more to offer, and I knew how much he meant to his fans. It was great that Punky wanted to do the new album."
Punky's drummer was another "Jersey guy," Bob Pantella. He's a powerhouse that I've seen a few times with the Matt O'Ree Band and also with Cycle of Pain. Bob also drums in Monster Magnet.
On the "Fallen Angel" record, Bob is joined in the rhythm section by ANGEL's Felix Robinson. Something medical prevented Felix from playing the entire show at B.B. King's. He stepped in mid-set and played on ANGEL's "Don't Leave Me Lonely" and "Loaded Gun" from the new record. Filling in on bass was none other than Randy Gregg.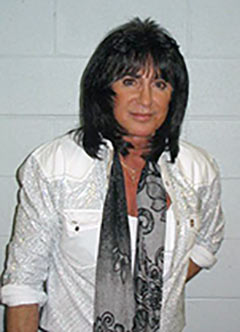 It seems like Randy and I cross paths every couple of months on the rock and roll highway. He played in two different ANGEL lineups. The last version, which I saw in 2002, included originals Frank Dimino singing and Barry Brandt drumming. Lillian Axe's Steve Blaze played lead guitar. Keyboardist Michael Ross rounded out the lineup with Randy on bass. The Lauren Harris Band, Thin Lizzy, and Almost Queen are some of the bands I've seen Randy playing in.
Backing vocalists at the B.B. King's show were Jessie Wagner and Amy Anderson. Jessie sings on the Radio Exile record as well as singing at live shows with Lenny Kravitz and Duran Duran.
Not to forget the lead guitarist, Mr. Meadows. I'm so glad that Punky's back. Thirty something years away was way too long. I'm hoping he's here to stay. Punky looked great and sounded great. Once Punky shakes off a bit of rust that can only be expected, he's going to be a force to be reckoned with. Again!
I don't know what's next but a few Punky Meadows shows on the east coast are rumored for late summer and early fall. Punky joined his ANGEL bandmates in Las Vegas this past May. Frank Dimino, Barry Brandt, Gregg Guiffria, Felix Robinson, and Punky were together for the first time since 1980. At the 2016 Vegas Rocks! Hair Metal Awards, ANGEL received the Glam Rock Legends Award in honor of their contributions and influence in music. My fingers are crossed for a possible reunion. Yet Punky and his band closing a set with ANGEL's "Can You Feel It" and the new cut "Shake Shake," and then encoring with a blazing version of "The Tower" has been one of my live musical highlights of the summer.
B.B. King's, as always, is the perfect place for me to attend a New York City show. It's convenient to mass transit. I love its acoustics and sightlines. The front of the stage is sometimes seated tables but not at Punky's show. It allowed us diehards to stand right in front. The media contacts at the club were very gracious in granting me press and photo access for the show.
After the show, I headed backstage to do what I do: talk music. Mingling about, I saw MTV VJ Jesse Camp and musician/radio personality Keith Roth. I noticed New Jersey guitarist Jack Frost and New York drummer Tony Mann. I chatted a bit with ex-New York Dolls guitarist Steve Conte about his summer plans with ex-Hanoi Rocks vocalist Michael Monroe.
Randy Gregg was a spectator when ANGEL received the Glam Rock Legends Award in Las Vegas. He said one of the best parts was after the show, watching "Gregg Guiffria sitting at a piano and fiddling for an hour." Randy not only played with ANGEL but was a big fan. I teased him that I beat him by a few years and luckily saw the band live a few times. Randy added that "Punky was a big deal for me growing up. This show completes things for me."
Chandler Mogel has sang on so many musical projects. I asked him where "Fallen Angel" ranks. He told me "it's one of the best so far. The band is great." When I complimented Charlie Calv on his keyboard intro to "The Tower," he said "Playing it is incredible. Gregg Guiffria was my favorite musician in ANGEL." Don't let the boss read that quote Charlie; we've all heard about Punky's whips.
When I saw Danny Farrow after the show, I told him it was a heck of a night with one helluva band. He chuckled and added, "This has been an incredible experience and there is much more to come."
I couldn't get to either Punky or Felix to ask what's to be expected next for ANGEL fans. In hindsight, it's too soon and it's unfair to ask that question. Right now, it's about the "Fallen Angel" record and any shows they play to support it. The main thing is that Punky's back. I hope he sticks around for a bit. I hope that Punky sticks like glue.