I need psychotherapy, driving 3 1/2 hours each way to "bang my head" with Quiet Riot. Attending two concerts the two nights prior adds to my insanity. I had to "feed my head" with the psychedelic music of Jefferson Airplane/Starship at the Jefferson Family Galactic Reunion on a Saturday night, and get my head pounded by Skid Row the night before.

Skid Row guitarist Dave "Snake" Sabo was raised in Sayreville, the home of New Jersey's premier rock club, Starland Ballroom. This hometown engagement for Snake rocked, and his homeboys from New Jersey were smoking! Joining Snake onstage were original members Scotti Hill and Rachel Bolan, new drummer Dave Gara, and not-so-new singer Johnny Solinger.

Skid Row took the stage as The Ramones' punk anthem "Blitzkrieg Bop" played in the background. Their blistering set included my two favorites, "Monkey Business" and "Slave to the Grind," and their cover of The Ramones' "Psychotherapy." Skid Row rounded out the set with their classics "Youth Gone Wild," "18 and Life," "I Remember You," and a few cuts from their latest CD, "Thickskin."

Skid Row sounded tight and crisp, and their onstage chemistry was a perfect mix. The dueling guitars of Scotti and Snake were complimented by the hard-driving rhythm section of Rachel and Dave. Their lead singer, Johnny Solinger, replaced Sebastian Bach six years ago. Johnny has a great voice and a cool stage presence, yet he isn't afraid to step back now and then and let the music do the talking. These guys can still rock and it was great to hear those tunes again, being played live by the musicians that wrote those classics.

Hanging out backstage with these guys until the wee hours of the morning was a blast! Snake thanked me for the chocolate chip cookies my daughter Diana baked for his band as we chatted about her guitar pick collection. Dave Gara had all his bandmates autograph a drum head for my son, Wild Mick. Scotti Hill "autographed" a guitar pick I caught by biting it. He talked to me about the upcoming CD, which he said has half the songs written. Scotti talked backstage, as Johnny did onstage, about Skid Row's upcoming trip to South Korea with Quiet Riot to play for the U.S troops at various Army bases in that country.

As I departed the venue, Rachel Bolan and I chatted about a recent car race he drove in against AC-DC singer Brian Johnson in Indianapolis. We also lamented the slow start of our beloved New York Yankees, but we were both confident that they'd turn it around soon. GO YANKS!!

After a few hours sleep, I was right back at Starland Ballroom chatting with Jefferson Starship's drummer Prairie Prince at his band's soundcheck. I was a big fan of another group Prairie drummed for, The Tubes. I asked him about the drummer's perspective comparing the theatrical rock performance of The Tubes to the straight ahead musical performance of Jefferson Starship. He replied, "In vaudeville, the drummer always gave a little accent to dance routines and the main act. But I don't do that, I just play the songs and enjoy the music as much as I can. I tried not to get distracted by all the theatrics going on around me during Tubes' concerts. On some nights there were 50 dancing girls shaking their asses. In Jefferson Starship, I have two women in front of me singing and shaking their asses. One of them is my wife! It's not supposed to be theatrical, and I'm enjoying it."

Later that night, Jefferson Starship treated the fans in attendance to three decades worth of hit songs. They played classic 1960's Jefferson Airplane material, including "White Rabbit" and "Somebody To Love." They also played 1970's Jefferson Starship tunes originally sang by Grace Slick, "Fast Buck Freddie," "Ride The Tiger" and "Count On Me" to name a few. Even the 1980's song "Jane," originally sang by Mickey Thomas, made the setlist. The lineup for the reunion was led by Paul Kantner on guitar, Prairie Prince drumming, and two female vocalists, Darby Gould and Diana Mangano. The band was rounded out by Slick Aguilar on lead guitar and Chris Smith on keyboards. Ex-Grateful Dead pianist Tom Constanten and Quicksilver Messenger Service vocalist David Freiberg played on a few songs.

Original Jefferson Airplane member Marty Balin was surprisingly missing. He was back in California, tending to a family emergency, according to tour manager Michael Gaiman. After the show, Michael commented that when a starting member of the team is missing, his teammates have to play at a higher level. This team turned up their playing a notch or two and treated the audience to a fine performance. Their versatility, playing the psychedelic 1960's material one moment, and shifting to the straight-ahead rock of the 1970's impressed me the most. They shuffled the deck after each song and pulled out aces all night long.

The only disappointment in song selection was when Aguilar, Smith and Prince did an instrumental jam mid-way through the set. This jam included covers of George Harrison's "While My Guitar Gently Weeps" and Eric Clapton's "Layla." Technically, they nailed the nuances of those songs. My issue was that they had 40 years of Jefferson Airplane/Starship material to choose from. I would have preferred a jam version of a few of those tunes, instead of covering someone else's hit songs.

After the show, Paul Kantner chuckled when I congratulated him on the first 40 years and asked what he had in store for his fans the next 40 years. Driving home afterwards, I thought about a quote I once read from Paul. He said, "We were very much a creature of our times." He was talking about the Jefferson Airplane of the 1960's, and his songwriting during that time period addressed the Vietnam War, free love, peaceful demonstrations, and psychedelic drugs. I wonder how his songwriting would have differed in today's era of nuclear war, international terrorism, designer drugs and AIDS. Maybe Paul's newer songs do touch upon these topics, but I'm only familiar with his material from the 1960's and 1970's.

Unlike my high school and college reunions which I skipped, the Jefferson Family Galactic Reunion is one event I'm glad I attended.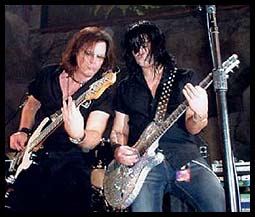 Starland Ballroom is near my home, so I was able to get a good night's sleep, especially since the following night's concert by Quiet Riot was over three hours away in Towson, Maryland. My cousin Rocco and I drove that afternoon to Maryland's premier concert venue, Towson's Recher Theatre. It's an old movie theatre that had all the seats removed, creating a big open floor space. It's spacious, yet comfortable, with good sightlines and nice acoustics. I can't wait to attend another concert there.

The venue's stage manager Buddy Hilseberg and his staff welcomed us upon our arrival, and treated us nicely throughout the day and night. Quiet Riot pulled up in their van minutes after us, following two shows the night before at a Connecticut casino. I teased singer Kevin Dubrow about driving the van, and we laughed when he told us Quiet Riot manager/drummer Frankie Banali never drives. We shared a bigger laugh when he and guitarist Alex Grossi told the tale of Alex crashing a car while taking his driver's test. He may have passed the audition to play lead guitar for Quiet Riot, but he obviously failed his driver's test.

Sitting around backstage after the soundcheck with my friend, Quiet Riot bass guitarist Chuck Wright and his bandmates, we talked music for hours. Kevin re-introduced Rocco and I to Frankie Banali as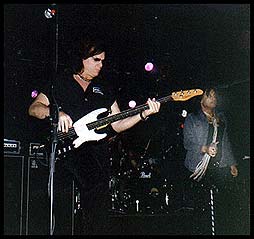 "music encyclopedias." I asked Kevin about the recent tour of Canada, South America and Spain. He told me that "everything is great, Canada is always a unique place to play, and they have a different perspective on things. The whole tour is going great and I couldn't be happier."

This summer, Quiet Riot tours the United States on the Rock Never Stops package tour, joining Cinderella, Ratt and Firehouse. When I asked Kevin what Quiet Riot and music fans should expect on that tour he replied, "We're gonna try to blow everybody off the stage. That's what we do every night. Even if we're playing alone, we try to blow the invisible band off the stage. I don't mean that as a bad thing toward the other bands, it's just my competitive nature. I want to do a show that's gonna try to smoke everybody. Whether we succeed or not is irrelevant. I go on with the attitude that I'm gonna blow everybody off the stage, do the most high-energy show we can do, and try to be better myself and ourselves than we were in the 80's. Any rock and roll band, on any given night, can be the greatest rock and roll band in the world. Whether they have the best guitar chops or not, there are certain ingredients that come into it, and sometimes any band can be the greatest rock and roll band in the world on a given night."

I don't know if Quiet Riot was the best rock and roll band in the world later that night, but they certainly were the best damn rock and roll band in Maryland. Quiet Riot and its new 2005 lineup put on a high-energy show playing, as Kevin called it, "old-school rock and roll." Their hard-rockin' set included all the classic Quiet Riot material, as well as a few cuts from Dubrow's great solo album including "Red Light Mamma Red Hot" and an old favorite of mine, SWEET's "Burn On The Flame."

The Quiet Riot 2005 lineup includes original members Kevin Dubrow (vocals) and Frankie Banali (drums). The bass guitarist is Chuck Wright, who is back in the fold having had a few stints in various Quiet Riot lineups over the band's career. The newcomer is lead guitarist Alex Grossi (Bango Tango, Beautiful Creatures), who played fine but seemed a bit "tentative" at times. He's only played a handful of shows with this band and I'm sure he'll start "flexing his muscle" as the Rock Never Stops tour heats up this summer. Alex really hit his mark during "Thunderbird," Quiet Riot's tribute to their former guitarist, the late Randy Rhoads.

Kevin Dubrow continues to be an energetic and entertaining frontman, and his voice sounds great. Knowing that he was influenced by the late Steve Marriott, it was way cool hearing strains of the Humble Pie classic "I Don't Need No Doctor" mixed into another Quiet Riot song.

Chuck "Sick Boy" Wright showed veteran poise taking over on an impromptu jam on bass guitar as Frankie Banali was scrambling and struggling to fix his snare drum which had broken mid-song. Despite a few technical problems and the new lineup's growing pains, Quiet Riot smoked just as Kevin had promised. I'm glad I made the trek to Maryland to see their headlining set. I'll look forward to their somewhat abbreviated set on this summer's Rock Never Stops tour, as well as a recently announced headlining show at New Jersey's premier rock club, the Starland Ballroom.

Backstage after the show, I chatted with Frankie Banali about Quiet Riot's upcoming tour to South Korea to play for our troops at various Army bases. I've heard so many bands knocking President Bush and talking politics at shows. It's refreshing to hear bands who are letting the music do the talking, and taking their bands on the road to play for U.S. troops stationed overseas. Frankie told me that "playing for the military is nothing new for Quiet Riot, we've done shows like this as far back as 1984. Quiet Riot has played in Guam, and twice before in Korea. Our position is that we are not political, and we are not politically motivated. Individually, we have personal opinions but they are just that, opinions. However, those are our men and women over there, risking their lives or having a life of tedium. We think we should go in there and entertain them and we're proud of that. It has nothing to do with politics, it has everything to do about treating people right." Frankie also mentioned that Skid Row and Quiet Riot have the same agent and that it's a co-headlining bill. They will flip-flop with Skid Row and headline on alternating nights.

As I got ready for the long ride home, I asked Frankie about what was next for Quiet Riot after the Rock Never Stops tour is completed. He replied, "In September or October we plan on going into the studio to record new and original Quiet Riot material for release in early 2006. This version of the band recording live material for a future DVD is also a possibility."

The drive back to New Jersey sucked as we sat still approaching the bridge from Delaware to New Jersey, losing one hour to late night construction. It gave me time to think about the three awesome musical performances I had seen the last three nights from Skid Row, Jefferson Starship and Quiet Riot. I quickly realized that I did not need psychotherapy, I just needed a few hours of sleep before I start my next rock and roll adventure.