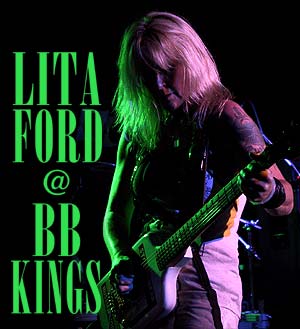 Kiss Me Deadly
by Dave Iozzia / Photos by Phil Laskowski
Kiss Me Deadly, a Lita Ford tribute band, performed on July 7, 2008, at B.B. King's in New York City. NOT!

The anonymous "very special guest" who was scheduled to perform with guitarist Tom Cavanagh, bass guitarist Teddy Cook, keyboardist Michael T. Ross, and drummer Stet Howland in Kiss Me Deadly was none other than Lita Ford herself. The "Queen of Metal" and ex-Runaways guitarist, due to a national security issue, or perhaps a contractual issue, wasn't allowed to use her name for the New York City performance. The concert at B.B. King's, which is the perfect place to attend a show, served as a warm-up gig for Lita's grand return to the rock and roll stage at this year's Rocklahoma Festival.

There were a few special guests in attendance in New York City. Twisted Sister frontman Dee Snider did the introduction, later joining Lita and her band onstage as they rolled through the Sammy Hagar song "There's Only One Way to Rock." Drummer extraordinaire Carmine Appice was in the crowd, and he joined the band for a smoking version of Jimi Hendrix's "Fire." Among the music celebrities spotted backstage after the show were bass guitarist Jon Paris, guitarist Vick LeCar and Guns N' Roses guitarist Ron Thal, a.k.a. Bumblefoot, who talked with Dave's On Tour.com at length about the upcoming release of "Chinese Democracy." NOT!

Lita Ford looked and sounded great. Don't miss out if you get the chance to see her perform later this year. Until then, check out Phil Laskowski's photos of Lita and her band, as well as the opening act, Psychic Drive. And keep rockin'.
Outside BB Kings, in NYC.

Lita's Setlist.

Dee Snider joins Lita onstage!

---


Opening band: Psychic Drive...
---
Return to www.davesontour.com