Believe it or not, my buddy Phil Laskowski and I were NOT the first in line when we arrived at Mexicali Live in Teaneck, New Jersey, on March 24, 2017. We travelled there to attend a concert by the hard rockin' band Last in Line. There were a couple dozen people already lined up at 5 p.m. for the V.I.P. package being sold, which included access to the soundcheck, followed by a meet and greet.
Last in Line is an American heavy metal supergroup that was formed in 2012 following the death of Ronnie James Dio. The band included three members from the original DIO lineup: guitarist Vivian Campbell, bass guitarist Jimmy Bain, and drummer Vinny Appice. Keyboard player Claude Schell from a subsequent DIO lineup and ex-Lynch Mob vocalist Andrew Freeman rounded out the band. Last in Line started performing publicly in 2013, playing songs from the first three DIO records. Many of those songs were co-written with Ronnie James Dio by Campbell, Appice, and Bain.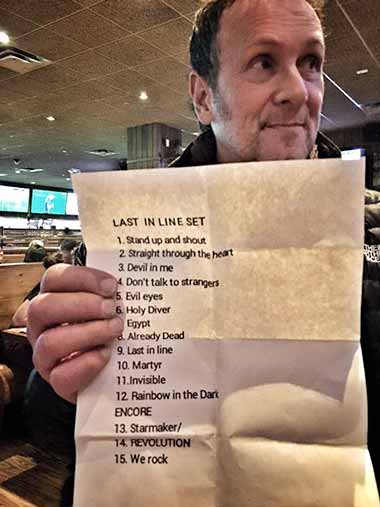 In 2014, attempting to retrace their steps with the original DIO lineup as a four-piece band, Last in Line started recording new original material. Produced by another DIO alum, bass guitarist Jeff Pilson, Last in Line's debut record, "Heavy Crown," was released in 2016. A few weeks before the record's release, bass guitarist Jimmy Bain died while in his cabin on Def Leppard's "Hysteria on the High Seas" cruise. Last In Line was due to perform on the cruise the following day.
Last in Line added ex-Ozzy Osbourne bass guitarist Phil Soussan and keyboardist Erik Norlander to complete its current touring lineup. Last in Line tore the roof off Mexicali Live, with a blistering set that was really tight. They played really heavy to the delight of the metalheads and headbangers that packed the venue. Last in Line keeps the DIO legacy alive playing a set of both DIO classics and fresh new material. A recent photo of Vivian Campbell on Facebook gave music fans a preview of the set. My favorites included the DIO classic "Rainbow in the Dark," and their obligatory "We Rock," which closed the evening's festivities. I love Last in Line's choice to include two outstanding originals in their three-song encore. They played "I Am Revolution" and "Starmaker," which they dedicated to the late, great Jimmy Bain.
I've had the pleasure of seeing Vivian Campbell play in New Jersey with Def Leppard at the PNC Bank Arts Center the last two summers. I had also seen him in a Thin Lizzy lineup that played at Starland Ballroom. It was awesome seeing him in a small venue, playing a black Gibson Les Paul with just a wah pedal. I was able to hold my spot at the edge of the stage right in front of Vivian all night. B.B. King's Blues Club in New York City hosted the last two concerts I saw with Vinny Appice drumming. One was a reformation of the original Derringer band. The other was a metal covers band called Neon Knights. Both featured short drum solos. I was hoping for an epic drum solo with Last in Line, but social media spoiled that for me. I had read that it wasn't going to happen. But catching a broken drumstick Vinny tossed into the crowd made up for it. I've enjoyed watching Erik Norlander on keyboards for Asia Featuring John Payne. I've never seen Andrew Freeman or Phil Soussan perform live. Both were very impressive.
Before the show, when the V.I.P. thing ended, my buddy Phil grabbed some autographs and we chatted with the guys in the band. Old school! Waiting for hours outside the venue instead of buying our way in! We missed the opening band, Lunatic Fringe, when we grabbed a pizza. We returned to see a band I really love, New York City's TempT. They rocked the place for 45 minutes, playing nine of their originals plus a pleasant surprise. You have to love a band that writes a song about their favorite New York City strip club! These up and comers dedicated a version of "Johnny B. Goode" to rock legend Chuck Berry, who died earlier this month. Don't miss TempT if you're given the chance. Brooklyn's Gothic Knights powered through a 30- minute set just before Last in Line hit the stage.
After the show, Phil and I hung out for more autographs. I wanted Vinny Appice to autograph the broken drumstick I caught, and he did. I walked around and the crowd lingering was a who's who of New Jersey musicians. Keith Roth, singer/guitarist of Frankenstein 3000, hosted the event. He's an on-air personality at Sirius XM radio. I talked a bit with his drummer Peter Perrina. Speaking of drummers, John Hummel of the Matt O'Ree Band was also at the show. I'm a huge fan of the 70s band ANGEL. Their guitarist Punky Meadows released a great new record in 2016, and I attended the record release party. He's touring in 2017, and I chatted with his awesome lead singer, Chandler Mogel. Keith Roth is playing bass on that tour by the way. Speaking of 70s rock, remember Starz? I saw them countless times in concert and have all their vinyl. Their guitarist Richie Ranno was at the show, as was guitarist Jack Frost from the Frost Metal Coalition.
If you're hungry for some pure rock, Last in Line is the band to see. If you are last in line to get tickets, you're probably going to miss their sold-out shows. Keep rockin' and stay metal!