The rock and roll highway has yet to lead me to Kansas, the Sunflower State. But this Garden State rocker is glad the band is still touring and scheduling tour stops in New Jersey. I had the privilege of speaking with the band's drummer, Phil Ehart, on Friday July 21, 2017, and attending a Kansas show at Red Bank, N.J.'s Count Basie Theatre on July 24. What a rockin' time it was!

I've been a fan of the progressive rock band Kansas since day one, which goes back to the release of its self-titled debut album in 1974. When I heard the guitars, keyboards, and violin on "Can I Tell You," I was hooked. When Bad Company made its mid-70's debut in New York City's Madison Square Garden, I got there early enough to watch Kansas open, and steal, the show. A short time later, I watched Kansas headline Passaic, N.J.'s Capitol Theatre, and Rush opened the show!

Kansas is touring in 2017 with two different shows. One type of show is "The Leftoverture 40th Anniversary," which celebrates the 1976 release of the band's fourth studio album, the classic "Leftoverture." The show I was attending in Red Bank, according to Phil, was not scheduled as a "Leftoverture" show. It was to be "a standard Kansas, straight ahead rock show. The band gets out there, just throws down and goes after it. There is no holding back!"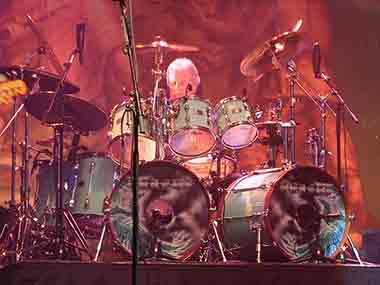 Kansas rocked out, just as Phil Ehart promised, with a brilliant 16-song setlist. Cuts from the first seven studio records were featured, and I've seen similar sets in the past. What I was anticipating most was seeing the band with a seven-piece format that included three relatively new members. I had seen the original six-piece a few times in the 70s, and a five-piece and an altered six-piece in the 2000s. I rarely take notes during a performance, yet I found myself scribbling "B-3" and "twin guitars" in my concert program.

Knowing I'd be seeing my first Kansas lineup as a seven-piece, Phil and I talked about the band's recent lineup changes a few days prior to the Red Bank performance. "When Steve Walsh retired in 2014, guitarist Rich Williams and I had to decide what to do. It took us about two seconds. Kansas has great music and the people still come out to see us. We chose to continue." I'm so glad they did!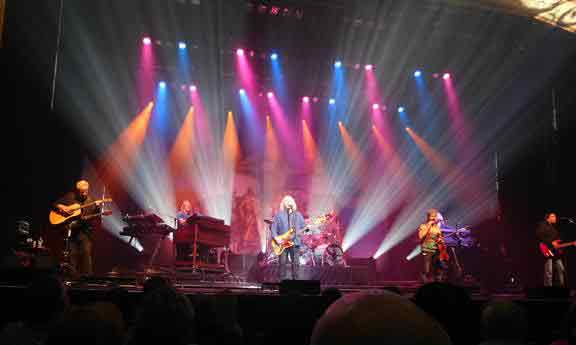 Kansas opened the set with "Belexes" from their debut album followed by their Top 40 hit from 1977 "Point of Know Return." Ronnie Platt, the band's new lead vocalist and keyboard player, nails it. Dave Manion is a new keyboard player, and he brought a great big Hammond B-3 organ with him. Both Ronnie and Dave joined the band in 2014. "The B-3 organ was a large part of our sound in the original band," Phil stated. "Over the decades, it fell off to the wayside. Once Kansas added Dave Manion, "we instantly started to resemble the original band more than ever before." New Jersey guitarist Zak Rizvi made Kansas a seven-piece when he joined in 2016.

Steve Walsh was the original lead vocalist and keyboard player for Kansas. He was very outspoken for 15 years about not wanting the band to do new material, according to Phil. "Once he retired in 2014, the doors opened and the handcuffs were off." When the band started talking about new material, which would be recorded for their 2016 release, "The Prelude Implicit," Zak Rivzi "showed up with all these great Kansas songs he had written." The band did play "Rhythm in the Spirit" from that new record at the Red Bank show.

But the twin guitars were something I had to chat with Phil about. As the original drummer, he's had a pretty good seat watching all of the different lineups. Phil told me that "Zak's a great guitar player. When Kerry Livgren left Kansas 30 years ago, the two guitar sound kind of went out the door." Rich Williams is the band's original and current lead guitarist. "Rich is the guitar guy and he'll always be the lead guitarist," said Phil, "and Zak has integrated himself into the music. He doesn't just play the chords. Zak has taken on some keyboard and violin parts and he plays them on guitar. He's been very intelligent to work himself into the sound. Those parts he's playing are his alone. Zak's also playing a lot of the harmonies that haven't been being played."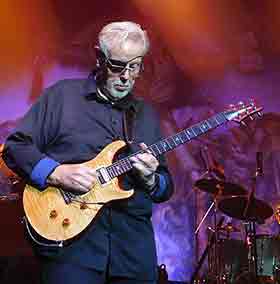 The twin guitars really stood out on the encore, "Carry on Wayward Son," and the mega-hit "Dust in the Wind," which was played middle of the set. The alternating leads between Rich and Zak during the encore were terrific. "Dust in the Wind" was perfect, and so reminiscent of the original version. Phil mentioned that it "was recorded with a high-strung guitar. Zak plays that sound like it was played on the record and that Kansas probably never had that sound live until now."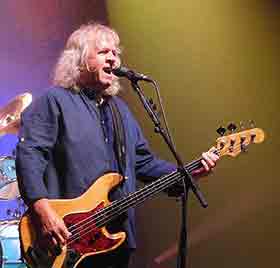 The musicianship of this seven-piece band is only half the formula. Bass guitarist Billy Greer and violinist David Ragsdale are so adept on their chosen instruments. David evens adds a third guitar part on a handful of songs. The stage has such balance, with Phil Ehart pounding his double bass drum kit between the two keyboard players. All three are on risers, sitting and standing a few feet above the stage. Up front, Rich and Zak are at opposite ends of the stage, with Billy and "Rags" in your face and up front. Ronnie roams the stage, singing many of the lead vocals up front and away from his bank of keyboards. Another highlight for me is the backing vocals and harmonies sang by Greer, Ragsdale, Manion and Rivzi. The 2017 band can pull things off vocally that no previous lineup could.

I had plenty of questions for Phil about the "Leftoverture 40th Anniversary" shows being played later in 2017. "They are an exposé of Kansas from the beginning to now. We have 44 years out there so there is a lot to cover." I asked Phil why all of the tour dates are not "Leftoverture" shows. Phil replied that "because they are two and a half hours and because of the extra production and extra crew we bring, it only works if the shows are interconnected for a few months."

When I hear two and a half hours, I think of surprises and deep cuts. Phil said that "a very cool five-song acoustic set opens the show." The non-"Leftoverture" part of the show includes songs that "Kansas hasn't played since the mid-70s." The band will also feature songs from their 2016 release, "The Prelude Implicit."
The "Leftoverture" record is then played start to finish, in its original running order. That record has "Carry on Wayward Son" starting the record. That song is usually the band's encore so I asked Phil about the sequencing back in 1976. "We didn't know at the time that "Carry on Wayward Son" would be a hit. We just thought that with its acapella vocals beginning, that it would be a good song to open the record." Phil also added that "the song 'Questions of My Childhood' was never played live due to its vocal harmonies that our original lineup could not pull off with just Steve and Robby. Now we have a lot more vocalists in the band."

I also asked Phil what the biggest surprise was as the band revisited "Leftoverture." Phil answered that "every other song was played live at some time through the years. We had a confidence level and the new guys have done a great job." On the other hand, 'Questions of My Childhood' was a buried tune on the album. It's a rockin' song, but we had to keep on working on all of the vocals and harmonies. The guys nailed it and it's been received well when we play it."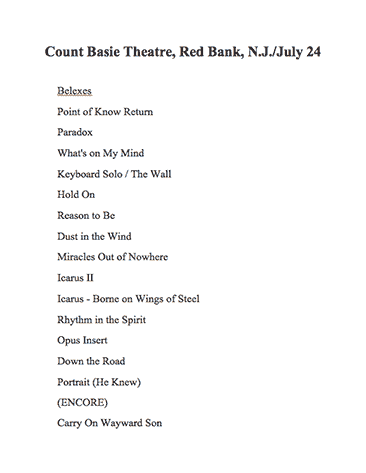 I asked Phil if the "Leftoverture" tour would be a coming-home party similar to Foreigner's 40th Anniversary tour, where band alumni have joined the current band onstage. Phil answered that "the invitations are always out to them to drop by and play or sing on a song. It's up to them if we're playing close enough."

A whole new generation of fans has discovered Kansas through games like Guitar Hero II, Rock Band 2, and TV shows like "Supernatural." But for the Wheatheads and longtime Kansas fans liked me, I closed our chat with a simple what's next? Phil said that Kansas "is very pleased with how 'Leftoverture' comes across being played live. We will look forward to hopefully doing 'Point of Know Return' in its entirety in 2018."

Carry on all my wayward sons and even you fortunate sons. And keep rockin'.