Carry On Wayward Sons

By David Iozzia | Photos by Peter Eliopolous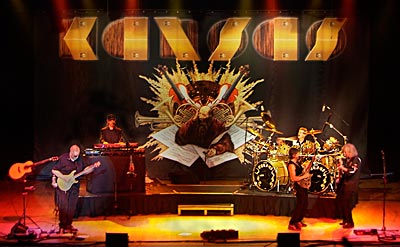 The classic rock band Kansas visited Collingswood, New Jersey, on March 18, 2011, to play their second show in six months at the Scottish Rite Auditorium. Sort of.

Back on October 30, 2010, my friend Pete and I were minutes away from starting our 60 minute-plus drive from central New Jersey to the venue in Camden County. Luckily for us, Kansas drummer Phil Ehart e-mailed me with news that the band's keyboardist and lead vocalist, Steve Walsh, was too sick to perform. This time, we drove to Collingswood looking forward to Kansas' rescheduled performance. Many of the fans I chatted with before the show made the drive last October, only to be told at the door that the band had to reschedule due to Steve's illness.

Kansas hit the stage running for an incredible 90-minute set. There was no opening band, so if you weren't in your seat at 8 p.m., you probably missed a song or two. You also would have missed bass guitarist Billy Greer teasing Steve about his illness a few months back. Steve took it all in stride and joked with the audience, stating that Kansas would play twice as long. As the crowd roared with its approval, Steve said that he meant to say the band would play twice as loud. Realizing that we were part of Steve's joke, the audience laughed along with the band. If there is a time and a place for Kansas to play a three-hour set, this night in Collingswood was not it. Kansas often plays live with an orchestra, as documented on their awesome DVD "There's No Place Like Home." Nights like that are closer to three hours than 90 minutes. That DVD is a must-see, and I had the pleasure of interviewing Kansas guitarist Rich Williams about it in 2010.

A few songs into their Collingswood set, Billy Greer mentioned the 35th anniversary of the Kansas album "Leftoverture." The band featured this album, playing most of the record in the set, while surrounding those songs with other Kansas hits and fan favorites. Kansas played every song with the precision, polish, and confidence of a band that's been thrilling concert audiences worldwide for almost 40 years. The night in Collingswood was filled with highlights, but I'll choose as my favorite their two-song encore. Kansas dedicated "Fight Fire with Fire" to the men and women serving in the U.S. military. The band closed the show with its classic rock mega-hit "Carry On Wayward Son."

As a lifelong fan of Kansas since first hearing the song "Can I Tell You" from their self-titled debut album in 1974, I'm glad that the band continues to tour in North America. The current lineup includes three original members: singer-keyboardist Steve Walsh, guitarist Rich Williams, and drummer Phil Ehart. They are joined onstage by bass guitarist Billy Greer and violinist David Ragsdale. The next time Kansas rolls into a venue near you to rock your town, grab a ticket. You won't be disappointed.