It's March 13, 2018, and time for another rock and roll road trip. After New Jersey's mildest February on record, my state has been bombarded with March blizzards and Nor'easters. No better time to drive through the heart of northwest New Jersey and head to the mountains of Wilkes-Barre, Pennsylvania, for some British heavy metal and hard rock. Ignoring the 10 inches of snow that dropped March 2 and another two feet that dropped March 6, it was time for "running wild" with Judas Priest.
But it was also time for driving mild. My friend and photographer, Phil Laskowski, had the driving wheel. He was concerned with possibly icy roads, Pennsylvania state troopers and their speed traps, as well as driving hazards like deer and bear. Given my beliefs in UFOs, alien abductions, and cryptids like Bigfoot, yetis, and the New Jersey devil, our two-hour drive each way was slow and steady. LOL.
The Mohegan Sun Arena in Wilkes-Barre was a new concert venue for me. I've seen Judas Priest and Saxon a few times, yet the Black Star Riders are a British hard rock band that I've never seen live. No better reason for a rock and roll road trip. The Mohegan Sun Arena fits about 10,000 for concerts and all the metal music fanatics were out in full force. I spoke with a few others that made the road trip to see the opening night of Judas Priest's 2018 North American tour. What a show it was!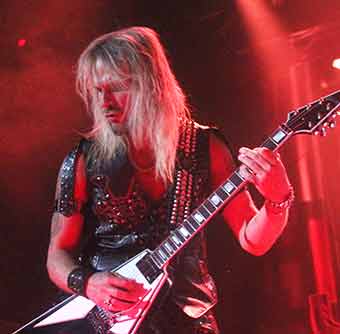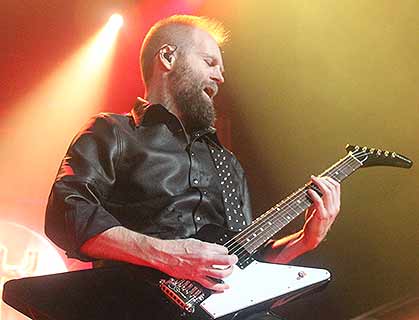 Judas Priest for me was the band that defined British heavy metal. They were lurking for a while in the shadows of Black Sabbath and Deep Purple, but broke away in the late 70's with a metal style defined by the operatic vocals of Rob Halford and the twin lead guitar attack of K.K. Downing and Glenn Tipton. Some critics have said that Judas Priest is also defined by a revolving door of personnel, but I tend to differ.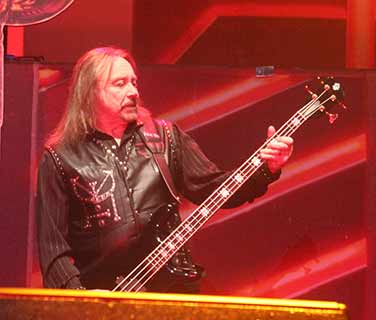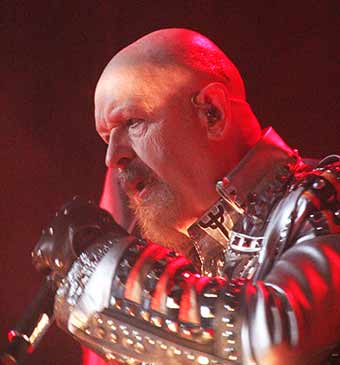 Ian Hill is an original member of the band, handling bass guitar since 1969. Guitarist K.K. Downing joined Ian in that original lineup, but he retired in 2011. K.K. was replaced by current lead guitarist Richie Faulkner. Vocalist Rob Halford joined Judas Priest in 1973 and stayed until the band's hiatus in 1992. Rob was replaced briefly by Tim "Ripper" Owens, and he returned to the fold in 2003. Guitarist Glenn Tipton joined Judas Priest in 1974. He was diagnosed with Parkinson's disease in 2008, and he revealed that publicly in February 2018. Glenn is still a studio member of the band, but he was replaced for the 2018 Firepower tour by guitarist Andy Sneap. No stranger to the band, Andy produced "Firepower," as well as many records by metal bands like Accept, Testament, and Arch Enemy. Former Racer X drummer Scott Travis is the eighth drummer in Judas Priest history, yet he's been pounding the skins for the band since 1989.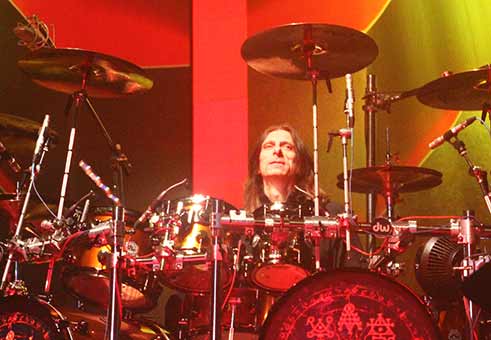 The "elephant in the room" as Judas Priest starts their 2018 tour is that the twin guitar attack of K.K. Downing and Glenn Tipton is no longer part of the band's formula. True. Yet I've been watching this band since they opened a show for Angel at New York City's Palladium in 1978. No guitar duo can replicate the chemistry between K.K and Glenn, but Richie Faulkner and Andy Sneap do a great job handling guitar duties for Judas Priest. Comparison is inevitable, yet I watched and listened with an open mind. I was very impressed with their part of the band's formula. Add in a pounding rhythm section and Rob Halford's legendary vocals; today's version of Judas Priest is a version that no other heavy metal bands can touch. Period.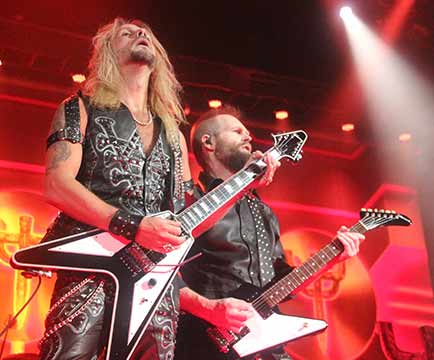 The band's sound and the production effects on the opening night of Judas Priest's 2018 tour were incredible. But what stole the show was the band's setlist. Any veteran band with legacy material, a new studio record, and 18 studio albums must face the challenge of what to play in a headlining set. "Firepower" is an excellent record, and the title track and two other songs, "Lightning Strike" and "Evil Never Dies," made their onstage debut. "Firepower" opened the show and should be part of Judas Priest's live set for years to come. Three other surprises were the playing of "Saints in Hell" from the 1978 record "Stained Class." That song has never been played live by the band until now. "Bloodstone," from the band's 1982 release "Screaming for Vengeance," has not been played live since 1990. "Running Wild" was played live in the 2000's, yet Rob Halford has not sang vocals on that song since 1980.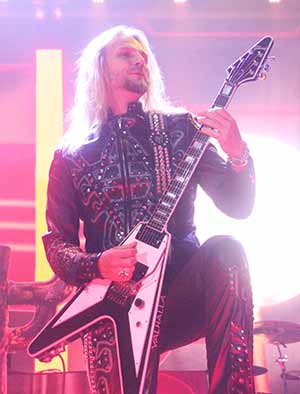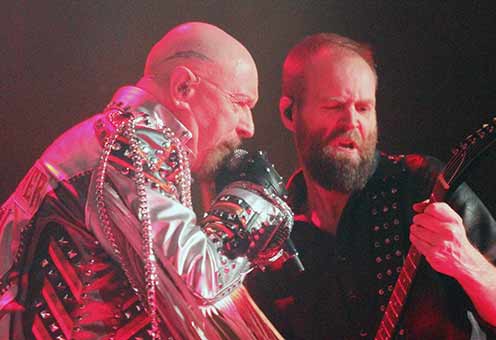 The setlist omitted songs from the band's four previous studio records from the 2000's. The Judas Priest setlist included a handful of songs that haven't been played live in a few years like "The Ripper," "Sinner," and "Angel." "The Ripper" was my favorite part of the show. Rob delivered an incredible version of the song as the video scream showed crime scene photos and London newspaper headlines of the Whitechapel murders perpetrated by Jack the Ripper.
Rob Halford introduced one song as being "three words of infamy," the heavy metal anthem "Breaking the Law." As hoped for, Rob drove the motorcycle onstage at the start of "Hell Bent for Leather." Excellent versions of "Painkiller" and "Electric Eye" quickly followed. As the band played "Metal Gods," I briefly thought of K.K and Glenn who were missing, but Rob reminded everybody that he is still today's greatest metal frontman. Rob Halford is the true "metal god" and Judas Priest is the world's greatest metal band.
During their encore, I knew the audience had another song coming as the band played a rockin' version of "You've Got Another Thing Coming." The band ended the show shortly after 11:15 p.m. with "Living After Midnight." It was then apparent that Phil and I would be "rockin' until the dawn" on our long ride back to New Jersey.
Saxon's all-too-short seven-song set preceded Judas Priest. I've always considered Saxon to be one of the leaders of the New Wave of British Heavy Metal. The band formed in England in 1977 and are still recording and touring. The Saxon lineup of 2018 includes original vocalist Biff Byford and original guitarist Paul Quinn. Bass guitarist Nibbs Carter came aboard in 1988 and second guitarist Doug Scarratt joined in 1996. Saxon's current drummer, Nigel Glockler, has had three stints with the band starting in 1981.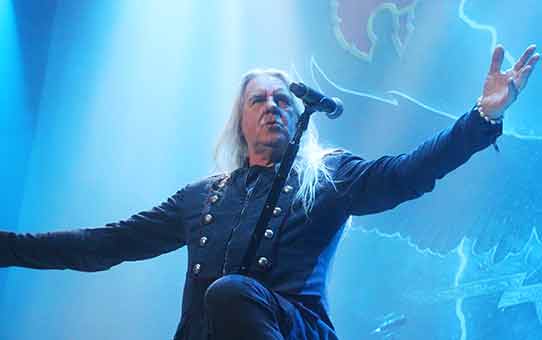 I've seen Saxon before, most recently in March 2017 when they supported U.F.O. I've told my buddy Phil on many an occasion that we need to see a headlining set from this band! Saxon is touring in 2018 to support their 2018 release "Thunderbolt," a record coincidentally produced by Judas Priest's Andy Sneap.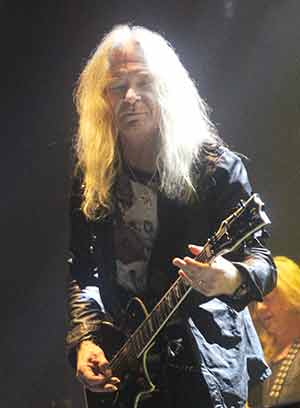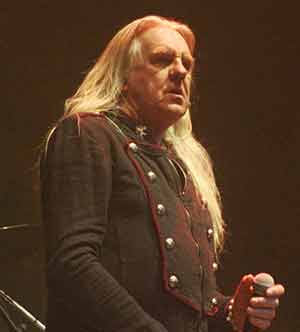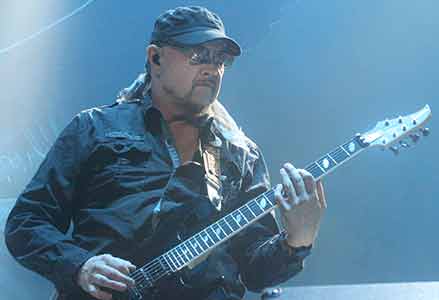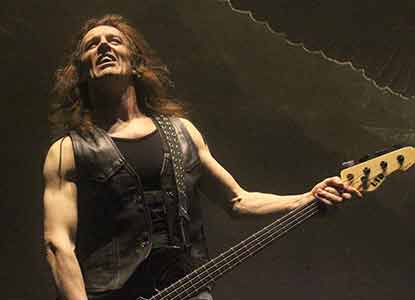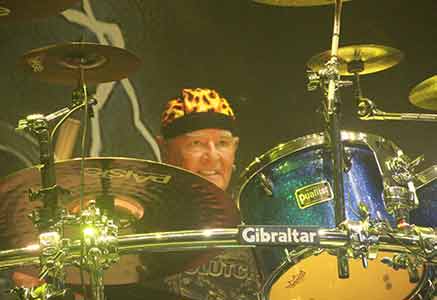 I loved Saxon's ballsy decision to play four new songs in their seven-song set. They included the self-titled tracks "Denim and Leather" from their 1981 release and "Power and the Glory" from their 1983 release. But "Motorcycle Man" from the 1980 album "Wheels of Steel" is my favorite Saxon song. It's always great to hear that played live with the opening "motorcycle" riffs. The highlight of their set for me was a song from Saxon's new record titled "They Played Rock and Roll." They dedicated that song to Lemmy Kilmister, Motorhead's legendary bass guitarist and vocalist, who passed away in December of 2015. This song is a true homage, as it's stylistically similar to Motorhead. "Dealing the ace, releasing the power. The 80s were here, this was the hour." Prophetic! Horns up!
British hard rock band Black Star Riders opened the show. This rockin' five piece formed in 2012 when members of the most recent Thin Lizzy lineup decided to write and record new material without using the Thin Lizzy name. Guitarist Scott Gorham was a Thin Lizzy mainstay since 1974. Vocalist Ricky Warwick, who's fronted The Almighty since 1989, joined Thin Lizzy in 2010. Guitarist Damon Johnson, one of my favorite musicians, joined Thin Lizzy in 2011. I've seen Damon a few times playing with Alice Cooper and his southern rock band Brother Cane has been on my rock and roll radar since the 90's when I saw them play in New York City opening for Robert Plant. Ex-Ratt bass guitarist Robbie Crane and ex-Black Label Society drummer Chad Szeliga are the current rhythm section for Black Star Riders.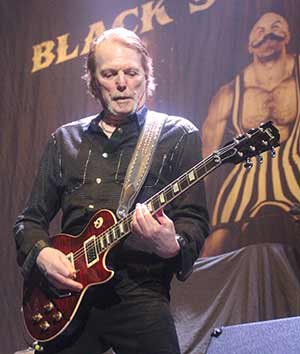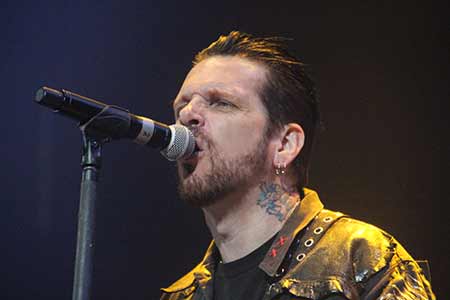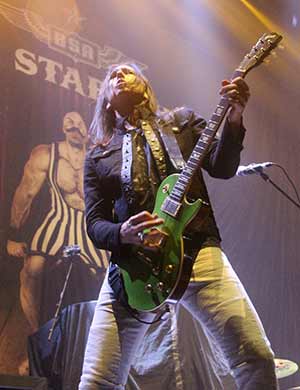 The Black Star Riders' seven-song opening set included four songs from their 2013 debut record "All Hell Breaks Loose." Knowing the band's lineage, I was anticipating a Thin Lizzy song or two. "Jailbreak" was the song chosen ironically at the Wilkes-Barre show. The sound engineers mixing Black Star Riders' set should receive extended jail time for their poor effort. All the audience heard was bass guitar, drums, and vocals. By the conclusion of set, a bit of guitars were finally being heard. Too little, too late.
Here's hoping for longer sets from Black Star Riders and Saxon, with better sound production, as the 2018 North American tour continues. Maybe a few headlining shows in clubs on their off-days. I hope all the music fans attending this tour get there early to see and appreciate Saxon and Black Star Riders.
Fans of metal music should exhaust all efforts getting out to see this Judas Priest on their 2018 Firepower tour. Rumors are floating around in cyberspace that this will be their final tour. I'm not sure how many heads will be banging when Judas Priest rocks your town and local arena. But I am certain that "some heads are gonna roll."