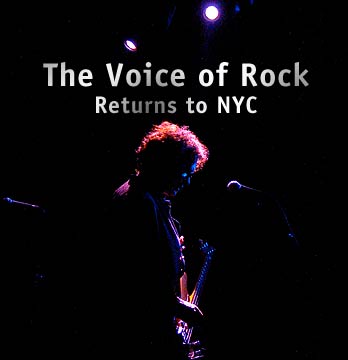 The Voice of Rock is on a Roll!
BB Kings, New York, NY - June 4, 2007

By Dave Iozzia
Photos by Phil Laskowski
The legendary Glenn Hughes, aka "the Voice of Rock," rolled into New York City on June 4, 2007, and left the jam-packed crowd hungry and screaming for more. Concert-goers attending the show at B.B. King's Blues Club were treated to an almost two-hour set that covered two parts of Glenn's illustrious career. The venue, arguably New York City's finest club in which to attend a concert, was the perfect host for a triumphant return to the East Coast. Let's hope that it's not another 30 years before his next New York City concert. After touring many years in Europe and Asia, Glenn told the audience that he felt the timing was right to tour the United States again. Nobody disagreed!

Although his touring band lacked Chili Pepper Chad Smith, who drummed at the previous show in Los Angeles, Glenn and his backing musicians were red hot. Steve Stephens pounded the drums and joined Glenn in the rhythm section, Ed Roth played keyboards, and Jeff Kollman rounded out the four-piece band on lead guitar.

The setlist mixed in a tasty blend of funk and hard rock, and it included songs from Glenn's last two solo records as well as material from his stint in Deep Purple. Glenn and his band played "The Valiant Denial," "You Got Soul," and "Steppin' On" from his latest record "Music For The Devine." "Orion," "Land of the Living," "Don't Let Me Bleed," and the title track were played from Glenn's previous record, "Soul Mover." As a lifelong fan of Deep Purple, I couldn't wait to hear Glenn sing material from two distinct parts of that band's history. He didn't disappoint, choosing "Burn" and "Mistreated" from Ritchie Blackmore's era as well as "This Time Around," "You Keep on Moving," and "Getting Tighter" from Tommy Bolin's era. Any musician with a 30-year career is challenged nightly trying to balance his setlist with both classic and new material. I thought Glenn mixed in the right amounts of old and new, with nothing borrowed, and just a little bit of blue.
Glenn's vocals were top-notch, and I had a gut feeling about how he would deliver the Deep Purple songs. Since I never heard Jeff Kolman play live, I was more curious about his playing style and how he would interpret the classic material. Jeff injected the contrasting styles of Blackmore and Bolin while putting his own stamp on the material. After the show, I talked with Jeff about the different styles of the two previous Deep Purple guitarists. According to Jeff, "When playing with Glenn, there's room for guitar playing of so many styles, and that's fulfilling for me. I get to play the melodic, neo-classical style of Blackmore, the funk of Bolin, and add my own twists." He added, "I didn't try to copy Blackmore note for note. You can tell he's improvising on much of it so why play note-for-note on an improvisational idea? I played around with the solos and put my own spin on them." Jeff also stated that "I've been criticized by hardcore Blackmore fans yet I've also gotten positive feedback. You've got to do your own thing and keep exploring. Big Daddy likes it and that's all that matters."

"Playing with Glenn is great on so many levels," according to Jeff, "because we play both new songs and the classics. Glenn's songwriting over the last 15 years on his solo releases gives us so much material to choose from." Jeff added that "the improv factor with Glenn keeps you on your toes, and I love the funk factor. "It makes you feel like being in Sly and the Family Stone."

Despite an early glitch with the keyboards and a blown amplifier prior to the encore, the boys in the band rocked the joint. Big Daddy and his chosen crew showed a lot of class and poise. They strutted their stuff on every song.

Long live the Voice of Rock!
Danny Johnson opened the show.


---

Jeff Kollman