Was I a fool taking a two buses as a 19-year-old with my 15-year-old brother in tow from northern New Jersey to New York City to Philadelphia for a rock concert? NO! Not when it's June 1978, and I have floor seats at the Philadelphia Spectrum for Foghat, Sweet, and Cheap Trick.

Was I a fool taking an hour long train ride from central New Jersey last week with my buddy Phil in tow for a rock concert in New York City? NO! Not when Foghat is playing at a jam-packed B.B. King's on September 21, 2016, celebrating the release of their latest record, "Under the Influence." Not when Savoy Brown founder and guitarist, Kim Simmonds, and longtime Buddy Guy guitarist, Scott Holt, are joining the band on stage.
I may have been a fool taking a New York City taxi cab for a "slow ride" in the middle of rush hour. But that's still up for debate.
There's always a lot of buildings under construction or renovation in midtown Manhattan, and Foghat tore the roof off the B.B. King Blues Club. Their current lineup has Bryan Bassett on lead and slide guitar, Charlie Huhn on lead vocals and rhythm guitar, Rodney O'Quinn on bass guitar, and founding member Roger Earl behind the "drivin' wheel" on drums. These boys rocked!


The Foghat setlist was old, new, borrowed, and "blues." The band opened their set with a few oldies but goodies, including 1975's "Fool for the City" and 1976's "Drivin' Wheel." The middle of the set featured three new songs from their 2016 release, "Under the Influence," including the title track, "Knock It Off," and "Hot Mama." Borrowed songs included covers of Robert Johnson's "Sweet Home Chicago" and one of my Foghat favorites, "Shake Your Moneymaker," which was written by Elmore James. "Blues," and "blue" for that matter, were taken well care of with 1978's "Stone Blue" and 1994's "Louisiana Blues" among others.

Guitarist Scott Holt took the place of Charlie Huhn. He spent more than a decade playing with and learning from Buddy Guy. Scott, aka Earl #1, is also a member of a side project called Earl and the Agitators. On stage with him was Earl #2 (Bryan), Earl #3 (Rodney), and Earl #4 (Roger). Only Earl #5, guitarist Tony Bullard, was missing. Scott sang lead vocals and played lead guitar on "Where's the Rock and Roll," off of The Agitators' self-titled EP.
| | | |
| --- | --- | --- |
| | | |


The parade continued when Savoy Brown founder Kim Simmonds joined the 4 "Earls." Today's rock history lesson will remind music fans that Foghat formed in 1971 when Roger Earl and Lonesome Dave Peverett departed Savoy Brown. Kim led the "Earls" on "Upside of Lonely," a Tom Hambridge cover from the new Foghat record, and "I've Been Drinking," from the new Savoy Brown record titled "The Devil You Pay." Kim looks and sounds great, and his guitar tone is one of a kind. If he wasn't rubbing his guitar across his amp, he was playing guitar standing next to Roger behind the drum kit.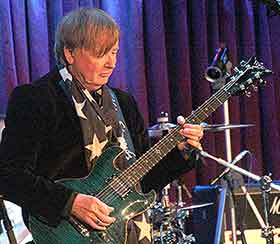 Charlie Huhn returned, and with four distinctive guitars blazing, they played their new song "Under the Influence." Next to join the parade was harmonica player Lefty "Sugar Lips" Leftkowitz. All seven players remained onstage for the final four songs. Included was my personal highlight of the show, a lengthy instrumental jam and a great bass intro by Rodney to the set's closing song, "I Just Want to Make Love to You." That song, one of my Foghat favorites, was first recorded by Willie Dixon.
Only a one-song encore by the four guys from Foghat remained. Any guesses? You are correct sir. It was a rocking, unedited for radio version of Foghat's signature song "Slow Ride." We've all heard that song thousands of times on radio, hundreds of times on television commercials, and I've heard it a dozen times live between 1975 and 2016. "Slow Ride" gets better every time.
I hope, for the sake of those who could not attend this historic show, that all the video cameras present were recording this for a future DVD release. After the show, the band treated any fans who chose to wait around, to a meet and greet. One by one, everybody but Kim Simmonds emerged from backstage. They graciously talked with everybody, taking photos, and handsigning everything. It was great to see more vinyl than CDs.
I chatted a bit with Roger and reminded him of a phone interview we did two years ago. When I asked Roger if Kim was still in the building, he escorted me and my buddy Phil backstage and into Kim's dressing room. He introduced both of us by name to the blues rock legend. Kim signed Phil's CD and then I offered him an apology that was almost 40 years overdue. In 1978, for a whopping 99 cents, I saw AC/DC open a New Jersey show for Savoy Brown. After watching Angus Young, playing the first cordless guitar I ever witnessed, ride the shoulders of singer Bon Scott all across the orchestra, I walked out after Savoy Brown's first song. Kim and I laughed and hugged, with him stating that he accepts my apology and won't hold it against me. Kim said I was the first person to admit walking out on that tour, but that I was in front of a line of thousands who did. On that 1978 tour, Savoy Brown and AC/DC flip-flopped the headlining spot every night. Kim said he hated when AC/DC opened and stole the show.
What more can I say about Foghat? Here's a band that's been pounding the road for 45 years and they still sound fresh. At this show, they gave the Foghat fans most of their classics, and songs from their 1994 and 2010 records. And they played five new songs! I talked about that after the show with Charlie Huhn who told me that "we really like to write, record, and perform new material, even if it is sometimes shunned by the public. I know that I always enjoy hearing new stuff from my favorite musicians and I appreciate their efforts." I second that emotion.
Hearing that a record is titled "Under the Influence," listeners could have rightfully expected a "covers" record. Foghat did a few covers and a new version of "Slow Ride" on this record. But they also wrote and recorded seven new songs. I asked Charlie why and he replied that "new material presents an outlet for our creativity and keeps us fresh sounding to the audience. It offers experimental directions in style evolution of our blues-based rock format."
Thanks for all the great memories from my 40+ year trek down the rock and roll highway. I'd be a "fool" to not anticipate more. Long live rock and roll! Keep rockin' Foghat.