Summer was almost here, it was time to hit the road and attend a few concerts. I had to "see the show, it's rock and roll." My favorite band, the 70's supergroup Emerson, Lake and Palmer had re-formed, and I was attending their shows in New York City and Philadelphia.

Not really, I'm lying. I was just daydreaming, as I drove around in my beat-up Honda Accord with a couple hundred thousand miles on it, listening to E.L.P.'s album "Trilogy" on the car's cassette player. Don't blame me for hanging on to a dream. I'm an E.L.P. fanatic, and I still hold out hope for another re-union tour and a new studio album.

In reality, I was attending solo concerts by E.L.P.'s drummer Carl Palmer and their keyboard player Keith Emerson. My travels were taking me to the suburbs where the Carl Palmer Band was playing at the Keswick Theatre in Glenside, Pennsylvania, and the Keith Emerson Band was playing at the Tarrytown Music Hall in Tarrytown, New York.

These two shows were going to be very intriguing. Carl Palmer's band was playing classic E.L.P. material and some never-performed-live E.L.P. songs. The band, playing all instrumentals, would feature Carl drumming, Stuart Clayton on bass guitar, and Paul Bielatowicz on lead guitar. No vocals and no keyboards! I couldn't wait to hear how the E.L.P. material would be re-arranged to fit the format of the Carl Palmer Band.

Keith Emerson's band would feature Phil Williams on bass guitar, Pete Riley on drums, and Keith of course on keyboards, playing mostly material by E.L.P. The band recently added Marc Bonilla as a replacement for Dave Kilminster, who is touring with Pink Floyd's Roger Waters, on lead guitar and lead vocals.

Both the Carl Palmer Band and the Keith Emerson Band had shows booked for their 2006 tours in clubs, small theatres, and supper clubs. I was accustomed to seeing E.L.P. play in stadiums and arenas, so seeing them in more intimate settings was going to be awesome. When I first heard about the shows, I wondered if the "looser" concert environments would present unique challenges to onstage musicians. I asked both Keith and Carl beforehand about playing in the different types of venues that they'll encounter on their 2006 tours. Carl Palmer answered, "Playing the music is the only challenge. Supper clubs, with people seated at tables, is not the most conducive way to play or the best environment to play in. You can't rebuild the building when you get there, you have to go with the flow. At the end of the day, it's all about the music and how well you performed both collectively and individually." Keith Emerson had an interesting take on playing in different concert environments. "I think all of my musical heroes, guys like Oscar Peterson and Miles Davis, played their best in differing environments. Oscar played in a Chicago restaurant with Ray Brown and Ed Thigpen, and on the recording you can hear the crashing of dishes and the clinking of glasses while the trio is playing up a storm. Miles Davis played Carnegie Hall with the Gil Evans Orchestra. He used the classical acoustics of that great concert hall, and he tested it. On the other hand, you could listen to him in a club setting, and he didn't give a shit. He was right in your face."

My musical road trips had me traveling to towns that I wasn't familiar with, and to small theatres that I've never attended shows in, so I missed the dynamics of a "supper club" audience. My first stop would be the Carl Palmer Band's gig in Glenside, Pennsylvania, which is a few miles northeast of Philadelphia. The Keswick Theatre is a fine venue. It's the perfect place to attend a concert: great acoustics, friendly staff, easy to get to, and best of all, free parking!

The Carl Palmer Band was touring North America for the first time. Other than an all-instrumental set "celebrating the music of E.L.P." performed by a power trio with keyboards, I had no idea what to expect. The night was filled with surprises, especially seeing the drum set upfront and center, with Carl walking away from the kit to a microphone where he introduced each song. Carl's sense of humor and candor as he interacted with his audience was surprising, as were the many E.L.P. anecdotes that he told, since he's so focused while drumming. His musicianship and power never ceases to amaze me. Carl's as physically fit as any drummer out there, and he's still as fast and agile as I remembered him from the E.L.P. tours of the 70's and 90's. Younger fans in attendance who have never seen Carl drum live witnessed his incredible solo during "Fanfare for the Common Man." It proved that Carl still belongs on anybody's, or any generation's, list of the World's Best Rock Drummers.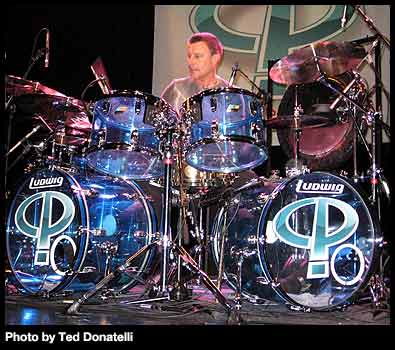 Another surprise was the stellar musicianship of his bandmates, bass guitarist Stuart Clayton and lead guitarist Paul Bielatowicz. Those guys are virtuosos. Paul's a great guitarist, and he had me daydreaming about the 30-year-old rumor of Jimi Hendrix possibly joining E.L.P. and what may have happened musically. Then Paul woke me up from that daydream, making me laugh during the song "Bullfrog," when he pulled out an electric toothbrush. "I got that idea from Eddie Van Halen," said Paul, "who used an electric drill to get a similar effect." Stuart added a "synth sound" to the electronic percussion section of "Toccata." Stuart also utilized a two-handed tapping technique that he told me "is a way of playing chordal parts on bass that works well for Carl's music. There's a lot of space to do things like that due to the absence of keyboards."

The Carl Palmer Band set list included all of the songs Carl mentioned in an interview I did with him months earlier and a few he didn't mention, like "Romeo and Juliet." Many of the songs were selections that this E.L.P. fan had never heard performed live, such as "Bullfrog," the title track from "Trilogy," and "Canario" from the oft-maligned "Love Beach" album. "Tank," from Emerson, Lake and Palmer's debut album, is a song that I had only seen performed live when the band was accompanied by a full orchestra during their ill-fated 1977 tour. The in-your-face rendition by the Carl Palmer Band did the song more justice. The set list was so diverse but the highlights of the performance, from my perspective, were the jaw-dropping re-arrangements of the E.L.P. classics "Toccata" and "Hoedown." Fans have to be open-minded listening to these re-arrangements. After all, it's sacrilegious and borders on blasphemy listening to E.L.P. songs without keyboards. Plus, one can't expect a single lead guitarist to match all of the parts that were originally composed or arranged for the two hands of one of the world's greatest keyboard players.

Following the incredible show, I asked Carl Palmer which of these three words best described his band's re-arrangements: refreshing, challenging, or necessary. Carl replied, "Refreshing, because it's a way of bringing the material forward in today's musical climate. Younger people can enjoy playing it, as well as listening to it. When the material was first conceived, Emerson, Lake and Palmer embraced cutting-edge technology. These re-arrangements are slightly cruder, they lack all of the harmony foundation, and certain sounds are not there. Yet, they are meant to be different, honest, refreshing, and new."

The final stop of my "2006 almost-Summer tour" was the Keith Emerson Band's concert in Tarrytown, 20 miles north of New York City and adjacent to the town of Sleepy Hollow. Even though it's been renamed North Tarrytown, visions of the Sleepy Hollow cemetery and headless horsemen danced through my head as I drove across the Tappan Zee Bridge in rain and fog.

Keith Emerson's set list also had re-arrangements of E.L.P. material, and he added an instrument to the formula: the lead guitar of Marc Bonilla, who was a last-minute addition to the band. I thought the on-stage chemistry was great considering that the rhythm section had just met Marc, and that they had only three rehearsal days before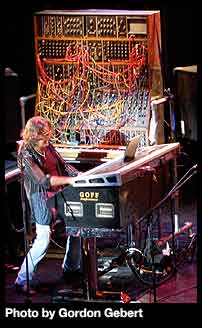 the tour started. Bass guitarist Phil Williams confirmed this after the show stating "Everything is great. We're getting on really well. There's an empathy between musicians, we've all done things on short notice." I asked Keith Emerson his thoughts on adding a lead guitarist to his band, something he never had with E.L.P. Keith said "It's not at all difficult when you have the right player. Marc Bonilla and Dave Kilminster are unbelievable musicians." He added "With E.L.P., I had to come up with all of the padding for my solos. Playing with a guitarist has widened my possibilities by providing chords for me to solo against. In return, I can embellish chords, letting the guitarist take off and fly with 'em as another soloist. I had bad experiences with guitarists in the 60's so I stayed clear of them. They all played at number 11. If that was a street address instead of a Marshall amp setting, I would have moved to the next village!"

The Keith Emerson Band played two incredible sets of music in Tarrytown. The set list included a few cuts from "Trilogy," my favorite E.L.P. album. "Living Sin" sounded great with Marc's vocals. "Hoedown," with dueling harmonicas and a guitar solo, was a really cool re-arrangement. Keith Emerson had a piano set up at the opposite side of the stage from the rest of his keyboard rig, and he added some jazzy piano to a new rendition of "From The Beginning."

The 3rd Movement from Keith Emerson's Piano Concerto No.1 was a pleasant surprise and a big challenge for guitarist Marc Bonilla who joked that "it obviously wasn't written for guitar." Other surprises in the set list included Marc Bonilla's instrumental "White Noise," a cover of Bob Dylan's "Country Pie," and "Nutrocker" as the final encore.

The highlights of the evening, from my perspective, were the re-arranged versions of "Tarkus" and "Lucky Man." When I asked Phil Williams about "Lucky Man" he said "This version is more dynamic. It builds to where it's going instead of just launching in. An acoustic section was Keith's idea and the piano makes it more intimate, as does the double bass, which is new for me." Marc started the new rendition with a really inventive guitar intro and Keith switched sides of the stage to end the song with his legendary and spine-tingling Moog synthesizer solo.

A spectacular re-arrangement of "Tarkus" ended the second set. Played in its entirety, as opposed to the abbreviated versions heard on the 1990's E.L.P. tours, "Tarkus" included an impressive Pete Riley drum solo and a bluesy, Hendrixian guitar break in the middle. When I asked Marc Bonilla about the re-arrangement of "Tarkus" he said "It was originally conceived for piano, not organ, so I try to use the guitar as an orchestral instrument. The guitar has to be featured symphonically, while allowing the bass and keyboards space to breathe. Altering the organ parts presented a spot and a reason to have guitar. For this re-arrangement to work, there has to be a role for the guitar. I have to contribute to the success of the song, not just copy parts, and I have to compliment the parts that were already brilliant in their conception."

According to Marc, the challenge of re-arranging the classic E.L.P. material while adding a lead guitar is "bringing out the beauty of the music in a different way without disorientating the listener." He added, "as a kid, I loved E.L.P and I practiced to these songs, adding my own guitar parts."

I don't know if Emerson, Lake and Palmer fans, or their record company, would have allowed the band to stray so far from their formula. The refreshing re-arrangements by the Keith Emerson Band and the Carl Palmer Band gives them more space and allows the listener a chance to get a better feel for E.L.P.'s influences. Plus, it gives these virtuoso musicians more room to flex their musical muscles.

Too many bands tour these days with one or two original members and become their own tribute band, playing just their hits in arrangements that mirror the original versions. The Keith Emerson Band and the Carl Palmer Band, performing obscure and classic material with new interpretations and incredible re-arrangements, are the polar opposite of an E.L.P. tribute band. I hope these tours were recorded because these re-arrangements have to be documented.

The 2006 tours of the Keith Emerson Band and the Carl Palmer Band were must-see musical events. I'm so happy, and such a lucky man that I had the chance to attend their concerts.

Welcome back my friends, I hope the shows never end!!