The rock and roll highway has taken me down some famous roads and streets. New York City's 42nd Street and Broadway come to mind, as does Asbury Park, New Jersey's Ocean Avenue. Sometimes one has to turn left, for something other than rock and roll. For me, it's jazz, blues, or even country on a rare occasions. But never hip hop!
On February 21, 2018, my friend Pete thinks I took the "right" turn, joining him at The Iridium nightclub on Broadway in New York City where we checked out the blues being laid down by the Danielle Nicole Band. Two "Jersey Boys" took the train from Jersey City to check out the girl and her band from Kansas City in New York City. What a great night of music for me, Pete, and everyone in attendance!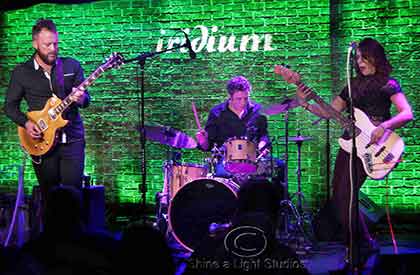 Danielle Nicole sings and plays bass guitar. Her brother Kris Schnebelen joins his sister on drums now, as he did for the past decade in a Led Zeppelin tribute band called Trampled Under Foot. Rounding out Danielle's bluesy power trio is lead guitarist Brandon Miller. The three-piece band had room to spread out on The Iridium's stage. They changed up the instrumentation on a few songs when Danielle traded her left-handed bass for a left-handed acoustic guitar. Brandon went with a 12-string on those songs. He also added some tasty slide guitar on a few songs.
Most of the setlist were songs from Danielle's soon-to-be released record "Cry No More." She happily autographed the advance copies she was selling after the show. My favorite songs from her band's set were "Baby Eyes" and the Bill Withers-written "Hot Spell." But the encore, what an encore! Danielle came out and said she was going "old school." She just sang the vocals on two songs with Brandon accompanying her on guitar. Then she picked up her bass guitar and Kris returned to the stage and his drumset. The Danielle Nicole Band finished the evening with a jaw-dropping and goose bumps-raising take on Stevie Wonder's "Living in the City."
That song is a perfect cover to play in New York City. This rocker won't be living in the city, but I'll be visiting it for a couple more blues shows someday soon. Especially when the Danielle Nicole Band returns to the East Coast. In the meantime, I'll revel in the wonderful night of music Pete and I shared when Danielle and her band played in New York City!