Blondie, the 1970's New Wave/punk band and 2006 inductee into the Rock and Roll Hall of Fame, was back out on the road touring to commemorate the 30th anniversary of their career-defining hit album "Parallel Lines." They stopped in New Jersey for a couple of shows including a tremendous performance on June 17, 2008, at the historic Count Basie Theatre in Red Bank. With such a great band playing at such a wonderful venue, "One Way or Another" I had to attend the show.

The latest re-incarnation of the band includes three original members: lead vocalist Debbie Harry, guitarist Chris Stein, and drummer extraordinaire Clem Burke. Rounding out the lineup were guitarist Paul Carbonara, bass guitarist Leigh Foxx, and keyboard player Matt Katz-Bowen.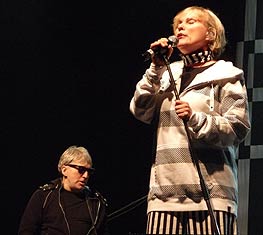 It was once said that New Wave and/or punk rock bands weren't supposed to have hit records, but either nobody told Blondie or they didn't listen. The band had eight Top 40 songs including four that went to Number One. Three consecutive albums, "Parallel Lines," "Eat to the Beat," and "Autoamerican" went platinum. Blondie's signature sound mixed 60s garage and girl-pop with bits of glam, New Wave freshness and edginess, and punk rock attitude. Yet what really set Blondie apart was their willingness to jump in head first and dabble with other musical genres like reggae, disco, and rap.

Most of the songs from "Parallel Lines" would make the soundtracks to my and my wife Barbara's lives. Knowing that the band would be playing that record in its entirety made the concert even more appealing. The show opened with track one from that album, "Hanging on the Telephone," and they continued to play the entire record in its original running order. I've heard all of the hits from "Parallel Lines," like "One Way or Another," Sunday Girl," and "Heart of Glass," performed live many times. It was such a treat to hear the more obscure cuts like "Fade Away and Radiate," "11:59," and "Pretty Baby." Blondie followed the selections from "Parallel Lines" with a few more current songs like "Screaming Skin" from 1999's "No Exit." The band rounded out the set with many more of their classics including "Rapture," "Call Me," and "The Tide is High."

Our ride home after the show, which occurs often with bands with such an extensive catalog of songs, was dominated with mention of the songs the band didn't play. Songs like "Dreaming" and "Maria" were sorely missed, but a band like Blondie can never squeeze all of their material into a nearly two-hour-long set.

At Blondie's performance in Red Bank, which amounts to a hometown gig for Rumson resident Debbie Harry, the lead vocalist looked and sounded great. Whenever Chris Stein played his signature leads, they tingled the spine just like they did in the 70s and 80s. Relative newcomers Paul Carbonara and Leigh Foxx did a great job. The keyboard sounds, which are an integral part of Blondie's songs, were well played by Matt Katz-Bowen. The band's sound was mixed perfectly and none of the keyboard parts were lost in the shuffle, which occurs too often at rock concerts I attend.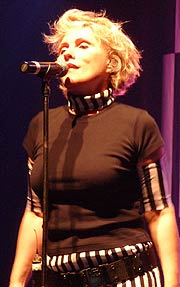 Drummer Clem Burke was the show's standout musician. This may sound biased but who cares? It's my story and it's on my website! Clem is so energetic, bouncing up and down while tossing his drumsticks time and time again into the air. He's so steady and rock solid keeping the beat. Clem stole the show on "Heart of Glass," just like another time I saw him playing "These Boots Are Made For Walking" while performing with Nancy Sinatra. Perhaps his musical heart is in the pop or disco musical genres and not in the punk rock look he sports with his C.B.G.B.'s t-shirts and Elvis Ramone alter-ego.

During Blondie's performance, I had to balance the two hats I was wearing: one being that of a lifetime fan and the other being that of an unbiased music journalist. Yet mid-afternoon, long before the show started, I wore the hat of a stalker as I lurked around the venue. I was a man on a mission. A few years back, on a cold and stormy night in Ortley Beach, New Jersey, Clem Burke handed me his drumsticks after finishing his gig drumming for Nancy Sinatra, but the nasty weather forced me to leave right after the show ended. In Red Bank, I wanted Clem to hand-sign those sticks for the world's most rockin' drumstick collection by hook or by crook, so I hung out near the tour bus, prepared to wait a few hours if necessary. Mission accomplished! And it only took a few minutes! Clem Burke, looking ever so cool in black leather, was heading away from the venue for a quick stroll around Red Bank after his band sound-checked. I introduced myself, Clem signed my drumsticks, and we chatted about my collection. We also laid the groundwork for a future interview profiling Clem's illustrious career, which includes his new band Slinky Vagabond. This Los Angeles-based rock group includes ex-Sex Pistol Glen Matlock and on-again, off-again David Bowie lead guitarist Earl Slick. Check back at this website soon for the interview with Clem Burke.

Clem also graciously hooked me and my wife up with after-show passes. Backstage after the concert, my wife and I got to meet the band. Debbie Harry was kind enough to chat with us and sign a few autographs, as did the rest of her bandmates. As we walked away into the Red Bank night, we knew that this special concert would be our last show at the Count Basie Theatre this summer. No worries though because the venue is not closing. It's renovating, restoring, and reopening in late-October, and I can't wait. It's such a great venue to attend a show. The Basie is getting better, and I hope it continues to attract rock bands.

Hopefully, this won't be the last Blondie performance we attend either. The band still makes musical magic together. With fingers crossed, I'll hope that Blondie writes and records another album. Even if they choose not to record, I hope another tour is in Blondie's future plans. Whether it was a 70s show at the Brendan Byrne Arena, an 80s show at the Garden State Art Center, a 90s show at Harrah's Casino in Atlantic City, or the recent show in Red Bank, Blondie never disappoints when they play live. One can only hope that this band keeps rockin'.