BABIES, COUCH POTATOES, AND DEADMEN

By David Iozzia
It's similar to the old comedy film "Planes, Trains and Automobiles." NOT! This is about three awesome music performances that I attended by three great, yet very different rock bands. These shows took place in the course of one week during the winter of 2005, despite all the effing snow in the northeastern United States.

Backyard Babies, the hard-rock loving punk band from Sweden, started my marathon with a blistering performance at Sayreville, New Jersey's Starland Ballroom. TESLA followed up a few days later at the same venue, with a lot less gear and a few less decibels. It was TESLA-lite with a twist. They were reprising their 5 Man Acoustical Jam and four lucky fans got to join them onstage, sitting behind the band on sofas. I was one of those Couch Potatoes. The up-and-coming Canadian rock band, Theory of a Deadman, ended my week-long run in rock and roll heaven with an ass-kicking performance in New York City at Irving Plaza.

Backyard Babies were supporting Social Distortion who played all across North America. Fresh off a European tour supporting Velvet Revolver, this Swedish band was visiting our shores for the second time. Before their incredible set, lead guitarist Dregen told me he only knows four chords, but that's all he needs in this four piece punk rock band. They hit the stage with at least one Marshall amp for each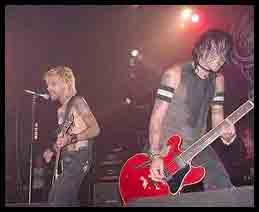 chord they play. Loud and proud, they showcased material from their upcoming U.S CD release "Tinnitus." This CD is a compilation of songs from their three European albums. Their set was much too short, with songs like "U.F.O. Romeo" and "Brand New Hate" showing that this band should not be taken lightly. I'll eagerly await their return to the U.S. after their CD is released as they headline a club tour in the Northeast.

TESLA is such a diverse and versatile band. I saw them in Austin, Texas, last fall as they supported The Scorpions' arena tour of the South and Midwest. Their short set was of the "greatest hits" variety, with a few cuts from their latest CD, "Into The Now," sprinkled in. I was really looking forward to their headlining acoustic set after lead guitarist Frank Hannon told me they were reaching into their back catalog for two-plus hours of material. As showtime neared three stools lined the front of the stage. At the back of the stage was a piano and a small drumset, with a big comfortable couch wedged in-between. TESLA took the stage with singer Jeff Keith seated front and center. Tommy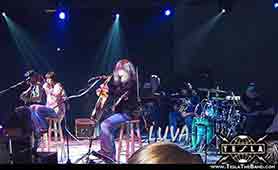 Skeotch, seated to Jeff's right, had an acoustic and an electric guitar. Frank Hannon was on the other side of the stage, set up with six-string and 12-string acoustic guitars as well as an electric guitar. Bass guitar player Brian Wheat played piano on a few cuts and electric bass on the rest. Troy Luccketta sat behind a small four-piece drumset. After the first couple of songs, I joined the other radio contest winners for our seats on the couch. At the end of the next song, Brian handed me a bottle of water and his guitar pick. A few songs later, Troy tossed his drumsticks into my lap. TESLA were the perfect hosts, smiling and interacting with the audience throughout their stellar performance. It's refreshing to see a band with a long history together still having fun and not fighting with each other. During a break between songs, Troy poured me a hot cup of coffee from the Mr. Coffee set-up next to his drumset. I thought that was a stage prop when I first noticed it. Holding a hot cup of coffee on a comfortable couch next to the drummer was a cool way to watch a concert. I enjoyed that much more than standing next to the mosh pit, getting battered and bruised at the Theory of a Deadman concert a few nights later.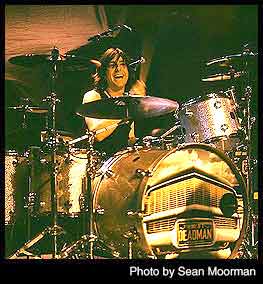 Theory of a Deadman is touring the United States opening for Breaking Benjamin. They have a new CD, "Gasoline," that was released in March. Mixing the heavy with the melodic, this four-piece Canadian rock band showcased their well-written songs and stage presence. They played with a vengeance that had the mosh pit in New York City bouncing. Singer Tyler Connelly started this band a few years ago in western Canada with guitarists Dave Brenner and Dean Back. Ex-Vince Neil Band drummer Brent Fitz is new to the group, injecting heavy hitting and high energy into the mix. Theory of a Deadman puts on a great live show and their songs seem radio-friendly. I expect that we'll be hearing a lot more out of this band. I'm sure they'll jump on a summer package tour so buy your tickets early! The band hung out at the merchandise booth after their set. I knew drummer Brent Fitz was a guest of his ex-boss Vince Neil at Motley Crue's sold-out appearance at Madison Square Garden. I had to grab his ear and get a few quotes on tape. Brent was happy to chat, telling me how Vince was a pleasure to work with. "It was a really nice change to see Vince's face from the audience instead of his ass onstage. It was kind of cool. Vince sounded amazing and looked like he was having a good time."

Backyard Babies, TESLA and Theory of a Deadman sounded just as amazing, and I had a great time rockin' with these bands.