Music fans will recognize Phil Varone as the hard-hitting ex-drummer for the bands Skid Row and Saigon Kick. Phil is also featured in a new film called "Waking Up Dead." A true story of sex, drugs, and rock and roll, this documentary uncovers the betrayals, addictions, and pitfalls on the relentless road to rock stardom. I shared a few e-mails with Phil in October of 2005 as we talked about the film, substance abuse, his music career, television, and a whole lot more.

DAVE: Thanks for letting me conduct this interview Phil. Let's start off in 2005, where you are featured in the new documentary film "Waking Up Dead." In your words, give us a brief description of the film.

PHIL: The film follows my story of wanting to become a rock star. As a child I dreamed of being famous, and then when I started playing drums, it became a quest to achieve this goal. We start with my story from the beginning, and document my life though pictures and video. The last four years that I was on the road, I had a camera following me, or I filmed myself. Because of this access, the viewers will see the real events that happen backstage, on tour buses, in the privacy of my own house, etc. It is very revealing and candid, and at times hard to watch. People are shocked at what we show, but I felt it was necessary to be honest and real, to show the truth.

DAVE: If people want to read more about "Waking Up Dead" or view the trailer, where should they look?

PHIL: The film's website is www.wakingupdeadmovie.com.

DAVE: "Waking Up Dead" played in selected cities nationally in what I would term "limited release." For people who wouldn't attend a viewing at the cinema, is there a timeframe for its release on DVD?

PHIL: We played the movie in a few cities for press and feedback. This is a must-own DVD. There is too much going on in the movie to get it in one viewing. We are planning to release the DVD in the beginning of 2006, and it will include great bonus footage and more current interviews about the whole process. It will be very entertaining for sure.

DAVE: From your perspective only, how did this project start? Were you approached to okay it, or frankly speaking, did you simply peek up from the mirror or the bed one day to find a camera in your face recording?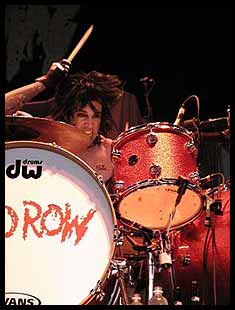 PHIL: Fabio Jafet was the reason we made a movie. I was in the worst time of my life, and the last thing on my mind was to make a movie about me, and if we did, who would care about me? Fabio has a news background. He worked for news stations for a long time as a cameraman, and then in higher positions. His vision as a newsman made this possible. As he said, "I followed the train wreck." He told me that we should make a movie trailer and try to get interest. I was so fucked up, I said okay. I had no idea it would turn out like this.

DAVE: Fabio Jafet, the film-maker who created "Waking Up Dead," said his mission was to make a movie to help someone whose life was spiraling out of control, and to make the person come face to face with his demons. Has he succeeded, and if so, how has that success helped you?

PHIL: Well, first I cleaned up. Then Fabio and I sat in an editing room for a year trying to piece my life together. It was an amazing process to create and working with Fabio made it that much easier. Because of his brilliance in editing , he was able to capture anything I asked him to do. Telling your life story is not that easy, and it was a strenuous process that continues today. I learned a lot about myself, and what people really felt about me and at times that was very difficult. I think it was necessary for me to be where I am now. I am clean, sober, and very focused on making my life amazing. I enjoy helping others, and they help me. It is a great feeling.

DAVE: I'm going to switch gears for one moment to a subject I'm more familiar with, and more natural asking questions about. Please talk about the soundtrack to "Waking Up Dead." Who are some of the unsigned musical artists that contributed to that soundtrack?

PHIL: The bands that gave us music are friends of ours. They all came through to help us make a great soundtrack. I hope that they get recognized for their great songs. We have Matt Kramer, Crease, Temple of Brutality, Adam Jason, Mindflower, Randy Coleman, F5, Before Braile, 5 speed, and a few others that didn't make the soundtrack but are in the movie itself. You can go to www.albumunderground.com to buy the soundtrack.

DAVE: Hopefully, somewhere in the United States tonight, somebody who watched "Waking Up Dead" will walk away thinking "I need help with my addiction," or "I need to change my lifestyle." In fact, at some of the premieres you attended where you met fans afterwards, you were probably asked these questions directly. What should they do? Who should they call? What does Phil Varone recommend as that first step in seeking help or trying to effect a change?

PHIL: Well, the thing about addiction, is that you can't help someone that doesn't want to be helped. When they want help, that is a great thing. I would say to do what I did. I called my doctor and went into rehab. I did it privately, but there are outpatient and inpatient programs that will get you help. It will only work when people face the demon and admit to the addiction. It is the first step and the most important one.

DAVE: On a personal note, what action steps do you take on a daily basis to stay clean, maintain sobriety, and to help with the positive changes you are trying to make in your lifestyle?

PHIL: I am learning to enjoy life again. I stay positive, and I have cut all negative energy and drama from my life. With that decision, I have lost people that have been in my life, but only the negative ones. I stay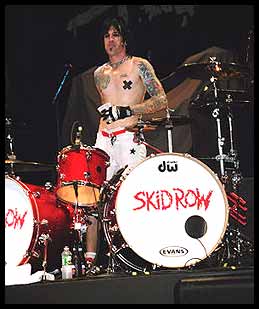 focused and make lucid decisions now. I used to snap and fly off the deep end and that is gone. I am surrounded by true friends that will always be there for me if I need them. It is a good feeling to have that support system. Another thing that will keep me sober is the movie. If I have any craving, I watch the drug section. That is enough for me!!!!!!

DAVE: Personally, I'm trying hard to maintain a sober lifestyle. I'm always questioned about placing myself, or my young children, in some of the "dangerous" situations that the music industry presents. In my defense, I use an analogy that the music business is a lot like ice-skating. There is thin ice that is clearly marked, yet some people fall through anyway despite those warnings. Others are totally unprepared, sometimes oblivious to their surroundings, and they end up frost-bitten. The majority of the people have a fun day outside, enjoying the fresh air and the skating. Is this analogy one you can self-relate to, or would you care to offer a different one to describe the "dangerous" music industry.

PHIL: It is a good analogy, and the reason why people will skate on the thin ice is because they think it cannot happen to them. I didn't do a drug till I was 32. I was offered everything you can imagine, and I never did it. The worst thing I did was drink. Then one day someone offered me cocaine. I sat back thinking, I turned it down before, so it would be fun just to try. Well it hooked me immediately. I dove in and loved it way too much. It took over my life. It is hard to tell someone they are going to be an addict. Unfortunately, it is too late when they realize it.

DAVE: Phil, you're a parent. What recommendations and advice would you offer to parents whose children are forming their first bands or attending their first rock concerts?

PHIL: I think expressing yourself in music is a great thing. Since I am sober, I love playing drums again. I forgot about my passion for drumming because I was caught up with being a rock star. I say let your child play music, but guide them. Parents need to start parenting and stay involved. Kids these days are a lot smarter and have a world of information at their fingertips. Be wise parents, your kids are. I would only say, make sure your child gets an education, so ten years down the road, there is always a life they can have. It is easier to win the lottery than become famous.

DAVE: Before I switch gears to Saigon Kick and Skid Row, is there an important question about "Waking Up Dead" that no one has asked you yet? If so, what is that question, and how would you answer it?

PHIL: I have answered many questions about the movie. I guess people are just taken back by how graphic the content is, and why would we show that. I say it is the only way to show how serious this is. If I show you how bad it is, maybe you will think twice. At least you will have the choice.

DAVE: In 1988, Saigon Kick was formed and they nailed a record deal with Third Stone/Atlantic Records shortly afterwards. Tell us a little bit about the music scene in Florida, then and now, and how Saigon Kick got started.

PHIL: The music scene was not really happening when Saigon Kick started. We came out and took over the scene, and created excitement again. I think that is why Saigon Kick got so big so fast. We were signed within two years of being formed. After that, Florida produced amazing bands like Marilyn Manson, the Mavericks, Nuclear Valdez, etc. Now it is in a holding pattern, and my goal is to bring it back. I am working with a record label and have stated a management company, and we will put this scene on the map once again.

DAVE: Saigon Kick released really good records, including the self-titled debut album that was produced by the legendary Michael Wagener. The band never found its niche in the United States, yet it was much more popular in Asia. Please comment on that double-edged sword of being popular overseas and being over-looked at home in the United States.

PHIL: That happens a lot. All I have to say is the money is just as green and has numbers on it. It's all good to me. You can make a tremendous living overseas. I love touring over there, and you can be a rock star for a few weeks, and come home and live normal. It's the best of both worlds

DAVE: You still have a working relationship with Saigon Kick's singer Matt Kramer. Have we seen the last of Saigon Kick, or should its fans be optimistic about the band working or playing together again?

PHIL: Matt Kramer and I have done a few things together, but Saigon Kick as you know it will never play again. It is unfortunate. I think we could have made a major impact in music if we didn't fuck it up. Young and stupid!!

DAVE: After Saigon Kick, you played with Skid Row's bass guitarist Rachel Bolan in a band called Prunella Scales. I'm a big fan of Skid Row, but I'm unfamiliar with Prunella Scales. Tell me more.

PHIL: Prunella was a pet punk project. We did a record in a few days, and released it in Japan. It was fun and cool. Nothing really came of it.

DAVE: Rachel asked you to join Skid Row in 2000. A lot of touring followed, as well as a new album, "Thickskin," which was released in 2003. What was your personal highlight as a member of Skid Row? What was the worst moment?

PHIL: Joining the band was a personal highlight. I always wanted to join that band, and I have known them for so long it was very natural. The first tour was with Kiss, and that is a dream come true. I was in heaven!! The worst moment was the downfall. We recorded a great record, and no one cared. "Thickskin" is one of my favorite records I played on. Then, when I went through my problems, a certain member bailed on me and was quoted, "I want nothing to do with his pathetic life." That was hurtful, but nothing new in this business. Jealousy is a bitch I guess.

DAVE: Prior to joining the band, had you either shared the stage with, or attended a concert by, the original line-up with Sebastian Bach on vocals?

PHIL: Yes I did. When Skid Row was in Florida recording the album "Slave to the Grind," we hung out a lot. One night Saigon Kick was playing, and the boys came up and played with us. Baz was singing, and it was a lot of fun. I also went to see them on that tour as well. I always dug Skid Row. Sebastian is a true rock star, and Skid Row was a real cool band.

DAVE: Personally, I don't care for lead singers who think they are bigger then the band. I prefer a front man with energy, attitude and talent, plus the ability to step back and let the band do its thing. Guys like Scott Weiland and Ian Astbury fit that description, unlike Sebastian Bach and Dee Snider. I've read where you called it the "lead singer disease." Looking beyond the record sales and concert attendance, I think Johnny Solinger is a MUCH better front man with Skid Row, and having met him, he's a great guy also. From what you've seen first-hand, and from what you've heard from Snake, Scotti and Rachel, I'd like you to give my readers an honest assessment/comparison of the two Skid Row singers, both onstage and off-stage.

PHIL: They are two different singers, personalities, talents, etc. I think Sebastian is an amazing front man, singer, and a true rock star. I wasn't around Baz enough off the stage to make an honest assessment. You have to understand, he was the face of a huge rock band, and with that comes ego as well. I think it is important to have an ego if you are a front man, but never forget where you came from. I don't know that story because I wasn't playing with Skids while Baz was in the band. You cannot deny that Sebastian had a major part in making the band huge. Johnny is a different singer. It is very hard to fill the shoes of someone like Sebastian. Johnny is an amazing vocalist and impressed me in the studio big time. He is just not a rock star. It takes a special bread to be a rock star, and he is not one of them. He will do real well with his country career, if he gets some drive.

DAVE: Skid Row also released a DVD called "Under The Skin" that was filmed by Fabio Jafet. He also directed at least one music video for the band. Is that where your relationship with Fabio started? Tell me more about filmmaker Fabio Jafet, both when the camera is rolling and as a friend when he's not working.

PHIL: I met Fabio at a Kiss concert. He was there shooting a story on Kiss for a Florida news station, and we hit it off. He then came and shot the "Under The Skin" DVD, and we just started hanging. We speak every day about the movie business and other things. He is an amazing friend. He knows more about me than anyone. I also feel that he is beyond talented, and I hope that this movie solidifies his worth in this business.

DAVE: What is your favorite Skid Row song to drum on? What song is the most difficult?

PHIL: Off the "Thickskin" record, it's "Lamb." Off the old stuff, it's "Mudkicker." The most difficult in the studio was "Down from Underground." I didn't have any problem with the old stuff. It was all fun to play.

DAVE: Will you ever get behind the drums again with Skid Row or has your affiliation with that band ended?

PHIL: That will never happen, but not because of me. There is a certain member that just can't see past his ego. It's a shame. I am done kicking a dead horse.

DAVE: Name the one drummer who has had the biggest influence on you as a musician, and tell me how he has affected your drumming technique?

PHIL: Tommy Lee was my biggest influence. All around, look, drumming, chicks, you name it. Through playing to his records and others, I learned and developed my own style of playing.

DAVE: That's enough of Phil Varone, the movie star and the rock star. Let's talk about Phil Varone, the producer. How would you describe your producing style. Also, as a producer where do you get the most satisfaction and joy?

PHIL: I am new to the producing thing. I just am real happy to create. When you see your work on the screen, and it is enjoyed by people, that is it. That's all I can ask for.

DAVE: You were recently seen on an episode of the cable TV show "Miami Ink," and your tattoos and piercings are legendary. Are there any reality TV shows that you can picture yourself on? Maybe "Fear Factor," being a college room-mate of Tommy Lee, or possibly the fictitious show "Survivor-The Everglades."

PHIL: Funny you should ask. I just wrote a show, and I have a meeting about it to go into production. It will be interesting, but I can't talk too much about it just yet.

DAVE: Speaking of television shows, you where born in New York, you now reside in Florida, and you've spent time in Las Vegas. Which is the better C.S.I. show, the original based in Las Vegas, or the spin-offs based in Miami or in New York?

PHIL: The original rules. I am not into the New York or LA versions. I do bad things to myself thinking about Marg Helgenberger.

DAVE: In the late 70's, a college professor in Philosophy 101 asked me my philosophy of life. I was a punk rocker then, an angry young man, and I answered "Fuck Everybody But Me." Obviously, I was young and stupid, and had experienced next to nothing at that point. With all you've done, seen, heard, and learned, what is Phil Varone's philosophy of life?

PHIL: My philosophy is do good to others, and you will do good. I am a big Karma guy. I have felt the Karma gods many times. I stay positive and honest and try to help others, and it is paying off.

DAVE: I know it's important for you to stay in the day, and to concern yourself with the present 24 hours, and not the past or the future. Professionally speaking though, can you project what's up next for Phil Varone?

PHIL: I have no idea. I am trying to do as much as I can. I look forward to the future.

DAVE: Here's your last chance to promote anything I've neglected to cover.

PHIL: I am managing a new artist named Melissa Burnos, and she is amazing. We will have her new record out in 2006.

DAVE: Thanks again for agreeing to do this interview Phil. Stay strong. Do you have any closing comments for music fans or movie fans worldwide?

PHIL: Thank you for all your support. I get amazing e-mails from people that really care, and it means a lot to me. Please pick up the movie, and give it a chance. If you know of anyone that needs help, show it to them, and let's help them.