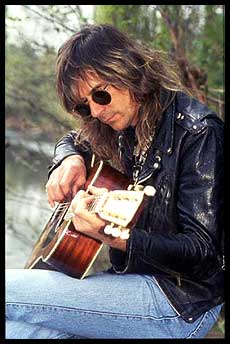 Glenn Tipton is one-half of the twin lead guitar attack for the legendary and influential heavy metal band Judas Priest. Glenn released a solo album in 1997 called "Baptizm of Fire." That record has just been re-released with bonus tracks, along with a previously unreleased group record by Tipton, Entwistle and Powell from the same recording sessions, titled "Edge of the World." I was truly honored to speak with Glenn, as he answered my interview questions about both of those records, Judas Priest, and much more. Glenn states in this interview that if you don't go to "the edge of the world," you won't find what you're looking for. I'm sure fans of Glenn Tipton and Judas Priest will find a few answers to things they're looking for in this interview. It may not take you to the "edge of the world," but I hope this interview keeps you on the edge of your seat. I really enjoyed interviewing Glenn, and I'm sure you'll enjoy reading what he had to say.

Dave: Thanks for agreeing to do this interview Glenn. On March 7, 2006, Rhino Records released a new version of your 1997 record "Baptizm of Fire," as well as a new record from the same recording sessions called "Edge of the World," by Tipton, Entwistle and Powell. Best of luck with those releases. Please talk about the history of those recordings.

GLENN: In 1994, there was no Judas Priest and the future looked bleak. We hadn't found vocalist Ripper Owens, and it looked like the band was over. I started getting itchy fingers and I wrote some songs. I had no idea of who they were for or who might play them with me if I used those songs. Eventually, after I had a bunch of songs, I approached drummer Cozy Powell and we talked about different bass players. We settled on John Entwistle, who agreed to play with us when we approached him. I was with Atlantic Records at the time. Although they liked the tracks, they felt the lineup was too old-school and that it would be very hard to sell. They wanted me to work with some younger guys, mixing and matching the tracks, to make the record easier to market. I had no choice so I went to Los Angeles and worked with Billy Sheehan, Robert Trujillo, Shannon Larkin, and some other musicians. In all honesty, a great album emerged called "Baptizm of Fire." Left behind were the original tracks, which have now become "Edge of the World." That's how it all formulated.

Dave: How would you describe the differences in musical direction on these two records?

GLENN: It's difficult to sum up the character of a record in a few words. "Edge of the World" is classic rock, and "Baptizm of Fire" is a little bit more modern. That's how I would describe the differences between the two albums.

Dave: When these tracks were first being written and recorded in 1997, was there a musical statement you were trying to make?

GLENN: I was just writing randomly and a lot of the songs didn't make it. I was experimenting with my writing and with my voice. There was no direction in mind, I did what I felt instinctively. It was survival really. I'd write, discard, and write again until a direction took place. The only thing that mattered to me, direction-wise, was not trying to sound like Judas Priest. I never could. I couldn't come within a million miles of the talent in Judas Priest. It's very important when you do a solo record to travel to areas lyrically and musically that you don't visit with your other band. The reason to do a solo album is to work with other musicians and to try to cover new ground and musical areas that you don't get the opportunity to reach with your other band.

Dave: I'm sure you jumped at the chance to get these records heard, especially after Atlantic Records wouldn't release the songs you recorded with Cozy Powell and John Entwistle. What are your thoughts about the records competing with each other since Rhino Records re-released "Baptizm of Fire" on the same day that they released "Edge of the World," by Tipton, Entwistle and Powell?

GLENN: "Baptizm of Fire" is re-mastered with additional tracks so if anybody is interested, it's there for them. There's no fanfare with the release, and I don't want people to think this is a selling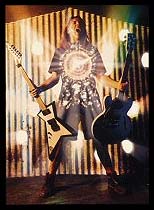 campaign. This is an opportunity to get it back on the shelves and have it promoted in the right way. It was a well-kept secret when Atlantic Records originally released it. I'm not worried about the records competing with each other, it just seemed like an opportune moment when I was releasing "Edge of the World." I don't tell many people this but all of the proceeds from "Edge of the World" are going to the Teenage Cancer Trust, a charity that The Who and John Entwistle were very involved with.

Dave: Your fans and Judas Priest fans are familiar with the songs on "Baptizm of Fire," so please talk about the two previously unreleased bonus tracks, "Himalaya" and "New Breed." Doesn't your son Rick Tipton drum on one of the tracks?

GLENN: It might surprise people but I listen to a lot of film soundtracks. Some of the best songwriters write musical scores for films. What's intriguing is that an average song and an average piece of film footage when blended together can make something special happen. I hope I get the chance someday to score a film. It would be magical if I could get it right. "Himalaya" is in that field; it has a lot of size and it's a dramatic track. I wrote "New Breed" with my daughter Karina, and as you know, my son Rick plays drums on it. It's a family affair. Rick's a guitarist, and he offered to play drums. He got behind the kit and hammered out a drum track, and I was utterly amazed. He sounds a bit like Keith Moon in places, and I'm very proud of it. "New Breed" is a very special track, and it means a lot to me.

Dave: Covering the Rolling Stones' classic "Paint It Black" must have been a gas. Let's have a little more fun and pick a Judas Priest song that Mick Jagger could try to sing, with Ronnie Wood and Keith Richards trying to play the riffs and solos that K.K. and yourself played on the song?

GLENN: "Painkiller" would be fun to hear. Keith Richards has taken a few of those in his time so it might be appropriate.

Dave: On "Edge of the World," you wrote the songs "Unknown Soldier" and "Friendly Fire," inspired by a different set of wars that were going on at a different point in time of our planet's history. It's ironic that the more things change, the more they stay the same. Here we are in a new century, fighting new wars over a lot of the same issues.

GLENN: I'm not a political guy or a protest singer. I feel very strongly that the hierarchy in this day and age, without specifying certain countries or world leaders, are sending young guys into dangerous situations for no reason. There are some poignant lyrics in those songs that sadly fit both back in 1997 and today. For example, "I wonder if they'd still agree to risk their life expectancy if they'd been standing next to me." It's easy to issue orders and send 2,000 soldiers out somewhere. But you only have one life, Dave, and it's the most precious thing you have. Young guys are getting killed for no reason. So I guess those songs are my protest. How can you send young men out to die even if it's for your country? You only get one chance in life, and for so many of our soldiers, that chance is gone.

Dave: John Entwistle played bass for The Who, and Cozy Powell drummed for so many bands that I could fill the page listing them, and both leave behind incredible musical legacies. Tell me about the impact the two of them made on your life, not musically, but as your friends.

GLENN: Cozy was one of the best guys and most likeable guys that I've ever known. I can't believe that he's not still around. Recently, I bought one of his drum kits that was up for sale. I thought it would be a good thing to set it up in my studio so that I'd think of him. It had the opposite effect. I had to take it down because it saddened me all of the time. John Entwistle was a kind and unassuming guy, a real gentleman. He was the last in a breed of the archetypical rock stars. He lived in a massive mansion in England, and I remember joining him for dinner one evening. We sat in this baronial dining hall with oak paneling and suits of armor everywhere. He brought in a bag of fish and chips and placed it in the middle of the table. That was John, an eccentric and wonderful gentleman. Those two guys were real characters, and I'm proud to have been involved with them. Those recording sessions are very memorable. We had a great time.

Dave: The deaths of John Entwistle and Cozy Powell prevented any chance of you touring as a three-piece band. If you were asked to form a band to tour and support these records, who would you pick for your power trio?

GLENN: First off, Judas Priest is the priority in my life, and I'm not looking to form a new band. I'm proud and lucky to be a member of a band with a very special formula. Judas Priest has, and always will have, all of my attention. Back in 1997, there was no Judas Priest so I would have gone out and did gigs. That was our intention, but fate played a hand in it and we couldn't. Filling John and Cozy's boots would have been impossible. The records were magical, with phenomenal playing on them. Not me, them. "Edge of the World" is not a solo album, it's a band. To suggest someone else touring and playing those songs is sacrilegious. If I was forced, it would only be appropriate to pick some of the younger guys that played on the record since they were a big part of it. Shannon Larkin's a fantastic drummer and any of the bass players would be a good fit: Billy Sheehan, Robert Trujillo, or C.J. DeVillar.

Dave: When you release a solo album, do you have any expectations?

GLENN: No, none at all. On a solo album, you have to think carefully about what you do. I had to be musically away from Judas Priest with these records, so I had no expectations. Satisfying my musical interests and artistic side while working with great musicians is my only reason to do a solo album. It was important to get the record out there, get those songs out of my system, and to work with other guys.

Dave: Today's music industry is heavily impacted by the Internet, computer technology, downloading, record company philosophies, and changes to the radio industry. What are your thoughts on today's music industry?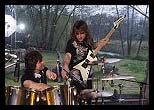 GLENN: That's a good question, which I'll answer two ways. On a personal level, I'm old-school and I hate downloading. It's ludicrous to put a lot of work into an album; there's hours and hours of writing, rehearsing, and recording. Then there's the added stress of mixing it and getting it right. Then the day it's released, it's offered for free on the Internet. What that does, whether people like it or not, is squash artistic ability and the desire to create quality music. Why go through the effort if your record is just going to be out there for free? I don't like that side of computer technology. On the other hand there is an advantage. People who wouldn't normally buy the record get to hear the record. My son and his bands view it in a different way. They write and put stuff out on the Internet just to get it noticed and heard. I've got an open mind and we'll have to live with it, for better or for worse. In a sense, it's good for Judas Priest, because the only thing left is great live performance. You have to go to a concert to experience that. When I need to use a computer, I'm proficient in what I need to do. I use Pro-Tools, I can send and receive e-mails, and I use photo shop programs. I don't really surf the Internet. When something goes wrong with the computer, I'm stuck. I take one with me and jot down ideas, even though I don't write songs on the road. I use my computer in a very limited way, but the ways I use it makes it beneficial to me.

Dave: I first saw Judas Priest play at The Palladium in New York City on two occasions in the 1970's, so I feel I'm more than qualified to say this. In rock and roll history, I can't think of two lead guitarists that blend together and complement each other like you and K.K. Downing. People watching Judas Priest in 2006 can make that same observation, or they can hear it in the upcoming DVD called "Live Vengeance '82." But I saw it first-hand a long time ago, so I won't attribute it to the years you've played together. Please comment further on your unique musical relationship with K.K.

GLENN: Right from the word go our styles blended together. We're quite different as far as guitar players, but we love the same music. We're both proud to play metal. Early on, we recognized that the twin guitar thing gives the band more scope. For instance, the great stereo sound at live shows with one guitar coming out from the left and the other from the right. When one of us plays a solo, the other can thunder out rhythm playing. The twin lead trading off thing is very exciting, one guitar battling the other. We're very fortunate, and it's more luck than judgment that we blended so well. Like you observed, Dave, we had it early on. In the studio and onstage these days, we have almost a sixth sense. Our different sounds, with Rob's vocals, and Ian and Scott who are a tremendous rhythm section, give Judas Priest a lot of strength of character.

Dave: Including bassist Ian Hill, the three Judas Priest guitarists have been mainstays of the group since the 1970's. But in general, what's the deal with your drummers? They come and they go and Judas Priest must have had at least a half-dozen drummers in their history.

GLENN: People think of Scott Travis as the new guy, but it's been 15 or 16 years now. It's not fair to call him just another drummer because he's held that job longer than anybody else. He's an integral part of our formula, As far as previous drummers, it was just a chain of events. John Hinch was a nice guy, but it took him a long time to learn things. He was struggling when the band was experimenting and trying to move forward. Alan Moore was a good guy and a fine drummer, but the record company insisted on a guy with more imagination and flair. Simon Phillips was never going to play live with us, but we brought him in to record "Sin After Sin." Les Binks was a great drummer, and to this day neither Les nor us know why we parted company. It sounds bizarre, but we had a long break and never got back together. Dave Holland was a solid drummer, but he couldn't do the double kick drum thing that we desperately needed.

Dave: Do you have a favorite guitar solo you've played over the years? I know there are so many, but when I tried to think of that one favorite, for me it's your solo on "Painkiller."

GLENN: "Painkiller" is a fine choice, because it's such a great song. It's so enjoyable to play that lead break. It's very appropriate for the song. It's quite long without being boring because of the different movements. It's very percussive and it keeps the song going. I'm also proud of the lead break on "Beyond the Realms of Death." Solos should not be about listening to me to see how good or bad I sound. Lead breaks are about complementing the song.

Dave: The film "Rock Star" was loosely based on Ripper Owens' rags-to-riches story when he replaced Rob Halford in Judas Priest. I know your band never endorsed nor were they involved in the production of that film. Did you ever see the film, and if so, here's your chance to be the school teacher and grade the film.

GLENN: After I saw some cuts from that film, I kept a million miles away. If it would have kept to the story, it would have been more interesting and dramatic. If I was the film teacher grading the student, I'd ban the film.

Dave: Headlining the Ozzfest concerts in the United States has given Judas Priest the chance to play to a whole new generation of music fans. Please comment on your experiences playing Ozzfest.

GLENN: Ozzfest was fantastic, and we were proud to be part of it. It doesn't get much better than Black Sabbath and Judas Priest on the same bill! It was our chance to show people that we are back. The most amazing part, as you alluded to, Dave, was that the audience was so young. To see so many young kids in the audience, whether they were with their parents or not, gave us a great feeling. It told us that we did something right.

Dave: Ozzfest is the major concert event every summer in the U.S. The same line-up of bands travels from city to city. In Europe, Judas Priest has played most of the major outdoor music festivals, which are unique to the city or country hosting the festival, and the band line-ups are always different. What else would you add, trying to encourage U.S. music fans to attend one of the European festivals if they have a chance.

GLENN: It's difficult to encourage Americans to travel because they have it all here. Generally speaking, from my experiences talking to Americans, is they think of Europe as the other side of the world. What you gain in Europe is exposure to all of the different cultures and that's an eye-opener and mind-broadener. Attending a European music festival will expose you to those cultures and let you hear a lot of real good European bands that will never make it to the United States. If you don't go to "the edge of the world," you won't find what you're looking for.

Dave: During the last two U.S. tours, the Judas Priest set list has been composed mostly of songs from "Angel of Retribution" and the classic hits. It's been said that your set list will change the next time around, featuring some obscure songs and fan favorites from previous tours. Have any of those songs been chosen?

GLENN: No, we haven't, but we're really going to try to change the set list.

Dave: Is there one Judas Priest song that the band has NEVER played live that you'd like to dust off and work into the set list?

GLENN: Off the top of my head I can't think of one.

Dave: Judas Priest played in Russia for the first time in 2005. How was Russia and where else on planet Earth have you never played that you'd like to see scheduled?

GLENN: First off, the people and metal fans in Russia knocked us out. The support there was just as strong as anywhere else in the world. People underestimate the popularity of metal, but there are metal fans all around the world. We've never played in China, India, or a lot of the Far East but I hope to one day play for the metal fans in those countries.

Dave: At the end of March, Judas Priest is playing at Royal Albert Hall in London at the Teenage Cancer Trust Charity concert. Is that the only concert the band is scheduling for 2006?

GLENN: Yes, I think so. We talked about summer dates, but what we really want is to get started on the new album. We have a couple of things in mind that will surprise people. We've done a lot of touring the last two years, and it's not like we're taking a year's break. We'll be working hard during the year. Then when we do go out, we'll have new songs and some different songs in the set. That will require some rehearsing, Dave, and Judas Priest does not like rehearsing. We like playing in front of an audience of metal maniacs like yourself.

Dave: What is the latest update you can offer your fans on the songwriting progress for the follow-up record to "Angel of Retribution?"

GLENN: There's nothing to report yet. We've put a little pen to the paper individually and next month we'll sit down and write together.

Dave: I think "Angel of Retribution" is a great record, and one of the songs I found most intriguing was "Lochness." With that song in mind, I won't ask you if you believe in ghosts or your thoughts about life on other planets. But I will ask you this. You passed by Loch Ness many times, did you ever see anything out of the tour bus window? Do you believe that there is a Loch Ness Monster?

GLENN: I've seen many things from out the tour bus window but usually after I've had four or five scotches. Sure, the Loch Ness Monster is real. If you ask any of the local people around there, they'll tell you that it exists.

Dave: Since I asked about that legend, I think it's fair to follow-up with a question about a conspiracy. The Rock and Roll Hall of Fame is finally inducting Black Sabbath in 2006. I hope Judas Priest and Deep Purple are soon to follow. Would you agree with my opinion that the Rock and Roll Hall of Fame has pretty much conspired to totally ignore bands that spearheaded the New Wave of British Heavy Metal? Or, to take it a step further, ignored metal music in general while falling in love with and inducting countless punk rock bands?

GLENN: Part of me doesn't care. It's just a status symbol and we're inducted, that's fine. On the other hand, it's annoying when you look at the list of bands that have been overlooked. It not only shuns the bands, but the fans of those bands who have been so supportive. I'd agree that they pretty much ignore metal in general.

Dave: Rob Halford can still sing, and the band still sounds great. It's obvious that the band can still do it. Why does Judas Priest continue doing it?

GLENN: Rob's voice is sounding better than ever, considering all of the years he's worked and everything he's done to those vocal chords. The reunion re-energized the band. Through the slumps, new wave, and the punk era, we've always flown the flag for metal. Judas Priest is proud to be part of heavy metal. We never disowned the tag of heavy metal when many other bands did because it wasn't fashionable. We love every minute onstage playing heavy metal. I have more energy now than I ever did, so while it's there, we want to stay on a roll.

Dave: I'd like to thank you again for letting me conduct this interview, Glenn. Do you have any closing comments for your fans?

GLENN: Be patient, we kept you waiting 14 years but we're back re-united. "Angel of Retribution" was not a one-off album. We consider it a new beginning, and we'll be around a long time.