Terri Nunn is an American singer and actress best known as the female vocalist for the 80s new wave band Berlin. With a Top Ten ballad in "Take My Breath Away," the synthesizer-driven "Sex (I'm a ...)," and other hits like "The Metro" and "No More Words," the musically diverse Berlin was one of the definitive American bands of their genre.

Berlin disbanded in 1987, and Terri Nunn released a solo record, "Moment of Truth," in 1991. She recreated Berlin with a new lineup of musicians in 1999. Most of the members from the classic version of Berlin played together again for a sold-out Los Angeles show after being featured in 2004 on the VH1 show "Bands Reunited."

Terri Nunn continues to keep Berlin afloat, releasing a record called "4play" in 2005. A new live DVD/CD recorded at the House of Blues is slated for a Summer 2009 release. Terri is also out on the road in June and July, touring as part of the "Regeneration Tour 2009," which features Berlin, ABC, Cutting Crew, and Wang Chung.

I was honored recently when Terri took the time while rehearsing and preparing for this tour to answer my interview questions via e-mail.

Dave: Hello Terri. Thanks for giving me the opportunity to interview you.

Terri: Thank you for having me Dave!

Dave: In April 2009, your band Berlin played a show at the House of Blues in West Hollywood, California. The Berlin website stated that the show was being recorded for a future DVD/CD release titled "Terri Nunn, featuring Berlin at the House of Blues - Live." What's the status of that release?

Terri: I'm really excited about this! We're working round the clock to get this put together for release in mid-June. The new title is "TERRI NUNN & BERLIN - ALL THE WAY IN." My band is so amazing right now, and we are ALL totally into this. The songs cover our past, present, and future more than any other release we've ever done, from the first single we ever put out all the way to two new songs we're including from our upcoming brand-new studio album coming out later this year. We want to give people a taste of what's to come.

Dave: Please introduce your band mates in the 2009 version of Berlin.

Terri: We have Carlton Bost on guitar, who comes from the band Deadsy, and he's also co-producing the new album with me, he's awesome! Dave Schulz on keyboards is our newest member; he was in the Goo Goo Dolls and General Public. Chris Olivas on drums is the longest member next to me, he joined the band in 2000.

Dave: Chemistry, both on the stage and offstage, is such an important factor to a band's success formula. Other than their chosen instruments, what does each of your current band mates add to the mix?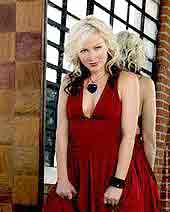 Terri: Dave is our most accomplished musician; he's a classical pianist as well as a programmer, just breath-taking. Carlton has a real gothic feel to his playing that I love, plus he's really easy on the eyes! Chris makes my ass move, he's a really great dance drummer. Plus, he's been instrumental in adding the visual elements to the show.

Dave: Logistically speaking, four bands playing at a single concert force not only a quick turnaround between sets, it forces each band to play an abbreviated set. Which word betters fits those scenarios: challenging or frustrating?

Terri: Challenging. I love shows with a lot of bands though, because it gives me a good taste of a lot of different artists I may never have heard before.

Dave: Berlin has so many hits and fan favorites to squeeze into a short set. More importantly, at least in my opinion, is that Berlin's songs have different ranges and styles. Does the shorter set prevent Berlin from establishing a "mood" to their concert by the way the set list is sequenced?

Terri: Not at all. You seem to be a big fan of music, Dave. Set list sequencing usually doesn't cross most people's minds. It's one of the things I love to do the most, because it's not just the songs you play, it's how the night flows.

Dave: On the Berlin record "4play," your band covered Marilyn Manson's "Dope Show" and David Bowie's "Fashion." Let's have some fun and let them return the favor. Pick a Berlin song that you feel each of them could cover and do justice to with their musical styles and vocal ranges.

Terri: That's a fun question! I'd love to hear what Brian, aka Marilyn Manson, would do with "Sex (I'm a)!" He'd probably rip that up! Bowie's such a stage-y performer, he could do "Masquerade" a lot of justice.

Dave: I loved "Down and Dirty" and "Scream," which were new original songs written for that record. Today's music industry doesn't present many incentives for an established band like Berlin to write and record new material. Is Berlin planning to write and record new material in 2009/2010?

Terri: Yes, we're doing it right now! I'm working with three great writers at the moment, It's kinda like dating, seeing what collaborations really work. There are some GREAT songs coming out of it. We hope to have the album out by late this year or next. First up to complete is our new live DVD/CD set.

Dave: The Rock and Roll Hall of Fame has embraced the punk rock genre. Musicians like Patti Smith and bands like Sex Pistols, The Clash, The Ramones, Talking Heads, and Blondie have been inducted. As we approach a time period where New Wave groups are eligible for induction, how do you think the Rock and Roll Hall of Fame will embrace that genre?

Terri: I think very well. There are so many amazing bands from that time whose music has lasted, and they deserve to be honored.

Dave: One of my favorite musicians, Chris Vrenna, has drummed in Nine Inch Nails and played both keyboards and drums for Marilyn Manson. His wife, Carrie Borzillo-Vrenna, work a book that you contributed to called "Cherry Bomb: The Ultimate Guide to Becoming a Better Flirt, a Tougher Chick, a Hotter Girlfriend, and to Living Life Like a Rock Star." How did you get involved in that project?

Terri: Chris is a friend of mine so Carrie contacted me and told me about her book idea. I loved it, would've LOVED to have a book like that growing up, that spoke to girls like me who wanted to be different from the pack, unique and strong and creative and sexual and into music! So I agreed to write a couple of chapters for it. It's a good book!

Dave: You've done some acting on television shows like "Lou Grant" and Hollywood films like "Thank God It's Friday." Plus, in the Vrenna book you endorse role-playing, something you wrote about on the Berlin hit song "Sex (I'm a ...)." Is the on-stage Terri Nunn persona the real Terri Nunn, or is that a role you're playing?

Terri: The woman on stage is me, though it's a me very amped-up on passion. Singing isn't about playing roles, it's about expressing the particular emotion of the song. Playing a role is taking on characteristics of someone different from myself and projecting it an honest way.

Dave: Other than the summer tour, what else do you have planned for 2009 and beyond?

Terri: I will release a new album with all new studio songs by the end of this year or early 2010. I'm really looking forward to that! Everyone can stay current with our news at berlinpage.com, and we also have Myspace http://www.myspace.com/28798962 and Facebook.

Dave: Thanks for the interview Terri and best of luck on the Regeneration Tour. I'll see you when you reach Atlantic City, New Jersey. Feel free to close the interview with a comment to your fans.

Terri: Thank you so much for including me Dave! Thanks to everyone for listening! I hope you get to come to the show!!