I love rock and roll, 24 hours a day and 365 days a year. Thommy Price drums on Joan Jett and The Blackhearts' classic song "I Love Rock and Roll" a couple hundred nights every year. Although Thommy jokes throughout this interview that he's a "frustrated guitar player," he is best known for his work since 1986 as The Blackhearts' drummer. Thommy has also drummed in Scandal and Mink DeVille, and on albums by Billy Idol, Blue Oyster Cult, Roger Daltrey, and countless others. On his upcoming solo CD, "That's Amore," as he did on his 2005 record "Sex, Drums and Rock N' Roll," Thommy drums, sings, and plays guitar. I was thrilled when Thommy took the time to chat with me about his solo records, Joan Jett and The Blackhearts, and his drumming career.


Dave: Hey Thommy. Thanks for letting me do this interview. Joan Jett and The Blackhearts have a late March 2007 show booked on Staten Island. Is it too early in the year to tell or do you already have a feel for how much touring The Blackhearts will do in 2007?


THOMMY: Yeah, it's too early. I'm only getting bits and pieces from the office on what the spring and summer touring schedule will be like. It's ironic that we're starting on Staten Island because I grew up there. Like always, it should be a heavy touring year. In 2006, it was especially heavy because we did two full-fledged tours. Back to back, we did the Vans Warped Tour and our own tour. Both were bus tours, which we normally don't do. We do a lot of fly-dates, where we're out for a few days and then come back.


Dave: What about your solo project, Sex, Drums and Rock N' Roll? Any gigs planned for 2007?


THOMMY: I book my solo gigs around the Joan Jett tour dates, and I've only been home for two weeks. I really haven't planned any for 2007 yet because I'm just getting ready to release a new solo record called "That's Amore." It's mastered, as of a few days ago, and I'm working on the packaging and finalizing the artwork.


Dave: You released your first solo CD, "Sex, Drums and Rock N' Roll" in 2005. Music fans can link to your MySpace page from this interview and hear a few songs from that record. Are there any song clips from "That's Amore" at your MySpace page?


THOMMY: Yes, a song called "I Play Drums," which will probably be the first single off the record.


Dave: How would you verbally describe the musical direction of your CDs for music fans reading about "Sex, Drums and Rock N' Roll" or "That's Amore" for the first time?


THOMMY: It's pretty simple. It leans toward punk obviously, and it's very very pop. Put those two words together and it's pop-punk.


Dave: Where can music fans go to purchase the CD?


THOMMY: You can buy "Sex, Drums and Rock N' Roll" through Blackheart Records, I also sell it at shows, and you can purchase it directly from me at my website.


Dave: Do you have a release date for "That's Amore?"


THOMMY: Not yet, but it will be real soon. Check back at my website and MySpace page in a couple weeks for the latest info.


Dave: On your solo records, do you play all of the instruments and sing all of the vocals?


THOMMY: Everything!


Dave: How's your band configured when you play live shows?


THOMMY: I have another drummer playing. Since I'm a frustrated guitar player, I'm up front playing guitar. I have a second drum kit set up on the side and I go back and forth. The drummer plays all of the time, and I have a sort-of Dave Clark Five kit where I stand up and play. It's a cool format, and I've done that for years. The worst part was trying to find a drummer who I was satisfied with and whom I didn't have to give a lot of money to. (Thommy laughs) It's usually Jimmy Clarke, who played with the Price-Sulton band. He's also filled in for me with Joan Jett.


Dave: Solo records create a chance to work with different musicians, they can give a sideman an opportunity to play his own material and shape how it's recorded, or even let him play a style of music that's totally different than his main gig. What were your reasons for the solo CD?


THOMMY: Like I said before, I'm a frustrated guitar player so I always want to play that instrument and to jam with other people. I've been fortunate to be surrounded by great musicians like Kasim Sulton from Utopia, Elliot Easton from The Cars, Steve Stevens from Billy Idol's band, and Joan Jett. That made it easy for me to step up front and do what I had to do.


Dave: You've drummed on so many records for other people. If you were to plan another solo record, I've hypothetically picked some guys to return the favor and play on your record. I'll have John Waite (The Babys) sing, Kasim Sulton (Utopia) on bass, and the contrasting styles of Tom Verlaine (Television) and Steve Stevens (Billy Idol) on guitar.


THOMMY: That's a great band you've put together. I'd pay money to go see that show.


Dave: Me too. Now it's your turn to build a band. You're drumming, so you pick a vocalist, two lead guitarist, and bass guitarist, but you get to pick guys whom you've never played with.


THOMMY: The perfect rock singer is Roger Daltrey. Even though I worked with him once, he's my only choice. Keith Richards and Ronnie Wood on guitars, and Dee Dee Ramone on bass guitar


Dave: You've played in a few great bands and a whole bunch of great records. Was there a job you didn't get, a missed opportunity, that haunts you to this day?


THOMMY: The Who. I grew up on them and after Keith Moon left, they went through a few drummers. I was always hoping after playing on a Roger Daltrey record that he'd go to Pete Townsend and tell him that he just played with a good drummer who'd be a nice addition to The Who. Unfortunately, that never happened.


Dave: Obviously then, you'd list Keith Moon as one of your biggest influences on drums?


THOMMY: Yeah, Keith taught me my rock side and Dino Daneli from the Young Rascals taught me R&B and gave me heart and soul. I'm somewhere in between those two guys.


Dave: Joan Jett and The Blackhearts released a record called "Sinner" in 2006. It had its share of classic-sounding songs, but some punkier songs too. Was that a pre-conceived thought going into the studio or did it just happen that way?


THOMMY: It just came out that way. That's the kind of music that we both grew up with and it's how we play live. Deep down, we're a four-piece, three-chord punk band. That's probably why we were picked for the Vans Warped Tour.


Dave: At your MySpace page, you state that although you had been playing on Joan Jett and The Blackhearts records, you weren't in the band. After seeing them play at Radio City Music Hall in New York City, you joined a perfect rock and roll gang. Did you have to change "your game" to fit in or did you see anything watching from the audience that you wanted to tweak?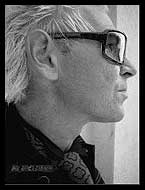 THOMMY: They were a great band, and I wanted to be a part of what was going on. I didn't agree with what was going on drum-wise. That's the reason I thought they needed me. I think that my drumming made them a better band.


Dave: The Blackhearts have so much classic Blackheart material to fill up the setlist. How many new songs does Joan Jett work into her set when touring to support a new record?


THOMMY: It's hard because everybody wants to hear the classics. But at the same time, we are out there promoting the latest record. We have to play the majority of the new record. You also have to know what songs are being played on the radio in the market we're touring in. So we're always flexible and switch off a lot on the new material. The classic material we're playing on a given tour pretty much stays constant.


Dave: I haven't seen a Blackhearts show in quite a while, and at the concerts I attended, Lee Crystal was drumming, and Ricky Byrd was on guitar. Who are the musicians that join you and Joan Jett in the current Blackhearts lineup?


THOMMY: Dave, you've got to get out more! You live right over the bridge so you better get to the Staten Island show if you haven't seen the Blackhearts in 20 years! As you know, the lineup has changed a lot over the years. Dougie Needles is our lead guitarist and Enzo Penizzotto is on bass.


Dave: Comment on the opportunity that the Warped Tour 2006 gave The Blackhearts to play to a new generation of fans.


THOMMY: It was a rolling punk-rock block party; it was incredible. That was a great opportunity for us. Even though we only played 30 minutes, we played to a whole new generation of music fans. After that tour, we were almost looked at as a brand new band. All the kids who went to those shows had never seen us play, even though most of those bands grew up on our music.


Dave: The Blackhearts stepped back, almost in a time warp, to play at CBGB's in June 2006.


THOMMY: We did a closed-party show a few years back at CBGB's. In June 2006, we already knew that CBGB's was going to close. We knew The Blackhearts would be one of the last bands to play there who also played in the heyday. That show was a very big deal for us.


Dave: What are your thoughts on the "Las Vegas" version of CBGB's.


THOMMY: I'm interested to see the bits and pieces that were taken from the old place to Las Vegas. It won't be CBGB's, it'll be like a Hard Rock or one of the other "theme" places.


Dave: While playing on the Warped Tour, did you get a chance to watch any of the other bands perform? If so, which new ones impressed you the most?


THOMMY: I got to watch a bunch of great bands play every day. We hung out with all of the other bands. It was a cool vibe because they watched us play and we watched them. The newer bands that impressed me the most were Against Me! and the Bouncing Souls.


Dave: Somebody recently stated that television is the new radio and that if you can ever get your music placed on television, it reaches so many more people. My two kids have heard "Bad Reputation" on the commercial for the cable TV show "American Choppers" a couple hundred times so I can relate to that statement. What are your thoughts?


THOMMY: Absolutely, but it's luck-of-the-draw or a shot-in-the-dark if your music gets placed. I don't think the musical artist can market themselves to television.


Dave: Television can also help bands in another way. Scandal toured in 2005, jumping back in the spotlight after being featured on VH1's "Bands Reunited." I really enjoyed the show I attended at Starland Ballroom in Sayreville, New Jersey. How much fun was doing that tour, especially since your lifelong friend Kasim Sulton was playing bass guitar?


THOMMY: Taping the show was so much fun that we couldn't let it go. We booked a ten date tour around the New York area. We didn't think anybody would come out but most of the shows were completely sold-out. That tour brought back so many great memories. Seeing those guys, playing with them again, and playing those songs again was incredible.


Dave: Did you also drum with Scandal in 2006 on the "VH1 – We Are The 80's" package tour?


THOMMY: I missed that because I was too busy with The Blackhearts.


Dave: As I researched Scandal, I learned that you replaced the late great Frankie LaRocka on drums, and that a relatively unknown Jon Bon Jovi posed as a guitarist on Scandal's "Love's Got a Line on You" video.


THOMMY: That's right, and the video is out there to prove it.


Dave: I was a big fan of the David Johansen Group, and rock and roll lost a great drummer when Frankie died a few years ago. Rock and Roll also lost arguably the best female drummer in its history when Sandy West, Joan Jett's bandmate in the Runaways, died in 2006. Did you ever get the chance to meet Sandy or see her perform?


THOMMY: Yes. Sandy and I were very good friends. We did drum clinics together. I saw The Runaways perform in England around 1978 just before they broke up. There was a lot of talk about getting the Runaways back together for another tour and a new record. Too bad it never happened.


Dave: You've shared the stage, dressing room, and tour bus with both Joan Jett and Patty Smyth, so you're more than qualified to compare them. As musicians, how are they most similar and how are they different?


THOMMY: Patty and Joan are like night and day. Joan Jett, because she plays guitar, is more of a band mate. A lead singer and a guitarist who handles lead vocals are two different animals. They're unbelievable people and they're great songwriters. I respect both of them so much.


Dave: I don't know if you've ever walked off the stage thinking that was The Blackhearts' or Scandal's best performance ever, or if that defining moment is still to come. Either way, what factors do you use to judge the performance of a band you're playing with as you walk off the stage?


THOMMY: I judge the audience's reception because it's a give-and-take thing, and we work off each other. I know I'm doing a good job when the audience gives their all after every single song. There are nights when I feel I wasn't at my best, but the audience doesn't know that.


Dave: I interviewed a guitarist recently, and he thanked me for not asking him the generic question of "what's the biggest crowd you ever played to?" I'll spin it differently and ask you to look back at the smallest crowd that the Blackhearts played in front of. After the pressure of playing to a big audience has been removed, how does a band turn that negative into a positive experience?


THOMMY: Some of the best audiences are the smaller audiences. We always prefer hot and sweaty funky little clubs. They're great gigs because you're so close to the audience. It feels personal. Joan hates the security gate that serves like a photo fit in front of the stage. She wants to be up close to her people. If the club is half-empty, you have to remember that most bands play for themselves. I know we do. We play to have a great time, whether there's one person there or one hundred thousand, it doesn't matter.


Dave: How has computer technology impacted the recording of drums?


THOMMY: That's huge because recording drums is so much easier. You have to record real drums somewhere, but you can bring it into a digital studio and fix it up.


Dave: How about playing drums onstage?


THOMMY: With this band, we don't use any of that stuff. There's no click tracks. Joan and I use in-ear monitors so there's no box monitors on the stage. The young bands on the Warped tour all used the old technology. They saw the things in my ears, and they all asked about the click track. When I told them that they were my monitors, they couldn't believe that I could play that long and that steady without a click track. I had to stick them in some of the other drummers ears to prove it. It's a compliment to me that they thought I could play so perfect and that I had to be listening to a click.


Dave: My final question is: How has Thommy Price evolved as a music professional to keep up with the drastic changes that the Internet and computer technology have made on today's music industry?


THOMMY: It's really hard to keep up because computer technology changes every day. I get a lot of help from my girlfriend. She keeps me up and running. Communication with your fans is a one-on-one thing these days with e-mail and MySpace. It's so much hipper than the old days. I do return all of the mail myself, and I try to answer as many as possible. I'm starting to teach, and I try to give the young drummers as much inspiration as I can. You just have to set aside some time each day to communicate with people through the Internet. Computer technology also gives me another avenue to get my music heard. I'm a musician so I'd still be making music no matter what technology is there to support it. I just love to make music and I love to play. It's what I do. It's the only thing I know.

Dave: Thanks again for the interview Thommy. I'll see you out on the road somewhere in 2007.


THOMMY: You've got to do it dude. If you haven't seen The Blackhearts in 20 years, you've missed a lot of good music.


ARTIST BIOGRAPHY

Full Name: Thommy Price
Website: www.thommyprice.com
MySpace pages: www.myspace.com/thommyprice
Birthday: December 9
Birthplace: Brooklyn, New York
Favorite beverage: Beck's beer
Favorite food: Italian, especially manicotti
First record you ever bought: "Groovin" by the Young Rascals
Last CD you bought: I don't remember
Favorite U.S. city to visit: coming home to New York City
Favorite international city: somewhere in Jamaica
Favorite venue to play: Beacon Theatre in New York City
Favorite film: "West Side Story"