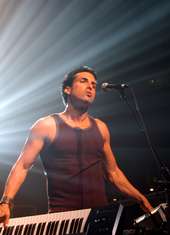 Derek Sherinian is an extraordinary keyboard player. He's recorded with, or played live with, international acts like Billy Idol, Yngwie Malmsteen, Dream Theater, Alice Cooper, and KISS. The list goes on and on. After completing the second leg of a U.S. tour with Yngwie Malmsteen, Derek did a summer tour of Europe playing keyboards in Billy Idol's band. I was honored when he took the time to answer my interview questions about his new solo record "Blood of the Snake," all of the bands he's played in, and so much more.
Dave: Hello Derek, thanks for letting me conduct this interview. Your fifth solo record, "Blood of the Snake," was released this Summer. What were the North American and European release dates?

DEREK: The release dates were August 1 for North America, July 27 for Europe, and August 23 for Japan. All the latest info and some song samples are at my website, www.dereksherinian.com.

Dave: A song some of the people reading this interview might remember, Mungo Jerry's "In The Summertime," is the first single off of "Blood of the Snake." What made you think of covering that song?

DEREK: "In The Summertime" will be the first single as you noted Dave. I loved that song since I was a kid. Billy Idol started singing it at a rehearsal one day, and I told him that I'd like to cover it. Two years later I did and when we were trying to decide on a guitarist, Billy suggested Slash. We called him up, he came on down, and the rest is history.

Dave: "In The Summertime" was an instant hit in both England and the U.S. when it was released in the early 70's. It's such a timeless song, yet I don't recall anybody else doing a cover of it.

DEREK: It's surprising, but as far as I know, that song has never been covered. It's such a great song and like you said Dave, it's timeless.

Dave: Thirty seconds into playing the first cut on the record "Czar of Steel" I was reminded of another record from my youth, Jeff Beck's "Blow By Blow." It was my first jazz-fusion album, and it was one of the first instrumental albums that I owned. It had this underlying tone though, of Jeff Beck stating: "It's jazzy, but I'm still a rocker and don't forget it." Do you try to make a similar statement with your jazz-fusion material?

DEREK: Not intentionally. I just hope that my material is on the edge and at the same time it pays homage to my rock influences. I'm very influenced by Jeff Beck's instrumental records. Simon Phillips, who co-wrote "Czar of Steel," used to drum with Jeff Beck. What's cool about Beck's form of fusion is that he's a rock player, crossing over to the jazz side. Most of the fusion that you hear is jazz guys trying to sound rockin'. I think for jazz-fusion to sound authentic, you'd have to had grown up listening to Hendrix, Black Sabbath, and heavier stuff. It has to be in your blood. It can't be just a jazz guy adding distortion to their guitars.

Dave: "Czar of Steel" re-united you in the studio with Dream Theater guitarist John Petrucci. Did you write that song with John in mind?

DEREK: No, it was written with Steve Lukather in mind, but he was unavailable to do the track. The next person I thought of was Petrucci. I wanted to get him on the album anyway and that seemed like the obvious track.

Dave: Other than "In The Summertime" or "Czar of Steel," pick another song off the album and break it down for me.

DEREK: "Man With No Name" is one of my favorite tracks, and it features Zakk Wylde on guitar and vocals. It was very Ozzy-influenced in the writing. When Zakk came in it took shape and came off sounding like old Black Sabbath. That's a great thing because it's such a classic sound.

Dave: When you go into the studio, do you have a pre-conceived musical direction in mind or a musical statement that you're trying to make?

DEREK: No. What I try to do is stay true to my musical tastes and to what's inspiring me at the moment. I put in a lot of time and care into making sure that the quality is there, both compositionally and production-wise.

Dave: Music consumers these days can download tracks or hear song samples at the musician's and/or record label's website or Myspace page. For the person out there who's going to buy a record based upon a written description of it, how would you describe "Blood of the Snake" and its musical direction?

DEREK: "Blood of the Snake" is very musically adventurous and it covers a lot of ground. It's everything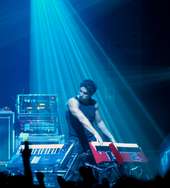 from heavy metal to jazz to Latin to progressive rock.

Dave: What's the biggest challenge to you as a solo recording artist: finding the time between all of your band commitments to get a record written and recorded, or getting your record heard?

DEREK: The egg comes before the chicken. The challenge is writing the record correctly. I have to find the time and make it happen.

Dave: I've heard musicians state, when asked about their solo albums, that they had some songs they wanted to get out of their system, that they wanted to be in complete creative control of a project, or that they wanted to get away from musically what they were doing with their other bands. What is your motivation to record and release solo records?

DEREK: I'm a creative guy and solo records are the best way to document my creativity.

Dave: How does "Blood of the Snake" differ from, and how is it similar to, your previous record "Mythology?"

DEREK: It's in the same spirit with a few different players. It's a little bit heavier than "Mythology."

Dave: On those two records, you were joined in the studio by incredible musicians like Steve Lukather, Jerry Goodman, Tony Franklin, Simon Phillips, and countless others. Pick a hypothetical dream band to tour those albums with, but pick musicians that you've NEVER worked with.

DEREK: It's hard to picture that music being played by anybody else. Those are my favorite cats and that's why they're on those records. I guess if I had a dream band, Steven Tyler would be singing and Eddie Van Halen would be on guitar.

Dave: "Day of the Dead," the opening track from "Mythology," has two guitarists with radically different playing styles: Zakk Wylde and Allan Holdsworth. What you were trying to achieve pairing them together?

DEREK: If I had to define my sound I'd call it metal-fusion. That song epitomizes that sound. It gets really heavy, the middle has Holdsworth doing his thing, and it fuses together at the end with Holdworth soloing over Zakk's heavy rhythms.

Dave: Here's a good spot to ask a keyboard player who once considered an instrument switch to guitar to compare and critique guitarists. Compare the onstage and in-the-studio personas of Steve Stevens, John Petrucci and Yngwie Malmsteen.

DEREK: Steve Stevens is a great onstage performer with incredible tone. He's very solid and so consistent. Yngwie is just Yngwie, full-shred 100% of the time with his stack of Marshals blazing. He's probably the most gifted guitarist that I've worked with. Petrucci is like a cyborg every night. He never messes up his parts. He's spot-on every night.

Dave: That's enough talk about guitarists, let's talk keyboard players. Who had the biggest influence on you in the 1970's: the progressive keyboardists Rick Wakeman and Keith Emerson, or a piano player like Elton John?

DEREK: Elton John was my first musical hero and Jan Hammer was the second guy I locked onto. Emerson and Wakeman were cool, but I thought there was a cheesiness to the whole progressive rock thing.

Dave: Look back in time for a moment to your days at the Berklee School of Music in Boston. How would you advise a young musician who is torn between attending a "music school" with a total music environment, or attending a regular university as a music major?

DEREK: If you really want to be a musician, go to a music college. If you're leaning towards jazz, go to Berklee. If it's classical, go to Julliard. Immerse yourself into it, study hard, and give it your all. Cut out everything else from your life, like friends and girlfriends. That'll be there for you afterwards. Focus on learning the craft and accumulate as many tools as possible at an early age. Once you're out in the real world and out of the scholastic environment, it's hard to keep up a study regimen.

Dave: Was it a total "culture shock" for you, growing up on the beach in sunny Southern California, only to attend a school in the climate-challenged and fast-paced Northeast?

DEREK: I hated it. I had never felt the cold or seen snow before. But I loved the musical environment inside the walls of Berklee. Outside the school or dormitory was definitely not my scene.

Dave: Since Berklee, how have you evolved as a keyboard player and songwriter and how has keyboard technology changed over that same time period?

DEREK: I've matured as a keyboard player, and I've learned something from somebody on every instrument. All musicians have something great that they do. I try to steal from each and everyone of them and throw it into my style. Keyboard technology has changed immensely. That's great and the synth companies have really kept on top of it. Their designers and programmers are really keeping the technology ballgame rolling.

Dave: Let's chat about some of your previous bands and tours for a moment. Not too many guys can say that they played with somebody who played with Jimi Hendrix. Talk about the Band of Gypsies drummer Buddy Miles and the tour you did with him.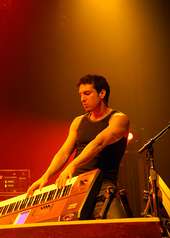 DEREK: That was the first time I went out on a tour, and it was an incredible experience, Buddy has so much soul as a singer and so much groove as a drummer. He gave me confidence in my musicianship, and I felt connected to rock royalty. He told Jimi Hendrix and John Lennon stories all of the time. I felt the same way playing with Alice Cooper because he's such a rock legend. I was exposed to some heavyweights at a very early stage in my career and that was so valuable.

Dave: You did two tours with Alice Cooper, with a different set of band mates on each tour. You shared the stage and tour bus with drummers Eric Singer and Jonathan Mover, guitarist Vinnie Moore, and your old Berklee chum, guitarist Al Pitrelli. The onstage theatrics at an Alice Cooper show are legendary. Yet, for the sake of this interview, let's have a little bit of fun and make a hypothetical change. If Alice used a real guillotine, and you were the executioner, and you had to behead someone other than Alice, which band mate would you have put on the chopping block? Why?

DEREK: Oh come on Dave, what kind of question is that?

Dave: A fun one.

DEREK: I would pick the girl background singer/actress that they stuck up there with us. I forget her name. She was annoying and no one could stand her.

Dave: Wasn't that Alice's daughter, Calico Cooper?

DEREK: No, it was pre-Calico.

Dave: On a scale of 1 to 10, how much fun was it playing keyboards for KISS on their "Revenge" tour? Using the same scale, how frustrating was it playing keyboards offstage?

DEREK: A 10!! Musically, it was the least fun, but as far as getting chicks, it was the most fun in the world. Playing offstage is frustrating, but I knew what I was getting into before I went out on the tour so it was tolerable. I'll give it a 5.

Dave: The Rock and Roll Hall of Fame finally inducted Black Sabbath in 2006, but there has to be some kind of conspiracy when bands like KISS and Alice Cooper are not inductees.

DEREK: It's a select group of people who have self-appointed themselves to a panel, and they decide who's going in. Unless the fans vote, it'll never be legitimate. How can you have a Hall of Fame without Alice, KISS, or Deep Purple. Give me a break, Blondie's in and those bands are not! Rolling Stone magazine and the Rock and Roll Hall of Fame are a bunch of ex-hippies turned yuppies who are trying to make themselves the illuminati of rock. To me, the Rock and Roll Hall of Fame doesn't mean shit!

Dave: Also, other than Pink Floyd, progressive rock, as represented by more than eligible bands like Genesis, Yes, or Emerson, Lake and Palmer, has been totally ignored.

DEREK: Honestly, I don't think that prog-rock bands deserve to be in it because they deviated from the simplicity of rock and roll. They should have their own prog-rock Hall of Fame.

Dave: Hopefully, once Dream Theater becomes eligible, the Rock and Roll Hall of Fame will start giving progressive rock some recognition. Speaking of Dream Theater, how does a keyboard player with an early resume that included tours with KISS, Alice Cooper, and Buddy Miles end up as a member of a progressive rock band?

DEREK: I had just finished up with KISS, and Alice Cooper was taking some time off so I was out of a job. Seattle music was strong and there wasn't a lot of work for keyboard players. My friend Jonathan Mover, the drummer from Alice's band, told me that Dream Theater was auditioning so I contacted their management. When I received the music that I had to learn for the audition I almost had a heart attack. I never had to learn anything so technically challenging. I put myself into the music and gave it my all for the audition. Their first choice was their current keyboardist Jordan Rudess, but he had other commitments and he couldn't do the tour. They settled on me, I stayed four years, and it was a great experience. I was exposed to a different style of music. I had to upgrade my playing real fast, and I had to develop a personal style on my instrument.

Dave: You played four years with Dream Theater, releasing three albums and doing two world tours. What happened?

DEREK: The relationship ran its course and we had different goals, but it's all good. There's no hard feelings at all. I valued my time playing with them.

Dave: Since departing, you've played with their bassist John Myung in a band called Platypus, John Petrucci plays on "Blood of the Snake," you recorded a track on an E.L.P. tribute CD with vocalist James Labrie, and I saw Dream Theater's drummer Mike Portnoy attending your gig in Allentown, PA, on the last Yngwie Malmsteen tour. Obviously, you're still on good terms with all of the guys. Have you crossed paths out on the road with the band and joined them onstage, or can you foresee that ever happening under the right set of circumstances?

DEREK: When Dream Theater played their 15th anniversary tour, they invited me up to play. As far as joining them again onstage in the future, sure, but you never know.

Dave: If your fans dragged out their telescopes tonight and zoomed in on Planet X, would they see anything stirring around up there? You know they're hoping for a new record or tour later this year.

DEREK: Yes, there will be a new record out in the beginning of 2007. It's been delayed with extenuating circumstances that are out of our control and we apologize. Planet X is very important to Virgil Donati and I. We will keep it alive with new music. I hope the fans will stop by www.xplanetx.com and bear with us. Hopefully, we'll have some 2007 tour dates also.

Dave: I attended shows on both legs of Yngwie Malmsteen's U.S. tour, and you played keyboards on the second leg. Is it frustrating for a keyboardist to play in a "guitar band" where you're not given much space to flex your musical muscles?

DEREK: It is what it is and that's the Yngwie show, but it would have been nice to play a few more solos. I have to find my satisfaction in playing my parts really tight, providing a solid backdrop so that he can go out and be Yngwie.

Dave: When I heard your were playing keyboards on the second leg of Yngwie's U.S. tour, I thought that it was the perfect opportunity to feature all of the "orchestral" material that Yngwie has. Did you lobby to get him to add more of that material into the set list?

DEREK: Nobody lobbies Yngwie to do anything. He's gonna do what he wants to do.

Dave: By the time I get this interview uploaded to my website, you'll be in Europe playing keyboards with Billy Idol. Does Billy have any plans that you're aware of to record new material or tour in the United States?

DEREK: Billy's writing a new album right now that I'll be playing on and I also think he's releasing a Christmas album. 2007 should be a big Billy Idol touring year.

Dave: I'm a 70's punk rocker, and I was a big fan of Generation X, so I go way back with Billy. How did you hook up with Billy Idol professionally?

DEREK: Billy's drummer Brian Tichy recommended me for the job. Brian and I were co-writing my "Black Utopia" record when Billy had an opening for a keyboard player.

Dave: I know a few guys who have drummed for Billy: Gregg Gerson and Thommy Price. They are some of the nicest guys I've crossed paths with in the music industry. Billy Idol, with the sneer and attitude, appears to me to be a polar opposite. Tell me about the REAL Billy Idol, onstage and offstage.

DEREK: Billy is a totally cool guy, a real gentleman. He's funny and a pleasure to be around. I think he's great and I clear my schedule whenever he wants to work because it is so much fun.

Dave: I'm a big fan of Brian Tichy, whether he's drummer for Billy Idol or playing guitar in his band Ball. His stamp is all over your solo records, co-writing songs, drumming, and playing guitar, both lead and bass. If you had to limit him to one task, what would it be?

DEREK: As far as my albums, I'd want to keep him writing. He really helps me out. We have similar interests, and we had a lot of fun writing those songs. I would hate to lose that.

Dave: Since you've self-produced your solo records, at what point in the recording process, as a producer, do you find the most joy and satisfaction?

DEREK: I like working and interacting with the musicians. I enjoy different styles. They all do something great. Sitting back and watching, and trying to learn from others is so satisfying. One of my favorite memories was sitting in a control room looking out over guitarist Al DiMeola, who was laying down tracks for my record.

Dave: That's all of the questions I have for you Derek. Thanks again for the honor of letting me interview you. Is there anything that I've neglected to cover that you'd like to mention or promote?

DEREK: No, you're very thorough and it's been a pleasure.

Dave: Do you have any closing comments for your fans worldwide?

DEREK: Thanks for all of the support and kind words I receive when I'm out on the road. Go to www.dereksherinian.com and check out the song samples from "Blood of the Snake." I think you're gonna dig it!

ARTIST BIOGRAPHY
Full Name: Derek Sherinian
Website: www.dereksherinian.com
Myspace page: www.myspace.com/dereksherinian1111
Birthday: August 25, 1966
Birthplace: Laguna Beach, California
Favorite beverage: water
Favorite food: sushi
First record you ever bought: Mungo Jerry's "In The Summertime"
Last CD you bought: I don't remember
Favorite U.S. city to visit: anywhere in Texas
Favorite international city: Amsterdam
Favorite film: "The Godfather I" and "The Godfather II"