When Shauney Baby, the drummer in Hilary Duff's band answered interview questions for davesontour.com, she was getting off the airplane after a flight from Houston to Los Angeles, picking up her luggage, and heading home.

Dave: Hello Shauney, thank you so much for letting me conduct this interview for my website, www.davesontour.com. Let's start off right here, right now in early 2006, before we travel back in time a bit with my questions. You're getting ready for a late April/early May tour of Europe drumming in Hilary Duff's band. I've attended three of Hilary Duff's U.S. concerts so I know first-hand the type of crowd reaction she receives here. Are the European fans just as exuberant?

SHAUNEY: The U.S audience is very young, mostly pre-teenagers and teenagers, they are much more exuberant, and the crowds are larger. In Europe, where Hilary's just starting to be promoted, it's definitely an older crowd of teenagers and young adults.

Dave: That tour has shows in the U.K., The Netherlands, Spain, France, and Italy. What foreign countries, where you've never played, would you like to see scheduled next tour?

SHAUNEY: We just did a promotional show in Spain, and I'm really looking forward to getting back there on the upcoming tour. As far as places we've never gone, I can't wait to play in South America.

Dave: Should Hilary Duff's U.S. fans anticipate a tour this summer?

SHAUNEY: I don't think that there's going to be a full tour, but you never know.

Dave: Has she recorded, or is she working on, a new studio record?

SHAUNEY: There's talk of a new record being recorded this summer.

Dave: How much of the drumming is yours on her previous records?

SHAUNEY: I drummed on three tracks from her last record, "Mr. James Dean," "Jericho," and "Last Song."

Dave: Is it frustrating as a musician, when you do all of the live shows and you're considered a member of "her band," and studio musicians are used on the record?

SHAUNEY: No, because I am also a studio musician, and I play on other records. I understand the nature of the business. If the producers call you, they call you. If they don't, so be it. When you play the songs live, you have to play the music well. Playing the music live and playing it well gives you the chance to prove yourself.

Dave: Does the artist, Hilary Duff in particular, have a final say in that decision, or does her management and record label dictate who is used on the record?

SHAUNEY: Management and the producers usually make the decisions but I think that Hilary would like to choose who is used. So far, all of the music had already been recorded by the time she was ready to sing her parts.

Dave: Please talk about your involvement with the children's charity "Kids With A Cause," and feel free to promote anything you have scheduled with that charity for 2006.

SHAUNEY: I've been really busy and I don't have anything scheduled as of today, but that will change throughout the year. I'm a young ambassador with that charity so I go to hospitals, foster homes, and special events. I spend time with the kids, talking and reading to them. Since it's all about them, I do whatever they want to do, unless it's a special event with a specific agenda. It's really important to me that I do charity work. I'm very fortunate and grateful for everything I have in my life. I can't take that for granted, and it's good to give back to people in need. In the music profession, kids look up to the performers, and we inspire them. It's important to let them know we're here for them. Being there for the children is my way of showing appreciation for the support they give me.

Dave: What can people reading this interview do to support charities like "Kids With A Cause"?

SHAUNEY: I encourage people to go to www.kidswithacause.com and read up on the organization. They can support it by donating books, clothing, and canned food. It doesn't have to be a lot but every little bit helps.

Dave: Have you completed your instructional drumming video?

SHAUNEY: The video is still in the process. It will definitely be out this year. My website, www.shauneybaby.com, will have the latest information when it's available. If I don't sell directly, my website will tell you which music stores are selling it.

Dave: What's the latest on the rock band you're hoping to form and what type of musical direction will you take with this project?

SHAUNEY: It's in the beginning stages, but I have amazing producers already in place. I have some of the band members in place and I'm trying to complete the lineup. The make-up of the band is a surprise, so I won't give you any more details on the lineup. The musical direction is like Queens of the Stone Age or the Foo Fighters.

Dave: Have you decided on the band's format, specifically, are you the drummer or the lead singer? Or both?

SHAUNEY: I'll definitely be drumming, but I'll sing as well. The other musicians will add vocals also. There will not be somebody just singing lead vocals.

Dave: Last summer on the Ozzfest tour, Jada Pinkett-Smith fronted a metal band named Wicked Wisdom. All of the reviews I read mentioned that it was strange seeing her fronting a metal band. Obviously, not because she's an actress, but because she's African-American. Have you experienced any bias or prejudice first-hand playing in a pop-rock band or when you've talked about forming your own rock band?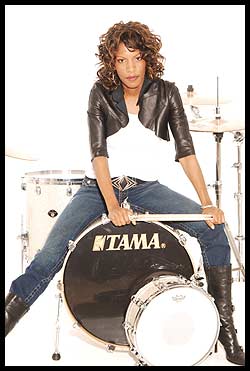 SHAUNEY: I haven't experienced any bias first-hand when I've talked about and started forming a rock band. People that know me know me as a rock chick, they don't picture me in R&B. Yet, being a female musician playing in a band with guys, it's obvious that it's a man's world. You can beat the odds by being persistent, by being passionate, and by being true to what you are. When you touch people with your passion and through your performance, if their hearts are open, they'll be moved by it. You can't force people to like things, but when you're true to yourself, you'll touch a lot of people.

Dave: Let's change gears and go back in time a bit. I consider myself a 70's punk rocker, but I grew up with a heavy dose of soul and R&B. Let's talk about one of my favorite songs from that era, "La-La (Means I Love You)" by The Delfonics.

SHAUNEY: My father, who is deceased, was an original member of The Delfonics. I don't speak much about him because it's hard. That song is very special to me, I take it personally, especially the chorus. I've always felt like that song was written personally for me.

Dave: Growing up as the child of a working musician, what influence did your parents have on your musical career?

SHAUNEY: My mother and father taught me a respect for music. I learned to respect art, creative people, and the legends who paved the way with great music that will never die. There's something inside of you naturally that makes you want to live the life of a musician, which has so many ups and downs. Music is a part of me. I believe that my soul is an artist and that I was born to be an artist.

Dave: Your musical education included voice, musical theory, sight reading, and drum rudiments. There are a lot of musicians who were self-trained; they never took lessons, and they still landed spots with major bands. How instrumental was your musical training in landing the drumming jobs that you've had?

SHAUNEY: Musical training is very important, yet for some of the gigs I've had, I didn't have to know how to read music. There are a lot of great gigs where you'll need to read music, so musical education will help you somewhere down the road. I certainly recommend it. In Hilary's band, the musical director is very specific with his terminology. You'll never know when you'll need musical education, but it's been instrumental to me with this gig. I don't think I would have landed this gig without it.

Dave: What techniques do you utilize when learning new songs?

SHAUNEY: In the studio, I chart it by hand. When I'm learning a song from a record, I usually just listen to it. Most songs have standard formats with respect to the intro, verse, and chorus. Last-minute stuff I have to chart, especially when you have to learn a song in an hour.

Dave: You drummed for a while with Salt N' Pepa, but I'm sure you were too young to appear with them at Woodstock '94. What was the biggest crowd that you ever played in front of?

SHAUNEY: Last year, in front of over 70,000 people at the RodeoHouston. Last night, when we played there, over 64,000 people attended the show.

Dave: My two children know Cree Summer as the voice of Suzie Carmichael on "Rugrats." I know her as the actress who played Freddie Brooks on "A Different World." Please tell me about your musical relationship with Cree Summer.

SHAUNEY: I got the phone call a week before going out on tour with Cree. Something happened with their regular drummer, and I had to fill in. I learned all of the songs during rehearsals. Cree's a perfectionist, she's hard-working, and very inspiring. She's very focused, and she is a great writer. She works on her material, and she works on her voice.

Dave: You also drummed for Latin pop sensation Paulina Rubio. Did the songs that she sang in Spanish, or does her addressing her crowd in Spanish, present an additional challenge?

SHAUNEY: No, I loved it! The music director was Latin as well, and he helped me with the things I couldn't understand. When I played with Paulina, it was mostly U.S. dates and she was learning English. So we each got a chance to teach each other different things. She tried to speak only in English, but some of the songs were in Spanish.

Dave: What's more challenging from a scheduling and time management perspective, drumming on a television show like you did on the Keenen Ivory Wayans show, or drumming on tour with a national act like Hilary Duff?

SHAUNEY: The biggest difference is the set schedule on a TV show. You have to be there at a certain time for hair and makeup. Every day, specific things have to happen at a specific time. Musical touring is not as rigid as far as time management goes. The rehearsals before are all-day events with only a lunch break. But I don't have to worry about hair, makeup, and wardrobe fitting. All I have to worry about is my songs. When you're working on a television show, it's pretty consistent, and your off-days are the weekends. There's more off-days when you're out on tour, but the days vary, and you're always playing on the weekends.

Dave: There are 24 hours in every day, and a working musician spends two to three hours of the day on stage. The balance of the day consists of traveling, trying to get sleep, practicing, songwriting, and interacting with fans and the media. On stage, or off stage, which part of the day is most challenging to you and why?

SHAUNEY: The off stage is definitely more challenging. The preparation is very tedious, and it's very hard work. It's rigorous traveling in and out of cities. You do a show the night before, and at 5:30 the next morning you have a lobby call, and you start the day traveling to the next city. You have to put a lot of effort into drinking water to stay hydrated and eating correctly so that you're not tired. The off stage stuff is definitely the hardest part.

Dave: I once asked a musician about his band's philosophy, whether it was one night and one gig at a time or planning ahead to the next album. His reply was "all that counts is the gig ahead. Musicians don't get pensions, they get moments of transcendence. Without those nothing matters so the next gig is everything." Could you self-relate to that statement?

SHAUNEY: Kind of, but my philosophy is, "all that matters is here and now." You never know what tomorrow holds so you have to make the most of the moment you have right now.

Dave: You grew up in Washington, D.C., living in the shadows of the White House. Talk about what an honor it was playing at the Presidential Inauguration of George W. Bush in January 2005.

SHAUNEY: It was amazing going back to my home city to be part of something so important. As a child, I attended the Duke Ellington School of the Arts, so I had done stuff like that before. It was an honor to do it again. It's always nice to go back home since I still have family there. The schedule was so hectic, but my Mom made desserts and brought them to our hotel.

Dave: I have a few more Hilary Duff questions for you. The first time I saw you perform in concert, you pulled double duty drumming for both Haylie Duff and Hilary Duff. Was it physically and mentally draining drumming for both bands?

SHAUNEY: No. When you're onstage, whether you're playing for 20 minutes or an hour and a half, the time goes by so quickly. I really enjoyed playing with both. The adrenaline rush had kicked in, and it wasn't a problem at all.

Dave: I'd imagine you fly to most of the shows and stay in first-class hotels when touring with Hilary Duff. It's not going to spoil you, I hope, because you might be sleeping in the van while driving through the night to the next venue if you tour with your own rock band?

SHAUNEY: I learned early on that what you have isn't going to last, at some point it goes away. You have to be grateful for what you have at every given moment. My motivation and inspiration are that I have a chance to do something I'm passionate about, playing music. We all want to make money and be successful, but it can't be all about staying in the best hotels or having the best tour bus. Getting the chance to do what I love will get me through anything else, even sleeping on the van driving all night to the next gig.

Dave: Many years from now, you're going to have your grandchildren sitting on your lap while you're telling them the war stories about touring back in the day in Hilary Duff's band. Share a serious story now, something you'll eventually share with them, perhaps a lesson you learned about the music business that you'll never forget.

SHAUNEY: I've learned that life is so precious and that you should desire happiness. Fame and fortune cannot buy happiness. Celebrities, regardless of their fame and fortune, are no better or no worse than you are. Never place a person on a pedestal, you'll be disappointed when you meet them because they're people just like us.

Dave: Share a funny backstage or on-the-tour-bus story, either a prank or a practical joke that somebody pulled on the boss.

SHAUNEY: We're not allowed to pull pranks on Hilary, but I love to pull pranks on your friend Jason Hook. He's really cool to hang out with, he's funny and super talented. He's into hair products and makeup. I told him I was putting lip moisturizer on him one time, and it was really lip color. Too bad he looked in the mirror and I had to take it off him, otherwise he would have gone onstage wearing lipstick!

Dave: Why is Hilary Duff and her image such a good role model for pre-teen and teenage girls?

SHAUNEY: People see her as the only performer in that age group with a "good girl" image, and the kids want somebody like that to look up to. Of course, their parents want the same from the performers their kids listen to. Hilary represents that image, and her character from Lizzie McGuire is such a positive role model and character. Kids will never forget her positive role from that show.

Dave: What is your favorite Hilary Duff song to play drums on and why?

SHAUNEY: "Rock This World" because it's the closest song we do to hard rock.

Dave: Last night, you appeared with Hilary Duff and her band at RodeoHouston. Look back at last night's gig and compare it to the first gig you ever played with Hilary Duff. How has she evolved as a performer?

SHAUNEY: She's grown incredibly confident as a performer. When you're really confident and sure of yourself, you control the staging and the audience. Hilary was all over the stage last night, she knew that it was HER show. She rocked out. Her confidence controlling her audience is the biggest change in Hilary. She has such command.

Dave: Now look in the mirror. Compare last night's gig to the first gig you ever played. How have you evolved as a drummer?

SHAUNEY: I'm more confident, and I'm more in control of the band. The drummer is in the driver's seat, and you have to be confident and take control. In the beginning, I was probably a bit shy and intimidated.

Dave: Thanks again for agreeing to do this interview. Is there anything I neglected to cover that you'd like to promote?

SHAUNEY: I hope everybody visits my website to check the status of my drumming video and the band I'm forming. Charity work is so important because it really makes a difference when we give back to people. I'm going to sell some inspirational things at my website with the proceeds going to various charities.

Dave: Do you have any closing comments for music fans worldwide?

SHAUNEY: Unhappy people don't want other people to be happy. Sometimes, people don't want you to dream or have faith in yourself, because they don't have that for themselves. Don't worry about what people say. As long as you believe in yourself and you're true to yourself, you can make all of your dreams come true.


ARTIST BIOGRAPHY
Full Name: Shauney Baby
Website: www.shauneybaby.com
Birthday: June 16
Birthplace: Washington, D.C.
Hobbies: reading, shopping, hanging out at the beach
Favorite food: sushi
Favorite U.S. city to visit: New York City
Favorite international city: Paris, France
Favorite venue to play: Madison Square Garden in New York City
Favorite film: "Ghost"