When Share Ross, the guitarist/vocalist for the L.A. punk band Bubble, answered interview questions for davesontour.com, she was working at the computer, doing 20 things at once with 19 windows open.

Dave: Hello Share, thank you so much for letting me conduct this interview. My nine-year-old daughter, who plays guitar and calls herself Diana The Rocker, excitedly told her grandmother last night that her Daddy was interviewing Share. My mother just phoned to congratulate me on hitting the big time, thinking that I was interviewing Cher. You don't get confused with Cher too often, do you?

SHARE: It has happened occasionally where people on the telephone think that I'm Cher. I tell them that I'm the one without plastic surgery and then I have to spell my name.

Dave: Let's have some fun with this. Pick a Bubble song for Cher to cover, and pick one of her songs that Bubble could do an awesome cover version of. I'll pick Cher singing "Love Stains" and Bubble playing "Gypsies, Tramps and Thieves."

SHARE: Bubble doing "I Got You, Babe," and I can picture Cher singing "Down and Out in Hollywood." It's a nice, slow, sultry, song and she has that low voice. Of course, we'd have to produce it. Cher, if you're reading this, you need to be produced by Bubble. Get some rock and roll back in your records!

Dave: There is a reality TV show called "Wife Swap." You are married to Bubble's drummer Bam, and imagine that Cher is still married to musician Gregg Allman. Keeping with the show's format, the two wives switch households. What would you do that drives Gregg Allman so crazy that he jumps on his motorcycle and heads back to Macon, Georgia? What would Bam do to drive Cher so crazy she calls for her limo and leaves him in the middle of the night?

SHARE: I wouldn't let Gregg play his guitar, I'd play it instead. Bam would invite all of his mates over to make fun of Cher.

Dave: Speaking of reality TV shows, let's take the concept one step further. "VH1 - Bands Reunited" did a show on Vixen. They also reunited bands like Berlin, The Motels, and Scandal. If we dumped all four of those bands on a remote desert island and called it "Survivor - Bands Reunited," why would Vixen be the band that survives?

SHARE: Vixen would have more hair and makeup products to kill everyone else with. Actually, Vixen would probably lose because everybody was so fucking nice.

Dave: Share, you did the "VH1 - Bands Reunited" show with Vixen, yet you refused to join any of the reformed Vixen lineups. Why?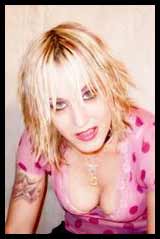 SHARE: I view bands like being married or having a relationship. Once you've broken up, why go back to that boyfriend or girlfriend that you've ended the relationship with? "VH1 - Bands Reunited" was a grand opportunity, on-camera, and a lot of fun. There were no big ambitions. To go back to doing something creative, to record an album, and to have a vision means putting energy into a relationship you already ended. Why would you reunite with somebody you were with years ago, when the relationship you're in now is really good? We've had Bubble for a long time so I'm not looking for a new band or an old band.

Dave: I don't watch much television, so my apologies, I have no idea where all those TV questions came from. There's something new on my computer called Rock 'n Roll TV, and I'm told that it's going to be the "next big thing." What's it all about?

SHARE: Bam and Share were bored one day so we started creating broadcasts to watch on your computer or video i-Pod. Bam does a lot of film and TV editing. We always had a mad idea to produce our own TV show, but we don't know anybody in that world. Computer technology has gotten a little better for people to download short QuickTime movies. We started filming stuff, deciding to have our own TV show with three- to five-minute-long installments. We can do anything we want, there's no network executives to answer to or censor us. We can show all of the bands that we love. It's sort of not-MTV. It's a creative explosion for us that we look forward to fitting in our lives. It takes a lot of time, but the payoff is immense. We're really digging that people are watching it. I got a tattoo on camera in Episode 7, but I couldn't show any of the pain. I smiled throughout the process. Bam created a three-star design that was tattooed on my arm. Despite the lack of censorship, the placement on my body of the tattoo was G-rated. I've needed something on that arm for years since my other arm was already tattooed. Another episode, somewhat ironic, was called "Crazy About Vinyl." It's our second most watched video, and it's about vinyl albums. Contradiction sells!

Dave: I'm a 70's punk rocker and I love your band Bubble! Tell visitors to my website about your band's sound and the latest Bubble CD, "Rock and Roll Hell."

SHARE: Thanks Dave! Bubble lives pretty far under the radar because we don't have any distribution, and I'm not sure why we don't. "Rock and Rock Hell" is a marriage of our various musical influences, sped up, with me singing the vocals. It's a culmination of the musicality of Led Zeppelin or The Kinks, combined with our favorite classic punk bands like The Vibrators and The Undertones. We put all of that into the mix and see what happens when we spit it out. I think a lot of people miss those influences, only hearing the chick part. If they'd imagine a guy singing, they'd pick up on those influences.

Dave: Bubble toured Japan in 2005. Please tell me that Bubble's going to schedule a New York City show in 2006.

SHARE: We really want to come to New York. Bubble has a fan base out there, and we need to find a way. We have so many pans in the fire in so many different ventures that strap every dollar. If something pays off, we'll use the money to buy tickets and fly out. Nobody has a vehicle that will make it if we try to drive out, and with gas prices these days, it's cheaper to fly. We did a van tour of the Pacific Coast, and we drove it to Texas and back. That's why the van won't make it to New York.

Dave: It's frustrating to me, as a big music fan, that a lot of bands I'd love to see in concert never make it to New York City. My friends from other parts of the country assume every band will play a New York City show on their tour, but as you know, it doesn't always happen. Do you, as a musical artist, have that same frustration? Also, even removing New York City from the equation, how do you placate a fan of your band who never has the opportunity to see you perform live because of where they live?

SHARE: Yes, we're frustrated about not yet playing on the East Coast. It pisses us off because New York would be a great place to play. To answer your second question, Bubble has to be blunt and up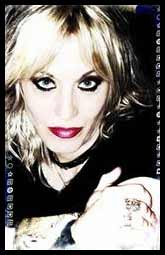 front with our fans. The band has basically been run on our credit cards. We have to front everything, from the CD pressings to the t-shirts. There's no record label; we are the label. So obviously, we can't tour everywhere. We're musicians man, we ain't fuckin' businessmen. I don't know how to run it like a genius, I'm really basic. I don't know how to make this thing make money, I'm just a rock and roller. I hear all these crazy stories about young bands who build a website, get a half million visitors who all download stuff, and the band gets the money flowing. I just know how to rock, I plug in and play.

Dave: Bubble has had a few lineup changes over the last several years. Is the current lineup Bam and yourself, with Brian Wong on bass, or do you add a second guitarist for live shows?

SHARE: Bubble is just a three-piece when we play live. The band lineup changes have always been strange and emotional. A four-piece lineup would lighten my load, but there's something magical about a three-piece. When everything is right, there's a certain sonic quality that's pretty amazing.

Dave: I usually leave politics out of my interviews but not this time. I donated big money (one dollar) toward the California gubernatorial campaign of Faster Pussycat guitarist Brent Muscat. I live in New Jersey, and I don't know how Governor Schwarzenegger is doing. What qualities could Brent have provided the citizens of California that the incumbent does not provide?

SHARE: Brent is very charming, much more than Schwarzenegger. Brent, as you know, is facing some serious health concerns now as he battles cancer.

Dave: Brent's an awesome guitarist. Tell me about your musical relationship with Brent and his past contributions to the band Bubble.

SHARE: He was really fun to be in a band with, he kept things light. He was very comfortable on stage and with the fans. Brent didn't contribute much in the songwriting department, but that was alright.

Dave: Bubble has had their music placed in Hollywood films like "Dancing At The Blue Iguana" and "Try Seventeen." Bubble also had their music in a porno film and I believe I heard a Bubble song on the TV show "Monster Garage." I think "Kiss or Kill" would be awesome in a James Bond film. How do market a song to the film or television community, or do they come after you?

SHARE: If it was a conscious thing, it would mean that we're really clever. More often than not, it's someone who works for somebody luckily hearing the CD. Having a Bubble CD get into the right hands in the right place at the right time is the biggest part of it. Hollywood is definitely a town of "who you know." We don't know too many film people but our CD got into some lucky spots. We're really thankful for that because it's been amazing exposure.

Dave: What effect, if any, has winning the Maxell Song of the Year in the John Lennon Songwriting Contest had on you and Bubble? How about twice winning the Rock City Music Award for Best Female Guitarist?

SHARE: Kind words are nice, and they've gotten us a little attention. Winning "Song of the Year" had an effect in a couple of ways. It was amazing to receive public validation as a songwriter for Bam and me. It's something to this day that we carry around inside of us, thinking that if nothing else happens, at least we did this. Impact-wise, we received a big, fat check. We spent it on a van which we thrashed on our tour of the Pacific Coast and Texas. I'm sorry to say that as far as forwarding the band, it didn't open the doors I thought it would. But at the end of the day, we're just going to keep on making records. I don't care what doors get opened or don't get opened. Winning the "Best Guitar" award was shocking and amazing because I had been a bass guitarist for so many years. I never thought anybody would take me seriously as a guitarist, I hardly take myself seriously. I just do the best I can and play within my abilities. I try to play like I fucking mean it.

Dave: Tell me about a couple of magical concert moments you've experienced, one as a musician and another as a teenager attending a show.

SHARE: Onstage, it was during the last Dogs D'Amour tour that I played bass guitar on. We opened a tour for Alice Cooper in Europe. One night, Bam and I listened from the audience, standing amidst 10,000 fans. I knew every song Alice Cooper was playing, it was like the soundtrack to my life. At the same time, we were in Italy, we just opened the show, and I got to say hello to Alice personally. It was a surreal moment on so many levels. Going way, way back, I was at a Peter Frampton concert and I was overwhelmed, completely blown away. I knew early on that I wanted to play guitar and be in a rock band. Knowing that's what I wanted, watching Peter Frampton perform was amazing. I wished that I was up on stage and in the band.

Dave: Your husband Bam was the original drummer in the band Dogs D'Amour. Didn't you join him in the rhythm section in one of the band's later lineups? Have the two of you ended your affiliation with Dogs D'Amour?

SHARE: Never say never, but the way things are now, it's definitely over. People's attitudes and the things that they say can certainly change as we carry on through life so you never know.

Dave: I recently attended a concert by Tracii Guns' new band Brides of Destruction. You played with Tracii, guitarist Michael Schenker, and drummer Bobby Blotzer in a project called Contraband. Tell me about your experiences working with that cast of characters.

SHARE: Contraband was like having five band leaders, everybody had a fucking opinion on everything.

Dave: Speaking of Brides of Destruction, Nikki Sixx departed that band to join the reformed Motley Crue. Weren't you a press correspondent for somebody, covering one of the first shows of that tour? What's your opinion of the reformed Motley Crue?

SHARE: Yes, I covered the tour for Total Rock. Get on them, go for it! It's the original four members giving Crue fans a piece of magic.

Dave: At this point in the interview, would you like to switch places and ask me a question or two?

SHARE: Sure, where do you see the direction of your website going?

Dave: I'm going to keep the website low-tech in a high-tech world. I don't want to add all the bells and whistles. It's all about my words and musician's words, not appearance. I'm hoping to take my writing to the next level, shopping my stuff to magazines and bigger websites. I'm trying to build a nice portfolio that includes some print bylines.

Dave: You've probably been asked this question a thousand times, but I've never read your response. And hey, this is MY interview with you. Please talk about your switch from bass guitar to lead guitar.

SHARE: The funkiest part about switching is that I didn't take to regular guitar tuning. I turned to a friend who hipped me to five string open G tuning, which is used a lot in the blues, and is coincidentally used by Keith Richards. I really liked it. It's easy to play, I can play all types of weird chords, and I could write songs without thinking about my tuning. It's working out good for me.

Dave: Here's your chance to form a supergroup for one CD/tour, with musicians you've never played with. You can remove egos, legal contracts, whether they are dead or alive, and all the other distractions from the equation. You're on lead vocals and lead guitar. Who would be your rhythm guitarist, bass guitarist, and drummer?

SHARE: Malcolm Young from AC/DC would be the rhythm guitarist, with Danny McCormack from The Wildhearts on bass. John Bonham would be my drummer.

Dave: That question specified musicians that you've never played with. I'd like you to select two musicians that you have played with, but they can't be band mates from Bubble. Who would you kiss and who would you kill?

SHARE: I'd kiss Alice Cooper. He rocks. I'd kill Mike Tramp from White Lion.

Dave: What was the definitive rock and roll album of the 20th century? What band defines how rock should be played?

SHARE: For me, the definitive rock album is "Sticky Fingers" by the Rolling Stones. As a band, they define how rock and roll should be played because they've explored many different styles on their albums.

Dave: What is the first album and the last CD that you purchased? What CD's are you currently listening to?

SHARE: My first album was probably "Chitty Chitty Bang Bang." I'm currently listening to Nic Armstrong and The Thieves, and The Chelsea Smiles.

Dave: Who is the one musician that has had the biggest influence on your career?

SHARE: Miles Davis.

Dave: Imagine that there is a time warp that has opened somewhere in the hills of California. If you could reach into the past and pull a rock band into the present so that this generation could see it perform, what band would you grab? If you could push a rock band from the present into the future, so that our generation would never have had to endure its pitiful music, which band gets the heave?

SHARE: It would have to be The Beatles. Limp Bizkit gets the heave.

Dave: I've asked Share the musician quite a few questions. Please tell me a little about Share, the knitter? The artist? The housewife?

SHARE: My housecleaning skills suck! My writing and book deal ties into rock and roll. I have a book deal and it's titled "Punk Knits." All of our Hollywood friends, including Texas Terri and Coyote Shivers, are the models and they're wearing knitted stuff. I never thought I'd be a knitter, but I learned it two years ago. My art ties into music also, but I haven't painted in a while. Bam just dug out an unfinished painting I started of Keith Richards and stuck it on the easel. I paint musicians that I love like Sarah Vaughn, Charles Mingus, Miles Davis, Queen, John and Yoko. I paint in a "photographic" style, and I use monochromatic inks.

Dave: Thanks again Share for agreeing to do this interview. Best of luck in the future to you, Bam and Bubble. Do you have any closing comments for music fans world?

SHARE: Keep turning it up!

ARTIST BIOGRAPHY
Full Name: Share Ross
Website: www.planetbubble.com
Birthday: March 21
Birthplace: Minnesota
Former bands: Vixen, Contraband, Dogs D'Amour, and Havana 3 A.M.
Hobbies: Knitting, painting, writing
Favorite beverage: strong cappuccino
Favorite food: something French with chicken and fresh vegetables, cooked by Bam
Favorite Band: Led Zep/Stones/Aerosmith/Beatles
Favorite song: can't name one
Favorite film: "Adaptation"