Davesontour.com just shared two phone conversations with veteran drummer Mark Schulman, who is on tour drumming for Velvet Revolver on their appearances at Ozzfest. Mark was spending his first off-day on the tour traveling to and from Muskegon, Michigan, where he was conducting a drum clinic.

Dave: Mark, thanks for taking the time to talk with me. You're taking over for Velvet Revolver's drummer, Matt Sorum, who injured his hand in a water-skiing accident. How is Matt doing, and why did he recommend you as his temporary replacement?

Mark: Matt's doing okay. His hand had to be re-broken by his doctor, who also put a pin in his wrist. I've known Matt over the years. He saw me playing with Foreigner, and he knew that I could sing backing vocals. Most recently, we were in Australia at the same time. Velvet Revolver went to Cher's concert, whom I was drumming for, and I went to their show. This was the first summer that I haven't toured since 1997, so I said I could shift a few things around and do it. Matt was relieved, knowing that I was reliable and that I could pull it off.

Dave: Billy Idol's current drummer, Brian Tichy, played a few gigs as Matt's first stand-in, but he was committed to start a tour with Billy. Now it's your turn to handle Velvet Revolver's drumming duties. Please tell me about the sequence of events.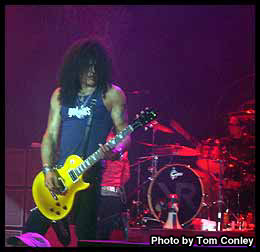 Mark: Brian was Slash's first choice because he had played with him in Snakepit. When Matt heard the doctor had to re-break his hand, he was tripping out because he couldn't reach the band and they didn't know he couldn't go back out on the road with them for the remaining three weeks. After Matt and I spoke, it was just a matter of communicating with the band. Even though Brian Tichy was lined up for three shows, Matt wanted to see if I could go in and do the whole thing. But Brian had already rehearsed with the band, and his gear was on a truck and headed to the gig. My audition was pretty funny, with Slash, Duff and Dave Kushner sitting on road cases in Scott Weiland's studio. They didn't have any gear, so I couldn't jam with them. All they could do was listen as I drummed along to the CD. Scott didn't show up until later. It was awkward, but we laughed about it later. Then Scott came in, and I had to do the same thing all over again! They saw and heard that I could play. Up until then, it was just Matt's recommendation. They were probably thinking, "the guy that played with Cher, I don't know about this." It turned out that I had no rehearsals with them. They didn't want to re-schedule their off-days, choosing to spend the time with their families instead. So I flew to Las Vegas to watch Brian drum at two shows. I got to do two soundchecks with them, playing each song with the band once. Before the first gig, we set up Brian's kit and a few guitar amps in a dressing room. We rehearsed about 20 minutes of the set. Then I had to play the show without a soundcheck. Plus, my drum kit was a new custom kit sent out by Gretsch that I hadn't played on, except for one day rehearsing by myself. I was literally thrown into the fire. My first show was last night, and with all things considered, it went marvelously well.

Dave: Talk about your preparation and your song-learning techniques when Velvet Revolver phones you with short notice.

Mark: I write little abridged charts, more like road map charts, making it where I have to look at them as little as possible. They basically chart the arrangement and any specific beats, kicks or emphasis that I have to do. Then I played the entire set twice a day for five days before I went on the road. The challenge with Velvet Revolver isn't learning the songs. The challenge is they don't use any click tracks and all the tempos are different from the record. The songs ebb and flow and move. They were so used to the flow with Matt. Then they got used to the flow when Brian played his gigs. What I did was stand on the side of the stage and learn. Brian was so helpful and so cool. He was videotaping, so I watch his tapes for two days. I literally sat on the side of the stage with a metronome, clocking all the beginning, middle and ending tempos. I tried to emulate the flow they were used to. I had been doing gigs with click tracks and this is a whole other thing. Not to mention that Velvet Revolver plays about 10 times louder on stage than Cher. I'm playing like a banshee, hitting so hard and playing so heavy because that's what the music calls for. Duff was really complimentary; both Slash and Duff were so kind to me. These guys have been so damn cool, they're terrific. Slash said it sounded great. Duff said he only had to think about tempo changes a few times. I told him that I cheated, using Brian as my cheat. I got my tempos from him playing live so I saw what the guys were used to. Plus, I have to sing backing vocals and I've never sang with Scott. I'm singing them for the first time and he's phrasing them different from the record! It's a wild experience, but I've been thrown into the fire before. You just do what you've got to do.

Dave: What Velvet Revolver song are you finding the most difficult to drum on? Why?

Mark: None are particularly challenging from a playing standpoint, it's the tempos and locking them in. "Slither" is most challenging because of its tempo changes. "Set Me Free" was quite challenging last night as the last song in the set. I was exhausted. I had to play, I had to sing, I was grasping for air and I had a little drum solo at the end with a gong. It was wild but it was so much fun!

Dave: Velvet Revolver has seven appearances scheduled to co-headline at Ozzfest. They have two other headlining shows scheduled. Also, they are appearing in New York City at the relocation of the Hard Rock Café. Are you committed to playing all of those shows?

Mark: Yes, I'm doing all of those shows. I told Matt that a drummer friend of mine had broke his hand. It healed fine but he had to stay off it a while. I re-iterated to Matt not to push it, not be premature and risk permanent damage. He has to stay off that hand a few months. If any other shows come up, I'm sure that I'll be able to do them.

Dave: Last night's performance at Ozzfest in New Mexico was your first with Velvet Revolver. How'd it go, and what are your first impressions about the band?

Mark: The show went well. It was so wild, flying into Ozzfest and blowing through the set! Velvet Revolver is a great band. The guys are so cool and have a great sense of humor. They're really mellow, really considerate and helpful. I haven't hung out much with Scott. He and his assistant are on one bus, the rest of us are on the other. It's all good!

Dave: Personally, I never was a fan of Guns N' Roses, and I only knew Stone Temple Pilots as a studio band, never seeing them perform live. Watching Velvet Revolver perform one of their earlier gigs in a club in New Jersey, I was blown away! Slash was tremendous, Scott's an incredible great frontman, and Matt was awesome on drums. Plus, "Contraband" is a well-written album. In my humble opinion, with a great follow-up album of new material, a little bit of luck, and a lot of sobriety, Velvet Revolver has the potential to be one of the all-time great bands, surpassing both Guns N' Roses and Stone Temple Pilots in popularity. I know these are lofty expectations, but do you see and hear some of that same potential for greatness in Velvet Revolver?

Mark: I think this band is amazing and I think that the guys have a lot of gratitude that their second band is doing so well. I don't know if anybody anticipated it. I haven't talked to the guys much about their success. There is definitely a magic, but it's hard to say what kind of longevity a band will have. It's hard for me to say, but I'm pleasantly surprised and so happy for these guys, They've done a 18-month tour, they are doing really well internationally, and they are doing another record. So we'll see. Because I'm playing with these guys, I can't see the dynamics when Matt is there. He is a real foundational member of this band, involved in all aspects. Without him here, I don't have an accurate picture of how they work together. I agree with you that it's a great band and a great first record. With another record as good as this one, they are going to continue to kick serious butt!

Dave: Ozzfest has made the music news the last few days. Apparently, Iron Maiden singer Bruce Dickinson made some disparaging remarks about Ozzy Osbourne. During their final Ozzfest appearance at a gig in Devore, California, Iron Maiden was pelted with eggs and beer cups from people in the audience wearing Black Sabbath laminates. Their performance was marred by power outages and P.A. interruptions. You weren't there, so I'm not asking you to comment on that. I would like you to share your first impressions as a performer and music fan regarding the "Ozzfest experience."

Mark: So far, it's a trip for me! We arrived late afternoon and I saw Mudvayne, but they are so different from Velvet Revolver. I saw a little bit of Black Sabbath but I had to leave. Bill Ward was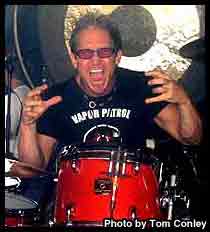 slamming on drums, and Ozzy and the band sounded great. He's the funniest character on the planet, he's indescribable. He went from being the prince of darkness to a clown, smiling maniacally. He's so damn cool, he's Ozzy, he's an icon. Going into Ozzfest is weird because I'm not familiar with most of the bands. The funniest thing about Ozzfest so far is seeing my old bus driver from Cher. He's driving actress Jada Pinkett-Smith, Will Smith's wife, who is fronting a heavy metal band. Another thing about Ozzfest is that Velvet Revolver has to win over the fans, after all the touring where they played to their fans. The people at Ozzfest, with all the heavy bands playing, are not typical Velvet Revolver fans. When we went up there, the crowd definitely wasn't what you'd call "adoring." We had to earn their respect and by the end they were into the band. It took about half the set for the crowd to go, "okay, these guys are cool."

Dave: I'll shift gears here Mark. I guess it finally ended. Cher's farewell tour, that is. A concert on October 31, 2003, in Toronto was billed as her "absolutely last show in North America." January 2004 saw new shows in Las Vegas. Cher played in New Zealand and Australia in February 2005, and she returned to the United States for a few more "final" shows in April. Where on planet Earth did you not perform on Cher's "Farewell Tour?"

Mark: I guess it's over but you never know. We didn't play Japan, Asia, Africa, or even South America. We didn't play in Central America.

Dave: I'm so old I have "Half Breed" and "Gypsies, Tramps and Thieves" on 45's. I didn't enjoy Cher's 80's and 90's material, but I loved her 70's stuff. What Cher songs were your favorites to play night after night?

Mark: The 70's stuff, like "Gypsies, Tramps and Thieves" and "Half Breed," but some of the dance stuff was really grooving. We did a song called "Strong Enough" and that was fun. I dig anything that has a good groove.

Dave: Only a drumstick collector can ask this stupid question so please indulge me. On any given night, did Cher go through more costumes, or did you go through more drumsticks?

Mark: She went through way more costumes than I did drumsticks!

Dave: Prior to Cher's Farewell Tour, you drummed for Stevie Nicks on a summer tour I attended at Holmdel, New Jersey's PNC Bank Arts Center. Compare Cher and Stevie. What is most similar and what is most different about their on-stage personas?

Mark: There is a real fundamental difference between Cher and Stevie. Cher is an entertainer, Stevie is a musical artist and a songwriter. It affects their on-stage performance, and it's reflected in everything they do. Stevie's show is about the music, Cher's show is about the show. Cher doesn't write her newer material, she sings the songs, changes costumes and puts on a show. Stevie writes her songs, and she's at every rehearsal. She's there every minute of the day and a part of everything. Cher would show up as little as possible because she didn't have to show up. They are both really great people, and I got along well with both of them. Stevie is a bit more approachable, she'd hang out more, and we'd hang out in her dressing room. We were NEVER in Cher's dressing room, and she kept to herself more. Cher had more protection, more assistance, and higher security. The times we did hang out were fun, and I have a lot of respect for Cher. She's a great lady and she treated us well.

Dave: On the Stevie Nicks tour, were the Fleetwood Mac songs significantly re-arranged? How tough was it playing Mick Fleetwood's drum parts?

Mark: No, they were not significantly re-arranged, and it was a joy to play Mick's drum parts. Some intros were added on, but the exciting part for me was "just being Mick." I got the ultimate compliment at the Universal Amphitheatre in L.A. when Mick attended Stevie's show. He pulled me aside, dragged me up to her saying I was great and that I was the best drummer she ever had. He was so flattering and it made me feel great. I'm hoping to work with Stevie again in the future.

Dave: Prior to touring with those two divas, you drummed for an "anti-diva," Billy Idol. What studio recordings did you drum on, and what years did you tour with Billy?

Mark: I worked with Billy was a song on the "Speed" soundtrack and a song I co-wrote called "Buried Alive," which was on the "Heavy Metal 2000" soundtrack. We had two aborted records, ones which were started but never completed. I also did the VH-1 Storytellers DVD and CD. I never toured with Billy except for the Storytellers thing and that was only three weeks. I actually quit Billy Idol to do the three-month long Stevie Nicks tour. Three weeks versus three months wasn't too hard a decision because I like to work and I love to eat. It worked out great though because that's when Brian Tichy got in the band, and he's been involved in the songwriting. I think everything worked out the way it was supposed to work out.

Dave: I'm a 70's punk rocker, and I'm a bigger fan of Generation X than most of Billy's subsequent solo efforts. When did you first hear of Billy, and how did you hook up with him professionally?

Mark: I loved Billy's Gen X stuff also. My affiliation with Billy Idol started when I was about to get the Foreigner gig. I auditioned and they told me I had the job. Then I heard they went into the studio and were recording without me. The producer, Keith Forsey, had brought in his own drummer, Tal Bergmann, I left Keith a voice mail that if he ever needed me that he should call. I'll be damned, three months later he called me to do a song on the soundtrack to "Beverly Hills Cop III." I nailed it on the first take and from that point on he called me for everything. When Billy recorded a song for the soundtrack to "Speed," Keith Forsey couldn't produce it but he recommended me. Guitarist Steve Stevens had just moved to L.A. and was doing the song with Billy. I went to the studio, neither of those guys knew me, but they took Keith's word for it. I hit it off with Steve and Billy. That was the start, and I worked on and off with Billy for the next eight years.

Dave: I know a few guys who have drummed for Billy: Gregg Gerson, Thommy Price and Brian Tichy. They are some of the nicest guys I've crossed paths with in the music industry. Billy Idol, with the sneer and attitude, appears to me to be a polar opposite. Tell me about the REAL Billy Idol, onstage and offstage.

Mark: Billy's a sweetheart, he's like a big kid. At rehearsals, he walks around playing air guitar. He's quite witty, he's a history buff, and he's really into his kid. My ex-wife was working on an animated kids show and Billy came in and did a voiceover as the villain. Apparently, he used that tape as one of the catalysts for him being the villain's voice on the soundtrack for "Heavy Metal 2000."

Dave: You mentioned Billy's musical partner, guitarist Steve Stevens. Please compare two awesome guitarists, Steve Stevens and Slash.

Mark: Slash is way more of a raw player. Steve Stevens is more calculated. Steve is more schooled, Slash is a little bit more "street." They are both excellent guitarists. Steve is an amazing flamenco guitar player, he's meticulous, and he's very technologically oriented. I don't know about Slash in the studio because I just started working with him. What I do know is that he is a very cool being!

Dave: One of my favorite rock guitarists is Vivian Campbell, who has played for DIO, Whitesnake and Def Leppard. You were in a band with Vivian called Clock. Please tell me more about Clock.

Mark: Clock was an interesting band. I met Vivian right before he got the Def Leppard gig when I was hired to work on a solo recording of his. We hit it off and started writing some stuff together. Vivian is known for his work with DIO and Whitesnake, yet he is the farthest thing from that as a guitar player; he is totally blues-based. He can do metal but it's not in his heart. In 1997, it was a very traumatic time for me because my ex-wife was very ill. I spent a lot of time in the hospital with her; she was hospitalized for three months, and the rest of the time I was with this band. Clock became a life-saver for me, and it gave me something to do. It was a project that kept me in the muse and excited about life. Clock started out as fun but the wind fell out of our sails. We hung out six months waiting for a record deal. Vivian was managed by Q Prime, who also managed Def Leppard, and they hated what we had recorded. So it became a hobby band, yet we self-produced and sold quite a few hundred CDs. We plan on re-packaging and re-releasing that CD as "Clock-1997." People that heard it loved it, the songs were magical, and it was a magical time.

Dave: Please comment on your experiences playing with Foreigner?

Mark: Playing in Foreigner was great. I got the gig in late 1992 before Lou Gramm got back into the band. When he rejoined the band it was a big deal. They made us all band members; we spent a long time making a record, and we played over 400 shows. Then I made a Simple Minds record and I thought it was time for a change. I left after becoming really fried on everything. Both Ron Wikso and Brian Tichy drummed for them for a while. In 2000, they called me again to do weekend shows and I loved it. Playing again with them was so much fun and the guys were so cool. Lou Gramm was a sweetheart. When he was on in the day, he was unrivaled as a singer. He was one of my rock and roll heroes.

Dave: I was fortunate to attend shows by the original Foreigner lineup in the 70's, and I attended a Foreigner concert this June with a new lineup that includes Jason Bonham on drums, Jeff Pilson on bass, and Kelly Hansen singing. Have you had a chance to see or hear the new Foreigner lineup?

Mark: No I have not. I'm sure it's great with Jason drumming!

Dave: I don't watch much television, but I've read about a reality TV show whose premise is the search for a new INXS singer. Please share with us a quick story about your musical relationship with the original INXS singer, the late Michael Hutchence.

Mark: That was another connection with producer Keith Forsey. I played on one song for a movie soundtrack, but I never had the chance to meet Michael.

Dave: Pop singers, classic rockers, hard rockers and chick rockers; you're versatile enough to drum to all of their styles. Was it a radical change drumming for jazz artists like David Benoit and Dave Koz?

Mark: No man, drumming is drumming, dude. I've always been a guy that drums a lot of different styles. In my heart, I consider myself a soul drummer, a hard-hitting funk drummer.

Dave: You've toured with all the acts I've already referenced, as well as Simple Minds, Sheryl Crow and Melissa Etheridge. Take us behind the scenes for a moment, either on the tour bus or backstage. I'm not looking for a battle of the sexes, but are there major differences playing and touring in a band led by female performers?

Mark: Yeah, it's definitely different! It's more "G" rated, and it's treated like a corporation when you're working with Stevie or Cher. The rock and roll antics don't happen on those tours! They run a tight ship and it works well for them.

Dave: You've played with a virtual "Hall of Fame" of lead singers: Cher, Stevie Nicks, Billy Idol, Scott Weiland, etc. This question is about musicians you've never recorded with or shared the stage with. Hypothetically speaking, I'd like you to form a "supergroup" to record a CD and do a tour with. You're the drummer, and this fictitious band is to be a power trio with no lead singer, which is quite a change from the bands and performers you've shared the stage with. Complete the lineup with your choice of lead guitarist and bass guitarist, and keep in mind that one of them also has to handle lead vocals.

Mark: Oh man, that is a tough question. I've played with the best. I'll pick Paul McCartney, who is my all-time hero, on bass and vocals, with Eddie Van Halen on guitar. That might be fun but I don't know what kind of match it would be.

Dave: Your website states Mark Schulman - Drummer/Producer/Success Educator. That's enough questions for now about the "drummer." You produced an album for my buddy Ryan Roxie and his band Dad's Porno Mag. Please elaborate on your work as a producer.

Mark: My style is "Whatever it takes to enhance the artist." I'm about vibe, about making artists feel really good about their music and themselves. That may mean getting really involved, being meticulous with every syllable, or giving them a few passes and the vocals and letting it go. It might be re-arranging, re-harmonizing, or re-writing a track. It might be just getting out of the way. I want to be there for everybody else. My philosophy of life when working with people is "it's all about you, it ain't about me."

Dave: When working as a producer, at what point in the recording process do you find the most joy and satisfaction?

Mark: The finished product and I'm a junkie for recording. I love the immediate gratification of recording something and hearing it right back. Live performance is capturing the moment; recording performance lets you relish that moment forever.

Dave: Please talk about the "success educator" and "Make It All Happen."

Mark: I realized early on, when I started doing drum clinics in 1991, that people wanted to hear more about the stories and the successes than just the chops. They wanted to know how you did it, how you got there. I thought I could be more broad-based with this, getting to and educating people, telling road stories, and using my experience as a cancer survivor. I'm working with kids in detention camps and kids with cancer. I'm working with colleges and I'm starting to work with corporations as well. Both of my parents were teachers so it's in my blood. I want to enhance people's lives.

Dave: What's up next for you, assuming that Matt Sorum's hand heals and that Cher's farewell tour really ended?

Mark: I've been putting a lot of energy and time into my seminars. I'm excited to develop that program as much as I can. I've also started writing a book. I'll keep producing and continue doing what I am doing. I want to get as much joy as I can and give as much joy as I can. I'm sure there's another tour in my future. I'm talking to somebody about one, but I can't say any more just yet.

Dave: Mark. I'd like to thank you again for letting me conduct this interview. Feel free to add some closing comments or to promote anything that I've neglected to cover.

Mark: Just stayed tuned and check my websites, www.mark-schulman.com and www.makeitallhappen.com. I encourage people to communicate with me and e-mail me if they need life-coaching or just want to talk drums.

ARTIST BIOGRAPHY
Full Name: Mark Schulman
Website: www.mark-schulman.com
Birthday: 9-4-61
Birthplace: Los Angeles
Hobbies: Hanging out with my fiancé Jen, eating great food, Scuba diving, thinking ways to change the world
Favorite food: really great Mexican food
Favorite beverage: iced soy latte, either mine at home or Starbucks
Favorite rock band: The Beatles
Favorite rock song: can't name one, it changes all the time
Favorite film: currently, "Wedding Crashers"
Favorite U.S. city to visit: Portland, Oregon
Favorite international city: Paris, France
Favorite venue to play: The Greek Theatre in Los Angeles