Dave: Hey Steve, thanks for allowing me to interview you. Your band Lillian Axe released its first studio almost in almost 15 years on July 17. It's almost 70 minutes long, and there are 12 different tracks. Please give my readers a preview of what they should expect musically from "Water's Rising."

STEVE: I say this about every record, but I firmly believe it: "Water's Rising" is the quintessential Lillian Axe record. Sonically, it's our best sounding record. Song-wise, we had no restrictions and we spent four years recording it. Nobody micro-managed me. We didn't even have a record label until the album was done. My engineer, Rob Hovey, and I spent all of this time making sure it was perfected in our eyes and that it was the best possible record we could do. It's well-rounded thematically, sound-wise, and material-wise. We have a lot at stake in the fact that it's been so long since Lillian Axe put out an original album. We released a live album and our b-sides record, "Fields of Yesterday." We're putting out a brand new record after 12 years when so many things have changed in the world and in the music environment. I didn't want to think about all of that or over-analyze things. I just wanted to make a record that we like. I didn't want to worry about anything other than doing the best possible record that we could do. I think the fans will be pleasantly surprised. As a band, Lillian Axe has grown and gotten better all-around. I like to think that my writing improves every time. Yet, by the same token, we've maintained the style that defines Lillian Axe. That will never change. The band's chemistry may have changed a little because of the new members but since we've been around for a long time, we've developed our own niche. I think we've excelled with this record and we have a lot to prove in a certain way. We have a new singer, and it's our first album in 10 years but so what? Lillian Axe is not going to falter or digress or put anything else out other than what we feel is an advancement in the band's career.

Dave: Many a guitarist has released an instrumental record to showcase different playing styles and to pay tribute to his guitar influences. You've accomplished both those tasks on one cut from "Water's Rising," the instrumental "5," which also appeared on your solo album, "Random Acts of Blindness." How difficult was it to write and record that song?

STEVE: It was kind of fun. It's the only song that Ken Koudelka doesn't drum on. My engineer, Rob Hovey, is the drummer in my other band, Near Life Experience, and he plays on that track. People always tell me that I don't solo enough. They say "shred, shred," and "do a solo record." I'd never been a guitar masturbator who plays for my own pleasure. I do my share of showing off that side of me, but I find it meaningless unless it's in the context of a great piece of work. I always wanted to record something that encompasses the styles that I feel I'm accomplished in, whether it's orchestrating parts, blues' riffs, minor scale shredding, wah-wah, arpeggios, sweeps, sound effects, or flange. I wanted to do it all. I didn't even want to write a song. I had a bed for a riff, and we'd record the different pieces as we wrote them. We did it in segments and by the time it was done, there were 80-something guitar parts. It was pretty crazy and a bitch to mix. Whenever you use that many guitars, frequencies knock each other out. It was difficult, but Rob did a great job. I guess that song is my answer to the people telling me to do a solo record.

Dave: If it's safe to say that "5" defines you as a guitarist, I'm going out on another limb to state that the track "Fields of Yesterday" is the band's defining song from "Water's Rising." It's my favorite track from the record because, in my humble opinion, it captures the spirit, the emotions, and the musicianship of Lillian Axe.

STEVE: I agree with that Dave; it's a great observation on your behalf. When we sit back and listen to what other people say their favorites are, that cut seems to be rising to the forefront. People have given us a lot of positive feedback on "Fields of Yesterday." It has a little bit of everything, not only musically, but lyrically and thematically. We may try to work it into the live set but there's a lot in that song. It's our "Bohemian Rhapsody," with the orchestrated part in the middle. Because we had a B-sides record titled "Fields of Yesterday," people ask us which came first. Actually, the song was written first and I thought it would be a great name for the album. The title hints about reminiscing and about the past. That's what those songs were; they were songs written that didn't make the record. But I didn't want to waste this song. The older demo version didn't do it justice. I wanted to record it right, mix it properly, and capture the song's spirit for the new album.

Dave: You've stated previously that you were "experimenting with different approaches to this record, but it always came back to the same formula: do what we do, period." That's a great "musical" approach, but today's music industry has changed radically since Lillian Axe got its start. What is your "business" approach with this record?

STEVE: If this was my first album, I would have a different business approach. It's no great secret that Lillian Axe hasn't been treated fairly in the business world. We've had struggles with record labels. Yet in the big scheme of things, we've had a lot of success. Lillian Axe has fans worldwide, and we've touched a lot of people with our music. We haven't had the mega-success of KISS or Def Leppard, and if it was all about the money, I would have taken a different route. I would have sat down and listened to all of the bands on the radio. When I turn it on these days, I hear 50 bands that all sound like Nickelback. I can't tell who's who anymore. Music's a copycat industry, but I can't do that. As far as my integrity is concerned, I can't sell out like that. To make it successfully, you can never tell what's going to click. I love Avenged Sevenfold yet I never thought they'd break commercially. With the length of their songs and the type of music they play, they're not commercial-friendly. We all know that a huge portion of a band's success is in the machine behind them. If there is half-decent stuff on a record and the label does the right thing getting behind it and sticking with it, placing a song or two on the radio, and putting out money to get the band out on tour, the record will sell. That's the proven formula for success. But to have continued success, the band has to have what it takes. They have to deliver the goods. I can't sell out on my music. We have three songs that are over eight minutes long on this record. I refuse to cut four minutes from a song with the hopes that it will be a single. It would lose everything. In the past, I might have thought about doing that.

Dave: Given the long wait of music fans for new music from Lillian Axe and the crazy music industry of the 21st century, is it possible for you and your band to have expectations when you release a record?

STEVE: No, that's impossible. Bands have had huge success putting records out and nothing happens with their new record. You just can't tell anymore. It's not like it used to be. Thank God for labels like Metro City and guys like Tim Koukos. They are music fans and they want to do things right. He's a fan of the bands that he signs and he does it for the music. That's why we signed with him. After hearing his ideas and plans for building us, I knew this was the guy. It's not Sony and it's not Universal, but he's got the right team behind him and his bands. I hate to sound cliché or "me against the world" but it does have a lot to do with integrity in what we do. Nobody can EVER accuse Lillian Axe of selling out or trying to fit in. We'll always maintain our own identity by not letting the wrong people in who might try to force our direction.

Dave: Lillian Axe has been signed with different record labels throughout their history. For "Water's Rising," the band is signed to Metro City Records, which is a division of Screaming Ferret Wreckords. When you were shopping for a record label, what are the most important factors you look for in the relationship between artist and label?

STEVE: The first thing I look for is distribution. It has to be out there. I'm so tired of hearing for the last 15 years that people can't find my record anywhere. Major label or not, from the first record to the last record, people couldn't find us. It was disgusting. I also want to know where a label wants to go with us and how they'll support us. Do they want to build us and have a career relationship or do they want to do a one-off? Philosophy in general, and the label's thoughts on radio are important, and then we can talk about funding, publicity, and tour support. It all starts in the philosophical arena with how they feel about our band and our record.

Dave: Your band is from the New Orleans area and fans might think the album title has something to do with the devastation caused by Hurricane Katrina. I can assure them that in a previous conversation you and I had, that album title was picked long before the hurricane. What does the title "Water's Rising" represent?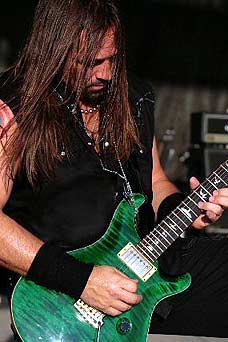 STEVE: It's about that boiling point, the pressure that's always building, and the internal struggle. The older we get, the more crap gets thrown at us. More things get into our psyche and if we don't know how to handle them, they can cause us to go off on different tangents. They change how we think and how we react. I love watching little kids because the whole world is innocent and open to them. They have no worries. Some of the songs on this record touch on oddities in human behavior. I think people are getting more and more lost every day. The human race is in a severe type of back-pedaling situation. We all feel the pressure, we all get bogged down, and we all feel like we're drowning at times. You have to find your inner peace because the problems we struggle with are not unique. Everybody has them. You have to find what works for you and concentrate on that. The booze and the drugs doesn't work for anybody. It doesn't solve problems. To me, my relationship with God solves my problems. It doesn't make them go away, but it makes it easier for me to understand. It's not God's fault that human beings are stupid and that a lot of them do really bad things. I also believe that we shouldn't take one second of being alive for granted. Every little action that you perform can have a huge reaction in somebody else's life. I'm crazier and busier than I've ever been, I have more pressure, and I'm a stressed-out knucklehead half the day. But I have inner peace. I have it in check. There are days that I want to pack it up and move to the mountains of Montana. But you know what? After 20 minutes I'll be looking for a guitar.

Dave: Hurricane Katrina changed the lives forever of everybody that lived in the areas it devastated. How did it affect you and your band, both as citizens of the area and as musicians?

STEVE: Eric and Sam lost some gear. My damages were to my new house. We almost lost some of the tracks, but we were fortunate that Rob had them stashed. All of the values and lessons that I learned from that ordeal were already in me. It was a reiteration and a reconfirmation of things that I had already learned in my life. I lost my Dad and a few friends a few years before Hurricane Katrina. Losing a house or valuables is horrible, but they are things that can eventually be replaced. I lost boxes of vinyl records that I was collecting ever since I was a kid. Yet all I cared about was that my family, friends, and animals were all safe. So as a musician, it didn't change the way I write or how I feel about things.

Dave: Before I forget, introduce the 2007 line-up of Lillian Axe.

STEVE: Derrick LeFevre is our new singer, Eric Morris is our new bass player. Sam Poitevent is still on guitar. Ken Koudelka is still on drums, and I'm still on guitar.

Dave: The last time I had the pleasure of seeing you play, it was at an ANGEL concert in Dallas and ex-Lillian Axe members Ron Taylor and Darrin Delatte opened the show for you. What are they up to these days?

STEVE: They have a band called Lowside, and they play around Dallas. I guess they're doing some recording and trying to concentrate on building the band. I talk to Darrin every couple of weeks.

Dave: Lillian Axe cut its musical teeth in a 1980's musical environment that was supported by MTV and the promotional videos it featured. How would you contrast that video era to the one present today where bands create their own videos out of pocket for posting at their MySpace page or at YouTube?

STEVE: It's crazy when you think about it. I can't believe that no one has come up with a new network or a television show to show videos again. It's such an open market right now. Why aren't the record companies doing something since they already know how videos help sell records. We can go out and make videos out of pocket and post live clips on our websites, but it's not the same as seeing them on television. You and I used to watch television shows like "Midnight Special" and "Don Kirschner's Rock Concert." There's no good music on television anymore. You can find anything on the Internet, but it's just not the same. There's no mystery, no rock stars, and no cool anymore. Back in the day, Lillian Axe spent a bunch of money on three videos. I liked the videos because I liked the songs but we had no creative input. Nowadays, that wouldn't happen. There's no free flow of record company money going around. Financially, things are different these days, and the labels want to recoup their investment.

Dave: Lillian Axe will spend most of September out on the road touring North America to support "Water's Rising." Obviously, your setlist will include the classic material from Lillian Axe's previous records. How much new material will you work into the setlist?

STEVE: Probably four songs. With six records to pick from material, choosing the setlist is difficult. We have to blend in new songs with crowd favorites and our favorites. Three or four songs from each record rise to the top and become crowd favorites. You have to try and get those in as well as some others that you really enjoy playing. The popular songs aren't always the songs a band enjoys playing, probably because you've done them so much.

Dave: Do you have any surprises in store for your long-time fans?

STEVE: They wouldn't be surprises if I told you. We'll play a song from the B-side record called "Kill Me Again." I want to put that song on the next record. It's a blast. We used to play Pink Floyd's "Welcome To The Machine," but there's no room for covers. We have too much material. Our fans take to our songs in a spiritual manner, and I love to watch the crowd reaction. It inspires me. Some bands just hit you in the gut with their songs. I think we go deeper into the listener than the beat, the snare, and the guitar riffs. After you see us in concert, I'm sure you'll agree that our setlist is a killer blend of new and classic material.

Dave: I know that I'll be walking away from the show I attend in New Jersey saying it's great to hear Steve Blaze and Lillian Axe play again, and that it was great to hear some of those classic songs played again. For the concert-goers walking away who just saw and heard Lillian Axe for the first time, what type of musical statement do you want your band to make?

STEVE: First of all, even when we do the earlier stuff, they transcend and sound like something we could have written in 2007. I wish people would stop trying to analyze music by the style or what the band looks like. I wish they'd just listen to the song and what it does for them. But that's like asking for world peace; it'll never happen. I don't care if our first album was 19 years ago. It really doesn't matter. That material is just as strong now as it was then, and we play it with as much conviction as we did back then. People should quit worrying if a band has long hair, where they're from, what kind of clothes they wear, and how many tattoos they have. I want the people to hear our songs and walk away moved by what they just heard and hit like they've never been hit before.

Dave: Do you feel out of place in today's music industry? If so, what are the biggest factors causing you to feel that way now that weren't present when you started your musical journey?

STEVE: I learned so much about songwriting and melody from the bands I was listening to as a kid in the 70's. It was a golden age of music and you only heard bands on radio or on your turntable. These days when I'm online, it sickens me to hear all the insults being thrown at bands. People can comment so freely without any responsibility for what they say or write. People weren't so fricking mean back then. Journalists didn't rip into bands. Music was more of a positive and uplifting part of my life. In the 70's and 80's, it was real and a lot more down to earth. Today's society puts so much emphasis on what's new and fresh while ignoring the fact that the gems from our past can sometimes mean the most. It's sad that music has become more of a commodity than the spiritual gift that music is.

Dave: Writing and recording a record presents its own set of challenges. With one of your other bands, Near Life Experience, you added on another challenge: writing lyrics that you'd have to sing as the band's lead vocalist. I'd like you to comment on another challenge, possibly a Near Life Experience's greatest challenge: getting their record heard in the 21st century.

STEVE: You're absolutely right, Dave. One thing I've learned is that no matter who you are or what kind of success you've had, when you start a new project you're starting from scratch. You do get a few people to listen who normally wouldn't because they know you from your previous band, but you're still starting from scratch. I've seen that with many well-established artists and their new projects or side projects. They had to fight tooth and nail to get heard. I thought Near Life Experience would have gotten picked up a long time ago. I did not think it would be such a challenge. Yet we started that band right at the time of the big downfall in the music industry. Movies can sometimes take seven or eight years to get made, and records can take years to finally have the right people hear them and get it. I've learned to be patient in this business and keep doing what I do. My integrity is more important. I'm not going to start adding rap to my records to make them trendy.

Dave: Other than your vocals and the band's chemistry together, how are Near Life Experience and Lillian Axe the most different?

STEVE: In a tangible way, we're different because Near Life Experience tunes our instruments down lower to get a deeper sound. Musically, we're a little darker, but I haven't written anything for Lillian Axe since Derrick became the singer. It'll be interesting to see how that pans out.

Dave: How are they the most similar?

STEVE: Probably the fact that any song I write could be done by either band. Only the band chemistry would give it a different sound and feel.

Dave: What future plans do you have for Near Life Experience?

STEVE: We're working diligently writing and recording a new album. We have about six songs already recorded with a plethora of material to pick from. We'll probably record 20 songs and pick out the best ones for the album. I hope Metro City will have enough interest to sign Near Life Experience to their label after I present it to them.

Dave: In 2005, you released your first solo album, "Random Acts of Blindness." It consisted of mostly ballads, played on acoustic guitar, and your songwriting visited darker and sadder themes. Was that musical direction a result of your headspace at that time or was that musical direction pre-conceived?

STEVE: I did that album more than anything as an outlet for things that built up in me all my life. I have what I call a congenital sadness. It's more a melancholy thing than a sad and miserable thing. It's a sensitivity that can give a person an underlying sadness. You feel other's pain; when you see things that are wrong it bothers you. I've always been like that. When my little sister died when I was 3 or 4, my mother said that I saw angels and things around her crib that no one else saw. I have an innate thing that I was born with. It's not just physical attributes or elements that you're born with,. There's a genetic predisposition to spiritual and emotional tendencies. I dedicated that album to my dad, who passed away in 2002. I always wanted to write a record that was melancholy with deep touching songs. I never shopped it. It was done just for me and the people who understood it. I probably listen to it more than any of my other stuff. I relate to what I was saying in it more than most of my other stuff. I want to do more of that style of music. I wish I could find another artist whose material moves me in that way.

Dave: Do you have any plans for another solo album?

STEVE: Yeah, when I have more time and less hectic stuff on my plate. After the upcoming tour and the new Near Life Experience record, I'll have to obviously start on another new Lillian Axe album. Maybe after that I'll start writing my next solo record.

Dave: What's the latest information that you can provide on both the recording and touring plans for one of my favorite bands, ANGEL?

STEVE: I wish that things would get moving but it's not my call. Frank Dimino and I have written a bunch of material as has Barry Brandt, the drummer, and Michael T. Ross, the keyboard player. I have so many things going on that I don't have the time to push them. Frank's working on some things with a few different record labels to get it rolling. It'll happen brother. I love the band now just as much as we both loved them back in high school. Since I don't run the show, I have to sit back and wait.

Dave: Let's have a little fun with the next two questions. Whenever I share mutual friends with my interview subject, I'll sometimes ask the friend to play journalist and pinch-hit with a question. This one comes from band manager extraordinaire Danny Stanton.

Danny: Hey Steve, how hard is it to find white silk or spandex these days when performing with ANGEL, and are you still working out to make sure you can climb back into them?

STEVE: I haven't shopped for white spandex in 25 years, and I promise that I'll never shop for it again. When ANGEL decides that we're going out in all-white, I'll be in custom white leather. I am working out though. My kung fu instructor put me on a strict diet, and I lost 30 pounds. I'm in the gym and I'm playing basketball three times a week. Tell Danny I'm a lean mean fighting machine that's ready to hit the road.

Dave: Your MySpace pages have a banner that says "Lillian Axe – the Bitch is back." I don't know if there's a real person named Lillian Axe, but I was daydreaming that she is the twin sister of Molly Hatchet. The southern rock band took their name, Molly Hatchet, from an infamous prostitute who beheaded men with an axe after they were finished with her. If Lillian Axe had the same technique, who in the music business would you like to set-up for a 3-way with Lillian and Molly?

STEVE: My drummer Ken Koudelka. Getting him hooked up with two prostitutes would be the greatest moment of his life. At that moment, he'd be ready to have his head removed from his body and die. Then, I could look up his head to see if there's really anything in there!

Dave: I'd pick Gene Simmons from KISS. It would be cool to see his head separated from his wallet!

STEVE: I can't say that Dave, but you can.

Dave: On a more serious note, let's talk about vampires instead of beheadings. Talk a little about your film production company, Velvet Life Productions, and the status of the feature film version of "Tao of M."

STEVE: We were supposed to start shooting the weekend Hurricane Katrina devastated New Orleans. Obviously, that shot everything to hell. We have a new director, and we just revamped the script with some writers from Top Cow Comics. The producer has it right now, and we're trying to finalize funding. The financial deal we had in place fell through when the hurricane hit. It's taken quite a bit of time to regroup. Looking at the bright side, the time delays allowed us to come up with a better script, and we'll probably end up getting more money to do the movie. Most of the musicians we talked to are still interested so it should have a great rock soundtrack. We hope to start filming near the end of 2007.

Dave: Steve, you're a real renaissance man: a lead guitarist in three bands, a lead vocalist with one of them, you compose music, you produce music, you're an actor and a film producer. What's your next challenge?

STEVE: I'd like to find a way to get paid for sleeping! You forgot to mention that in the business world I own a commercial collection agency. In December 2007 I'm getting married. I have a daughter now, but we hope to start a family and I'd love to have a son. Creativity-wise, it's the acting thing. I love movies; I've been a movie buff since I was a kid. It's kind of crazy that so many musicians want to be actors and all actors want to be musicians. If I hadn't been gifted with the skill to play guitar I probably would have pursued acting. I don't have any dream role in mind. A vampire is a tragic figure with the depth of character to make it a perfect role for me.

Dave: Thanks again for the interview Steve. Unless you have anything else that you'd like to promote that I've overlooked, please feel free to close with some comments for your fans?

STEVE: I hope everybody checks out the new album and that they come out and say hello when we're on tour. I've said this before and I'll try to keep my word that I'll never wait this long again to put out a new record again. My fans are amazingly dedicated and loyal, and it means a lot to me. Lillian Axe is not about me or the musicians in the band. It's about the music and the spirit of the music and that will always stay intact.


ARTIST BIOGRAPHY
Full Name: Steve Blaze
Websites: www.lillianaxe.com
www.nearlifeexperience.com
MySpace pages: www.myspace.com/steveblaze
Birthday: September 25
Birthplace: New Orleans
Favorite beverage: sweet iced tea
Favorite food: sushi
First record you ever bought: "Chilling, Thrilling Sounds of the Haunted House"
Last CD you bought: I bought the latest records by Marilyn Manson and Chris Cornell at the same time
Favorite U.S. city to visit: Starkville, Mississippi
Favorite international city: Tokyo
Favorite venue to play: The Orbit Room in Grand Rapids, Michigan. Too bad most of the great ones aren't around anymore.
Favorite film: I'm a movie fanatic. "Gladiator" is my current favorite.