I had shared a phone conversation near the end of 2005 with Queensryche drummer Scott Rockenfield. He was enjoying an off-day on the road as Queensryche was wrapping up its 2005 tour. Our conversation was documented in an interview published by the website Rock Is Life.com. In the first two months of 2006, so much changed with the completion of the Queensryche CD "Operation: Mindcrime II." That record's upcoming and heavily anticipated release, plus a CD release and a few live shows being played by Scott's other band, Slave To The System, forced me to grab his ear once again to update the original interview.

Dave: Hey Scott, thanks for allowing me to update my original interview with you. "Operation: Mindcrime II" is scheduled for release on Rhino Records in the United States on April 4, 2006. Without spoiling it for anybody by revealing who killed Sister Mary or what happened to Nikki, what can you tell me about "Operation: Mindcrime II"?

Scott: If I tell you anything then I will have to kill you afterwards!! We are leaving this for you all to hear for yourselves.

Dave: On "Operation: Mindcrime II," rock superstar Ronnie James Dio is used as the voice of Dr. X. How did the band come up with him as its choice for that role?

Scott: We go way back with Ronnie as he asked us to tour with him back in 1984. So when we started talking about someone cool to play the role of Doc X, Ronnie seemed like a cool choice, and he was very excited to do it as well.

Dave: I've only heard some of the new record, and complex might be the one word that best describes it. It sounds modern, yet when I listen to both Mindcrimes back to back, there's a continuity. It never sounds like the records were recorded almost 20 years apart. It must have been challenging trying to balance and blend the old with the new? Did you use any special recording tools or techniques?

Scott: Lots of coffee!!

Dave: For the upcoming tour, should Queensryche fans expect a full theatrical presentation with both Mindcrime I and II being played in their entirety?

Scott: It is our present plan to do both Mindcrimes in their entirety.

Dave: Established bands with extensive song catalogs are challenged by having to balance the set list with the hit songs the fans want to hear, along with the new material from the record the band is touring to support. How satisfying is it going to be for you playing a set list that includes an hour's worth of brand new material.

Scott: We shall soon find out!!

Dave: Queensryche is scheduled to start touring the United States in late August, playing through September and ending up in mid-October. Does the band plan on touring in Europe or elsewhere prior to the U.S. tour?

Scott: We have some offers to go to Europe in June, and then our big plan is to tour the United States starting in late August.

Dave: Geoff Tate was quoted that "Operation: Mindcrime II" is "a study on revenge." With revenge as the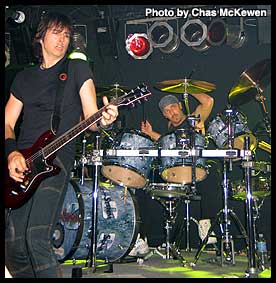 topic, and Queensryche's beginning years as the timeframe, were you mistreated by any bands then that you'd like to get some revenge on now?

Scott: I'm sure there are one or two, but off the top of my head I can't think of one. We've had a pretty good run and we've been headlining so long that no one band comes to mind.

Dave: I have a few questions about Queensryche's history and their 2005 tours that I'm going to ask later. Let's stay in 2006 for a moment and talk about your other band, Slave To The System. I saw Alice Cooper in concert during the summer of 2005, and his guitarist Damon Johnson told me to expect big things from the other band the two of you are in, Slave To The System. Who else plays in that band?

Scott: Kelly Gray, a guitarist who used to be in Queensryche. He also produced Candlebox and Damon's other band, Brother Cane. Roman Glick is the bassist. He's in Jackyl, and he also came from Brother Cane. Lead vocals are handled by Damon and Kelly.

Dave: Slave To The System signed a record deal with Spitfire Records, and the self-titled record was released February 21. Has the first single been picked and did you film a video for it? If so, where can it be viewed?

Scott: Our first single is "Stigmata," and we are working out some plans to shoot a video sometime soon. We will keep everyone informed via our website, www.slavetothesystem.com.

Dave: This record was recorded a few years ago, and it's just now getting released. What's the band's attitude? Is it one of high expectations, or one of "let's wait and see what happens?"

Scott: We originally wrote and recorded the Slave To The System CD as a cool musical thing for us to be creative with. We had no big expectations and no concept that it would be so huge right now!!!

Dave: For music fans that haven't heard Slave To The System yet, please talk about the band's musical direction.

Scott: It's a powerful, melodic, riff-oriented rock record, and we all play our asses off. That's the best description I can give you, but the music speaks for itself. When we made the record, it was a bunch of guys that didn't know each other. I knew Kelly and he knew Damon and Roman, but I knew neither one. We sat down on the day we met and started writing. Three weeks later the record was written and recorded! The approach was to go in, have fun, and not be a slave to the system. That's how the name came about, we were tired of the industry and of corporate labels. Each song has its own strength, whether it's a melody or a guitar riff. This record was originally self-produced in 2002, but it was never heard. We only sold a thousand or so through the Internet. This new record is a re-master of that, with new material added on. It's a really good record, we've gotten positive response and feedback, and there's plans for more. It's a multi-record deal. Spitfire had it for a few years, and they finally did something with it. They phoned out of the blue and said it was time. It's the beginning of a long haul and an exciting one at that.

Dave: Slave To The System just played two shows in Alabama and another two shows in Florida. Please comment on the fan reaction the band has received so far.

Scott: The shows so far have been fantastic, what an excellent response!!! Rock lives!!!

Dave: When I was talking about the record in detail with Damon Johnson, I teased him about the slower and mid-tempo songs. I doubted that he'd play those songs live at the same tempos as the record, because you know Damon. Once he starts playing he gets fired up and it's off to the races. From your perspective, how's the band sound live as compared to the record?

Scott: We try and blend it all together live. We definitely want to be known as a rock band, but we cannot deny that we have a few songs that are somewhat slower, but very cool in their own way.

Dave: I've seen you quoted where you call playing in the two radically different bands "the best of both worlds." With Queensryche, you're always trying to "push the artistic envelope." You must be having a lot of fun with the change of pace Slave To The System affords you. Please elaborate on the opportunity you now have to put the pedal to the metal and just rock out.

Scott: Yes, it is very cool for me to have the best of both worlds. Slave To The System is really about the rock, Queensryche is really about the concept. I am grateful that Slave To The System has become so important for me.

Dave: Obviously, scheduling around your commitment to Queensryche, Damon's to Alice Cooper, and Roman's playing with Jackyl presents a difficult challenge. Can you tell me anything more definitive about Slave To The System's touring plans for 2006?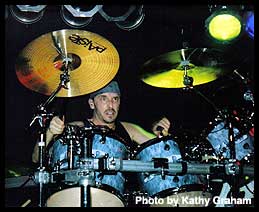 Scott: The plan is to get out there and play but we're slaves to the schedules. We are doing some more shows in April and then we'll be working on more shows in-between our other respective schedules. We'll make it all work!!

Dave: After any band releases their record, the next challenge becomes getting the record heard. What type of response is the band receiving from FM radio and satellite radio?

Scott: So far, we have had great support from both FM radio and satellite radio. We hope to nurture both avenues. Our goal is to work hard to get our record heard and to keep it all growing !! The world is now our oyster!!

Dave: The music industry in the 21st century is a lot different from when Queensryche was breaking in the early 80's. Record labels don't build or support bands like they used to, and the Internet has had a big impact. Please talk about Slave To The System's efforts to build a band in the radically different music industry of the 21st century.

Scott: It's a whole new thing, today's music industry. Damon and I talk about this all the time. We're very lucky because we've been given a second chance to do something really cool with a record label that wants to throw us support. But where do we start? We're going to start with the legacies that we have as musicians and use that as our springboard. Selling records is not easy no matter what kind of legacy you have. Our goal with Slave To The System is to get it out there and get it heard. To be heard is to be received. I think the record company will get it into the stores and get us press. We're confident that the music will speak for itself. We can try to get out there on the road to do shows and get exposure. But we're not 20 years old anymore, and we can't be the type of band to live and travel in a van across the country without hotels. We won't do that, and hopefully we won't have to do that. We'll have to draw on our collective experience to help push this thing forward but it's not going to be easy. Damon and I love to give interviews so that will help. A new Slave To The System website and a Myspace page with samples of songs will help. I didn't realize until recently that Myspace was such a popular hub on the Internet for music and networking.

Dave: 2005 was a year of heavy touring for Queensryche. That summer, the band supported Judas Priest on their U.S. tour. Then the band went back out on the road playing in theaters across the U.S. with a full-production show featuring, in its entirety, the Queensryche classic album: "Operation: Mindcrime." Your fans have had many opportunities to see the band, but I'm curious. Where on planet Earth has Queensryche NEVER played?

Scott: We've never been to Russia, southeast Asia, Australia, or New Zealand. We never played in Hawaii, and we haven't been to Japan since 1995.

Dave: Talk a bit about the reaction, from both old fans and new, to the full-production performance of "Operation: Mindcrime" during the 2005 tour.

Scott: The fan reaction has been really cool, since the "Mindcrime" legacy goes back to 1988 when it generated an immediate following. It's probably our most definitive record since most fans say that it really meant something to them. That tour has brought out a lot of our older fans to see us again, and they brought their teenage children. A whole new generation of kids were wearing worn-out Queensryche t-shirts that don't fit their parents anymore. We've touched a whole new generation musically, and the show had them walking out saying "Wow Dad, that was really cool! I can't wait to go out and buy their records and to see them again next year."

Dave: This may seem like blasphemy, but hey, it is my interview. I prefer the down-and-dirty aspects of a band performing in a club to theater or arena concerts with on-stage theatrics, which I feel take away from the musical performance. Queensryche has played with and without theatrics, and they've played in clubs, theaters, amphitheaters, arenas and stadiums throughout their illustrious history. What is your preferred format and venue for Queensryche to play?

Scott: From what we've found throughout Queensryche's history, all types of formats and the different-sized venues all have their own merit. Small clubs are cool because we end up in cities and venues that Queensryche has never played in before. The fans go crazy. The flip-side, playing in arenas and the big sheds like we played last summer with Judas Priest, also have their own merit. If I had to pick one type of venue, for what we did with "Mindcrime," the theater was the best setting. As far as format, each has its own thing also. On the last tour, Queensryche played both. We were our own opening act, playing in our street clothes on smaller sets of equipment. We started off rocking out, playing all of the hits. Then we stripped all of that away and revealed the "Mindcrime" set-up, and we played on different equipment, surrounded by all the theatrics, the actors, and film.

Dave: How do you, as a musician, deal with the on-stage distractions and demands of a full-production performance?

Scott: To be honest, it's so machine-like for us that I don't even pay attention. I have to focus on playing and everything else that I'm doing. I run all of the film. Behind my drum set. I have all of the triggers and all the keyboards for the computers that control all of the sound effects. I have to cue and start every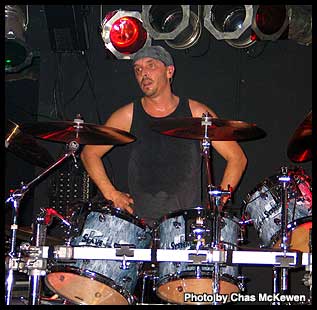 scene. I'm kind of buried in my own world and all of the acting takes place on its own. The production is almost like a football game. You can't watch everybody at the same time. But for it to work, everybody has to be in the right place at the right time. Everybody has to fine tune what they're doing, and not pay attention to everybody else. If they all do that, it works like a charm.

Dave: How was Queensryche received by the fans of Judas Priest on last summer's tour and did the two bands get a chance to jam together?

Scott: No, we never got a chance to jam even though we talked about it. The fan response was great, and the tour was a total success. Queensryche fans stuck around to see Judas Priest, and their fans came early because they wanted to check us out.

Dave: What is your favorite Queensryche song to perform night after night? What is the most difficult Queensryche song to drum on? Why?

Scott: Wow, that's difficult to pick. My favorite would have to be something from the "Mindcrime" set. Probably "Suite Sister Mary." I don't know if we've done a song yet that I'd call difficult. It's so much easier when you write the song. The way Queensryche creates music, it just flows, it comes from within. Down the road, when I have to figure out an old song or remember what I did, it's already there in my memory. I just have to bring it back and it tends to fall into place.

Dave: Is there one song, or one live performance, that stands out to you as the defining moment of Queensryche or is that moment still to come?

Scott: It's always still to come. Every night presents different problems and challenges. When we're done we go straight to the dressing room, sweaty and tired, and we sit down and encapsulate everybody's thoughts on the good and bad moments from the show. Every night has a defining moment in a certain way, whether something breaks or a guitar goes down at a key moment, and we get through it. It's so cool when the audience freaks out over something and there's an instant connection. You can take that and call it a defining moment, so every night there is something that qualifies.

Dave: You also recorded two albums under the name Rockenfield/Speer, titled "Hell's Canyon" and "TeleVoid." Please introduce Paul Speer, and give me a synopsis of each record.

Scott: These were my first solo projects, and they go back to 1996. "TeleVoid" was an animated film score, and Paul Speer is a guitar player and buddy of mine from Seattle. We did all the composing and we played all the instruments. It received a 1998 Grammy nomination for the "Best Long Form Music Video." That was fun, no boundaries, no rules, recorded in a home studio, and we received a Grammy nomination! The follow-up, "Hell's Canyon," is a progressive, instrumental record with me on drums, Paul on guitar, and us sharing everything else that needed to get done.

Dave: You released a solo album titled "The X Chapters." Talk about its musical direction and how Queensryche fans have reacted to it.

Scott: "X Chapters" was music that I'd been composing for TV scores that never panned out, and for video games that I worked on where the music wasn't used. I had all this stuff lying around. I'm a self-taught keyboard player/composer, and I did it a few years back in my home studio. I composed, performed, arranged, and played everything. I did the orchestration. It's a journey of one's life. It's thematic, and each song is inspired by me and my journeys throughout my life. I love doing my own music, and I had to get it out of my system. The fan response has been great. I have dedicated Queensryche fans who like what I do as a drummer and as a composer.

Dave: Describe the production "style" of Scott Rockenfield. Also, at what point of the recording process do you find the most joy and satisfaction?

Scott: The best phase is the final production stages. I find the greatest joy putting the final icing on things, but it really depends on the project. With Queensryche, we're all producers, and we all have thoughts on things because we've been doing it so long. We're all open-minded, allowing constructive criticism, and we let songs form from that synergy together. I recently engineered, recorded, and produced a band called Totalisti for their record release on the progressive record label Magna Carta. It was a total gas being completely in charge of somebody else's project. Totalisti was really good in the studio, they're great musicians and they have great songs. It was a lot of fun. I always wanted to own a studio. I'm really into the behind-the-scenes aspects of making records. I'd rather create than be in the spotlight.

Dave: In my 30+ years attending concerts, I've seen some amazing looking guitars, but a lot of boring looking drum sets. Please tell us more about your company and what it does for drum sets, with RockenWraps and RockenHedz.

Scott: I always wanted to make a statement with a different looking drum set. In 1982, when we started Queensryche, my cymbal stands were made out of welded chains. Because of my ego, I didn't want to look the same and get buried in the back. Those cymbal stands haunt me today, but in a good way. Somebody asks about them at every show. That was the beginning. The late great Eric Carr from KISS once complimented me on changing the look of my drum set on every tour. A few years ago, I was getting tired of my drum set's look and nothing good was being offered except expensive paintjobs. Rockenwraps was born in my office, utilizing plastic lamination and heat machines that make plastics you can print on. I started making decals for my kick drums and that evolved over the past three years into creating drum shell material to wrap the entire kit. It's cheap and we can make any design. It's completely removable and it's held on by the hardware, making it interchangeable with no glue or tape residue. The company has been public for a year and a half, with global distribution. Rockenwraps is a mom and pop operation, just me and my brother. And it's working like a charm. It's expanded to include Rockenhedz, custom kick head drum heads at a much better price than other competitors. It's a cool product, it's both fun and affordable. We've done stuff for Rick Brothers, who drums for country artist Gretchen Wilson. We did something for Journey's Deen Castronovo. We're in all the big music store and we advertise in Modern Drummer. We're starting to make custom drums as well. As for me, other than my Paiste cymbals, I play on all my own gear. I make everything.

Dave: Your drum parts in Queensryche songs are complex and difficult, with many odd time signatures. What recommendations can you offer to drummers trying to learn those parts?

Scott: The first thing is that I have a book coming out in 2006 after receiving an offer from book publisher Carl Fischer. Joe Bergamini, a drummer you may know from New Jersey, is helping me put together a history of my drum playing in Queensryche. It's a huge transcribed book, covering my parts from back in the day until now. Hopefully it will be the first in a series of books because one can't cover all the bases. There might be a book dedicated to "Operation: Mindcrime" or another covering my solo projects. Reading the book will let people learn my drum parts and see on paper how I physically do certain things. Hopefully, the book with teach the drummer reading it something new, or they can spin in a different direction and learn something on their own from an idea I had. Either way, I hope they have fun and enjoy what they read and hear. I can't teach it, I don't read or write music. I'm self-taught and I never took lessons. I'm glad somebody else is spending all the hours transcribing.

Dave: Who is the one drummer that has been the biggest influence on your playing style? Why?

Scott: Neil Peart from Rush. From the early days, he showed me the direction that I wanted to head. Neil challenges himself on the drums, he takes a different path.

Dave: Remove lawyers, contracts, and egos from the equation. If you could create a super group for one CD/tour, with guys you've never played with, what two guitarists, bass player, and vocalist would join you?
Scott: I'd take The Edge from U2 to play guitar and Peter Gabriel would sing. Naming a bass player is tough because there are so many interesting guys out there. I'd probably grab Geddy Lee from Rush. It would be just the four of us and we'd rock! You know Dave, one of them is probably going to read this somewhere and give me a call.

Dave: I'd like to thank you again for letting me conduct this interview Scott. Feel free to add some closing comments for Queensryche and music fans worldwide.

Scott: Life is good, and thanks to everybody who has given me support over the years. Stay tuned because 2006 is going to be very interesting with the releases of "Operation: Mindcrime II" and "Slave to the System," and the subsequent tours supporting those records.


ARTIST BIOGRAPHY
Full Name: Scott Rockenfield
Website:
www.rockenfieldmusic.com
www.queensryche.com
www.rockenwraps.com
Birthday: June 15, 1963
Birthplace: Seattle, Washington
Hobbies: Tennis to keep in shape, gardening and I have three kids, ages 6, 9 and 14. Their activities become my hobbies.
Favorite food: Sushi
Favorite rock band: Pink Floyd
Favorite rock song: Peter Gabriel's "Red Rain"
First record ever purchased: Rush's "2112" on 8-track
Last CD purchased: the film score to the movie "The Cave"
Favorite film: "Gladiator"
Favorite city to visit: Vancouver, British Columbia
Favorite venue to play: The one in Australia and we've never been there.