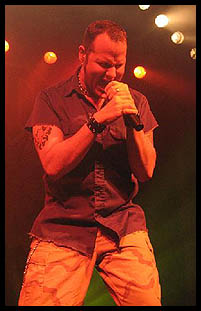 When metalforever.com and davesontour.com caught up with Iced Earth vocalist Tim "Ripper" Owens, he was kicking back at home, working on material for his new band project.

DI: Hello Ripper, I'd like to thank you for letting me conduct this interview. I know that Iced Earth is your main band and we'll get into that later in the interview. You and guitarist John Comprix have been working on demo tracks for your new band at ex-WARRANT guitarist Billy Morris' Lava Room Recording studios. Have you selected a band name or should fans continue to send their choices to your website?

RIPPER: I haven't got the name yet! It looks like Bobby Jarzombek on drums and John Comprix on guitar will both be in the band. I'm looking at a few bass players at the moment! What people should know is that this is a band, not just a solo thing! I will go on tour and totally support it!

DI: Tell me about the musical direction you're heading in with this new project. How is it similar and how is it different, from both Iced Earth and Judas Priest?

RIPPER: It's not like Iced Earth. It is a little more straightforward! Not too complex. To me it is basic, classic heavy metal that is not too dated! I like DIO and Sabbath and early Judas Priest! So that is how I draw a lot of influence! And I like a lot of the modern bands guitar riffs! If I could write guitar riff like Jon Schaffer it might be closer to Iced Earth!

DI: It is a full band project, so who are your bandmates and why did you pick them?

RIPPER: Shit, I blew your question didn't I! Well, you already know who. Why? Because they are good musicians! They are professionals!

DI: I know you're itching to get out on the road again. What are your plans for playing live with this new band?

RIPPER: I will play as many as I can! Whatever label I sign with will get full support! I want to get out there and PLAY!

DI: Tell me about your efforts trying to find a record label and marketing a new project in today's music marketplace.

RIPPER: It is all good! My manager Carsten is handling it! We will see. Like I said, they have got to know that I'm serious and that this isn't just some side project, and I will do anything the label wants me to do to get it out there! Yes, Iced Earth is my main band and I love working with Jon. But I want to get out there and PLAY!!

DI: Is there anything else you'd like to add regarding your new band project before I switch gears?

RIPPER: I just want people to know that I'm doing it and that it is true to Metal!

DI: Iced Earth's last CD, "The Glorious Burden," was recognized by many music critics and Iced Earth fans as their best CD so far. Your writing contribution was limited by time constraints to a rewrite of "Red Baron/Blue Max." Are you currently writing new Iced Earth material?

RIPPER: I think "The Glorious Burden" is just amazing. I think it was one of the top metal CDs last year! I have not begun to write with Jon yet! I'm just working on my own stuff write now! But I will be soon enough.

DI: A DVD release of "The Glorious Burden" was anticipated for the end of February. What is the status of that release and what should fans expect on the DVD?

RIPPER: You would have to ask Jon!

DI: Iced Earth's 2004 U.S tour supporting "A Glorious Burden" was awesome despite a switch in drummers mid-tour. The European tour was cancelled due to serious health issues with Jon Schaffer's back. Iced Earth's career has been marked with many linep changes and another just occured when bassist James MacDonough left to join Megadeth. Please provide a 2005 Iced Earth status report, including an update on Jon's health and the expected band lineup?

RIPPER: It was a good tour! Jon is doing better, but still not 100%! He and his wife are getting ready to have their 1st child (ANY DAY)! As for Jimmy, man that was great. Iced Earth isn't touring anytime soon (I wish we were) That is how he makes his living! As of now, Bobby is still in the band, other than that, I'm not sure! We will cross that bridge when we get to it!

DI: What should Iced Earth fans expect first, European or U.S. tour dates?

RIPPER: Shit man...I would pick the World! We have got to do Europe, I love it there and we already toured the U.S.! But really, I see no tour in sight! I will probably tour with my band before there is an Iced Earth tour!

DI: Your vocals on Iced Earth material obviously differed from your vocals on Judas Priest material, and you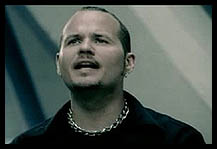 had very little involvement in the songwriting. You will be more involved in the songwriting process on future Iced Earth albums and, of course, solo material. Does Ripper Owens write lyrics tailored to fit his vocals, or does he worry about how to sing the songs after they are written?

RIPPER: I hope to write with Jon, But Jon likes to do a lot himself! As for my stuff, I wrote 75% of everything! No certain style and way for me to write...I usually come up with a guitar part first and go from there!

DI: I recently wrote a story previewing the Bang Your Head 2005 festival in Germany. You appeared there with Iced Earth in 2004 and you were with Judas Priest when they headlined that festival in a previous year. Please tell me more about your experiences at that festival.

RIPPER: What a great time! This last year with Iced Earth was great! The crowd was unbelievable! I loved seeing all the bands and a lot of friends!

DI: You've been in bands with incredible drummers, Iced Earth's Richard Christy and Bobby Jarzombek, and Scott Travis from Judas Priest. Please share your thoughts on those three legendary pounders.

RIPPER: They are all great! I think they should let Scott play what he wants to, like in the days of Racer X! Richard is doing what he wants to do now! And Bobby is just amazing!

DI: You've played with some awesome guitarists also. If you could form a supergroup for one CD/tour, with musicians you've never played with, who would be in your band?

RIPPER: I've said this a million times! Dimebag, Scott Ian and Zakk! Not sure of the rest!

DI: The new Judas Priest CD, "Angel of Retribution," was released on March 1. I assume you've heard the single, "Revolution," and possibly some of the other song clips available at their website. Please share your comments on the new Judas Priest material.

RIPPER: I've heard it and it's a good CD! Some good metal in there with some good hard rock! I think it is right up there with "Ram It Down!"

DI: I read all the stories at the time of your gracious departure from the band. I've also read that you speak all the time with Glenn and K.K. The song "Ripper" is in the setlist as Judas Priest tours Europe. Do you view that as coincidence, or, as a subtle way of thanking you for holding down the fort?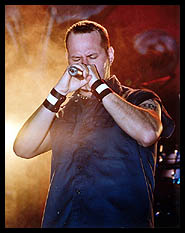 RIPPER: No, there really isn't much thanking going on, only by Glenn! The song "Ripper" is there because it is a classic Judas Priest song! I'm surprised that they are doing it!

DI: You toured the world with Judas Priest and sang on albums "Meltdown," "Jugulator," and "Demolition." Are you satisfied that you made your mark, or do you feel you left with unfinished business?

RIPPER: I would have loved to write with them! I can write! Everything in my life has really gotten better in the last couple of years! I do wish Rob and I would talk! But I guess that just wouldn't be cool!

DI: I was a fan of Judas Priest in the late 70's and I saw them perform twice in New York City, supporting "Stained Class" and "British Steel." I didn't keep up with them over the later years. How exactly did you get the job after Rob Halford's departure?

RIPPER: I auditioned and next thing I know I'm in the band!

DI: I don't know if the Hollywood film "Rock Star" was simply inspired by your tribute band to Judas Priest story, or whether it was supposed to be biographical. I really enjoyed the film. It had good music, some of my favorite musicians acting, and some Hollywood actors portraying musicians. I'd like you to be the school teacher, simply grading the following people and the efforts in the film with an A, B, C, D or F.

RIPPER: The film itself: I would give it a D!! I hated the music and it was cheese! The idea was stolen from things that happened to me....it's crap!
Actor Mark Wahlberg: B
Director Stephen Herek: D
Screenwriter John Stockwell: D
Zakk Wylde: B
Jeff Pilson: B
Jason Bonham: B

DI: What is the one question you've always wanted an interviewer to ask you? How would you answer that question?

RIPPER: I think I have been asked every question.

DI: You've recently recorded your vocals, and Michael Schenker is adding guitar, on a cover version of the Black Sabbath classic "War Pigs" for an upcoming tribute album. Please tell us more.

RIPPER: It sounds real cool, it might be the only version of the song with high notes! Bob Kulick is putting it together.

DI: An e-mail buddy of mine, ex-Helloween and ex-Metalium drummer Mark Cross has joined guitarist Lou St. Paul in a new Winter's Bane lineup with ex-Powergod vocalist Alexander Koch on vocals. Any comments on a reformed Winter's Bane?

RIPPER: It's nice to see Lou putting something out there! I do wish him the best.

DI: You and I have something other than a love of music in common. We've both suffered through some abyssmal football the past few seasons, me with my New York Giants and you with your Cleveland Browns. What are your expectations from the Browns at the upcoming NFL draft and during the 2005 season?

RIPPER: They will suck! But we have cleaned house, so in a few years, we might be alright. (I HOPE.)

DI: Which band should put all their issues behind them, reform, record an album, and do one last tour? Which band should just hang it up and go away?

RIPPER: I say Kiss should call it a day! Not sure who I want to see get back together, it is alway's nice to see a bunch of guy's who really hate each other get back together and try to act happy, while they have different buses and dressing rooms. It makes me laugh.

DI: What is the one album that defines rock and roll?

RIPPER: Rock and Roll, man that's tough! I would have to say an early Elvis Presley record.

DI: What's the first concert and the last concert that you've attended?

RIPPER: Judas Priest on the "Defenders of the Faith" tour was my first and the last was Trans-Siberian Orchestra.

DI: What CDs are you currently listening to?

RIPPER: Pretty much my own stuff, I'm trying to get all the new songs ready for the studio.

DI: If you were to be stranded on a desert island, name five CDs that you'd want with you?

RIPPER: Any Anthrax CD, Iced Earth's "The Glorious Burden," Judas Priest's "Screaming For Vengeance," Black Sabbath's "Heaven and Hell," and Soundgarden's "Badmotorfinger."

DI: What new artist has impressed you the most?

RIPPER: I'm not sure.

DI: Your choice, a night with Paris Hilton or a weekend in Paris, France?

RIPPER: Paris, France with my wife.

DI: On their last tour Iced Earth played in Sayreville, New Jersey at a venue called Starland Ballroom. I saw Damageplan and Dimebag Darrell at that same venue the weekend before his tragic death. Please share your thoughts on Dimebag Darrell.

RIPPER: It was a horrible thing! Dime was a great guy and will be missed! Once again, my love goes out to all the families who lost a loved one there.

DI: If your new band was to be the opening act on an arena tour of the U.S. and Europe, which headlining act would you like to support, playing your music for their fans?

RIPPER: Judas Priest, but they won't have it! Shame isn't it!

DI: The Rock and Roll Hall of Fame recently announced its inductees for 2005, which includes rock band The Pretenders and U2. In previous years, this organization has even inducted punk rock bands like The Ramones, Talking Heads and The Clash. In my opinion, they have over-looked and snubbed heavy metal bands like Black Sabbath, Deep Purple and Judas Priest. Please comment on the fact that no metal bands, except for AC-DC, are in the Rock and Roll Hall of Fame.

RIPPER: Metal bands will be there in due time! I'm pretty excited about the whole thing! People ask me if they think I will go in with Judas Priest and I say I sure would hope so! I mean I was in the band for 2 studio records, 2 live records and a DVD and a Grammy nomination! And in the band for 8 YEARS, They can't just forget the time of the band! The Rock and Roll Hall of Fame will be filled with metal bands someday!

DI: Are there any other final thoughts you'd like to share with music fans?

RIPPER: You can check in on www.Timripperowens.com to see whats going on! And Keep it Heavy!

DI: Thanks so much for the honoring my website with this interview. Feel free to comment on or promote anything I failed to cover.

RIPPER: Thanks a million, you really have great websites! Best of luck to you guys.

ARTIST BIOGRAPHY

Full Name: Tim Owens
Website: www.timripperowens.com
Birthday: September 13, 1967
Birthplace: Akron, Ohio
Former bands: Damamage Inc...Brainicide...Twist of Fate...US METAL...British Steel...Seattle...Winter's Bane...Judas Priest
Hobbies: Sports, Golf
Favorite beverage: Beer
Favorite food: Beer
Favorite Band: DIO
Favorite song: "Bloodstained" by Judas Priest
Favorite film: "SEVEN"
Favorite city to visit: Akron
Favorite venue to play: Anywhere in Cleveland!