"The leaves were falling on a Sunday morning" in late September as I chatted on the phone with Rev Jones, the bass guitarist for the Michael Schenker Group, Black Symphony, and Kottak. Rev had just returned from Germany, where he vacationed and played with a few different bands at the three-day-long Wacken Open Air Festival.

Dave: Hey Rev, thanks so much for letting me conduct this interview for my website, Dave's On Tour.com. It's the fall of 2006 and you recently returned from Germany. Let's start off the interview right there. The Michael Schenker Group, with you on bass, was one of the performers at the Wacken Open Air Festival in Germany. I'll have a few questions on M.S.G. in a minute, but right after their set was completed, The Scorpions took the stage. Their singer Klaus Meine called their set a "family reunion," and they were joined onstage for selected songs by guitarists Michael Schenker and Uli Jon Roth, as well as ex-drummer Herman Rarebell. Here's your chance to be a journalist, Rev. You watched their set, give me a little review of The Scorpions' "family reunion."

REV: Being a fan of The Scorpions, it was really cool. It was great seeing all of those guys up there. I had the advantage of watching it from the side of the stage. I got to see everything a little better than from up front. There were a few little screw-ups here and there that the fans probably didn't notice. I don't remember the song, but Michael Schenker played it like it is on the record, and the rest of the band played it like they normally do live. It was cool how they pulled it back together, acting as if they play with each other all of the time. That took a lot of skill. I was backstage later and watched on a monitor when Herman Rarebell joined James Kottak during the drum solo. I've met Herman in Hannover a couple times and he's a good guy. I had heard that he hasn't drummed in a while, but he seemed to be holding his own.

Dave: European music events like Wacken Open Air, Bang Your Head, Grasspop, and the Sweden Rock Festival are unique experiences for rock and roll fans. What are American audiences missing if they've never attended any of the big European music festivals?

REV: The biggest difference in America is that you come to see one or two bands. At the European festivals, the fans watch every band for four days. The same fans who are there watching a death metal band will be singing along an hour later with Whitesnake. The vibe that the crowd gives off is so much a part of those shows. There's always a big jump and contrast between bands. This year at Sweden Rock, the same day that Celtic Frost played, Journey and George Thorogood played.

Dave: If you saw Whitesnake perform, what did you think about their performance?

REV: They were killer! It was the first time I've seen them with my friend Uriah Duffy on bass. I've seen them several times with Marco Mendoza on bass and he's such a good singer. The new lineup misses the second lead vocals that Marco brought to the band, especially on the old Deep Purple songs.

Dave: You also jammed on a song with the German band Nikki Puppet. Tell me more about them.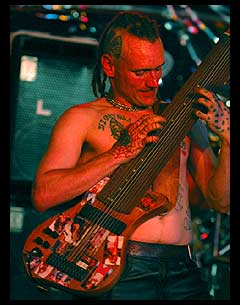 REV: Nikki Puppet is a great, new German band. Their bass player, Anke Sobek, is a killer bass player. When I tell her that, she doesn't believe me. She just thinks I being nice but she's so solid. Their drummer, Florentin Adolf, is amazing, as is guitarist Christos Mamalitsidis. They were a great band to have on our tour. They're just rock, with cool bass and drum-driven rhythms. The guitarist grew up playing flamenco and he throws in little things here and there that rock guitarists wouldn't think about. I'd compare them to the band Missing Persons, with a rock edge.

Dave: M.S.G. toured Europe in May and June of 2006 with a new singer, Jari Tiura. The tour supported the latest record by the Michael Schenker Group, "Tales of Rock and Roll: 25 Years Celebration." How was it working out live with Jari Tiura singing all of the new songs and classic M.S.G. material?

REV: Jari blew us away since it was his first tour. We played 32 shows in 36 days, and he never had a bad night. We went out every night and gave 120 percent. That's amazing because some of those songs are so hard to sing. We played three or four songs off the new record in our set. We did have some guest singers: Gary Barden came out in London and Leif Sundin came out in Copenhagen and Sweden.

Dave: That record was released in 2006, and it has many different singers who Michael has worked with in the past adding vocals to new tracks, with UFO's Pete Way playing bass and Jeff Martin from Racer X adding drums. What a unique concept.

REV: I liked the new songs more after playing them live than when I first heard them. It wasn't written as a new album, it was an instrumental record from seven or eight years ago that never was finished. There was a lot of cutting and pasting to create songs. It's not that they're bad songs, it's just that they stuck to a formula, and it's a little repetitious. The riffs are tremendous, as are all of the musical performances. It's great hearing all of the old voices back together again with Michael Schenker. It makes it a little more special. I really love the Gary Barden and Graham Bonnet songs.

Dave: The Michael Schenker Group had a handful of U.S. tour dates scheduled for September and October, but those shows were cancelled. Michael's website first mentioned that problems with Jari Tiura have forced a rescheduling of the U.S. shows, but then the latest commentary from Michael states "M.S.G. is finished and I'm not inspired anymore." What happened?

REV: Part of it was after we scheduled all of the dates, we were haggling over pay. Everybody in the band is paid per week, and Michael's budget was dropping because of past cancellations. They wanted us to work for less money, not realizing that playing is how we make our living. We haggled over it for a week, and I finally told them that I couldn't do it for less. I told them that if we couldn't come to an agreement that I would leave the band. We couldn't finalize the agreement so I left. Two days later Jari left the band. He didn't have "family problems" as it was mentioned. He couldn't afford to be on the road for two months with half-pay. If they would have paid everybody what was originally agreed to, there would have been no reason to cancel the tour. I was blown away that they'd take the risk of canceling a tour over a few hundred bucks. The band was playing great music together and everybody was getting along. It was such an improvement from other tours that I've done with Michael. It seems like touring isn't important to Michael anymore and that's a shame. That being said, there was also talk of canceling the tour before either Jari or I quit. That was also over money. I was shocked, because I left the band first. I thought that I'd be the one who was blamed. But guess what just happened?

Dave: Michael changed his mind?

REV: Yes. It looks like the Japanese and U.K. dates are back on. The whole band is back, and Jari Tiura is singing. Michael e-mailed us the other day, asking if we were all good and if we were available for the scheduled dates.

Dave: Here in New Jersey, I run into guitarist Jack Frost attending concerts all the time. Jack recently released a new solo record that you played on called "Out In The Cold." When I asked Jack for a funny Rev Jones story from your time together in the studio, he declined. What he did offer was: "Tell Rev to stop beating people up on tour." I'm guessing that he's ribbing you about a well-publicized fight you allegedly had with ex-M.S.G. vocalist Chris Logan. I never read your side of the story. Do you care to comment?

REV: In 2004, M.S.G. was touring in Sweden. Chris threw a sucker punch at our tour manager. After I broke it up, we're back on the tour bus and Chris started talking trash and once again he tries to jump the tour manager. Then he made the mistake of turning on me. He learned an important lesson that day: don't drink a whole bottle of Russian Vodka and talk shit to a redneck, or you'll wake up missing some teeth and looking like Frankenstein. M.S.G. is better off without him, nobody liked him anyway, and things have gotten much more peaceful since he left.

Dave: I could dwell on the negative with cancelled M.S.G. tours and rampages by Michael Schenker, where he's stormed offstage to end sets early, but I'd rather look for the positive. Please talk about a magical night up on stage with the Michael Schenker Group.

REV: There's been many, but the most recent was when M.S.G. played at the Wacken festival.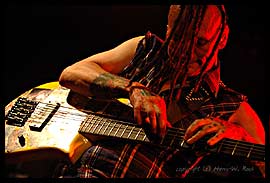 During my bass solo, 60,000 people were clapping their hands together, keeping time for me as I played "Eleanor Rigby." That's something I'll never forget.

Dave: Touring with the Michael Schenker Group has given you the opportunity to see most of Europe. Where on planet Earth haven't you played but still hope to see scheduled?

REV: Japan, because I've had two Japanese tours with Michael Schenker that were cancelled. I've yet to see Japan, but I'm keeping my fingers crossed.

Dave: Jack Frost's "Out In The Cold" is a fun record. It has some monster riffs and tremendous guitar playing, and guest appearances by vocalists like Ted Poley, Paul Shortino, and Neil Turbin. If you've heard the finished record yet, what do you think?

REV: It's a real cool album and I love the artwork. Everybody plays great, the songs are great, and I loved playing on the song I did with Patrick Johansson. I still think the best part is the cartoon drawings of each person.

Dave: I really like the record but I'd have to question Jack's decision to have four out of the 11 tracks be cover versions of classic rock songs. I think covers are a better fit on a band's live record than a musician's solo record. On one hand, it's cool to pay homage to your influences by covering one of their songs. On the other hand, music fans are getting bombarded with cover versions and tribute albums. What's your thoughts on the lack of original material being recorded these days?

REV: I agree. Cover songs are cool to add as bonus tracks or on a bonus disc, when they're something extra.

Dave: I'm a 1970's punk rocker at heart, and a few years back I was really happy to stumble upon an L.A. punk band called KrunK. I really dig their debut album "Greatist Hits." It had just the sound I was looking for at just the right time. I'm a big fan and they've renamed themselves Kottak, and they're set to release a new record called "Therupy." You're the new bass player. Introduce your band mates and tell me how you hooked up with them.

REV: The singer Jimmy Ratchitt lives down the street from me. He came over to work on the album with Rick Plester from Black Symphony, who I roommate with. We have a home studio. He came over and he never had a permanent bass player filling that spot. We clicked as soon as we met, and since it's a total side project, it was a perfect fit for me.

Dave: What type of reaction did Kottak receive from the music fans at Wacken?

REV: It was great. We played on a side stage to less people, but by the third or fourth song, people were packing in. Speaking of covers, we got a great response doing our version of "Holiday" by The Scorpions. Klaus Meine calls it his favorite version of that song.

Dave: Please tell me that Kottak is going to schedule some East Coast appearances.

REV: We're planning East Coast and West Coast dates for either December or January. There's definitely something in the works following the record's September 29 release on Escapi Records. Kottak will either do some shows alone or with another band that's already out on tour.

Dave: Under its previous name KrunK, the band won some California music awards for "Best Psychotic Band." Obviously, that's not an award presented at the Grammys. Why is Rev Jones and his unique style of bass guitar playing a good fit with Kottak, a "psychotic band"?

REV: I'm trying to figure that one out myself. I'm just being me. I'm acting my normal way. I'm such a good fit, at times I feel like the band was created around me, when in fact it started up years before. I'm acting like I always do, not because of the band. Psychotic to me means normal.

Dave: Let's talk about your main band, Black Symphony. After a three-year hiatus, you've returned with a new lineup. You're the bass guitarist, and founding member guitarist Rick Plester, who produced the Kottak record and handled the guitar duties at Wacken, are the mainstays. Who else is in the current lineup?

REV: The original keyboard player, Robert Vasicek, is back. Pete Holmes is on drums and our new singer is Randy Reemer, who's played with the Trans-Siberian Orchestra. He called to audition on keyboards, but when we heard him sing, he blew us away.

Dave: I've heard Black Symphony described as Dream Theater-ish, with more riffs and vocals, and I've read where you described the band as a modern day Deep Purple with more keyboards. Has the musical direction changed with the new lineup, or do those descriptions still fit?

REV: I think it's still the same musical direction. We're a band like Deep Purple or Queen, with a more modern sound. The Dream Theater comparisons are natural because of all the keyboards, but I don't see it. We're more 70's straight-forward rock than progressive rock.

Dave: What's the status on the release of Black Symphony's new record?

REV: We're shopping for a record deal. We've had a few offers, but we're waiting until they all come in. I don't have a working title or firm title to give you, that's still in the closet, but I've posted four songs from the new album at my MySpace page.

Dave: Should U.S. fans expect any live shows or will Black Symphony concentrate on touring in Europe?

REV: We're going to concentrate on everybody. It's hard to tour the U.S. without any product. We've had a few offers already for the U.S. and even if they're not the best offers, it should be enough for us to go out.

Dave: Is it frustrating for you as an American that bands like Black Symphony and M.S.G. struggle to find their own niche in the U.S. music market?

REV: Not really. A lot of bands in the U.S get big because of a song, not because of the band. Then, they do another album and it doesn't sell. Nobody comes out to see them. It's better to build your way up then to start at the top with the quick drop. Then, it's impossible to rebuild. I'm not bummed out that my bands aren't big here, but it would be more convenient. I'd rather be part of a band whose fans are into what I do and what the band does musically than a band whose fans sit around waiting all night for that one song. Then the fans hear it and they get up and leave. I hate that.

Dave: I think "unique playing style" is a good choice of words. You play with a lot of energy and intensity. You also use techniques like two-handed tapping, and you play both over the neck and under the neck. Is your playing style:
(a) a natural evolution as you got more proficient on your instrument, or
(b) a hybrid you developed over time as you incorporated bits and pieces from other guys styles into yours?

REV: Kind of both. All of the bass players who I listen to play these cool bass lines and have cool styles. When I started playing, I would try to do what they we doing. It developed into what I'm now doing almost right away. Over the years, it's gotten a little more polished. It's easy and natural for me now, but it was much harder in the beginning.

Dave: Your wild, stage presence is also part of your playing style. Do you bring that personality into the studio with you?

REV: People can't believe how tame and steady I am when they see me at a rehearsal or in the studio. It's only when I'm in front of a crowd that I start jumping around. That just happens when I get up on stage.

Dave: Do you have any particular warm-up techniques you use before you hit the stage or do you just hit the stage running and play your set?

REV: I just plug in and play. I stretch, which is my only warm-up technique. Maybe I do a little yelling to warm-up my voice. My first song is my warm-up on bass.

Dave: I hear a lot of Peter Gabriel/King Crimson bassist Tony Levin in you. Is it safe to say he's your biggest rock influence on bass guitar?

REV: He's my all-around biggest influence. Everything he does, whether it's the Peter Gabriel stuff, King Crimson, or even his work with John Lennon, defines a bass guitarist for me.

Dave: Why do so many rock bass guitarists list funk/R&B bassist James Jamerson or jazz bassist Jaco Pastorius as their primary influences?

REV: Jaco was amazing and every bass player, regardless of the music they play, should list him as an influence. Those old Motown songs are all bass, yet because he wasn't the writer, Jamerson gets none of the credit. Those songs were completely him, they were so bass driven. All of the rock bassists hit a spot in their songs where they think they've got to play it like Jamerson would have.

Dave: My love of rock and roll started in the mid-70's and back then, every bass guitar had four strings and every bass guitarist was dubbed "the four-stringer." These days, the bass guitar sometimes has four strings, other times five strings or eight strings. Why has your chosen instrument, the bass guitar, evolved over the last 30 years?

REV: Because there are no boundaries. Jamerson actually used five strings on some of his guitars. The additional strings open up so many more options and possibilities. Some of mine even have 12 strings. The important thing is to learn your instrument on four strings. If you can't play that, you have no reason playing on anything else. I've seen guys with a five-string bass and all they play is the same two notes. Why bother? If I played in a group that only had two notes, I'd play a guitar with only one string. It would look cooler!

Dave: With your gear in mind, but speaking to a non-musician, talk about the Chapman stick and the Warr guitar. What are they and what do they add to your sound and repertoire?

REV: A Chapman stick is similar to having a bass and a lead guitar together on the same neck. It has twelve strings, six bass strings and six guitar strings. You play it with both hands, tapping or pushing the strings to the neck. It's almost like playing a piano, one hand plays bass and the other hand plays chords. The Warr guitar is kind of the same thing, but mine is set up with bass on both sides, with the strings going the opposite way of each other. I can play the same note on two different strings which is hard to do on a regular bass. I can play bass lines and it sounds like two bass players. Those are really cool instruments, they open up so many options.

Dave: Another band project you're involved with is called China Blue, and an e-mail buddy of mine, Eric Ragno, plays keyboards. Tell us everything we should know about China Blue.

REV: China Blue has elements of prog-rock, but they really have a Journey-type of sound. They have real cool songs with some big choruses. The record is almost done mixing and two songs were released on sampler CDs.

Dave: You also played on a solo record by Racer X vocalist Jeff Martin called "The Fool." Last time I saw or heard Jeff, he was on the Bad Boys of Metal tour, drumming for both Quiet Riot vocalist Kevin Dubrow and Bang Tango. I even caught a drumstick he pitched into the crowd!

REV: That's definitely a cool record. I co-wrote some of the songs. The ones I wrote with him are weird and have a different element but when he starts singing it all comes together. One of the songs is a tribute to John Bonham. The song is about him, and it goes into a big drum solo where Jeff does parts from a bunch of Led Zep songs. He's a great drummer and a great metal singer. Jeff is Rob Halford re-incarnated. Jeff was actually the first drummer when I joined Black Symphony. All the songs on their first record had a two-piece vocal thing with Jeff handling the second part.

Dave: You've been joined in the rhythm section by some pretty good drummers. Who's that one drummer whom you've never played with that you'd like to jam with on stage someday?

REV: Mitch Mitchell! It's a blessing and a disaster too that I've played with so many great drummers. If I get up to jam with a band and their drummer is mediocre, I'm used to greatness. I don't have to play along with a drummer like Pete Holmes. I can lock into the song because, timing-wise, I know he's always going to be there.

Dave: My 10-year-old daughter Diana is a big fan of Hilary Duff and I take her to all the Hilary Duff concerts. Even Diana would tell you that Britney Spears sucks! What's your reasons for having Britney Spears stickers pasted all over your guitars?

REV: I couldn't find enough Spice Girls stickers. It started as a joke. My buddy has a mom-and-pop CD store and the record company sent him a giant Britney Spears poster. He was going to throw it away until I took it. I hung it as a joke on my wall. It became an inside joke with all of my friends. Somebody bought a Britney Spears sticker he got at the supermarket and stuck it on my bass. Now, everybody brings me stickers when they come to my gigs. The great thing is the guy who makes my basses does work for her guys. I have pictures of her holding my bass. She knows all about me and I'm her inside joke. When she starts wearing the Rev Jones pants I'll know I made the big-time.

Dave: That's all the questions I have for you Rev. Thanks again for allowing me to interview you. Is there anything I've neglected to cover that you'd like to promote?

REV: I'll be in the studio for a few days next month recording with guitarist Hank Shermann on a record for a female singer named Rachelle Ramm. At my MySpace page, I just posted an old Forte video, an M.S.G. promo video, and a live video of my playing a Judas Priest song with a cover band in San Antonio, Texas.

Dave: Do you have any closing comments for your fans worldwide?

REV: It's another inside joke. Where is Delaware? I was out on the road doing lighting for George Thorogood, and we played in northern California in a small city that was out of the Twilight Zone. Everything about that day felt like we crossed a line somewhere. Everybody had a question mark floating above their head. The head security guy asked me if George Thorogood was southern rock. I said it was more like Delaware rock. He looked at me, all serious looking, and asked, "Where is Delaware?" That put the perspective on the day and as we're eating dinner, we kept asking people if they knew where Delaware was.


ARTIST BIOGRAPHY
Full Name: Rev Jones
Website: www.revjones.com
MySpace page: www.myspace.com/rev_jones
Birthday: January 14
Birthplace: Oklahoma City, Oklahoma
Hobbies: watching television
Favorite TV show: "King of the Hill"
Favorite beverage: Dr. Pepper
Favorite food: cow
Favorite Band: King Crimson
Favorite song: "Three of a Perfect Pair" by King Crimson
Favorite city to visit: Hannover, Germany
Favorite venue to play: House of Blues in Chicago
Favorite film: "Best In Show"