If I were to spread my record collection across my backyard and shoot an arrow into the air, chances are it would land on an album bass guitarist Rudy Sarzo has played on. Do multi-platinum albums like Ozzy Osbourne's "Speak of the Devil," Quiet Riot's "Metal Health," and Whitesnake's "Slip of the Tongue" ring a bell? His recordings, with all of those artists combined, have sold more than 30 million copies! I could probably shoot another arrow into my collection of concert ticket stubs and get the same response. During the last couple of years, Rudy's been on tour in my neck of the woods with bands like DIO, Yngwie Malmsteen's Rising Force, and Blue Oyster Cult. In 1983 Rudy was voted the number-one bassist by Circus magazine, and he banged his head at the US Festival with Quiet Riot in front of more than 300,000 music fans. A year earlier, he was on tour with Ozzy Osbourne when a tragic plane crash claimed the life of his friend and bandmate, Randy Rhoads. So much to talk about and so little time to chat. Buckle your seatbelts boys and girls for a ride down the rock and roll highway! Rudy's rockin' and driving with the pedal to the metal, I'm riding shotgun, and my tape recorder is rolling. Feel the noize?

Dave: Hello Rudy, and thanks for letting me conduct this interview.

RUDY: You're in Old Bridge, N.J. Dave. Isn't that where that club Birch Hill is? I played there many times.

Dave: They knocked it down a few years back, and they built a senior citizen housing complex on the property.

RUDY: That's what happens when you stick around in a rock band long enough. You wind up in a senior citizen home.

Dave: We had an affectionate nickname for Birch Hill: the heavy metal graveyard. I guess it turned out that way.

RUDY: There you go!

Dave: I plan on profiling your musical career so I'll have questions from different time periods. I'll start off though, right here and right now, as we kick off 2008. You were out on the road last summer touring as the bassist for Blue Oyster Cult. Since the band plays "(Don't Fear) The Reaper" nightly, you're the perfect guy to ask: Is there enough cowbell?

RUDY: I didn't become aware of the cowbell on that song until the "Saturday Night Live" skit. I started paying more attention to it afterwards. Like 1960s Motown and some of Phil Spector's recordings, percussion instruments cut through louder on radio due to the compression. Learning that song on my own system, the cowbell isn't really that loud. That's probably how the whole thing came about. These days, one of our stage techs stands behind an amplifier on my side of the stage during that song, and he plays the cowbell.

Dave: A whole new generation of music fans picked up on Blue Oyster Cult because of that skit on "Saturday Night Live."

RUDY: Exactly. Eric Bloom told me that he was watching the show on his living room couch, and the skit caught him by surprise. The band didn't have any knowledge of it when it first aired.

Dave: All of the classic songs that Blue Oyster Cult plays nightly are new material for you to play, yet Buck Dharma and Eric Bloom have been playing most of those songs for 30 years. How do veteran musicians challenge themselves musically night after night?

RUDY: From my experience in bands, every single night is a challenge. You have to paint the same masterpiece over and over again every night. An actor makes a movie, which I liken to making a record, and you only have to do it once. The movie or record then has a life of its own. A stage performer, whether you're an actor on Broadway or playing in a band, has to do that piece nightly. You have to do it as good, or even shoot for a better version, every single night. That's definitely a challenge.

Dave: You joined Blue Oyster Cult on a temporary basis once Ronnie James Dio decided to tour with Heaven and Hell. How did you hook up with Blue Oyster Cult?

RUDY: That's the plan. I've known Eric since 1985 and we run into each other now and then. When they were looking for a bassist, he got a hold of me. It was a great opportunity and it came at the right time. I've always been a fan of the band. As a musicians, I've played with so many of my heroes and guys who have inspired me. That's the greatest reward of my career.

Dave: Speaking of Heaven and Hell, have you had the opportunity to see them play live or watch the live DVD from the show at Radio City Music Hall in New York City?

RUDY: We saw them play at the Los Angeles Forum. I was knocked out; it was phenomenal. I've played with both Ozzy and Ronnie James Dio. Before I met either one of them, as a music fan, I leaned toward Ronnie's version of Black Sabbath. For my ears, growing up listening to Motown and the Beatles, his version was more song-oriented with its structure. The original Black Sabbath placed more emphasis on riffs, but who could argue with the success they had with that style and sound. My ears didn't gravitate toward that sound. I didn't own a Black Sabbath record until "Heaven and Hell." Later on, playing with Ozzy, I had to really learn all of the early Black Sabbath material because I wasn't familiar with it.

Dave: Ronnie James Dio is just one of the many great frontmen that you've shared the stage with. What do you feel sets him apart from Ozzy Osbourne?

RUDY: It's like comparing apples and oranges. Ozzy is the everyday man, a working class kid who found his way up on stage, and all the fans love him. They really connect with Ozzy. On the other hand, Ronnie is the masterful storyteller. He goes up on stage and he embodies and characterizes. What he sings about is what he becomes. Being on stage with Ronnie is amazing because you get so inside the song. He takes me along on the journey, whether it's killing a dragon or going through the Gates of Babylon. He has the incredible ability to take you to those places.

Dave: In an interview I did with Heaven and Hell drummer Vinny Appice, he told me that none of the guys thought there'd be so much excitement. Why do you think the response for Heaven and Hell from music fans has been so overwhelming?

RUDY: Because it's the real deal, and fans finally have a chance to watch them perform live. Many bands and musicians were inspired by that version of Black Sabbath.

Dave: In the Spring of 2004 you joined the band DIO and spent parts of the next two years touring to support the incredible record "Master of the Moon." Those tours covered the United States, Europe, and South America, and it included foreign destinations like Russia, Japan, and Israel. What was your personal highlight?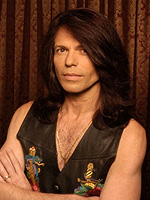 RUDY: Being in Russia for a month, because I got a chance to learn about the country. It wasn't the same as flying in and out for a few shows. Sometimes in history, governments and leader have come into power and taken their countries in a direction that doesn't benefit most of the people. Because I came from a Communist country myself, watching Russia go through change was special. The attitude of the young people, who barely remember Communism, is so optimistic and so progressive. The look of hope on their faces is something I want to see from the people in Cuba.

Dave: When you were growing up in Cuba, did you have access to American and European bands?

RUDY: I was 10 years old when I left Cuba in 1961. Castro came into power on New Years Eve in 1958. I had no problem listening to American and European bands before Castro. In the beginning of his regime, there was a transitional period and it was getting tougher to have American bands come down and perform.

Dave: Can kids in Cuba use the Internet to keep up with American bands or to get their own music heard outside Cuba?

RUDY: Today, everything is still very controlled. Most kids don't have the benefit of the Internet to help them discover and keep up with bands. You have to be a member of the Communist Party to have Internet access. Cuban music, at least, is being heard. There is always a way to get it to the music marketplace. It makes its way through Europe and Canada. Plus, more and more Cuban music is being recorded and performed in Miami.

Dave: DIO released a DVD in 2006 called "Holy Diver Live." Filmed in London, that tour featured DIO's classic album "Holy Diver" being performed in its entirety from start to finish. How special was it, and what techniques did you utilize to learn all of the material for that tour?

RUDY: With downloading, people are buying songs and not a whole record. The art of storytelling that goes into a record is getting lost. Playing an album end to end was a thrill. You got the whole story, not just a few threads. I've learned through my career that playing live, you only get as much out of a song as you put into it. I play a song over and over again, working it until I've learned it. It's that basic. It still comes down to how bad you want it. There are no shortcuts in life; everything worthwhile demands time and effort.

Dave: I spent some time recently with a new band who talked about the thrill of seeing their first CD on the shelf in a record store. As you watched yourself on the Holy Diver DVD, is your first response one of excitement, do you think about a sense of validation as a musician, or do you get caught up critiquing your individual performance?

RUDY: The older I get, the more critical I get. Sometimes it takes me 10 years to disconnect from a recording project where I can enjoy listening as an outsider, instead of being blind-sided by how I played every single note.

Dave: What musical direction do you think Ronnie James Dio will take with the next DIO studio recording?

RUDY: Ronnie always talks about completing the trilogy of "Magica." It was conceived that way. I don't know if he'll plan the next two parts back-to-back, but Ronnie definitely wants to complete the "Magica" trilogy.

Dave: For DIO's 2006 European tour, you created a 3D animated sequence that played on the video wall when the show opened. Talk a little about your love of computer graphics, visual and digital effects, and 3D animation.

RUDY: I'm into visual effects like explosions, the eye candy that you see in movies. Not so much animation, which involves creating a model and moving it around from frame to frame so that you bring it to life. My original intention in life was to be a film-maker, my major in college was mass communications, but going to school in Miami didn't present much of a market or film industry at that time. So I kept on playing music. These days, the technology has caught up. Anybody carrying around a laptop on the road can do incredibly creative stuff during your downtime. These days, I'm either creating or training on visual effects.

Dave: That beats staring out the tour bus window and counting the miles.

RUDY: Or hanging out at the bar which I don't have time for anymore. It's a whole different ballgame these days. Back when, the only chance you had to be creative while touring was your two hours up onstage. When I first got into computers, it was because of audio. I wanted to be able to record. I wanted to be able to make demos back in the mid-90s when I had my first Macintosh. The technology has grown so unbelievably that you no longer think about making demos, you think about making record-worthy tracks independently.

Dave: You stepped away from hard rock and heavy metal to revisit your Latin musical roots on a recording titled "Digital Prints." Will you ever release it through a record label?

RUDY: No. I don't have much faith in the record industry right now. What's left of that industry is there for the newer acts. For veteran musicians like me, uploading songs, doing personal promotion, and going the independent route makes the most sense.

Dave: As a music professional, you've evolved by learning and embracing so many facets of computer technology. Your chosen instrument, the bass guitar, has changed a bit over the last two decades. How have you evolved and grown onstage as a bassist?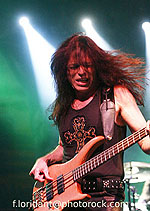 RUDY: It's not so much that I've progressed or evolved. I've just adapted to all of the changes in computer technology. Adaptation is the key to survival. I'll always be the first one to embrace technology. If you don't grab it and run with it, it will run you over. You can't fight progress. It's ironic that the same technologies that give me as a musician the ability to create give other people the ability to pirate what we create. You have to re-invent yourself every day, thinking of ways to maximize the potential that technology presents. As far as a bass player, I started real simple with a bass and an amplifier. The 80s came around, and technology dumped synthesizers and drum machines into our laps and bass players had to adapt. Radio was dictating the sound that would be played over the airwaves and musicians gravitated toward that sound. There is no format for radio these days, it's genre-based and anything goes. That's allowed me the chance to look at myself and re-visit where I came from. Today, it's back to me, my guitar, and my amplifier. I get to see a more musical side of myself. Playing with Blue Oyster Cult has a 70s' conscience and is very jam-based.

Dave: I'm the proud owner of the world's most rockin' collection of drumsticks. Started in 1977, I have more than 1,600 sticks from 800 different drummers. I could use your help though, hooking up with a drummer named Jack Hammer from the band Rock Dawgz.

RUDY: Rock Dawgz are an animated band that people can check out on MySpace. We're in negotiations now with some really heavy people. You'll be hearing from Jack real soon, but he doesn't have a signature model drumstick yet. He's a starving musician.

Dave: Let's jump back in time a bit and re-visit 1983. You appeared with Quiet Riot at the US Festival. It's been said that the US Festival was a celebration of evolving technologies: a marriage of music, computers, television, and people. What's your favorite memory from that show, other than playing in front of 375,000 people?

RUDY: That is my favorite memory. It was very hectic. Either Joe Walsh or John Cougar Mellencamp had his slot moved to another day and it created a vacancy. We were on a mini-tour with the Scorpions who were warming up for the US Festival. We had to shuffle dates to make it work. We flew from El Paso, Texas, to Los Angeles without a road crew or gear. We used rented equipment, and my bass gear didn't work. I knew the guys running the monitors, and they took care of me by pumping my guitar through the monitors instead of my amplifier that didn't work. I didn't think it was a great show and it wasn't our best performance, so my only highlight was playing in front of that huge crowd.

Dave: I remember watching the US Festival on television and witnessing some great musical performances. But I also remember a quote from Motley Crue singer Vince Neil: "It was the day new wave died, and rock n' roll took over." As we look back and think about it, Vince may have been right.

RUDY: We had the choice of either opening the show or going on after Motley Crue. We went on first, thinking the first impression was the best impression. Motley Crue didn't allow the film crew to record their performance so Vince must have been quoted backstage. Out of the three days, people probably remember the heavy metal day at the US Festival more than the new wave day. But I think it was MTV that put rock and roll into people's homes and let it take control.

Dave: The Live Earth concerts were staged in 2007. In years past, we've witnessed concerts for humanitarian causes like Live Aid, Farm Aid, and a concert to help the victims of Hurricane Katrina. In your opinion, since well-known musicians are celebrities and they are in the public's eye, do they automatically have responsibilities to be role models and supporters of social causes or should that be left to the individual?

RUDY: Every human being on this planet has the responsibility of being a role model. It's not just because you're a musician, an actor, or an athlete. It all starts at home. By supporting social causes, celebrities do have the ability to instill awareness, and that's more important.

Dave: Just one year before the US Festival, while touring in Florida with Ozzy Osbourne, your friend and bandmate Randy Rhoads died in a tragic plane crash. It's hard to believe that was over 25 years ago. What were your reasons for writing the book "Off the Rails"?

RUDY: I joined Quiet Riot and then Whitesnake, and as I traveled the world, everybody wanted to know what it was like being around Randy. You can't paint the whole picture in a casual conversation. I'd always walk away forgetting something. If I didn't write the book, my memory of Randy would eventually disappear.

Dave: Randy's legacy will continue to grow as teenagers experiment and listen to the records from previous generations.

RUDY: Absolutely. He'll never be forgotten.

Dave: About a year after the senseless onstage murder of guitarist Dimebag Darrell, I did an interview with musician Hank Williams III. He stated that guitarists like Dimebag, Jimi Hendrix, Stevie Ray Vaughn, and Randy Rhoads had that damn monkey on their back because there's a weird thing that has something out for guitar players. It's probably more of a cruel coincidence than a conspiracy theory, but it is ironic that four of the greatest players to ever pick up a six-string were taken away from us so prematurely.

RUDY: They all died from different circumstances. I believe in destiny but sometimes people take destiny into their own hands with the lives they lead. Life is a mystery. We could philosophize for days and still not come up with answers.

Dave: AC/DC's "Back in Black" sold over 400,000 copies in 2006 and that would make almost any contemporary release a hit. I can envision musicians sitting on a tour bus lamenting the sad state of record sales as it applies to their latest record. Is this phenomenon of vintage records selling in such incredible numbers talked about amongst your peers?

RUDY: After all these years, we do see precise numbers on record sales. We also get numbers on ring tones and downloads. So few bands can generate that type of record sales. It's not really a topic of conversation.

Dave: Major bands re-uniting, like the Police and Genesis, will generate plenty of revenue from touring again. Their reunion will also increase the sales of their back catalog. Will we ever see the day when a band re-unites for artistic reasons instead of financial reasons?

RUDY: As long as these bands take the stage with something to prove, there is an artistic reason. I haven't watched Genesis but on the Grammys, The Police were the real deal. Sure, the reunion will generate a lot of revenue. People are attending the concerts because they want to see the band perform again, and at least the money is going into the right hands. For once, the artist is the one making the money.

Dave: My next question is about veteran bands recording new studio material, and I'll use one of your previous bands, Whitesnake, as the example. Rock radio stations won't play a new record by Whitesnake, and the classic rocks stations will opt for playing "Here I Go Again" or "Is This Love?" before they'd ever play a new song. Concert-goers, for the most part, only want to hear the classic material. What incentives are left, if any, for a veteran band like Whitesnake to write and record new material?

RUDY: It all goes back to artistic integrity. Musicians are like salmon swimming upstream. 99 out of 100 don't make it. But all 100 had the drive and the integrity to try going upstream. At the end of the day, it's all that you've got. Record sales and concert ticket sales will eventually disappear. But if you still have that drive to create and make music, then you're the real deal.

Dave: I always felt that Whitesnake was an under-rated band. Somebody playing the devil's advocate could say that because of the many lineup changes and long periods of inactivity, Whitesnake was an under-achieving band. How do you think rock and roll historians should view Whitesnake?

RUDY: I can only speak for the version that I was a part of. It was a blast and I had a lot of fun. We gave 100% every night. We never phoned it in. Every night was the Super Bowl.

Dave: Many musicians put out instructional DVDs and yours is called "Rock Bass Essentials." Where should bassists go to purchase your DVD?

RUDY: I don't know if retail stores have it but you can do a Google search and find the distributor that sells it for me.

Dave: When a band is out on the road, the two hours up on stage present one set of challenges, but those other 22 hours in the day are another story. It's very difficult to get enough sleep, to eat properly, and to stay healthy. What advice would you offer young musicians on those challenges?

RUDY: Young musicians have the ability to create on the road like we spoke about earlier. They should take advantage of that and keep the creative juices flowing. When that happens, everything else will fall into place. Eating properly and getting enough sleep is even a challenge at home. If you have good habits at home, bring them out on the road.

Dave: Speaking of eating properly, have you had any fish head ice cream lately?

RUDY: Not since Bulgaria while touring with DIO.

Dave: DIO's drummer, Simon Wright, gave me that question when he heard I was doing an interview with you.

RUDY: Scott Warren, our keyboard player, was sitting next to me in a Bulgarian restaurant following our gig. He went outside for a smoke, and the waiter brought some ice-cream sundaes to our table for dessert. There were still some sardines on the table from the appetizer course. I stuck a few in his ice cream and I guess he had one too many drinks because he ate it and never noticed the fish heads popping out.

Dave: Whenever I share any musician friends with my interview subject, I'll sometimes ask them to play journalist and pinch-hit with a question. Speaking of pinch-hitting with a question, here's one from your friend and mine, Sean Kelly from the band Crash Kelly.

SEAN: Hey Rudy. "How much begging and pleading would it take to get you to come back in and play some more amazing bass on the new Crash Kelly record? I promise not to ask you a million questions about your playing techniques again."

RUDY: Sean has a great record with Gilby Clarke producing it. It's going to be phenomenal once it's all done. I can't wait to hear it. Sean's a great guy and I had a lot of fun working on those tracks.

Dave: Sean raved about your bass work on the two tracks you played on. He also said Gilby Clarke is somebody who really knows how to produce rock and roll. What traits do you look for from a producer?

RUDY: Very simple, I want the track to sound awesome and I don't care how they get it. When I walk in and hear magic popping out of the speakers, I know the producer did a great job to make the song come alive.

Dave: As a lifelong rock music fan and concert-goer, I gravitated to bands with great musicians who played big solos. In a recent rock biography I read, the author Joe Jackson said great bands never show off; they listen to each other and they leave space for each other. How would you define a great band?

RUDY: I'd have to agree with him. The solos, back in the day, allowed the singers time to go offstage and have fun with groupies and other substances. I've heard stories. My favorite bass players never took solos. They played cool stuff within the context of the song. I have to do one with Blue Oyster Cult: it's a tradition with the song "Godzilla." I haven't done one since the 70s but I'm enjoying it now. I think of it being part of the set that connects what's happened so far to what happens next.

Dave: I previously mentioned the great frontmen you've played with. You played with great guitarists like Randy Rhoads, Stevie Vai, and Yngwie Malmsteen. You've been joined in the rhythm section by great drummers like Tommy Aldridge and Frankie Banali. Hypothetically speaking, you just released a solo record and your record company gave you a blank check to form a band to tour and support the record. I'll add two limitations: They have to be alive and they have to be musicians you've never worked with. Who are you picking to be in your touring band and why?

RUDY: That's easy. That record company's going to lose money on this band since we're doing it for artistic reasons. Jeff Beck on guitar, Keith Emerson on keyboards, picking the drummer is tough but I'll take Carmine Appice, and I'll take Chris Cornell on vocals.

Dave: I'll pay good money to see that band.

RUDY: It'll sound like a train wreck, but I'll be playing with some really cool guys.

Dave: That was my final question Rudy. Thanks again. Unless you have anything I've neglected to cover that you'd like to promote, feel free to end the interview with any closing comments you have for your fans.

RUDY: Come on out to whatever I do and thanks for the support over all these years.


ARTIST BIOGRAPHY
Full Name: Rudy Sarzo
Websites: www.rudysarzo.com
MySpace pages: www.myspace.com/officialrudysarzosite
Birthday: November 18
Birthplace: Havana, Cuba
Favorite beverage: tea
Favorite food: Indian cuisine
First record you ever bought: the Mickey Mouse Club theme song
Last CD you bought: "Vertu" by Stanley Clarke and Lenny White
Favorite U.S. city to visit: Miami, Florida
Favorite international city: Paris
Favorite venue to play: anywhere in Los Angeles. I get to sleep in my own bed.
Favorite film: "Nightmare Before Christmas"