Skid Row was touring North America in November 2006, supporting their new record "Revolutions Per Minute," and Rachel Bolan, their bass guitarist, sat down with me before and after the band's soundcheck at a New Jersey rock club. We talked about the miserable weather, since half of New Jersey was flooded, as well as Skid Row in 2006 and 2007, Rachel's love of car racing, and a whole lot more.

Dave: Hey Rachel, thanks so much for taking the time and allowing letting me conduct this interview for my website, Dave's On Tour.com. I'm really digging the new Skid Row record "Revolutions Per Minute." Stylistically and compositionally, it's more of a mixed-bag than your previous records. What musical statement is Skid Row trying to make with this record?

RACHEL: The only thing that was agreed upon was that there would be no ballads. Other than that, it was a free-for-all, convention aside. We weren't writing for radio, and we weren't writing for the record company. We were writing songs that we like, no matter what style or no matter how hard of a left turn they took. If the band liked it, the song was going on the record. That was our mindset throughout the whole writing and recording process.

Dave: As I listen to it, I hear a conscious effort to not sound like the old Skid Row and that's admirable. "Revolutions Per Minute" sounds new and it's full of energy, yet it still has the band's trademarks of dynamic songs and straight-ahead guitar sound. How do you think the new material will be received by "old-school" Skid Row fans?

RACHEL: It's funny because some fans have said it sounds like something totally new and others say it brings them back to the first album or to "Slave To The Grind." Nothing was intentional, so whatever happened just happened by accident. Everybody has his own take on it, but it's being received by new fans and old fans really well.

Dave: Talk about Skid Row's songwriting process on "Revolutions Per Minute" since it's obvious that vocalist Johnny Solinger puts his "stamp" on a few of the songs.

RACHEL: Scotti and I wrote one song, Snake and I wrote a couple, but I wrote most of the record on my own. "Strength" is a cover of an Alarm song. What Johnny brings to the table is his take on a song. What I mean by that is he brings his own feeling into it. I could write all of the songs in the world, but it's not a Skid Row song until we all put our own feeling into it. Johnny does little melody changes here and there, and he puts his personality into it.

Dave: Somebody not familiar with "Thickskin" and "Revolutions Per Minute" asked me how I thought they differed from your previous records. I responded that last two records were written from their brains and their souls, whereas your previous records were written from their hearts and their balls. Do you agree, disagree, or have a better answer than the weak one I provided?

RACHEL: I agree with it to a point because everything we write comes from the heart and soul except for "Subhuman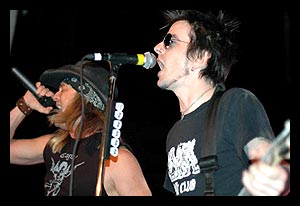 Race," which I like to refer to as "Subhuman Waste." With "Revolutions Per Minute" and our previous record, "Thickskin," we wrote more about real life experiences that happened to us, people we know, or about things we read about or saw on television.

Dave: Michael Wagener, who produced your debut and "Slave To The Grind," was your choice to produce "Revolutions Per Minute." Was his role to push Skid Row to explore different directions, or was it more to reign you in and not let you get too far away from the band's trademarks?

RACHEL: What Michael does, and what he's so good at, is letting the band be the band. The songs were already written before Michael got his hands on it. From a production standpoint, he takes something good and makes it great. He pulls the best performance possible out of an artist. From an engineering standpoint, he gets the best tones. He made it sound mean and angry. He never mentioned anything about our sound on previous records, he just wanted us to have fun. When we said we didn't want to do any ballads, just a straight rock record, he said, "so, you want to make a fun record!"

Dave: Should Skid Row fans anticipate heavy touring in 2006/07 to support "Revolutions Per Minute" and will Snake Sabo's carpal tunnel issues enable him to do all of the shows?

RACHEL: We should be on the road quite a bit. Snake has been having flare-ups, but we hope he can finish out the shows scheduled up to the Christmas break. After a nice rest over the holidays, we'll see what's in store for 2007.

Dave: What songs from the new record are you really looking forward to add to the live set?

RACHEL: We do three or four of them. We'll play "Another Dick in the System," "Disease," and the others we switch around. I love it when we play "God Can't Wait." Whenever Skid Row releases a new record, I'd like to go out and play the whole thing but you can't do that. It is fun playing new material. We always pick the high-energy songs to let the people know we really mean business.

Dave: Skid Row could easily fill its setlist with all of your classic material and a Ramones cover. How challenging is it, and how necessary is it, to work some of the new songs into the set?

RACHEL: It's necessary, not only for people to hear, but for us. Nostalgia is cool and we will never stop playing the necessary stuff that got us to where we are. Playing new songs is what Skid Row is all about. We like to make new music, and we like to play new music.

Dave: Skid Row has played a great cover version of The Ramones' song "Psychotherapy" at all of their gigs that I've attended. Hypothetically, if The Ramones returned the favor and covered a Skid Row song, which song do you think they would have picked?

RACHEL: As far as an old song, it would be "Riot Act." I could see them doing "Another Dick in the System" from our new record. I think that would be cool.

Dave: Skid Row's current lineup includes you on bass guitar, and original lead guitarists Dave "Snake" Sabo and Scotti Hill. Your singer can't be called new because he's been with you for years, yet your drummer is relatively new. Introduce Johnny Solinger and Dave Gara and tell me what they add to the band's formula, both onstage and off-stage.
RACHEL: Johnny Solinger, our singer, has made Skid Row his home. He is the voice of Skid Row. His seven years with the band is a longer stint than our previous singer had. Dave G. has been with us for over two years. He's a buddy of mine from Atlanta, one of the first people I met when I moved to Atlanta. When Phil Varone left the band, Dave walked right in. He had the tattoos and the drumsticks. It worked out perfect.

Dave: You've probably been asked this question a million times but I've never read the answer. How do three hard-rockin' guitarists from New Jersey end up with lead vocalists from both Canada and Texas?

RACHEL: Both were selected following an audition. A friend of a friend in Boston mentioned knowing Johnny from Dallas and recommended him for an audition. I e-mailed him and he was the third of six singers scheduled to audition. After hearing him sing, we cancelled the remaining auditions. It was that easy of a decision. Back in the day, we were auditioning singers for about nine months and Bach came down to audition. He was the best out of the bunch, but there was a lot of grooming to be done, for sure.

Dave: This is my only question on Sebastian Bach. I promise. I don't watch reality TV shows but Baz is part of the VH-1 show "Supergroup." Its premise, essentially, was to lock five musicians in a house for a few days and get them to create new music. My first thought was Skid Row had him locked on a tour bus for months at a time and he couldn't write a song. What's he going to accomplish in a few short days?

RACHEL: Yeah, you're right. I saw some of the show and it was pretty funny. I felt sorry for the other guys because when I looked at them, I never saw four guys so miserable in my life. Then I thought, oh yeah, I have!

Dave: Compare "Revolutions Per Minute" to previous Skid Row records, but not musically. How difficult was it getting this record released, and more importantly, getting it heard, in today's music marketplace?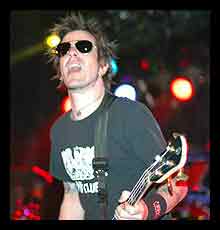 RACHEL: Getting records released is the easy part. Getting records heard, with radio the way it is these days, is the challenge. "Revolutions Per Minute" was picked up by SPV Records worldwide. They're getting it to more people than we could if we has released it ourselves. We've had a few bad reviews, but the majority have been awesome, some of the best we've received in our career.

Dave: It's such a different era in the music industry today than when Skid Row cut its musical teeth in the late 80's and early 90's. In the 21st century, is it possible to leave the studio with expectations after you complete a record?

RACHEL: I don't think there was ever a time that Skid Row walked out of the studio with expectations. We saw too many bands before us that had their record labels dump millions of dollars into them that never panned out.

Dave: These days, so many bands network and self-market themselves through the Internet. These also tend to communicate more with fans through e-mail, MySpace, forums at their websites, and the almost mandatory meet-and-greets at the merch booth following concerts. Is the "personality" of you and your band mates a good fit in that type of marketplace?

RACHEL: Absolutely, we've always been a very accessible band, whether signing stuff outside the bus or doing in-stores. Face-to-face contact is really important to us, and it's really cool for our fans. As far as the Internet and MySpace, I get five or six pages of e-mails per day, and I try to get to them all. I'm backed up a bit since we're touring, but I'll eventually get to them all.

Dave: Have it been difficult for you to change or adjust to this new era of the music industry?

RACHEL: Not much, I'm an adapter and change comes naturally to me.

Dave: If I asked you for Skid Row's defining moment, either onstage or on record, you'd probably tell me that it's yet to come. So instead, I'll ask you for your personal highlights so far with Skid Row, one onstage and the other in the studio.

RACHEL: We were doing some acoustic songs for a Rockline radio broadcast. It was late at night, we were just sitting in a room late at night playing guitars, with Johnny singing. It was magical, you could feel it, and the deejay summed it up when he said "Wow." When the show ended, I pulled Johnny aside and told him that I was proud to be in a band with him. As far as a defining moment onstage, we recently played an outdoor show in the pouring rain in New Hampshire. We didn't expect a big crowd but 12,000 people showed up. Fireworks were scheduled to go off after the show, and our set was running late, and they started going off during "I Remember You." The fire marshal wanted us off the stage, but we played through it. A friend of mine described it as like when the sun came up during The Who's performance at Woodstock. I'll take that comparison anytime.

Dave: I recently interviewed a satellite radio and ex-MTV celebrity who told me that she's anti-rap and hip-hop because it's so angry. It's not what I listen to either but I couldn't help but think how the punk rock music of the late 70's, and its anger and defiance, influenced me. I was taking the bus from northern New Jersey into New York City and C.B.G.B.'s right around the time you were taking the train from Bay Head. How did that era of music influence you?

RACHEL: I listened to a lot of angry stuff, and I needed that in my life coming from a little suburban town. The Sex Pistols were the angriest band ever; they had something on their mind and they said it. Anger fuels music, it fuels rock and roll. It's a very important emotion. "Revolutions Per Minute" is the angriest Skid Row album of them all. You can also express negative anger with singing about shooting people or putting a cap in a person's brain. I'm not dissing rap. I'm not a big fan of rap, but it's an art form that has to be appreciated.

Dave: It was sad to hear that C.B.G.B.'s is now closed for good. Did you ever get a chance to play there as a musician?

RACHEL: Yes. I played there in five different bands.

Dave: It sounds awful cheesy that a new version will open up on the Strip in Las Vegas. Personally, I'll live on my memories of the shows I saw there and I'll boycott the one in Vegas. Are you planning to check it out when you're in Las Vegas?

RACHEL: I probably will, just to see how much of the original stuff that they bring out from New York City.

Dave: On the drive up to interview you, I was thinking that if the new C.B.G.B.'s needed a house band, my choice of players are all dead. I'd have Stiv Bators (Dead Boys) singing, Sid Vicious (Sex Pistols) on bass, Johnny Thunders (Heartbreakers) and Joe Strummer (The Clash) on guitars, and Jerry Nolan (Heartbreakers) drumming. How about you picking a punk rock house band for C.B.G.B.'s, but you must pick guys still alive and rocking.

RACHEL: Marky Ramone drumming, Paul Simonon from The Clash on bass, Deborah Harry could be the singer, and Syl Sylvain from the New York Dolls could be the guitarist.

Dave: Speaking of dead musicians, I know these guys aren't related, but whose blood flows more in Rachel Bolan's veins: Marc Bolan from T. Rex or Tommy Bolin from the James Gang and later from Deep Purple?

RACHEL: Definitely Marc Bolan. I grew up listening to him and that's where I stole my last name.

Dave: Why did you relocate from New Jersey to Atlanta, Georgia?

RACHEL: I needed a change of scenery after I got divorced. My family still lives in New Jersey but I wanted to head south. I'm a big race fan and I thought about moving to Charlotte, but I needed a bigger city. I made a lot of friends in Atlanta, opened up a studio, and I've made a nice little niche for myself.

Dave: When I think of rock music and the State of Georgia, Athens, as represented by the B-52's and R.E.M. comes to mind. What's the rock music scene in Atlanta like?

RACHEL: Dirty rock and roll! Rockets To Ruin, whom I'm producing, play full on cock rock. They're a good band and a great bunch of guys. They write great songs, and they're real good players. They live it. They're all about going out on stage and laying it down. I'm happy to be involved with them. Other cool local bands include The Luchagors, a punk rock band, who are fronted by Lita from W.W.E. wrestling, and Rock City Dropouts. There's a hipster-type band called Stedler who play good rock, and they all have "youth gone wild" tattooed across their stomachs. It's a really cool music scene. Out-of-town bands are treated well and do good in the local clubs, which are really diverse with the bands they book.

Dave: Would you say that your producing style in unique, or is it a hybrid of some of the producers that you observed in the studio with Skid Row? After all, Michael Wagener and Bob Rock would be two pretty good producers to emulate.

RACHEL: I learned a lot from Michael Wagener. I phone him all the time for pointers. He's never minded if I sit there and pick his brain while he's doing stuff. I do also have a way in my head that I like things to hear, as any producer does. I use the knowledge Michael Wagener's given me and I mix it with what I'm trying to accomplish. I'll also be producing The Luchagors and a New Jersey band you may have heard of, Frankenstein 3000.

Dave: Last year I interviewed ex-Skid Row drummer Phil Varone, and he brought up a band that I was not familiar with: Prunella Scales. Tell me more about that band.

RACHEL: Prunella Scales was a band back in 1997 that Phil Varone, Tommy from Godspeed, my guitar tech at the time Elwood, and I got together to write some songs and release a record.

Dave: Skid Row drummer Dave Gara will get mad at me if I don't ask you to talk about The Quazimotors.

RACHEL: That's a three-piece side project Dave G. and I put together with our friend Jonathan. It's a meld of metal, rockabilly, and a whole bunch of stuff. It's a fun thing, but it's on the back burner right now,

Dave: That's enough talk about music. Let's switch gears, no pun intended. Talk a bit about your hobby, car racing, and Rachel Bolan Motorsports.

RACHEL: I haven't raced in a while. I did a lot more before Skid Row got busy again. I race Legends Cars, Thunder Roadsters, and go-karts. I'm building a methanol-burning go-kart. Sometimes if I'm out on the road, somebody will invite me to drive their car so I do it when I can. I have a business called Rachel Bolan Motorsports that sells racing-related merchandise, and we're currently rebuilding the website. I put up my race schedule when it's applicable and give summaries of each race.

Dave: Is your behind-the-wheel personality the same as your onstage personality?

RACHEL: The only difference is I don't have to worry about flipping over onto my roof onstage. All kidding aside, personality-wise, it's focus and it's aggression. It's all about getting to the front as quick as possible and making things happen.

Dave: How does the adrenaline rush speeding around a track differ from that of jumping around onstage playing guitar?

RACHEL: It's not much different because there are so many similarities. Getting dressed to go onstage is like putting on my fire suit. Walking up a hallway to the stage is like driving up to the staging before we start the race. Once I hit the gas, it's like "Ladies and Gentlemen, please welcome Skid Row." It's so similar that it's crazy.

Dave: Who are some of the big names from the music business that you've dusted on the racetrack?

RACHEL: My first Legends race was a charity race for a Diabetes Cure against mostly country stars. I was being called the token rocker. I knew Brooks and Dunn used to race a lot so I wanted to beat them. I took second, beating both of them. After the race they asked how many of these races I've been in and I told them that counting today it was one! Another time. it wasn't a real race but I got invited to drive a stock car at Indianapolis. Brian Johnson from AC/DC, Brad Whitford from Aerosmith, Jesse James Dupree from Jackyl, and I raced against the clock. Brian won that day.

NOTE: One of Rachel's good friends, and occasional songwriting partner is ex-Brother Cane guitarist Damon Johnson. I spoke with Damon, who's currently Alice Cooper's lead guitarist, following a recent concert and I offered him the opportunity to be a guest interviewer and ask Rachel a question or two.

Damon: When you attend a NASCAR event, do you prefer drinking Guinness or Pabst Blue Ribbon? Which driver would you most want to take on a date: Jimmy Johnson or Kurt Busch?

RACHEL: P.B.R. for sure!! And I'd take them both out, on the racetrack!

Dave: This question is going to hurt me when I ask it, but so what. You and I are big New York Yankees fans. What went wrong this year in the playoffs and how do you think we should fix it?

RACHEL: Man, I tell you that this year's playoffs was a disaster. After the first couple games, I thought we got it. But we don't get it. Using Gary Sheffield at first base was a mistake, and I'm glad he's gone. I'm just glad that they kept manager Joe Torre. Obviously, we need stronger and younger pitching. I wouldn't miss A-Rod either if they trade him.

Dave: Skid Row played a record release show last week at the Hard Rock Café in New York City. Why did you let the ex-Met catcher Mike Piazza up on stage?

RACHEL: Mike's been a friend of ours for a while. He's such a rocker. He knows more about heavy metal than most heavy metal bands do. It was cool that he came to the show. He's got a great sense of humor. When I asked him what he was up to he told me "nothing much, I had October off."

Dave: Did you feel like smashing a guitar and throwing a piece of it at him, ala Roger Clemens?

RACHEL: No, I never thought of that!

Dave: Obviously, I'm running out of good questions. Thanks again for the interview. Do you have anything else that I've neglected that you'd like to promote?

RACHEL: I hope everybody will pick up a copy of "Revolutions Per Minute." We filmed a show from this tour in Atlanta for a future live DVD, which we're looking to release next summer.

Dave: How about a few closing comments for all the Skid Row fans that have stood by this band, head held high, through all of twists and turns down that rockin' highway to hell?

RACHEL: All I can say to our fans is thanks for being there and never turning your backs on us.


ARTIST BIOGRAPHY
Full Name: Rachel Bolan
Website: www.skidrow.com
www.rachelbolanmotorsports.com
MySpace pages: www.myspace.com/skidrow1
www.myspace.com/therealrachelbolan
Birthday: February 9, 1964
Birthplace: Point Pleasant, New Jersey
Hobbies: cooking
Favorite TV show: "Scrubs"
Favorite beverage: quite a few different dark beers
Favorite food: anything Italian
Favorite Band: Ramones
Favorite Ramones song: too many to list
Favorite city to visit: New York City or London
Favorite venue to play: there's many. Budokan, Mulcahy's on Long Island, or the DTE Energy Music Theatre in Detroit.
Favorite film: "Repo Man"