This interview with Pop Evil vocalist Leigh Kakaty was conducted on July 8, 2009, when he telephoned from the road as his band was touring in upstate New York.

Dave: Thanks for the interview Leigh. You and I met briefly outside the venue after your set ended at the Crocodile Rock Café in Allentown, Pa. I was there to meet up with Royal Bliss, and I was looking forward to Buckcherry's set. After seeing Pop Evil perform, I loved what I heard from your band. I knew right then that I wanted to talk with you again to help introduce Pop Evil to the readers at my website. I love to write about bands that I've never heard before to help spread the word a little bit.

Leigh: Thanks for taking the time and thanks for the support Dave. I appreciate it.

Dave: Talk about the origin of Pop Evil.

Leigh: We got started in 2001 with hopes of grandeur. We were going to play all our own music. We quickly learned that free shows or fifty bucks a night wasn't going to put enough gas in the tank. We learned that we couldn't last long without any money coming in. We decided to play some cover bars to earn a little more money, which we had to save to afford a producer and afford a proper album. We got on the cover grind, playing three sets a night and mixing in our originals. That was a long process from 2001 until 2005, saving and grinding as much as we could. It's a lot easier said than done, trying to get cover bars to accept you and to get familiar with us as a band that could attract people in the crappy economy in Michigan. It took about four years to get those bar owners to take a chance on us as a band that would bring people through their doors. In 2005, we hooked up with Kid Rock's producer Al Sutton and got lucky with a demo CD. My brother is an entertainment attorney, and he kicked him a demo. He agreed to do a three song EP with us in late 2005, early 2006 called "Ready or Not." In 2006 and 2007, we sold 12,000 copies out of the back of our truck. We caught the attention of our local Grand Rapids, Michigan, alternative radio station: 97.9 WGRD. They took a chance and they added one of our songs to their overnight rotation. The following we had from our cover bar gig started requesting our song "Somebody Like You," and the next thing you know, they added it to their regular rotation. That's a big deal for an unsigned band. Our song became the number one most-requested and most-played song at that station for 2006. They asked for a follow-up track and we gave them "100 in a 55." That song also became the number-one most requested song at that station for 2007. That caught the attention of an independent management team, Pazzo Music, who signed us in 2007. Our first national single was "Hero" and that leads up until now where our current national single is "100 in a 55." Here we are and we're starting to blow up all over the country, we're hitting Top 40 radio, and we'll see what happens.

Dave: Here's hoping you can keep that ball rolling.

Leigh: Thanks Dave, we appreciate it.

Dave: On your MySpace page, there is a comment that Pop Evil is five guys with five different influences. Introduce your band mates and their influences so that we get a feel for the band.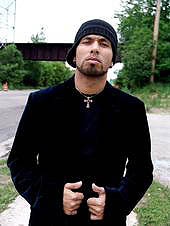 Leigh: Where our name comes from leads into that answer. Pop Evil is not just the name of our band; it's a way of life for us. We all grew up as outcasts in some way. Whatever was mainstream, or whatever was cool as young adolescents, we were either above or below that norm. We were always a little bit off in some other way with our music, our tastes, or our communities. We never fit in. Dylan Allison, our drummer, and I grew up on Tupac, Dre, and of course Led Zeppelin and Stone Temple Pilots. We also listened to Michael Jackson. We were into whatever was hot on the radio. Dylan and I were more the pop listeners. Dave Grahs grew up with the Black Crowes and Our Lady Peace. He's really rock driven. Our newest members, Matt DiRito and Tony Greve, are the heavier side of Pop Evil. They both grew up on Pantera and Rage Against the Machine. Put all that together and what it means to Pop Evil as we get further down the road with our careers, is being able to pick up an acoustic guitar to play a song like Stone Temple Pilots' "Plush," or a song as hooky as Pantera's "Walk." As a band, we can go in all those fields instead of a record label or society in general telling us how we need to sound. We don't really care about that. At the end of the day, we want to do what we feel as leaders and as somebody who has freedom of speech, Or, as we call it, freedom of music. We want to write what we feel has an impact on ourselves. Only at that point can we have an impact on others. We grew up on a beach in Michigan with bonfires burning and acoustic guitars in our hands, influenced on the big stage by local heroes like Kid Rock and Bob Seger. We try to take our listeners and fans on a journey as well as ourselves. We wouldn't be able to write this music if we weren't together. We're appreciative of the moment and what we've been blessed with.

Dave: Detroit, as well as Michigan in general, has such a rich music history. It's too soon to say you've made your mark on that local scene. But how'd that local scene influence you?

Leigh: The Michigan scene had a humongous influence on Pop Evil. Kid Rock's whole band, Twisted Rock Trucker, was involved in our album. Kid Rock, as a recording artist, influences everybody by showing that he can cross over genres and formats, doing hip hop, rock, and country. We love that Kid Rock is not afraid to be himself. He's not afraid to take his own journey, and he's not afraid of where that journey will end up. There's always going to be people who love you and people who hate you. At the end of the day, it's about being focused on the things you can control, like the music that you write. That might be Kid Rock's biggest influence on us, and I can't overlook Eminem. We grew up right in the field as independent and up-and-coming artists while those two had their heyday era. They influenced everybody in Michigan. That's one thing about Michigan people; they are so supportive. Maybe not at first, because it's tough to get past the "prove it to me" attitude. Plus, nobody has money to waste. Once they do get behind, the people of Michigan are so loyal. They keep on coming back. To this day, there's nothing for us like playing back home. And like you said Dave, we're fairly new. Pop Evil has only been national for a year. To see the people of Michigan starting to believe in this band is very exciting.

Dave: I'll have links to your website and your MySpace page in the text of this interview so that people can give your music an immediate listen. But I'm a writer and the people frequenting my website are readers. Give me a sentence or two that describes the sound of Pop Evil.

Leigh: It's very raw, uncut, and energetic Michigan rock and roll. At the same time, the cool thing about our sound is that it's very young and it's still maturing. As an independent band that slowly became national, we didn't have a ton of producers recording our album telling us what to do. The beauty of this album, "Lipstick in the Mirror," is that maybe for the only time ever in our career it came out how we wanted it to. We didn't have the time or the money to record a song and not have it come out on the album. This album documents the growth of our band. What people hear on this album is the best of what we can afford and the best of our ability at this time in the studio. As we get along further in our career, we'll become more comfortable and more confident in the studio. With this album, a lot of our own money was involved. We paid for it all on our own. We didn't have money to waste. Working in the cover bars gave us an appreciation of what we had and what we were working toward. We had to go through a lot of hellacious nights and crazy times to be able to put this record out. As Pop Evil heads toward a second record, we're becoming better and more productive studio musicians. We're no longer just a local artist trying to make an album. We know where our comfort zones are and where our sound is headed.

Dave: With all of that being said, right here right now, is Pop Evil a better live band or a better studio band?

Leigh: No matter how great our recordings ever get, Pop Evil will always be a better live band! That's where you have an actual connection with the fans. We've always been very visual people. Watching a band live shows their hunger and their desire. That's very important. Only live can you see if an artist believes in what they write.

Dave: "Lipstick in the Mirror" was released in August of 2008, yet you re-mixed it and re-released it in 2009?

Leigh: Correct. The misconception there is that people think that because we signed a big record deal that the brought us in to re-do. That's not true. The label was totally cool with the record being released as is. But we
were not. As we were finishing up the album, we were trying to get a management deal. With the emphasis on the songs "Hero" and "100 in a 55," some of our songs were kind of put on the back burner and got rushed. Out of justice and respect to the other songs, we wanted to go back into the studio and to the best of our abilities give our fans the songs the way we had originally written them and intended them to be. Some of those songs were demos that Matt and Tony weren't even on. We made sure every band member was on every track. Pop Evil wanted to be more comfortable selling a record that represents who we are, to the best of our abilities, at this stage in our career. We wanted it to be the best that we can offer.

Dave: Where's the best spot to buy a physical copy of your record?

Leigh: That's a great question Dave, only because I live on a bus right now. I really don't know. But I assume at Best Buy, Target, and maybe Wal-Mart. It can be downloaded at all of the usual Internet spots.

Dave: As you tour around the country and play your music live, what track is shaping up as the fan favorite?

It's obviously "100 in a 55" because it's our big single. My favorite songs to play live are the ones that people are singing in different cities. They could be different songs on different nights. Keep in mind, Pop Evil's on tour as an opening band. We can only play six or seven songs a night. Our whole set is fun to play.

Dave: I read somewhere in cyberspace that Pop Evil is taking a different approach in selecting the next single.

Leigh: We have five songs that we could put out right now as a single for rock radio. We've all been debating about it. Management, the label, and all of the band members all have a different song in mind. At this point in our careers, who would be a better choice to pick the single than our fans? It's a chance to get the fans more involved. Not a lot of bands do that. So we put a widget out on our MySpace page to let the fans tell us what they want.

Dave: So many bands today try to build a fan base networking through online communities like MySpace and Facebook. There's nothing wrong with that and I'm sure Pop Evil does a lot of that. From my perspective, Pop Evil is also taking the old-school approach of pounding the road.

Leigh: For Pop Evil, it's a combination of the two. You can't deny the power of MySpace and Facebook. But at the end of the day, you can only see a band's belief or conviction, like we talked about earlier, through their live performance. An up-and-coming live performer can win over a lot of people and prove that they're the real thing by playing live. There's no going around the fact that if you want to get known, you have to be seen. Grinding it out on the road is very hard, but Pop Evil believes in the payoff. Traveling and being out on the road across the country and hopefully someday around the world can make you not only a lot of fans, but a lot of friends.

Dave: There are a lot of pitfalls on the road. How does Pop Evil avoid those as well as handle all of the down time between shows?

Leigh: We don't have much down time but we try to write non-stop. Our biggest problem will be choosing which songs to do because we'll have more than enough for our next record. Most of the material from our debut was written in 2006. Some was from 2005. We're really excited about the new material that people haven't even heard. We've obviously gotten a lot better as songwriters and as musicians. We're going to stay on the grind and try to stay focused. We'll look for a balance of personal time away from each other and with each other. We're trying to grow up together, experiencing as much as we can as the family, the brotherhood, and the fraternity that Pop Evil is. We're super excited about our summer tour with Judas Priest and Whitesnake. Hopefully, we'll absorb all of the knowledge and experience that those two iconic bands can offer. They been at this game quite a while and they've withstood the test of time.

Dave: What's the biggest lesson that you've learned so far from a veteran band?

Leigh: TESLA showed us that they are not only great people to the bands opening for them; they are so great to their bands. Like I said before, fans become your friends and friends support friends. That's what we saw with TESLA.

Dave: You briefly touched upon the depressed economy in Michigan earlier in our chat. From your perspective as Pop Evil tours around the country, how is the current economy affecting the music industry?

Leigh: It's definitely affecting how many people can come out and buy tickets. Promoters are also super scared if tours are going to make money. If the elite promoters are scared about selling tickets for the veteran bands and iconic performers, you can imagine how that trickles down to local promoters trying to book up-and-coming bands. Bands have to be appreciative of the fans that do come out instead of counting the empty seats. They have to give the fans in attendance more than their money's worth.

Dave: What's the next logical step as you try to move Pop Evil forward?

Leigh: We have to keep doing what got us to the dance: hard work, staying on the grind, meeting people, and hustling the merch. Every night we try to meet as many people as we can and hopefully have an impact on those people. And this is going to sound cliché, yet you have to write good music. You have to write songs that people will connect with, not just songs that you, your label, and your management like. That is the game. If you write a good enough song, the music will save you.

Dave: As far as touring, are there places marked on your map that you've targeted as spots you need to play?

Leigh: Obviously, we haven't played a lot out west so we're anxious to play in California, Arizona, and Colorado.

Dave: Feel free to close with a message for your fans.

Leigh: Depending on how well our current record does, Pop Evil fans should expect a new record in 2010. Thanks for the support so far. Hopefully, we'll continue to grow and build with our fans.

Dave: Thanks for taking the time out of your day to talk about Pop Evil, best of luck to you and your band mates.

Leigh: I can't thank you enough Dave. I'll look forward to growing with you through many more interviews and hopefully we'll meet up again out on the road someday soon.