dUg Pinnick is the bass guitarist and lead vocalist in the American rock band King's X. His musical journey began in Illinois, he now calls Texas home, and his tours with King's X have covered all four corners of planet Earth. Despite once getting "Lost in Germany," dUg was in Los Angeles for the NAMM 2008 convention when he took the time to chat about his incredible new solo CD, "Strum Sum Up," as well as King's X and their plans for 2008, some of dUg's side projects, and a whole lot more.

Dave: Hello dUg and thank you for letting me do this interview. I'm stuck in a cold and frigid New Jersey while you're out in sunny southern California at the 2008 NAMM Convention. How about giving my readers a first-hand report on the convention?

dUg: NAMM 2008 was great for me. I get a lot of attention there. I call it my "attention quota." I have some good deals happening after running into a couple of good people in the industry. I have a few new endorsements in the works. I have a great opportunity to do some things with "Guitar Hero" and Dean Guitars. Lots of people approached me to work with them, and I'm very excited.

Dave: Was it all meet-and-greets at your equipment sponsor's booths or did you get the chance to jam with anybody?

dUg: Both. I did a lot of meeting and greeting and hanging out. My first night there I sang with Living Colour. That was really cool.

Dave: Let's stay with the word "jam" for a moment. I recently asked Scorpions' drummer James Kottak about playing three decades' worth of his band's material when they played a "family reunion" gig at an outdoor festival in Germany. He noted that playing material from the 70s took him back in time to an era he almost forgot, a musical era that was all about jamming and jamming. On your latest solo record "Strum Sum Up," four songs are sub-titled "Pt.2," as extended jams of the previous song. Can you self-relate to Kottak's statement about jamming and the sounds of the 70s?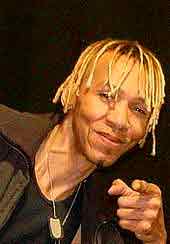 dUg: Totally and that's my point. That's why I did that on my new record. The jam thing, like in the 70s, is where you can make good music with everybody pouring out their hearts into a song. Most of the songs I write are structured with a strict way on how I want them played. We follow those guidelines. On "Strum Sum Up," I decided to loosen up some. After we did the song itself, I said to the musicians in the studio with me, "Let's jam some and see where you take it and how I feel about it." It turned out really cool. I guess you like it too Dave?

Dave: I'm really digging the record dUg. Some of the 80s and 90s music was so contrived. The 70s were freer and looser.

dUg: It was but there is contrived music in every era and in every genre. There are a lot of bands out there now that can still jam. You don't hear about them because the media only focuses on certain things. I've found great music in every musical era. You mentioned the Scorpions. Their record "Lovedrive" still has a big imprint on my life. I still reference that record when I write songs. I also saw the Scorpions play on the tour that supported that album. King's X also opened a later tour for them. They were awesome, both on stage and off. Bands in that caliber are never intimidated or worried about the opening act. The bands that are intimidated don't have a high opinion of themselves. It's ridiculous when a headliner messes with the opening bands. You should let every band do what they do. If they blow you away, just take it and move on. Get better; learn from them.

Dave: The pt.2 extended jams follow the main songs, which makes total sense. This record really flows from one song into the next. How much time and thought did you put into the way the songs are sequenced?

dUg: Not any more than normal. You always sit down and juggle things around until you think it's right. You ask other people about it. I talked with my producer, Michael Parnin, and he had his idea on the sequence. Wally Farkas worked on the record with me from the beginning, and he had his ideas. We worked on it a bit until we came up with the way it's sequenced on the record.

Dave: Since the record opens with a song called "Perfect World," did you give any thought to ending the record with the song "Hostile World" or are those songs totally unrelated?

dUg: No. Those songs are unrelated. "Perfect World" is such a different type of song than the rest of the songs on the record. I thought it was better to add it first and get it out of the way. Yet, it's probably one of my favorite songs on the record. The chorus is my tribute to Annie Lennox. If you listen to the melody line, it reminds me of the Eurhythmics.

Dave: When a lot of people think of dUg Pinnick, it's bass, bass, bass. I agree, but I also think you're an incredible singer.

dUg: Thank you Dave!

Dave: "Strum Sum Up" showcases your vocal range and at the same time it lets you work with other vocalists. When you first compose a song, what's your bigger concern: how you want it sang or how you want it played?

dUg: Actually it's how it grooves. I always do the drums first. Do I feel like dancing or do I feel like walking? Then I start screwing around until I come up with something. I can always add another drum part until I have four or five. Then, I pretty much have a song.

Dave: Historically, a lot has been written about the influence of religion in your songwriting and on your band, King's X. Looking at your religious background from a different viewpoint, how did your participation in your church's choir and your exposure to gospel music influence and shape you as a vocalist?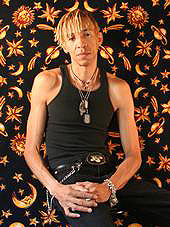 dUg: Those things changed my whole life. I grew up with my great-grandmother, and she was into gospel music but we didn't go to a church that had a big choir until I moved in with my mother when I was 14. I lived with her for six years, and I went to her church. It had one of the best choirs in the world as far as I'm concerned. That choir had five soloists who were just amazing. It was in the era of Stevie Wonder and Aretha Franklin. Singers emulated those people. One lady sounded just like Mavis Staples. I learned so much. I was in the choir for a little while, but I couldn't get a solo like those people because I wasn't good enough. I learned to push myself vocally. Those people could get up, do one solo, and get the whole church so emotional. One time, half the church was out in the street screaming and yelling because the solo was so moving. That taught me how to sing emotionally and to let it all out. The emotional side of what I do has been my trademark ever since. I don't even try or realize that I'm doing it. It was a learned behavior, and it's a very important thing for me. The Motown era was also influential at a point in my life where I was honing in on my singing as a teenager.

Dave: Sonically, "Dynomite" is my favorite cut on "Strum Sum Up." When I hear the chorus and the line "go ahead and hit me with your dynamite," I think about my own personal struggles. Yet life's not fair, and it's not supposed to be, so I have to roll with life's punches. Do you agree that what counts more than the struggles is the way we overcome them?

dUg: Totally. That's the whole issue of living. It's about how we deal with everything every day. I try to express that on the song "Life Is ....." and its chorus. When the sun goes down, it used to trigger something in me in the past when I was a very depressed and lonely person. Now, when the sun goes down, I reflect on what I did that day and how I dealt with it and how I got through it. I feel that if I dealt with the day good, the evening will be good. That song is me talking to myself. Life is all about what you do to deal with things just like you stated.

Dave: Talk about the lengths you took with "Strum Sum Up" to make a record that has its own voice and stands apart from any of your previous records.

dUg: The only approach that I took to make it stand apart was putting a whole band together. My last three solo records had me playing everything but drums. It's a "control freak" type of thing, and I had to get that out of my system. I wanted to do things my exact way without anybody else's input. I got through it; I got over it. I decided to hand-pick a bunch of musicians for this record. I wanted musicians whom I felt were emotionally attached to what they did. I'm very emotional, and I wanted to play with guys who had that same type of vibe and attitude. I wanted this record to be something as a band instead of just me musically masturbating.

Dave: A solo record by nature is more introspective and more of a self-portrait of the musician. How difficult is it to hand off your record to an outside producer, in this case Michael Parnin, who is essentially painting your self-portrait?

dUg: It's always been painful. Everything I've ever written -- when I hand it to a band or producer is painful. They feel that they have a right to fix it or change it or make it better. Sometimes they don't think it's a good song. It's a nightmare. It's like you had a child, and the world doesn't like him. But you have to realize that it's life, and people have theirs, and that they are entitled to their own opinions. Once a musician realizes that his shit does stink and that this is life, then he can move on. Some friends of mine just started writing, and they get all freaked and excited about one or two songs. I remind them that you have to write a thousand good songs before you'll ever write a great one. Songwriting is all about learning and getting better at it. You can't write one good song and think that the world is going to love it. I've been writing music since I was 18 and that's almost 40 years. I finally feel like I've stumbled onto some good songs. "Strum Sum Up" is such an exciting aspect in my growth as a musician and a songwriter. For once, I feel like I've nailed some good songs. Literally, for the first time, I can listen and smile and say that the song is exactly what I was looking for. It took working with other people to bring that forth. The demos were good, but when I added the other guys and the jams, my songs and this record came to life.

Dave: On your record label Magna Carta's website, you call "Strum Sum Up" the "realest thing" thing you've ever done. Why?

dUg: Because of my attitude toward the record. I'm such a control freak about the way I feel about my songs and how I want them played. As a result of that, I've always been disappointed about the outcome of almost everything I've written. Not to cut anybody down, but when some of my songs have been put out as a band, other people add their parts to it. The world might think that it makes it great, but I sit home thinking that I liked it the other way. I sit there and think about the other line that I liked that nobody else liked. Yet I've learned that it's all about the greater good and that people have to interpret it their own way. You just have to let it be.

Dave: Not only do you play bass guitar on "Strum Sum Up," you play lead guitar, rhythm guitar, and slide guitar. Is dUg Pinnick a frustrated lead guitarist?

dUg: Somebody said I was but I'm not really. It's a matter of opinion for anybody who knows me. Bass guitar has been my favorite instrument from the time that I can remember. I was 3 or 4 when I heard Frankie Lymon and the Teenagers play a song called "Why Do Fools Fall in Love?" I remember the bass line, and I can sing it to you till this day. I've always been obsessed with bass, but all my friends play guitar so I'm always picking up their instruments and strumming them. I used to write songs on keyboards until the early 80s when I started writing on guitar. I've never practiced guitar but after writing on that instrument for so long I learned how to play. Slide guitar is something I screwed around with when I was like 20 years old. Friends would lend me their guitars which I would tune to one chord and play "Rocky Mountain Way" and Allman Brothers stuff. The only slide licks I know I stole from Duane Allman and Joe Walsh, but I expanded on them to make them my own. Slide guitar is fun and easy. I picked up on it quickly. Guitar is fun, but I never consider myself a guitarist and I'll never front a band as a guitar player.

Dave: "Strum Sum Up" gives you the chance to play other instruments and to play with different musicians other than your band mates in King's X. Did you have any other reasons for doing another solo record at this point in your career?

dUg: The bottom line with is that I write so many songs, and King's X can't do them all. I write 20 to 25 songs for every record, and we can only put eight or 10 of them on the record. Ty Tabor and Jerry Gaskill need to get their songs on the record also. When I'm at home in my studio, I keep writing and piling them up. Ty will phone and ask if I have any songs for the next record, and I always have 30 or so songs, some are good and some are crap, but we sit down and give them all a listen.

Dave: Who are some of the primary backing musicians that you use on "Strum Sum Up," and why did you pick them?

dUg: I've known Michele Zaccone for years, and she's an awesome singer. I really wanted a female voice on the record to give me a little edge. King's X has some unique harmonies when Ty, Jerry, and I sing. I wanted to get far away from that on "Strum Sum Up." I wanted a darker, gospelly thing, and she could do that. When I was finishing up my demos, my guitar playing takes so much time that I asked ex-Galactic Cowboys guitarist Wally Farkas to come over and pump out some guitar parts. We did six songs in one day! I was shocked at the way he played my parts. He nailed my attack and nuances. He'd listen and ask which way I wanted it. He's really good at capturing my trademark and little nuances that make what I do magical. That's always been a problem with other people interpreting my music. I asked Rex Brown from Pantera to play bass, but at the last minute he couldn't do it. We've been friends for years. Rex can do dUg Pinnick better than dUg Pinnick. Dave Henning from Big Wreck came in and put his thing to it. He came in, not as a metal musician with a brash tone like mine, but as the old James Jamerson. He had an old school approach and added soul in the bass that I've been missing in my playing. I grew up listening to those type of bass players but I've gotten so far away from it because of my distortion and my pick and all of the other stuff. It was refreshing, and he gave the record a soul vibe rather than a metallic vibe. I've known the drummer Kellii Scott for years. When he plays, the hair on my back stands up. But then again, I don't have much hair anymore. The energy and emotion I feel when he attacks the drums made him a guy I always wanted to play with. I asked him 10 years ago, and we finally had the chance to do it. My actor friend Hal Sparks, who I'm staying with in Los Angeles, and Alain Johannes from Queens of the Stone Age added some guitar tracks and backing vocals. Steve Stevens played some guitar. I return the favor and play on his new solo record, "Memory Crash." We cover Robin Trower's "Day of the Eagle," which was a lot of fun. Steve even talked about me and him grabbing a drummer and doing a project together. I can't wait!

Dave: Any plans of a solo tour to support "Strum Sum Up"?

dUg: That's up in the air right now, but the guys all said they're on board if I can make it happen. The problem is getting backing and tour support because you've got to pay the band. In the mean time, Wally and I might do a few acoustic shows around Texas. I have a 12-string, and he has a 6-string acoustic. We'll sit around on stools and do some "Strum Sum Up" and some older Poundhouse stuff. That'll be a lot of fun.

Dave: Before I switch gears and ask a few questions about some of your other projects, what should King's X fans expect from the band in 2008?

dUg: Our new record is done. We should release on May 20th in the U.S. and we'll probably hit the road a month later to support it. We're also trying to plan a European tour with Tribe After Tribe and 24-7 Spyz. That'll be great. I can't wait. It's all good. King's X is moving on, making music, and taking names.

Dave: Is the working title still "Go Tell Somebody" and is Michael Wagener producing it?

dUg: Michael Wagener did produce it and it's titled "XV."

Dave: In 2005, you did a record called "The Mob" with one of my favorite guitarists, Reb Beach. Is there any talk of a follow-up record or a quick tour?

dUg: I e-mailed Reb a few months ago to say we should do another record. Reb said that he was just thinking about that. He couldn't find a record label that was interested so I'm going to pitch it to Magna Carta when the time is right to see if they're into it. I sung all of those vocal parts in two days. I want to spend more time with Reb to work on the songs and the melodies. It'll be fun doing another record.

Dave: In 2006, you butchered the Beatles. What song did you play on and what musicians joined you on the tribute record "Butchering the Beatles"?

dUg: Bob Kulick sent me the CD, and I just sang my part and sent it back to him. I'm not sure what other musicians played on "Taxman." I think Tony Levin played bass because all I did was sing, and it might have been Steve Lukather on guitar.

Dave: Hypothetically, if the Beatles returned the favor and covered King's X, on which song could they do the most justice?

dUg: I would be honored if they did any of them. Maybe "In The New Age." That was inspired by the Beatles' song "She's So Heavy." That would be fun to hear. Or maybe "Mr. Wilson." As far as I'm concerned, that song is a cross between Queen and the Beatles. MTV did a show a long time ago about bands influenced by the Beatles. King's X came up as one of the bands and MTV played a section of "It's Love." I was more into soul music in the 60s, and I didn't embrace the Beatles like Ty and Jerry did. They changed the world and what they accomplished was incredible. Without the Beatles, there would be no rock and roll like there is today. I've been influenced by them, but I wasn't a Beatles fanatic.

Dave: For personal reasons I'm picking "Lost in Germany." I think of my father who tells a funny story about his first night in Italy with the U.S. Army where he mistakenly crosses the border and gets "lost in Yugoslavia."

dUg: "Lost in Germany" is basically about King's X opening a tour in Germany for AC/DC. The tradition there is to hate the band that opens for AC/DC. We're in a 15,000-seat arena, and all the kids have their backs turned to us. They booed us; they threw stuff at us. During every break they'd yell "Angus, Angus." We plowed through it. We didn't get mad or get belligerent. We said this is who we are, and we played them our music. We earned the crowd's respect, and Angus said we were the only band that opened for them that didn't leave the stage early due to the crowd's harassment. We played to the end, smiled, and said thank you. It was a battle of who's going to win: the audience or the band. King's X won, and we made a lot of new fans in the process.

Dave: You filled in for Corey Glover as the vocalist on Living Colour's 2006 European tour. Just vocals or did you and Doug Wimbush do any songs with double bass guitars?

dUg: No, just vocals. It was me and a microphone and that was so much fun. As a bass guitarist and a singer, I have to do double duty and give both the same amount of attention. Whenever I get the chance to just sing or just play bass, I feel so much freer. I had a wonderful time running around on stage and getting into people's faces without worrying about playing bass. I thought about bringing a guitar and playing rhythm, but after rehearsals I knew that it wasn't necessary.

Dave: Doug's a trip and a phenomenal musician. The last time I saw Living Colour, I stood front row, right in front of Doug. I was yelling out for "Middle Man" after every song. When Vernon Reid needed a minute to fix something, Doug took off his bass, walked to the backline and peeled the paper copy of the setlist off his amp, and handed it to me. Of course, with my luck, "Middle Man" was near the end of the set. I don't know if that was Doug's way of saying "be patient dude" or "shut the f#ck up."

dUg: That's awesome but that's Doug just trying to be cool. On the European tour, we started the set every night with "Middle Man."

Dave: That was my funny Living Colour story. Do you have one that you could share?

dUg: The only thing I can think of is: somewhere in Europe the bus pulls up after the show to leave the venue and Doug wasn't there. I couldn't believe the bus would leave him behind but it did. Nobody knew where he was, but they said he does that all of the time and he'll show up wherever we were playing next. They didn't even question it. Sure enough, the next night we're in another country and Doug shows up.

Dave: Did anyone yell out thinking you were Corey?

dUg: I heard nothing on stage and that shocked me. The only comment was from a girl who ran up to me after the show who said I lost weight. She thought I was Corey.

Dave: Here's a good spot in the interview to plug your Hound Pound studio in Houston? What bands are you producing?

dUg: Nothing recently. I've been so busy doing my own thing. I love to mix, but I don't have the patience to produce. I expect people to be able to do what they do. If you ask me how to play a guitar, I'll hand you a guitar and tell you to lock yourself up in a room for a year. Then, when you come out, I'll show you a few things. That's how I learned my instrument. Nobody taught me. Figuring it out on my own gave me my trademark. By focusing on what I do and pouring my heart into it, I found my own place instead of trying to copy somebody else.

Dave: When you're on one side of the glass in the studio, how hands-on are you when you're working with producers like Brendan O'Brien and Michael Wagener?

dUg: I was hands-off. It's all about collaboration and having somebody on the outside looking in. Musicians are just a bunch of scattered freaks. Leave us along and we'll go to Mars and back and nothing will make any sense, but it will make complete sense to us. You need somebody on the outside. The records that King's X did without a producer lack a little bit because nobody on the outside was pushing us. We've learned from Michael Wagener, and he's learned from us. He always says that we have to stop doing such great demos. We don't leave him anywhere to go. We've been lucky that everybody who's produced King's X was a huge fan of the band. They didn't give much input. They recorded us and mixed us and let us do what we do. King's X is a real hard band in some ways. We know what we want, we're real picky about what we do, and we do it quick. We'll do a song in two takes and the producer will look around and say "I guess we got that one down. Let's move on." I've been writing and recording my own music for 30 years. When you're in the studio, it's all about working together and the result is the result. I look at the whole picture when it's done, not my contributions or somebody else's contributions. I forget everything like a mother who feels all of the pain during childbirth but forgets everything as soon as she sees the child.

Dave: Let's play a word association game. What's the first word that comes to mind when I say King's X.

dUg: I hate the name.

Dave: How about when I say dUg Pinnick?

dUg: A big question mark.

Dave: Why?

dUg: Because I have no clue about what I give to the music community with the talent I have. I just do what I do. People are sometimes in awe, but all I do is wake up and breathe and make music. I still don't understand how I evoke emotion from people when I sing. I'm detached from it. I don't understand how people see worth in what I do. I'm glad they do because I'm doing what I love. So I'm going to keep doing what I do and keep pumping out more music. Hopefully, the people will keep liking it.

Dave: If we switched spots, my word would be prolific for King's X .Your band as a whole, and its individual members with all of their side projects, continue to write and write and produce quality new material all of the time. And you're not afraid to play the new material.

dUg: We have balls; that's for sure. Ty always calls and says it's time to walk the plank. We just go out there. If we fall off, we fall off.

Dave: Is that the band's mantra, that you just have to write new material?

dUg: I can't speak for Ty and Jerry but for me, writing is what I do. I write and I write. I want to write one song that the entire world thinks is a great song for one second. Then I want to cash that check and do what I love do without worrying about how I'm going to pay the bills next month.

Dave: And my word association for dUg Pinnick is cool. Dude, you stand so tall, with the bass guitar slung down low, wearing a big smile all the time, with a soulful voice, and an incredible tone. Plus, as a fan attending your shows, you've goofed on me from up on stage when I started to applaud before a song ended by giving me a hand signal when to clap on the next song. You've flicked guitar picks at me. You've always had a minute to chat before or after a show. On a frigid day in Asbury Park, N.J., you and Jerry Gaskill let me walk in with you through the stage door so I could watch you soundcheck instead of freezing outside. Thanks brother, most musicians could learn a lesson from you on being fan-friendly.

dUg: Thank you Dave.

Dave: These will be my last two questions dUg. Somebody named Henry Adams was once quoted that "Chaos often breeds life, when order breeds habit." As a music insider, how do you relate that quote from Henry Adams to today's chaotic music industry?

dUg: Exactly. The world is such a chaotic place. The only way you can align yourself up with something creative is to find it through the chaos. If there is order, there is no room for improvement. There's no way to express things that are outside the box. As musicians and artists, we always have to stay outside of everything. If we go somewhere confined, our music becomes stagnant and our art becomes mundane.

Dave: So many established musicians knock today's music industry. Yet, for upcoming bands and independent artists, computer technology lets musicians express themselves freer than any point in time since the 60s.

dUg: It's a new world. Ten years ago, I would say that someday we're going to take it all back. Corporations at that time had such control over everything. Then the Internet and downloading came around, and it leveled the playing ground. Musicians are back in charge again. The problem is that we're musicians, not businessmen. We'll have a good time making music for a while and being free but eventually the corporations will come back and regain control. Until then, there's going to be some great music coming out. Kids today have so much choice in what they like and what they don't like. It's no longer cookie-cutter bullshit.

Dave: At my personal website, I have a six-question interview section called "5 and Dime," that I use as a forum to introduce new bands. I close that interview with a sixth question that I hope will keep the memory alive of a bad-ass guitarist from Texas named Dime. Since you guys were friends, please share a personal story about the late, great guitarist Dimebag Darrell.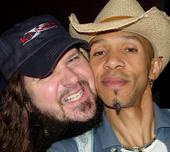 dUg: Dimebag was one of the nicest, kindest, and most giving people that I ever knew. When you hung out with him, everybody was his equal. He never acted better than anybody else. One Christmas, I went to his party and he always had a house full of presents for his friends. Dime knew that I was a health freak and that I make my own juices out of vegetables. He had thirty pounds of carrots as my present, but he was unsure when I would get there, He bought them a week earlier. When I left Dallas I put them in the trunk of my car. By the time I got back to Houston, half of them were molded. It was funny but bless his heart, he meant well. He was like that, always concerned about you and how you felt about things. He got me drunker than anybody ever did. Once, with a drum machine and Darrell playing both bass and guitar with me singing, we recorded Cream's "Born Under a Bad Sign." I have it on cassette, and I hope to release it someday. He was a King's X fan. I'd love it when he'd come to a show, stand down in front, and yell out for "Summerland." Vinnie and Dime came to one of our shows in a limo. I hung out with them in the limo afterwards, and Dime pulled out a tape of "Out of the Silent Planet." After five songs, he explained what every line of those songs meant to him. It was awesome.

Dave: And here you were earlier in this interview saying you don't understand the impact your music has on people. Thanks for the interview dUg and best of luck with "Strum Sum Up" and the soon-to-be-released King's X record. Feel free to close the interview with a comment for your fans.

dUg: All I can say is keep doing what you do and thanks for all of the support. May the groove be with you.



ARTIST BIOGRAPHY
Full Name: dUg Pinnick
Website: www.dugpinnick.com
MySpace page: www.myspace.com/dugpinnickpoundhound
Birthday: September 3, 1950
Birthplace: Joliet, Illinois
Favorite beverage: lemonade
Favorite food: barbeque ribs
First record you ever bought: I can't remember
Last CD you bought: I just downloaded something by Stateless
Favorite U.S. city to visit: Austin, Texas
Favorite international city: Amsterdam
Favorite venue to play: too many to pick just one