After completing two legs of a U.S. tour drumming for Yngwie Malmsteen, with a fill-in tour drumming for W.A.S.P. squeezed in between, a road-weary Patrick Johansson answered my interview questions while recuperating at home in sunny, southern Florida.

Dave: Hello Patrick, thanks for letting me conduct this interview. Let's start off right here, right now, in the fall of 2006. You recently finished the second leg of a U.S. tour drumming for guitarist Yngwie Malmsteen. What was your personal highlight from the tour?

PATRICK: All of the shows were really great. My favorite shows were the ones where I came home to Florida, and all of my friends came out to see me play.

Dave: I attended a show at the Crocodile Rock Café in Allentown, Pennsylvania. That's a great place to attend a show from a fan's perspective. What's your impressions of that venue?

PATRICK: That's a real neat place. I've played there with W.A.S.P., and I've played there with Yngwie before. It's a great club and I love playing there. They have a front lounge with video games, including Pac-Man, which I love to play. I can sit at that machine all night. They have real good food also. With that low ceiling, the acoustics are great.

Dave: A couple of Malmsteen fans whom I spoke with commented that Yngwie gets better every time they see him. Look back to the first time you played with Yngwie and compare it to this tour. How has he evolved and changed as a guitarist?

PATRICK: Yngwie's always great, and he's always playing his guitar. He gets better and better every year. He stands out from so many others because not only does he play great, but he writes really good metal songs. This last tour has been the best one and with the same band staying together for the last five years, hopefully we'll get better and better every year. There is always room for improvement. I'll never be 100% percent satisfied so I try to play harder and better every night.

Dave: Now look in the mirror at yourself. How have you changed as a musician over that same time period?

PATRICK: My first tour with Yngwie was in South America, and I had rental drums every night. Now I have the first kit I ever played in Sweden with me here in America. I'm much more comfortable playing my own equipment. I've customized my pedals and hardware. I change stuff around, constantly re-doing things. I wrap the drums in the cover I want. I mix and match from different companies. When I play in America I can use my kit every night, but that's impossible in Japan or Europe. Playing-wise, I've been with Yngwie a while. I don't have to think, I just know what he's going to do and how he's going to end the song. That allows me to just play. My playing ability since I've been with Yngwie hasn't really changed. My big learning curve was when I was 17 or 18, that's when all of the pieces started coming together. I have my own studio and I record myself a lot. I'm becoming more consistent. I've definitely learned how to record drums: microphone placement, choice of drums, drumheads and stuff like that.

Dave: How did you first hook up with Yngwie and land the drumming job?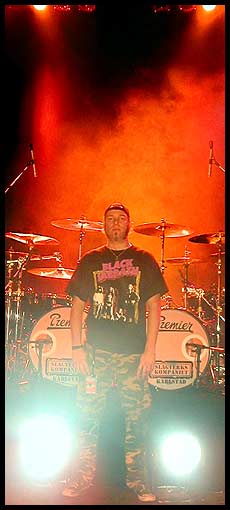 PATRICK: I met Yngwie at a show in Sweden. I had already decided that I was moving to America. We talked and I had given him some of my CDs. Right before I was ready to move, he called me and said that my CDs sounded great. He asked me if I wanted to come play in his band. I said of course! Instead of moving to Los Angeles, I moved to Florida, since Yngwie's in Miami. I had to change my plans a little, but for the better I think. When I came over we met again, we played, and the rest is history. I'm a big fan of music and I was a fan of Yngwie. So I was prepared and I knew most of his stuff. When I was young, I played my drums along with all my records in my Mom's basement. I didn't have anything else to do in that small town. I never drank, never did drugs, never partied. All I did was skateboard, a little swimming. And I played my drums a lot.

Dave: The current touring band, in addition to Yngwie and yourself, is vocalist Doogie White, bass guitarist Mick Cervino, and ex-Dream Theater keyboardist Derek Sherinian. How did the addition of a world-class keyboard player and seasoned road veteran like Derek change the dynamics and sonic quality of the band?

PATRICK: Derek was in the band before and he did previous tours, but he has obligations with Billy Idol. When he had the opportunity, he came back to Yngwie. For me, it was amazing to play with him again. He's one of the best keyboard players to walk the planet. He's a great guy and a rarity, he's a metal keyboard player. He can play classical stuff, but he has an original sound. It was apparent when he joined Dream Theater and changed their sound. He has a unique approach to the songs, he never overplays them, and he never makes a mistake. Derek is very professional and extremely talented.

Dave: From my perspective, Derek Sherinian didn't get enough space to play but I can understand since it is a guitar band. I felt that with all of the "orchestral" material that Yngwie has and with Derek on keys, that it was the perfect opportunity to feature more of that material in the setlist. Do you share that same opinion?

PATRICK: No, not for that tour because Yngwie's newer songs don't have much keyboards and that's what we were playing the most. His tours always promote the current album. Later in the tour, they added a dueling guitar-keyboard thing. But everybody was happy with their parts, there was a great vibe all tour.

Dave: Do you think Yngwie would ever play again with a full orchestra onstage and would you want the job as percussionist?

PATRICK: I think he'll do it again, but I just want to watch it. I'm a metal drummer not a percussionist.

Dave: What else should Yngwie Malmsteen fans expect in the near future?

PATRICK: We'll be touring Australia and parts of Asia in November, Scandinavia in December, and hopefully there will be a new album in 2007. There will be lots of touring, because Yngwie's growing a new tour base of younger kids in America, and that's great. Guitar players will come see "the maestro" when he plays. Whether you like it or not, he changed the way of playing guitar. He's very influential and belongs in the short list that includes Hendrix and Eddie Van Halen. His neo-classical metal style was never done before. Everybody focuses on how fast he plays, but for me it's his unique tone that makes him stand out.

Dave: With Yngwie, you get a chance to play a few cover songs. He's covered Hendrix, Deep Purple, and many others. What's your favorite song to cover with Yngwie?

PATRICK: Rainbow's "Gates of Babylon" and Deep Purple's "Burn" are my favorites.

Dave: What is your favorite Yngwie Malmsteen original song to play? What is the most difficult to play? Why?

PATRICK: "Don't Let It End" is my favorite, and there's no one song that I'd call difficult. The hardest part is the ending of his songs, they're always changing and it's difficult sometimes to identify the ending. I watch for when he lowers the neck of his guitar, but with all the smoke, sometimes it's hard to see. Even though I'm the band, he is leading the band. He's the conductor.

Dave: Between the two legs of Yngwie's U.S. tour, you did a fill-in tour drumming for W.A.S.P. What were your favorite W.A.S.P. songs to play? What was the most difficult to play? Why?

PATRICK: "L.O.V.E. Machine" and "Wild Child" are my favorites. No one song stands out as hard to play, but overall it's more difficult than you'd think to be in W.A.S.P. Certain things have to be a certain way. Blackie Lawless is a very talented musician, and he can play all of the instruments. He wrote the songs with a lot of finesse in them. Blackie wrote some of the best heavy metal songs ever. His songs are as good as anything else out there, and they've stood the test of time.

Dave: What techniques did you use to learn the W.A.S.P. material on short notice?

PATRICK: Luckily, I was familiar with most of the songs. "Hate To Love Me" was the only new song I had to learn. I only learn songs by listening. I don't write charts, but I might make some cue notes for a few of the songs.

Dave: Yngwie and W.A.S.P. front man Blackie Lawless are perceived by outsiders as temperamental, difficult to get along with, and not very fan-friendly. Are those misconceptions? How are they as bosses?

PATRICK: Yngwie is one of the nicest guys in the world. I've never had a problem with him or anybody around him ever. He gets angry but who doesn't? If a sound guy doesn't get his monitors right after a two-hour soundcheck, it going to get intense. He'll be irritated, but it's not his fault. He has way more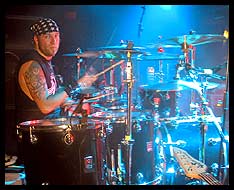 tolerance and understanding than I'd ever have. In the five years I've worked with him, I've never seen him mad for the wrong reasons, but that's my opinion and my experience. But opinions are just that and anybody can be a journalist these days with the Internet. Blackie is very intelligent and very calm. I never had an issue or got any attitude. He'd come in to do the soundcheck and once everything is right, he'd say, "thanks and I'll see you a half-hour before the show." To me, it's a mystery how those guys are portrayed in any other way. If you're passionate about your music and have strong ideas and opinions on how things should be run that doesn't make you a bad person. They've keep those bands going for 20+ years, so they have the right to expect nothing but the best from people. When you work for perfectionists like Blackie and Yngwie, you have to be problem-solvers and not problem creators. Both guys are fan-friendly, but in controlled situations like soundchecks or meet-and-greets, not standing out in the bad weather by the tour bus. I think their top priorities are their safety and staying healthy, which is hard to do when you're on the road.

Dave: With W.A.S.P., your drums were set up high above the stage on a huge riser. With Yngwie, your drums are floor level. What are the pros and cons of drumming from those vantage points?

PATRICK: Whatever the artists want, I'll do. It's easier to pick up cues and have the overall view of what's happening when you're set up high. Yngwie likes the backdrop of all the Marshall amps, which means the drum kit is on the floor. I have no preference. Playing-wise, I'll adjust. The bandleader has his vision of how the stage should sound and look, and it's my job to give them what they want.

Dave: What's more important to the look and sound of a metal band: A drummer sitting behind a double-bass kit or a drum kit sitting in front of, or on top of, a wall-to-wall stack of Marshall amplifiers?

PATRICK: As a fan, I want both a double-bass drummer and big stacks of amps, but I also want a stage show. A live show is for the eyes and ears, they should make both an audio and a visual impact. I love Queensryche and the big productions they did with their Operation: Mindcrime tours. I love KISS and they set the standards that other bands try to follow with their stage show. I like Alice Cooper's show and how they cut his head off with the guillotine.

Dave: Speaking of a double-bass drum kit, your drum set on the Yngwie tour looked and sounded awesome! It looked like you wrapped your drums in metal. Tell me exactly what you did. Does it change the sound or just the appearance?

PATRICK: I shouldn't give away my secret but it's not real metal. It's a metallic-looking wallpaper that I wrap like a big decal around the drums. If I wrapped it in real metal it would affect the sound too much. Anything loose would give off a rattling sound and I like everything tight-sounding.

Dave: Before I forget, I just attended a concert featuring two alumni from one of the G3 tours, Joe Satriani and Eric Johnson. You played on the G3 tour that featured Satriani, Stevie Vai, and Yngwie. Compare those three guitarists and their playing styles.

PATRICK: They are all extremely good players and great people. Yngwie is the most brutal. He's the metal guy. Steve Vai is the experimental guy, and Joe Satriani is the most mainstream. He's the radio guy, a traditional rocker and he's more melodic. Yngwie and Stevie Vai are more extreme and louder.

Dave: You're originally from Sweden but you've re-located to Florida. Let's travel back in time to Sweden for a moment. Was it difficult as a music fan in Sweden keeping up with the American bands that you followed?

PATRICK: I grew up in the middle of nowhere, a little dive three hours north of Stockholm. I had no car,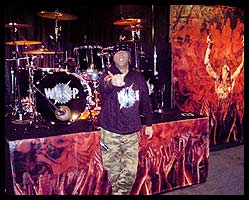 and you had to be 18 to drive in Sweden so for me it was impossible to see bands and shows. I did get to see Iron Maiden and Ozzy if my mother drove me, but it was rare to attend a gig. I ordered videos on all of my favorite bands through the mail. I always made a little money playing drums so I could buy a new skateboard, cymbals for my drum kit, and records or videos. I traded KISS memorabilia with people in North America through the mail since I was 10 years old. I was trading and buying from people in the KISS Army, mailing money in an envelope to people I didn't know, and the stuff arrived every time. Just once in my life a t-shirt didn't make it, and that wasn't from KISS. Mail order worked out well. It was easy to buy heavy metal music in a small record store in my town, way easier than buying it in Florida. We also had big record conventions twice a year in my hometown. I'd save my money all year for those conventions. Now, I'm in Florida, and Best Buy has millions of records, but mostly rap and country. Not metal!

Dave: Did all of the U.S. bands that you followed play live shows in Sweden?

PATRICK: All of the bands I followed played in Stockholm and Gothenburg, but nowhere else. When I was a kid, nobody played in my hometown, but in later years Alice Cooper and Manowar made it there.

Dave: Why is metal music so much more popular in Europe than in North America?

PATRICK: I don't know but it's finally catching up here in the United States.

Dave: Here in the United States, we sometimes get lucky and have a few metal bands on a package tour that rolls through our cities. I've always been jealous of the European metal fans and their summer music festivals. Have you attended or played any of those festivals?

PATRICK: Yes. Swedish Metal and Grasspop I've both played and attended. Personally, I'd rather see Iron Maiden, for example, play at their own concert than with 400 other bands. At the big festivals, there are so many people, so much drinking, and the sound is never as good as in real concert. There are no soundchecks.

Dave: Sweden today has a punk rock movement represented internationally by bands like The Hellacopters and a personal favorite of mine, Backyard Babies. Please comment on the punk movement in Sweden.

PATRICK: I know who they are but it's not for me. They may be doing okay here and there. If it comes from Sweden, I like heavier bands like In Flames, HammerFall, and Dream Evil, who are my favorite Swedish band ever. They have a great drummer named Snowy Shaw who used to play in King Diamond.

Dave: I'm not that familiar with most of the bands you played with in Sweden. Talk about the band Without Grief and describe its musical direction.

PATRICK: Without Grief was a melodic death metal band I played with when I was in Sweden. Our albums were well-produced and well-arranged. I'm really proud of those records to this day. We did most of our work and our recording in Denmark. We toured sporadically around Europe.

Dave: How about Stormwind?

PATRICK: Stormwind followed Without Grief and they were more neo-classical, not death metal. They had real vocals, Our singer, Tomas Vikstrom, replaced Messiah Marcolin and did the "Chapter VI" album with Candlemass.

Dave: Didn't Stormwind actually record a track for an Yngwie Malmsteen tribute CD?

PATRICK: Boy, you know more than I do. Stormwind did "Too Young To Die, Too Drunk To Live," but I'm not sure if it was the whole band that played on that track.

Dave: Are there any new rock or metal bands that you're listening to or have seen in concert?

PATRICK: Avenged Sevenfold is amazing, they're my favorite new band. They give me hope. They are the future. I really like Shadows Fall also. Jason Bittner, they're drummer, is great.

Dave: Please comment on two bands that I'm into. The first, from Sweden, is a band named Prey that you drummed for on their record "The Hunter."

PATRICK: Thomas and Peter from Prey had a previous band, Dream Doc, and they were the local rock stars in my hometown. They were older than me and their band played a glam-metal type of sound. They asked me to play on their album, but I couldn't do any live shows because I'm in America and they're in Sweden. It was fun and the album sounds good. I just wish they would have kept their old name.

Dave: The second is a band from Trinidad and Tobago named Orange Sky who opened for Yngwie Malmsteen on both legs of his U.S. tour,

PATRICK: They're a really good band and a great bunch of guys. They have some catchy songs, and I think they are going to do good in North America.

Dave: What's up next for you?

PATRICK: I'm moving my studio in South Florida to a bigger space and that's keeping me real busy. I started my own band called Kinlin, and we're trying to find a record deal. Being signed is what separates the men from the boys. Check us out at www.myspace.com/kinlin or www.kinlinonline.com. We recorded an album and did a few shows in Florida, but I don't want to do any more shows unless we have the album out on a record label. I think it's a waste of time. It's easier to plan a little tour and negotiate with clubs if you have an album out. I don't have the money to release an album on its own, or the time to try to market it on MySpace. Playing music is how I make my living, and I want a record label to release our record, support it with distribution, and market it a little.

Dave: That's about all the questions I have. Thanks again for the opportunity to interview you. Is there anything that I've neglected to cover that you'd like to promote?

PATRICK: No, you covered more than I could dream of. But don't forget Jack Frost, I played a couple cuts on his new solo album, "Out In The Cold." Jack's a metal warrior; a good guy, a great guitarist and an amazing songwriter.

Dave: Do you have any closing comments for your fans worldwide?

PATRICK: Thanks for supporting me and heavy metal and for coming out to the shows to support the bands I've been working with. My heart lives and dies for heavy metal, and I wouldn't be happy playing anything else. Some people say it's good to play all styles, but I don't believe it. If you want to play great and play with passion, you can only play the stuff that's in your heart. As long as I'm alive, there's going to be metal somewhere in the world. I'll never give up. Even if I have to take a day job so that I can play heavy metal at night. I'm not just a heavy metal drummer, I'm a heavy metal fan. I live and die for metal!



ARTIST BIOGRAPHY
Full Name: Patrick Johansson
Website: www.patrickjohansson.com
MySpace page: www.myspace.com/patrickdrummer
Birthday: March 29
Birthplace: Falun, Sweden
Hobbies: skateboarding
Favorite beverage: diet Coke or orange juice
Favorite food: Mexican
First KISS record you bought: "Creatures of the Night"
Last CD you bought: Avenged Sevenfold's "City of Evil"
Favorite U.S. city to visit: Los Angeles
Favorite international city: Copenhagen
Favorite venue to play: I hope it's yet to come
Favorite film: "The Exorcist"