Carl Palmer sat behind the drum kit in the 20th century "hammering the plastic" for bands like Atomic Rooster, ASIA, and Emerson, Lake & Palmer. Carl's still pounding the skins in the 21st Century, working hard and "Working Live" with The Carl Palmer Band, and playing in a new project called B.P.S. At the same time, rumors are swirling all around about ASIA re-forming with its original lineup. As a life-long fan of Emerson, Lake and Palmer, I was honored when Carl gave me the opportunity to phone him at his England home to conduct this interview.

Dave: Happy New Year Carl and thanks for agreeing to let me conduct this interview. In 2005, you played a few shows in Italy where you joined ASIA onstage, sitting behind the drum kit for two songs nightly, "Only Time Will Tell" and "Heat of the Moment." After that, life-long ASIA fans, myself included, started daydreaming about a future reunion of the original lineup.

CARL: I did that to help them sell some tickets because they were playing to very few people. I was asked if I'd be interested in doing something like that. I said okay and I went along to see where we were and take it from there. It was fun but I didn't enjoy that band as much as I thought I would at the time. The guitar player is pretty good, John Payne sings okay, and Geoff is always himself. Chris Slade played real well, I can't knock him. The show had a long acoustic section in the middle which lost a lot of the show's momentum from my perspective. I guess the real ASIA had more of a va-va-va-voom for me. There's no immediate plans at the moment to do anything together, but who knows. I guess you can quote the ASIA song, "Only Time Will Tell."

Dave: John Wetton was recently quoted, "It is the intention of all four original members to celebrate the 25th anniversary of the creation of ASIA." News reports of a new CD, DVD, and world tour came out the day after his statement. What are your comments?

CARL: I've issued a press release on this topic. I must make it clear that the current statements about a
reunion of the original members of ASIA circulating within the music and concert industries are somewhat premature. All four original members have met and discussed a reunion to celebrate the band's 25th Anniversary. However, at this time, no specific time frame for tours and recordings has been established, and no shows have been booked. At present, I am giving my complete focus to a North American tour of The Carl Palmer Band, which will run from late May through early July 2006.

Dave: Tell me more about the North American tour with your new power trio, The Carl Palmer Band.

CARL: We're all very excited about playing in the United States and Canada, where I have so many loyal fans. It's a great band, and the fans are joining to enjoy our versions of the E.L.P. songs they're familiar with. I'm really looking forward to seeing everyone once again. It's been two or three years since I played in the United States, when I did a drum clinic with Danny Carey from the band Tool.

Dave: Are all of the tour dates finalized?

CARL: Yes. It's a full six-week tour which it needed to be to work out for me.

Dave: What type of set list should the fans attending the North American concerts anticipate?

CARL: The shows are all-instrumental. The set list consists of "Peter Gunn," "The Barbarian," "Hoedown," "The Enemy God," "Trilogy," "L.A. Nights," a version of "The Flight of the Bumble Bee" featuring Paul Bielatowicz on guitar, "Bullfrog," "Toccata," "Canario," "Fanfare for the Common Man," "Carmina Burana," and a section of "Tarkus."

Dave: You've released two CDs, "Working Live - Volume 1" and "Working Live - Volume 2." They were recorded from 2002 to 2004 as The Carl Palmer Band toured throughout Europe. The musicians joining you on those CDs are not members of your current lineup. Please introduce your new band mates.

CARL: The Carl Palmer Band consists of me drumming of course, Paul Bielatowicz is on guitar, Stuart Clayton is the bassist, and there are no keyboards or vocals.

Dave: Three different versions of The Carl Palmer Band have had lead guitarists instead of keyboard players. Keith Emerson's new band has a lead guitarist you've played with, Dave Kilminster. What are your thoughts on classic Emerson, Lake & Palmer material being performed with lead guitar?

CARL: I can't speak for what Keith chose to do, but The Carl Palmer Band has replaced the keyboards with unique and innovative guitar interpretations of classic E.L.P. material. I wanted a fresh, new approach to the material and that's the musical direction I've chosen. I hope music fans will pick up the CDs or come out for a show to hear it for themselves.

Dave: How difficult was it re-arranging the songs with lead guitar and no keyboards?

CARL: It was extremely difficult. Some of the stuff sounded a lot better on guitar than it did on keyboards. It sounded more modern, sort of spacey, and a little more rocky. Some bits didn't sound quite as good so we had to change things radically. But at the end of the day, the proof is in the pudding. After you give us a listen, tell me what you think. I'd be interested.

Dave: How have hardcore E.L.P. fans reacted to it when they attend Carl Palmer Band shows?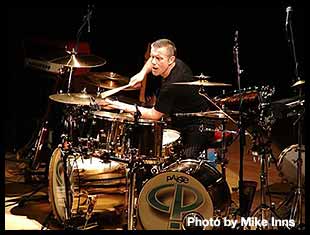 CARL: Actually, there was no reason for me to play with another keyboard player so I think they all understand what I was trying to do. There's an acceptance of it. They'd rather see that than nothing at all. They understand that some of music really lives with guitar and some of them prefer certain things on keyboards. Every man has his choice. I know I'm enjoying it. It's great! I love playing with keyboards, but playing with guitar is very exciting. I think Keith Emerson realizes that also and that's why he has a guitar in his band. You've seen the Keith Emerson Band play so I'm sure you'd agree that guitar brings a new freshness to it.

Dave: Unlike some of your musical peers, you've really embraced the Internet as a tool to market yourself, and as a way to sell merchandise and self-produced CDs. Please share your thoughts on the Internet, and its role as a tool for today's musician.

CARL: To be honest with you, it's a complete nightmare today, it really is. It's very difficult. People go into chat rooms and lots of rumors and gossip gets started. Lots of artists are active with their website, chatting with fans and writing diaries of what they are doing but I don't have the time for that small stuff. I appreciate the fans, but I just want to tell them what I'm doing, how I'm doing it, and when I'm doing it by putting up the information at my website. That's what the Internet for me is all about. The Internet can also be a big problem. People have gone on to my website and corrupted the guestbook. I had to add all new filters to prevent that. Who needs all of that? In general, I find it a bit of a bummer. It's not the most interesting thing for me. I try to do it as professionally as possible. It takes up a lot of time, and you have to do it yourself to keep on top of it. The minute you do that, you're taking time away from writing, practicing, or rehearsing. I do it, but I'm not happy doing it.

Dave: I'm sure you'd agree that there's a positive side to the Internet where artists can record CDs without a label, as well as sell and market their records?

CARL: That's very positive. The Internet is good for the artist to put out information on what you're doing and to market new releases. All that stuff is wonderful. The technology these days lets you get off the ground very easily and simply. But I don't know about making big money that way or getting distribution worldwide. It's easy to record a CD, and younger bands coming up can get their ideas across. But I'm not too sure how easy it's going to be to push out the big record companies. You still need to get your record in the shops and on the shelves, I think. Maybe I'm old-fashioned, but I think there's nothing better than walking into a shop and buying a copy of a record. It's great that the technology allows us to record our stuff, but there are drawbacks to promoting yourself only through the Internet.

Dave: Does The Carl Palmer Band have any plans to record new studio material?

CARL: I haven't planned for a new album yet. I do have a DVD, which we are looking into marketing at the moment. It's an hour and a half of live material, recorded in Bucharest, Hungary, in 2005. That could definitely be released later this in 2006. All being well, that could be the first new thing. I've recorded more live material with my band so I could release another live CD, or even a compilation of what we recorded live on the two live CDs so far. It's hard to plan, write, and record a new progressive rock album because I don't imagine it will be played on the radio at all. Recording live E.L.P. material and classical adaptations might be my best route for carrying on down the road. That's the direction I have planned, so we'll just have to see how well it works out.

Dave: B.P.S. is another musical project for you, and joining you are Italian guitarist Andrea Braido and American bass guitarist T.M. Stevens. I have no idea what to expect musically from a progressive rock drummer, a heavy metal funk bass guitarist, and a "Hendrixian" guitarist from Italy. Please describe B.P.S.' musical direction.

CARL: I'm going out with them again in February for some shows in Italy, but my main concern is The Carl Palmer Band. I'm just doing B.P.S. for some fun and to investigate. I've only played a handful of dates with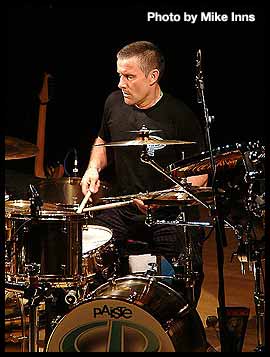 these guys. I cannot give you any concrete ideas of what's happening in the future, or what we'll even play the next time we meet in February. It's literally just a little bit of fun. It's not playing a vital role or important role in what I'm doing.

Dave: B.P.S. did play a few shows in 2005. Please describe the project's musical direction and the type of material you played?

CARL: There's no original material as you can well understand since it's just a fun project. We're playing some stuff from E.L.P., some stuff from Andrea, and some stuff of T.M.'s. Andrea, as you quoted, does sound like Jimi Hendrix so we are having fun. There's no formal plans at all to record a CD or DVD. We try to monitor what the fans are bringing into the rooms, but who knows, there may be a bootleg being pressed somewhere.

Dave: Does B.P.S. have any plans to tour in the United States?

CARL: No, there are no plans.

Dave: Keith Emerson told the audience a funny story on his 2005 tour about first meeting his new guitarist Dave Kilminster. Apparently, Keith surprised you at a Qango gig. He snuck up on stage unannounced for the encore, "Fanfare for the Common Man," and he destroyed your Qango band mate John Young's keyboard. An old expression is that there are two sides to every story, with the truth somewhere in between. John Young tells me that Keith never apologized and never paid the bill for the repair. You were there, what happened that night, and what's happened since?

CARL: Keith did come up and play but it wasn't a surprise. He made sure that I guest-listed him. Keith enjoys telling a good story. It was an old keyboard, and I don't think it was too big a deal for John Young. Everybody likes to hear the rock and roll war stories, but I don't get too involved in them myself. To be honest with you, Keith came up and played, the keyboard fell over, and they stood it back up. That's how I kind of treat it. By the time you hear about it two or three years later, it's something really epic.

Dave: Emerson, Lake & Palmer started playing together 35 years ago. Your hardcore fans, myself included, are hoping and praying that the three of you will eventually record and/or tour together again. Please be both optimistic and realistic, and comment on the chances of an E.L.P. reunion.

CARL: I can't say in my lifetime to be honest but not for any particular reason. There's no big grudges or fighting or anything of that sort. It had its go and it did what it did. I believe, in my opinion and please don't read more into this, if we had been asked to play at Live Aid we would have done it. A show of that magnitude would have to be considered. Maybe with the perfect circumstances at the perfect point in time we could do something. That's off the top of my head without talking to any of the other guys. We weren't approached and people don't think of us as approachable. They think it's easier to get Pink Floyd to play than E.L.P.

Dave: E.L.P. fans finally got their wish when video footage of the legendary California Jam performance was released on DVD. They were also treated to unreleased and new studio material on "The Return of the Manticore" boxed set, and a live CD of E.L.P.'s 1970 appearance at the Isle of Wight Festival. Is there any video or audio left in the vaults that E.L.P. fans should anticipate being released?

CARL: We have video footage, about 45 minutes worth, from the Isle of Wight and that should come out on DVD later this year. I don't know if we have permission to use it, but I just received video footage on DVD of our concert in Japan at Osaka Stadium. That's what we have in the video archives. I think as far as unreleased audio, the well is as dry as a bone.

Dave: In 1977, I was lucky to attend the opening night and closing night of E.L.P.'s three-night stand in New York City's Madison Square Garden. Those shows were with a full orchestra. E.L.P. fans have all heard the off-stage stories about the enormity of transporting the performers and equipment and the financial nightmare the tour turned into. Please share one of your on-stage observations from that legendary U.S. tour?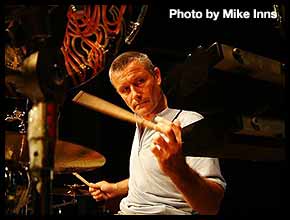 CARL: Orchestras change music radically because even if you write down the right notes and the right rhythmic values, violins don't play in time because of the nature of the instrument. If you hit a drum, it's on the beat or off the beat. Once you start moving a bow on strings, for it to be perfectly in time or spot on, is very difficult. You can have a section of 16 people all bowing in time together, but whether or not it's in time with the music they're meant to be playing with is another thing. When you have an orchestra, you have all these various permutations of instruments, which do vary in time structure. The music changes once that happens. Music such as the Emerson, Lake & Palmer repertoire that was played with the orchestra was held together because the band was a very solid unit. We could play exactly what we wanted to play, and the orchestra could accompany us. We tried to make the parts easy enough for them to play so that it would work, and not be so weird and wonderful that it would take away from anything. That being said, I'd rather play as a three-piece band than a three-piece band plus an orchestra. I wasn't moved enough emotionally by the orchestra. The E.L.P. experience was good enough, I'm glad we did it, but I wouldn't want to repeat it. The Carl Palmer Band is going to be playing with the Cyprus State Orchestra. It's something that I do, and it's something that I'm interested in. It just doesn't have the musical gratification you would think it has. It's exciting in almost a melancholy way, and it does take away the rock edge. It's not what I'm all about, but it sounds good with the music we play.

Dave: Can you pick a record, a song, or a live performance from E.L.P.'s career (so far) that you would classify as the band's defining moment?

CARL: I would narrow it to a particular recording, and the pinnacle of success for us was the record "Brain Salad Surgery." We never topped that, collectively or individually, and Emerson, Lake & Palmer went downhill from there. "Pirates" was a great piece of music, and it suited the orchestra. It didn't have the imagination and creativity of "Brain Salad Surgery."

Dave: When E.L.P. reformed in the 1990's and toured North America and Europe, how was the band received by music fans?

CARL: Returning to London to play three nights at Royal Albert Hall was extremely gratifying. Keith was nervous and Greg was apprehensive, but the fans coming out after all that time proved they love what we do. I need to see moments like that. In America and the rest of the world, it wasn't that great for us. There was a few really good shows, but in general it was rather somber. I think the product, the music on albums like "Black Moon" and "In the Hot Seat," wasn't that good. They were not good albums by our standards.

Dave: How did the advancements in music technology affect and complement E.L.P.'s on-stage performance during the tours of the 1990's?

CARL: M.I.D.I. technology let us sound even bigger. Keith could play one keyboard and sound like four or five at the same time. We embraced technology and used it toward the betterment of the band. Keyboards are the ideal instrument to focus in on that type of technology, more so than guitars. I went back to playing an acoustic drum set. They are made so much better, the cymbals sound sharper, and the microphones are better. I tried to stay away from all the electronic stuff but I did trigger three or four pads. I used a couple of samplers running in tandem with each other. They were just to enhance the music, they didn't control what I did. If they broke down, I really didn't care. It was there for added color, and if it did, that was fine. If it became too much of a problem I'd leave it out. I find that in general, drum technology is always more primitive than keyboard technology.

Dave: On the box set "The Return of the Manticore" E.L.P. covered King Crimson's "21st Century Schizoid Man." On the album "In the Hot Seat" E.L.P. covered Bob Dylan's "Man in the Long Black Coat." Hypothetically speaking, let's pick two E.L.P. songs that King Crimson and Bob Dylan could do justice to with their own cover versions. I'll pick the current King Crimson lineup doing "Toccata" and Bob Dylan strumming "From The Beginning."

CARL: I'd like to hear Bob Dylan singing "Are You Ready, Eddy?" [Carl laughs] and "Pictures at an Exhibition" would suit King Crimson, making them more melodic.

Dave: There is an E.L.P. tribute CD called "Encores, Legends & Paradox." Your parts were interpreted by drummers like Mike Portnoy from Dream Theater, Simon Phillips from Toto, and Pat Mastelotto from King Crimson. Other performers on that disc included a few ex-band mates of yours, Geoff Downes, John Wetton, and Robert Berry. On the CD's liner notes, Keith Emerson was quoted "thanks to a little 'ELP from my friends, the music lives on. They've done an incredible job." What are your thoughts on that tribute CD?

CARL: The playing was very good on that CD. It was a nice thing and a respectful thing to do. I was impressed that people wanted to do that. Their interpretations were good, I had no problem with it. Anytime somebody wants to copies you, it's the highest form of flattery. I was more than happy with that CD.

Dave: In 2006, the Rock and Roll Hall of Fame inducted Black Sabbath and Lynyrd Skynyrd. In previous years, this organization has inducted punk rock bands like The Ramones, Talking Heads, and The Clash, and in 2006 it inducts more punk rockers, namely Blondie and the Sex Pistols. In my opinion, they have over-looked and snubbed progressive rock bands like E.L.P., Yes, King Crimson, and Genesis. Please comment on the fact that there are no prog-rock bands, other than Pink Floyd, in the Rock and Roll Hall of Fame.

CARL: Progressive rock has always taken a back shelf. It never was as big as heavy metal or the corporate rock bands. It never got the respect from radio stations. I imagine that people running polls or museums don't visualize prog-rock as important. I think it embraced technology a lot more than other forms of music. It pushed the barriers a lot more. Prog-rock has been ignored since day one so no, I'm not surprised. You don't hear much prog-rock on the radio unless it's 4 o'clock in the morning somewhere in the middle of Arizona. It doesn't appeal to that many people anymore. It appeals to people who are more intellectual and they want more. It just isn't mainstream, and it doesn't sell a lot of tickets. Advertisers don't tie up with prog bands very much. It you're in that type of band, you're in it for art's sake and because you like it and believe in it. If you make money at it, that's great. On the other hand, you can't expect people to hand you accolades, trophies, medals, and plaques to hang on the wall. It happened for a short time in the 70's for E.L.P., but we were dead and buried as far as the press goes by 1976.

Dave: Carl, you've been the drummer in two rock supergroups, Emerson, Lake & Palmer as well as ASIA. For the sake of this interview, I'd like you to daydream and form a third supergroup, with musicians dead or alive, that you've never played with. This supergroup will be a six-piece band with a different configuration than you're accustomed to. Who would be your choices for: A lead singer? Lead guitarist? Bass guitarist? keyboard player? Lastly, either a horn player, violinist, or even a second drummer if you've ever fancied playing onstage with another percussionist?

CARL: Elvis Presley singing, Jimi Hendrix on guitar, Mark King from Level 42 on bass, Dave Brubeck on keyboards, and Jerry Goodman on violin.

Dave: The Carl Palmer Band and B.P.S. are playing in clubs when you tour and your band 3 played a U.S. club tour. With E.L.P. and ASIA, you played in theaters, arenas, and stadiums. How does your equipment and frame of mind differ when playing different-sized venues?

CARL: The venue doesn't make a big difference to me at all although obviously I'd rather play an arena. When I play in a club, I play with the same amount of gusto and spirit. I have the same equipment, except I don't bring both gongs to a lot of smaller clubs in England. I carry one of them but everything else is basically the same. My attitude, whether in a club, theater, or arena is exactly the same. I can only play the way I play, the way I feel comfortable. I enjoy playing clubs. On my upcoming North American tour, were going to be playing in quite a few "art centers" rather than rock clubs. I like it when people are sitting down and listening. I like a controlled concert environment. It's inspiring to me because it puts you right on the edge. You have got to be good because people are watching. When people are standing and drinking in a club, it's slightly looser, and musicians tend to be less focused unless they don't watch out. When people are sitting down and looking, that concert environment is really motivating and not intimidating at all. I find it most encouraging.

Dave: Is there "one question" you've always hoped an interviewer would ask you that has never been asked? If so, what's the question and how would you answer it?

CARL: People never ask me why I do what I do or why I carry on doing it after so long. Maybe the answer is taken for granted, but I think it's an important question. Some people do it for money, some people do it for fame, and some people do it because they need to. That's my reason, I can't go a day without playing drums. I still practice five days a week. I take weekends, off but I only started doing that last year. I left school to be a professional drummer and people say it's in the blood. It's more than that for me, it's like eating or breathing. It's just there and I have to do it; whether it's in a club, with a successful group, in a recording studio, or at home in room. If I never played with another band again, God forbid, I would still play because I do it for me. I never played for anyone else. It's a completely selfish approach that I've got, I do it purely for me because I really enjoy it. It's the one thing I've never grown out of.

Dave: With all of that being said, you must be your own biggest critic. How would you self-critique your playing these days?

CARL: I'm actually a lot more exciting these days. I'm not as stiff or as rigid like I used to be with E.L.P. I've definitely gotten louder, which is not the norm. Drummers as they get older tend to hit them softer, but not me. I don't know why that is. I am a health fanatic, I run four or five days a week, and I do lots of floor exercises. I'm into looking after myself and it's snowballed over the years, and the results have gone back into my instrument. Drums are very physical so it's important to look after yourself. I'm getting the full payback now at age 55. I feel stronger than the next man, I'm happy, and my playing has advanced. There are some incredible drummers around at the moment who are actually frightening. I'm always buying DVDs to check out the competition and the new people.

Dave: It sounds like you're still having fun.

CARL: It's still very exciting, but I have to do a lot of office work. I manage everything myself working about 5 and a half months out of the year. My friend Bruce Pilato takes care of things in the United States for me. I'm very content, but I'm a hands-on type of guy so I have to program my day to get everything in. I do what I do and I love it!

Dave: Thanks again Carl for the interview. Do you care to add a few closing comments for music fans worldwide?

CARL: I'm looking forward to bringing my band to North America and to the reaction we get. I hope the fans enjoy it as much as they have in Europe.

ARTIST BIOGRAPHY
Full Name: Carl Palmer
Website: www.carlpalmer.com
Birthday: March 20, 1950
Birthplace: Birmingham, England
Hobbies: fencing, swimming, jet skiing
Favorite rock Band: no favorites, but I'm a big fan of U2 and R.E.M.
Favorite rock song: "Every Breathe You Take" by The Police
First album ever purchased: "Time Out" by Dave Brubeck
Favorite venue to play: Generally speaking, anywhere in Italy. Playing in front of or inside The Coliseum in Rome is very exciting
Favorite city to visit: London
Favorite film: "Raging Bull" starring Robert DeNiro
Favorite beverage: water
Favorite food: fish of any type