Michael (Whip) Wilton is a lead guitarist for the band Queensryche. Always recording and always touring, Queensryche has to be one of the hardest working bands out there. They passed through New Jersey (in February 2008) touring to support their new record "Take Cover." At the band's after-show, Whip and I talked about a future interview. Following their U.S. tour, as Queensryche prepared for a spring tour of South America and a summer tour of Europe, Whip gave me a call on April Fool's Day. We chatted about his side project, Soulbender, Queensryche, and a whole lot more.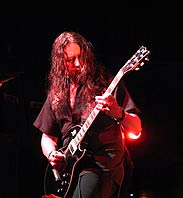 Dave: Hey Whip. Thanks for allowing me the opportunity to conduct this interview.

Whip: Not a problem Dave. Are you done with lunch?

Dave: Yeah. I'm on a 12 noon lunch and 5 p.m. dinner schedule, which is unheard of in any musician's lifestyle.

Whip: (laughing) No doubt.

Dave: You're best-known in the rock and roll world as a lead guitarist in Queensryche. I'll have some questions about that band later in the interview. I want to start out asking you a handful of questions about your side project: a band called Soulbender. How did Soulbender get started?

Whip: Soulbender was a project band that I started in the 2000's. With some friends, I started doing some super-heavy, dark stuff since Queensryche was moving in a different direction. It morphed when we did a few shows, and the popularity went out of control. So we got our act together and recorded a home-brewed, self-titled CD in our project studio. I put it out and it's sold quite well, and we get so many requests to play.

Dave: A side project gives you an outlet for songs that you've written that don't fit Queensryche and a chance to work with different musicians. Were they the primary reasons?

Whip: There's always a bunch of different reasons. For me, with Soulbender, the easiest answers are that I wanted to explore my diversity, what I'm influenced by, and what I like to play as a musician. On the back end, there are always a few tunes I've written that are too overwhelming for my day-job band.

Dave: Who are the other musicians currently in Soulbender?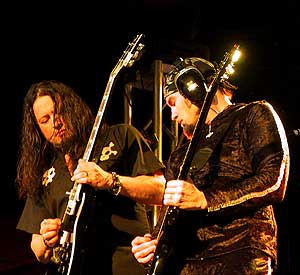 Whip: The vocalist I have now is Tim "Ripper" Owens and he'll just sing on the upcoming record. He's a pretty busy guy between his own band Beyond Fear and his upcoming tour with Yngwie Malmsteen. I also have Dave Groves on guitar. He was in a Canadian band called Tin Pan. Chuck Miller is playing bass. He's from Oregon and he played in a band called Peace and Silence. The drummer is kind of unknown right now. He's anybody that's good that's around town.

Dave: How would you contrast and compare Soulbender's musical direction to that of Queensryche?

Whip: Soulbender is more heavy guitar-laden and a little more current, as opposed to being more classic. Soulbender has a different energy.

Dave: The Soulbender MySpace page has a new song titled "Loaded." What's the status of new material the band has written since the debut release?

Whip: We're in the midst of putting it all together. We're in the demo stage right now, about six songs into it. Hopefully, we'll have something new out for the Soulbender fans by the end of 2008. "Loaded" is the only new song that's been released for people to give a listen to. Everything else is a work in-progress and that will add to the excitement factor.

Dave: Given your busy touring and recording schedules with Queensryche, do you envision a point later in 2008 or early in 2009 where music fans outside the Seattle, Washington, area will get a chance to "get bent" and see Soulbender perform live?

Whip: My touring schedule with Queensryche now is very hectic because of the demand. Touring is the way to go right now for veteran bands in today's music industry. It'll be a challenge to get Soulbender organized and ready to perform wherever we get offers. Once a band is ready to play live, it's not up to us. It's up to the venues and the promoters to make us an offer where we don't lose our nuts. I would love to take Soulbender to Europe to play some of the summer festivals, as well as the East Coast and the Midwest.

Dave: Other than the merch booth at Queensryche shows, where's the best place for music fans to purchase Soulbender's record?

Whip: Cdbaby.com is the best place to purchase it. The website and MySpace pages have direct links to purchase it from cdbaby for around 10 bucks.

Dave: I mentioned the Soulbender MySpace page earlier. Is it frustrating having to self-promote and market Soulbender via the Internet?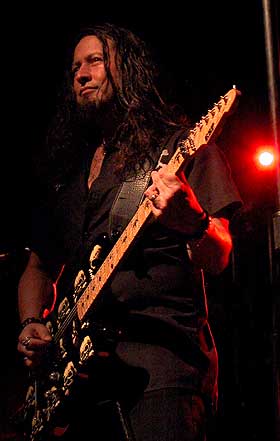 Whip: It's not frustrating. It's a new tool and it's more of a challenge. With the advent of MySpace and the Internet, it's applicable for anybody to promote themselves. All you need is a good web-savvy designer friend who you can load up with a case of beer to promote you on the web. As a project grows, you can bring in people and friends to help out.

Dave: How about personalizing your response. Let's face it, Queensryche has been marketed and promoted by your record labels. Now, with a side project, you for the first time have to get hands-on.


Whip: It's actually refreshing, like the very, very, very old days.

Dave: Does the time you spend on the computer interfere with the creative process of writing and recording music?

Whip: No, I try to limit my time on the computer. Obviously, I have people who manage my websites. I'm only an overseer. If I did have to handle everything myself, it would interfere. Programming and writing code is time-consuming if you're learning as you go like I would be.

Dave: The computer industry had such a heavy impact on the music industry. We could spend all day and night talking about the pros and cons, but I won't go there during this interview. Yet Queensryche is Seattle-based, and so much of what happened with computers happened right in your back yard. How have you adapted as a musical professional?

Whip: I like to say that the musicians in Queensryche have grasped the technology, especially recording with computers. They are a tool to facilitate the creative process. It's not THE creative process, but it can make things more convenient. You can get things and ideas down much quicker. Because we're thrust into such a high-tech area like Seattle, you do learn the lingo and you learn the key, which is knowing somebody who can handle computer issues when things go wrong. Computers are only great when they work. When things so wrong, you need connections who can troubleshoot hardware and software issues.

Dave: In 2007, Queensryche released a record titled "Take Cover." It's been real trendy over the last couple of years for veteran bands to release a record full of cover versions. I never considered Queensryche trendy, and you were once quoted that Queensryche has "never really been a band to try and jump on trends." With all of that being said, what were the band's reasons for recording and releasing "Take Cover"?

Whip: Queensryche had just finished touring the Far East. We had a blip on our tour schedule where nothing was happening. The record label made us an offer, and we said we'd do it. We thought it would be fun. We tried to do it differently and pick a few obscure songs, but we had to throw it together pretty quickly.

Dave: I read that each member of Queensryche brought two songs to the studio and, without any negotiation, the band tackled those choices. True story?

Whip: Yes. Originally, we each brought in five or six songs from our influences. Then the record company had to get the permission from the original writers or bands. That narrowed it down to one or two songs apiece that we could actually play, and we worked on them expediently.

Dave: I'll go out on a limb and say that Geoff Tate picked the operatic song "Odissea" or "Heaven on Their Minds" from Broadway's "Jesus Christ Superstar." Which songs were your selections? Why?

Whip: Actually, the song from "Jesus Christ Superstar" was Mike Stone's selection. My songs were "Innuendo" from Queen. Eddie Jackson, our bass player, and I both really wanted to do the Black Sabbath song "Neon Knights." I originally picked a Thin Lizzy song that didn't make it through the process. When we talked of playing a heavy song that we used to play in our cover band The Mob, which was the roots of Queensryche, "Neon Knights" became the choice.

Dave: When Queensryche did a U.S. tour earlier in 2008 to support "Take Cover," obviously they couldn't work the entire record into the setlist. Did the band take a similar approach with each member hand-picking a song for the live set?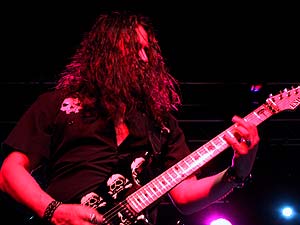 Whip: There wasn't enough time to learn every song or do any pre-production for this tour. We just collectively grabbed a few that would be easy to learn and easy to play.

Dave: I really enjoyed Queensryche's take on "Welcome to the Machine." Hypothetically speaking, if Pink Floyd could return the favor, which Queensryche song could they do justice to?

Whip: Oh yeah, they can no question do justice to any of our songs. I can't pick just one. My answer would be that any song they decided to do would be great.

Dave: The "Take Cover" tour saw Queensryche playing in more clubs than the Mindcrime I and II tour which was performed mostly in theatres. Your previous tour with Heaven and Hell played at all of the summer sheds (amphitheaters). Does playing in different types and sizes of venues help "keep it fresh" for you?

Whip: Definitely. You have to be available to adapt for any show, whether you need to shrink it down or to expand it. It's a fickle marketplace. In certain areas, clubs are the only offers we get to play. In order for a band to survive, you have to go where the income is the best. It might not be a coliseum or a theater that looks and sounds great. Often, it's a kickin' club that's sold out all of the time. All of those factors weigh into the equation.

Dave: You've toured the world and all across North America at least a dozen times with Queensryche. Where's the one spot on Planet Earth that the band has never played?

Whip: Russia. At one point, we were rumored to be playing there as part of the Monsters of Rock festival in 1991. Our drummer Scott Rockenfield was getting married and we had to cancel that. Or even China or Taiwan. We played Japan but never in those other countries.

Dave: Is there a certain venue anywhere in the United States that you've never played that you'd like to see scheduled the next time out?

Whip: None come to mind. I only know the venues that I have played. Maybe a theater that's acoustically treated for orchestra. That would be over the top and it would sound amazing. Something like New York City's Carnegie Hall which doesn't normally let hard rock bands in to play.

Dave: When I attended Queensryche's Mindcrime I and II performance in the fall of 2006, it was the first time I saw you and guitarist Mike Stone together. How do you and Mike contrast and complement each other?

Whip: Mike's playing, when compared to mine, is a little more traditional. He's been in a lot of bands, and he knows a lot of styles. I'm more Euro-classical, with dark riffs. He's a good picker, and our styles meld together.

Dave: How does that musical relationship differ from the one you had with ex-Queensryche guitarist Chris DiGarmo?

Whip: Chris and I grew up together and went to high school together. It's the type of musical relationship that you could never have again. At the pinnacle of Queensryche's selling career, as a guitar duo and songwriter team, nothing could compare to it. We were entwined. We could read each others minds. He knew my playing and I knew his. We really enjoyed a special musical relationship. Chris was a class A player. He had finesse in everything he did, whether it was his picking, his choice of melodies, his phrasing, or his vibrato.

Dave: During the summer of 2008, Queensryche will be in Europe touring with a full theatrical production of Operation: Mindcrime I and II. Let's face it: You're a guitarist and not an actor. From your perspective, do the theatrics ever get in the way of the music?

Whip: No. I think we're trying to paint a visual picture of the conceptual side of our music. Obviously, there are people attending who are only there for the music, who want to conjure up their own images in their minds. The music is embellished a little bit with the production yet the music is still the essence. It's still a rock show.

Dave: Does a side project like Soulbender or Scott Rockenfield's Slave to the System give you and he an outlet to step away from the production aspect of Queensryche to just rock out and have fun?

Whip: Oh yeah.

Dave: Speaking of fun, how much did you enjoy touring last summer with Alice Cooper and Heaven and Hell?

Whip: That was great fun. Three headlining bands performing every night made for a real solid show. Being with Tony Iommi or Geezer Butler, two guys whom I had never met, was a lot of fun. Meeting and talking with Tony Iommi was the highlight for me personally. Hanging with your heroes is something special. When I finally met them I wasn't disappointed. They are true professionals. I know most of the guys in Alice Cooper's band, and it was natural to hang out with them.

Dave: Was it frustrating for a perpetual headlining act like Queensryche to play a much shorter set supporting Heaven and Hell?

Whip: Yes definitely. Forty-five minute sets are not fun. That's the point where a band's just warming up. But we packed a lot of songs in there. We squeezed in 10 songs. It was like boom, boom, how are you doing, boom, boom, thank you good night. The special thing about tours like that is getting the opportunity to play in front of other band's crowds to show them what you can do. In our eyes, that's the ultimate thing. You wish you could play longer but it's not all of our audience.

Dave: Speaking of playing in front of other band's fans, does Heaven and Hell have its own fans or is it Black Sabbath under another name?

Whip: It's Black Sabbath, that's their roots. It's all about the three Black Sabbath albums with Ronnie James Dio on vocals. That's what we were listening to when Queensryche was forming. We played to an audience that spanned a few decades.

Dave: Which era of Black Sabbath had a bigger musical impact on you: the Ronnie James Dio era or the Ozzy Osbourne era?

Whip: Definitely Ronnie's era.

Dave: Why?

Whip: The components of that band in that time period were all about the great music they put together. It was hard, heavy metal without any of the silly antics.

Dave: I did an interview with Heaven and Hell drummer Vinny Appice last year, and he commented that none of the guys anticipated the overwhelming fan response and excitement that Heaven and Hell would generate. Why do you feel this band has been embraced so heavily by music fans?

Whip: Because of the huge resurgence in metal which had gone pretty much underground. A lot of the new shredders and bands out there now are fans of the 80s. Who knows how long Black Sabbath can keep touring. You have to get out there to see the masters at work when given the chance.

Dave: From your perspective, what went down at the NAMM music convention this year?

Whip: It was a big reunion; it was an excuse to go and hang out with your buds. I didn't play anywhere but I signed a ton of autographs. There was a lot of drinking and reminiscing about the year that had just passed. There's also the business side of spending time with your endorsers.

Dave: Speaking of your gear, when I checked out the guitar gallery at your website, I noticed some vintage guitars as well as your "signature series" ESP guitars. What's the one guitar you cannot be without? Why?

Whip: My "signature series" skull guitar that I play out on the road now. That's my main guitar. It sounds so good. It's easy to play with great clean sound and great heavy sound.

Dave: That's enough about Whip's gear. Tell me all about Whipwear?

Whip: Whipwear is an off-shoot, ever-developing small clothing line that's in the midst of expanding. A few tours ago, one of the crew guys joked that I needed to get some Whipstresses and some Whipwear and that idea kind of stuck. I got some designs going and I patented my "Hellboy" design. Fans can check it out at www.shopwhipwear.com. The website is the only place to purchase the stuff now. Whipwear is slowly moving forward, and I'm almost fearful about trying to deal with the distribution. Right now it's just a cool little thing, but it may turn into another major project for me.

Dave: As a big fan of the NFL Super Bowl champs, the New York Giants, I've been dying to work a football question into one of my music interviews and here's my chance. Jim Mora, assistant coach for your Seattle Seahawks, is rumored to be taking over for head coach Mike Holmgren next year. Jim and you were high school teammates on both the football and baseball teams. If he asked your opinion, how do you think the Seattle Seahawks should handle the messy situation with former All-Pro running back Shaun Alexander?

Whip: I don't know. You have to be there in the trenches to make that decision. He's cost the Seahawks a lot of money. You know how it is hanging on the injured running backs. Will they ever be the same powerhouse or is he a cooked goose? I've known Jim a long time. He's savvy, and he's very close to his players. He'll know what to do. Our defense was just cookin' last year. He saw what we were lacking and he brought in the right players. Your Giants proved that you win the big games with defense. The Seahawks right now are just hanging Shaun Alexander out there. For me personally, I want a running back who just slams into the line for six yards at a clip on his own. I want a tank and a slammer, not a find the hole chooser. We have the passing game, but we need the running game to step up.

Dave: Queensryche is such an influential band and for 20+ years you've influenced two generations of guitarists. What's the primary music lesson that you've tried to impart on the younger guitar players that you influence?

Whip: At clinics I've done, the few lessons I've taught, and at the thousands of shows I've played, there is one common message. If you're going to do it, put some effort into it. Don't half-ass it and try to look cool. Learn how to play your instrument. And make sure you have fun with it.

Dave: That's a musical lesson. How about a life lesson? What's the biggest personal sacrifice that you've had to make in your musical career and how do you justify sacrifice?

Whip: Obviously for the love of art and music, with all of the traveling involved, your family suffers. That is the big band-aid in my life. The justification is that it is the life I've chosen, and that I have to put a lot of effort and energy into it. My family supports my decision. They see that I'm constantly grasping for my dream and trying to make it a reality. I think a lot of people can learn from that.

Dave: In the biography section of your website, you call Queensryche "a work in progress." After the band completes its 2008 summer tour of Europe, has any thought been given into what next step the band will undertake?

Whip: Yeah. We're in the midst of setting up the next record. A bunch of songs are already done and we're setting up the studio now. By January or February of 2009, we should release the next Queensryche record, and it will be a strong conceptual record.

Dave: That's all of the questions I have for you Whip. Thanks for the interview. Feel free to close it with some comments for your fans.

Whip: Thank you for supporting Queensryche and for telling all of your friends about us. Thanks for coming out to see us live, and we'll see you out there somewhere this summer and next year as well.

ARTIST BIOGRAPHY
Full Name: Michael Wilton
Websites: www.michaelwilton.com
www.soulbender.com
www.queensryche.com
MySpace pages: www.myspace.com/michaelwilton
www.myspace.com/soulbender
www.myspace.com/queensryche
Birthday: February 23
Birthplace: San Francisco, California
Favorite beverage: Vodka and Red Bull
Favorite food: Thai cuisine
First record you ever bought: Led Zeppelin IV
Last CD you bought: "Fortress" by Protest the Hero
Favorite U.S. city to visit: San Francisco
Favorite international city: either Paris or Athens
Favorite venue to play: Madison Square Garden
Favorite film: "Idiocracy"