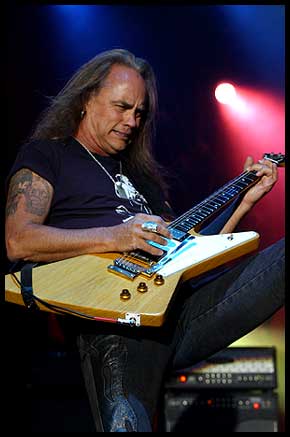 Rickey Medlocke is a southern rock superstar, so there's no need to ask him "What's Your Name?" Rickey was a founding member of the band Blackfoot, and he's currently playing lead guitar for Lynyrd Skynyrd, who were inducted into the Rock and Roll Hall of Fame in 2006. I was truly honored to speak with Rickey, as he answered interview questions about Lynyrd Skynyrd, the Rock and Roll Hall of Fame, Blackfoot, and a whole lot more.

DAVE: Hello Rickey, thanks for agreeing to do this interview. Happy New Year and best of luck to you and Lynyrd Skynyrd in 2006. I attended your concert in Atlantic City, New Jersey, and I thought the song "Red, White and Blue" was the show's highlight. Sitting there with a friend whose son is stationed in Japan, hearing Johnnie's words, and watching that huge U.S. flag unfurl gave me goose bumps.

RICKEY: That song is Lynyrd Skynyrd's statement collectively as a band. We're all big military and big law enforcement people. I have a nephew who is an Army Ranger. A very good friend of mine is a gunner on an Apache helicopter. Countless friends and people I've known were killed in Vietnam. Three of my great-uncles served in World War II. I am a legally deputized Lee County sheriff-deputy in Fort Myers, Florida. My personal statement to everybody in the military and law enforcement is that they'll never know how much we appreciate what they're doing for us. They'll never know how much satisfaction we get out of playing and dedicating stuff to them. It's very satisfying for us to know that we can be there for them in some small way. My hats go off to them, they're brave people, and I honor them every night thinking of them as I play.

DAVE: Lynyrd Skynyrd was recently inducted into the Rock and Roll Hall of Fame. Congratulations. Your band has suffered through the tragic plane crash in 1977 and the deaths in subsequent years of members Allen Collins and Leon Wilkeson. Lynyrd Skynyrd has endured all of the trials and tribulations with its head held high and kept it going. The love and support your band receives from its loyal fans must be very rewarding. How satisfying is it for Lynyrd Skynyrd to receive recognition from the music industry and the media, as evidenced by the Rock and Roll Hall of Fame induction?

RICKEY: Yeah, Lynyrd Skynyrd's been through a lot, but we're gonna keep on keeping on. I look at the Rock and Roll Hall of Fame thing not only as recognition by our peers and the recording industry, but it's also a huge recognition from our fans. Honestly, if it wasn't for the fans, we wouldn't even be here. I get a lot of satisfaction knowing we did something for the fans and that one day the legacy I leave behind will inspire others to do it in their careers and continue keeping music alive. Music is one of the greatest gifts that we can give out. It's too bad other cultures don't get out of music what we do. There'd be a lot less trouble in this world if they did. Where else can you find one single thing that brings so many different kinds of people together for an hour and a half to celebrate? This thing called music lets you forget your differences, your troubles, your problems and your blues. That hour and a half lets you have blow-out fun, it's a celebration of life itself. It bothers me that we can all sit there, not seeing the gift we have called music, and not utilize it for the whole damn world. People look at their own beliefs in their own way and that's just the way it goes. Our troops fight for our freedoms, one of them being the freedom to express ourselves. The honor of being inducted into the Rock and Roll Hall of Fame is a celebration of that and everything Lynyrd Skynyrd and music stands for.

DAVE: The Rock and Roll Hall of Fame has an impressive list of early influences that have been inducted: Muddy Waters, Jimmy Rodgers, Robert Johnson, etc. Southern rock is only represented by the Allman Brothers, Z.Z. Top, and now Lynyrd Skynyrd. In your opinion, has the Rock and Roll Hall of Fame fairly represented your genre of music, southern rock?

RICKEY: I think that a lot of southern rock bands also deserve credit. My band Blackfoot sold millions of records, and we were on a different cutting edge than other bands were. We played heavier, with a blues influence, and we were still Southern. Maybe at some point in time, Blackfoot deserves to be in there. Molly Hatchet, who also sold millions of records, was such a big band at one point. There's a lot more southern rock bands that I hope will eventually receive the recognition.

DAVE: Progressive rock, with the exception of Pink Floyd, has been totally overlooked by the Rock and Roll Hall of Fame. Punk rock has a more-than-fair number of inductees. There's even a few bands that have been inducted from the 1970's, like Parliament-Funkadelic, that don't even fit the title of rock and roll band. In your opinion, does the Rock and Roll Hall of Fame fairly represent the music of the 1970's?

RICKEY: When you've given your whole life to something and other bands go in that haven't had the same success, it's a weird deal. The Rock and Roll Hall of Fame bases it on bands who made a perpetual difference in the music and recording industries. Did the Sex Pistols, The Clash and Blondie make a perpetual difference? I just don't know about that. I'm kind of sitting on the fence with the those bands. I'm glad that David Bowie received the recognition, because he perpetuated a difference for all of them. If it weren't for David Bowie, none of those bands would be shit. David Bowie was the original dude.

DAVE: Looking ahead to 2006 and beyond, what are Lynyrd Skynyrd's plans regarding the writing of new material?

RICKEY: We're starting to write new material, but we're taking our time about recording it because we're at a crossroads with the record label. Once everything proceeds the way it should, we'll get hard at work doing what we need to do.

DAVE: Will touring and the writing of new material take a back seat to, or be affected by, Gary Rossington doing a solo album or Donnie and Johnnie's new project, Van Zant?

RICKEY: Here's the deal: Gary can do his thing, Johnnie and Donnie can do their thing, and I'm out there acting and recording on my own. What it comes down to is that Skynyrd is always number one. We never let anything get in its way. People need other outlets, there's no doubt about it. Sometimes you've got to get things done before it gets too late.

DAVE: My musical preferences lean toward the heavier genres of rock and roll. It's hard for me to evaluate classical, jazz, country, or other types of music. Please share your opinion of the new Van Zant country record.

RICKEY: It's a country record, but some of the tunes are borderline southern rock. I like the record, and it's done better in the market than Johnnie and them thought. My hat's off to them, I'm proud. But I don't consider it a full-blown country record. I was born and raised on traditional country music. My grand-daddy, Shorty Medlocke, was a traditional Mississippi Delta blues, bluegrass country player. To me, what they say is country these days isn't really what country is about.

DAVE: That's enough about 2006, let's go back in time to the early 1970's. You were the drummer and a credited songwriter on many of Lynyrd Skynyrd's original demos. Talk about the circumstances that lead to the Lynyrd Skynyrd lineup used on its debut album.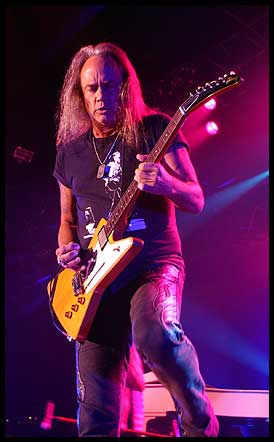 RICKEY: When I came into the band, it was in its formative and raw years. They were still trying to figure out the songwriting and a musical direction. What little did we know, but the songs we were writing and putting together would be the direction and mainstays of the band for years to come. We had the magic, the creators, and we knew what to do. I was really happy and proud to be part of that in the beginning. I'll carry that with me for the rest of my life. We try to give new stuff we're writing today the Lynyrd Skynyrd essence of what used to be.

DAVE: What was your thought process in leaving Lynyrd Skynyrd to front and play guitar in Blackfoot?

RICKEY: The chance to front a band of my own and play guitar was part of my reasoning. Also, I only have one lung. My breathing capacity is not what it should be for a drummer. I didn't have the stamina, and I knew I'd be short-changing those guys. I didn't think I could ever be the guy to bring it together and make Lynyrd Skynyrd go further. I gave it a great shot and guess what? It all worked out in the very end.

DAVE: I guess it's safe to say that after signing with MCA, Lynyrd Skynyrd heavily influenced the rock scene in Florida and "paved the way" for other southern rock bands getting signed to major record labels.

RICKEY: It definitely paved the way for Molly Hatchet. The tragic plane crash left a big void and record companies were scrambling to find another Lynyrd Skynyrd. Molly Hatchet was right there in Jacksonville and they fit the bill.

DAVE: Everybody's heard the story about Lynyrd Skynyrd deriving its name from the name of their gym teacher Leonard Skinner. Whatever happened to him? Did he show up in subsequent years trying to extort money or get free tickets to shows, or did he just disappear?

RICKEY: It was nothing like that. Honestly, he was really nice to us. It must have been a cool thing for him, having a hometown band make it.

DAVE: Where were you, and how did you first hear about the plane crash?

RICKEY: I was down the road playing in Columbia, South Carolina. Some clown came up to the side of the stage and told me my old band just died in a plane crash. I was really upset, and I figured my parents would know the facts. I called home, my Mom was crying, and my Dad told me it was true. There was a time period where I felt if I'd been there maybe I could have made a difference.

DAVE: Ronnie Van Zant wrote the song "Free Bird" following the death of Duane Allman. These days it's sad that so many names come to mind when I hear that song: Duane, Ronnie, Steve and Cassie Gaines, Allen Collins, Leon Wilkerson, Danny Joe Brown, Toy Caldwell, Jakson Spires, etc. Please share the emotions that you feel night after night playing "Free Bird."

RICKEY: There is no doubt about it that we think of those guys every night. I think about everybody I've shared a stage with who has died. We honor all of those who have paved the way for us, and the list goes on and on. They're all "free birds." Shorty Medlocke took the time to play the blues for us. I hope he's up there having a great jam session with Hendrix and Ronnie Van Zant. As some point in my life, but not anytime soon, I'll join them and jam. We do think of those things, but the one thing Lynyrd Skynyrd won't do is look back. We won't apologize for what we are. We think we're just as bad-ass as anybody else is, and we go out there every night trying to prove it.

DAVE: Ronnie Van Zant was a great singer and front man, but I think he was over-looked as a songwriter. Classic songs like "That Smell," "You Got That Right," and What's Your Name?" were personal anthems to me and my misadventures of the 1970's. I often think that Ronnie Van Zant would have matured as a songwriter. Hence, the music world was deprived of songs that he could have written about the changing times in the 80's and 90's. Do you share those sentiments?

RICKEY: As a songwriter, Ronnie was way ahead of his time. He had so much insight, writing clever lyrics that everybody could understand. He was like so many of my favorite songwriters: Bob Seger, Don Henley, Bruce Springsteen, and John Lennon. They're like painters hanging a piece of canvas on an easel, and they paint a picture your eyes can actually enjoy looking at. Ronnie, like the rest of those guys, painted a beautiful and clearly understandable picture with his words. Ronnie would have done a knock-out job writing new songs about current events and our ever-changing world.

DAVE: What are your favorite Lynyrd Skynyrd songs to perform nightly?

RICKEY: I love playing "Needle and the Spoon," "Cry for the Bad Man," "Tuesday's Gone," and "Simple Man," which was my mother's favorite Lynyrd Skynyrd song. When I play those songs, they take me back to another time. I really enjoy changing up the set, adding different things to get a different perspective, and I really love learning new songs.

DAVE: Is there an overlooked song from the back catalog that you'd like to dust off and work into the set list?

RICKEY: I loved dusting off "I Got the Same Old Blues" and "Saturday Night Special." We're going to start playing something we never do, "I Need You," off the "Second Helping" record. I'm excited that we might start playing "Ballad of Curtis Loew" again.

DAVE: Can you think of one simple sentence that best describes Lynyrd Skynyrd, a sentence that could be used as their epitaph? I think Neil Young had a perfect one when he was quoted, "They play like they mean it."

RICKEY: Lynyrd Skynyrd does play like we mean it. We are the real deal!

DAVE: Let's change gears and talk about Blackfoot. I was a big fan of the band back in the day. "Blackfoot Strikes" was an incredible record, and I wore out the album playing songs like "Highway Song" and "Train, Train." Was there one song, or even one particular concert, that you would say was Blackfoot's defining moment?

RICKEY: Blackfoot's defining songs were "Highway Song" and "Train, Train." Those songs are where we left our mark on rock history. The defining moment in concert took place in Europe. We were Southern rockers, heavy, and laden with the blues. The European crowds just ate that up. I'll never forget the first Monsters of Rock concert headlined by Whitesnake and AC-DC. The European press was calling Blackfoot "the Cinderella band" of the Donnington Festival. There was a lot of anticipation when we went on in front of 280,000 people, and we kicked major butt. We got so much mileage out of that performance. It defined Blackfoot and what we were all about, which was the music. We went on mid-afternoon. It had been raining all day so the people were soaked and wet. The band before us, More, went on and they were bombed with mud clumps, cans and bottles. I told my band that it wasn't going to happen to us. We stomped our way through a 45-minute set. The people were swaying, jumping up and down, and 280,000 heads were banging. It's honestly something that I'll never forget.

DAVE: In New Jersey, I saw Blackfoot perform many a night at the Show Place in Dover and the Capitol Theatre in Passaic. Why was the state of New Jersey such a stronghold for Blackfoot?

RICKEY: At that time, we were kicking ass while the rock and roll scene in New Jersey was in a transitional time with glam-rock bands like Twisted Sister and Another Pretty Face. Blackfoot came out of nowhere, a bunch of Indian guys wearing cowboy boots and hats, with hair down to our waists. We had low-slung Les Pauls, Flying Vees, and loud-ass Marshall amps. We gave the working class people of New Jersey something different to listen to. Blackfoot played heavy and raw. We played down and dirty.

DAVE: All of my friends from northern New Jersey have a Blackfoot story to tell. Many people ran into your band, or hung out with them, at a store called The Music Box. My dear friend, drummer Steve Peer, played in a band that you'll remember called T.V. Toy. He still talks about Charlie Hargrett and you joining him at his mother's house in Dover for a home-cooked meal. Please share a special story from your days playing in northern New Jersey.

RICKEY: We were living in Randolph Township at a place nicknamed "the rock and roll hotel." You could live there, working around the place to cover your room and board. When we moved away from there into a house, the owner accused us of stealing the mattresses and curtains. We played after that at the County College of Morris and following the concert we were arrested for larceny. The fans attending the show gathered in the police station parking lot and chipped in money to bail us out.

DAVE: When Blackfoot performed in the late 70's, many of the clubs you played in were scheduling punk rock bands like The Ramones and the Dead Boys. In concert, Blackfoot played so much faster and louder than your studio records. Was that calculated, as a response to the writing on the wall you observed first-hand with the breaking punk rock scene?

RICKEY: No, that was just the way Blackfoot played period. We were bad-ass sons-of-bitches who loved taking it to the hilt. We tried to be the exact opposites of some of those bands. It brought all of the hammerheads out of the woods, the whiskey drinkers, and the working class guys. Blackfoot gave those people something to come out for on the weekend, and it worked out well for us.

DAVE: Blackfoot has been called the most successful Native American rock band in history. I know you're very proud of your heritage, but does a band getting labeled ethnically open up more doors of opportunity, or does it keep more doors shut?

RICKEY: People attending the shows knew what we were all about and I don't think they held it against us. In a few small ways, being labeled probably shut a few doors. For example, Blackfoot grinded it out year after year, and we never got the press I thought we deserved.

DAVE: Later in its career, Blackfoot made what I considered a curious decision when it added Ken Hensley, a keyboardist/guitar player from the British band Uriah Heep. Why? Was it your decision, or were you pressured into it from management or your record label?

RICKEY: It was our decision to approve adding him, but it was the beginning of the end when we started listening to the record label. We should have told them to take Blackfoot as we were, or don't take us at all. Ken Hensley had moved to the United States, we loved British music, and it seemed like the right thing to do at that time. Looking back now, I'm not sure that it was the right decision, but hindsight is 20-20.

DAVE: There are 24 hours in every day, and a working musician spends two to three hours of the day on stage. The balance of the day consists of traveling, trying to get sleep, practicing, songwriting, and interacting with fans and the media. On stage, or off stage, which part of the day is most challenging to you and why?

RICKEY: The off-stage part of the day is more challenging. On the road, you spend 22 hours a day getting ready for those two hours onstage. Doing that day after day can be tough, but we love it so much.

DAVE: Instead of asking you to name the favorite places in the world where your bands have played, where on Planet Earth have you never traveled to play?

RICKEY: South America. I've always wanted to rock in Rio. I hear it's a blast.

DAVE: Today's music industry is radically different from that of the 1970's. Would you rather be 20-something years old, trying to break a band in today's industry, one that is heavily impacted by computer technology and the Internet? Or, would you prefer what you experienced trying the break a band in the 70's and 80's?

RICKEY: No way would I want to be a 20-year-old musician starting out now. When I started, record labels signed bands to have long-term careers. Nowadays, labels sign bands to create hit songs that will make money long term for the record company. I'm glad I did it when I did it.

DAVE: Who is the one musician who has had the biggest influence on your playing style? Who is the one individual who has had the biggest influence on your life?

RICKEY: I have to name three people who I still listen to today: Eric Clapton for the soul, Jimi Hendrix for the overall difference that he made, and Jeff Beck for the innovativeness. Shorty Medlocke had the biggest influence on my life.

DAVE: Rickey, you're also an actor with television and film credits under your belt. Before I ask you a question or two about that, which industry is more cut-throat and ruthless? The film industry, network television, or the music industry? Why?

RICKEY: The film industry is a lot more ruthless. In Hollywood, so many people are trying to be actors. At auditions, people are ready to cut your throat right away. Hollywood is so two-faced. They tell you you're great and everything is going to work out. Next thing you know, it's crickets on the phone. You never hear from them.

DAVE: When I hear the name Don Johnson, I think of the fancy suits, fast cars, and scantily dressed women on the television show that I used to love, "Miami Vice." I'm not familiar, other than by name, with his subsequent television show "Nash Bridges." Tell us about your experience working on an episode of that show.

RICKEY: It was really neat working with Cheech Marin, what a cool guy to be around. I had no one-on-one interaction with Don Johnson.

DAVE: After "Miami Vice," Don Johnson turned to pop music and released an album called "Heartbeat," and the title song was a top-5 hit. Don's never going to read this interview so I want you to be brutally honest. Are you a better singer turned actor, or is Don a better actor turned singer?

RICKEY: Don's a better actor turned singer.

DAVE: I'm not a real big television watcher, and I don't watch any of the reality TV shows. So many of them touch upon rock and roll; "VH1-Bands Reunited," a show called "Rock Star" picking the new INXS singer, "American Idol," and Ted Nugent hunting on TV. I'm creating a fictitious reality TV show called "Survivor-Rock and Rollers." If we dumped you, Ted, the new INXS singer, and all of the "American Idol" winners in the Okefenokee Swamp, why are you the one that's going to survive?

RICKEY: Because I can bass fish like a son-of-a-bitch. I can live off the land in the South. I guarantee you that Ted and me will walk out ahead of anybody.

DAVE: You also acted in a science fiction film called "Groom Lake" with William Shatner, and his name is synonymous with outer space and extraterrestrials. What's your personal belief about life on other planets?

RICKEY: Our planet is just a tiny speck of sand in a great big sandbox. There are galaxies galore and millions of possible worlds. It's mind-boggling how big this universe is. We can't be so closed-minded and conceited to believe we're the only planet floating around with some type of life. We're not the only ones. I hope we both live long enough to see the answer.

DAVE: Thanks again Rickey for agreeing to do this interview. Best of luck in the future to you and Lynyrd Skynyrd. Do you have any closing comments for your fans?

RICKEY: I really appreciate the people who came out to see my bands and their loyalty buying records. I can't thank them enough. If it weren't for the fans, we wouldn't be able to be out here doing what we do.

NOTE: THIS INTERVIEW WAS ORIGINALLY CONDUCTED FOR ROCK IS LIFE.COM

ARTIST BIOGRAPHY

Full Name: Rickey Medlocke
Website: www.lynyrdskynyrd.com
Birthday: February 17
Birthplace: Jacksonville, Florida
Hobbies: fishing, boating, hot rods
Favorite Southern Rock Band: other than the ones I played in the Allman Brothers
Favorite Southern Rock song: "Midnight Rider"
First record ever purchased: "Hound Dog" by Elvis Presley
Last CD purchased: the latest by Audioslave
Favorite venue to play: Royal Albert Hall in London
Favorite city to visit: Sante Fe, New Mexico
Favorite film: "Scarface"
Favorite beverage: Pepsi One
Favorite food: sushi