James Kottak has been the drummer for the Scorpions since the mid-90s, following stints in Buster Brown, Warrant, and Kingdom Come. As I dial the phone for this interview, instead of classic Scorpions music playing in my head, I keep thinking about Ian Hunter's album "You're Never Alone with a Schizophrenic" or the New York Dolls' song "Personality Crisis." I was about to interview a musician with multiple personalities. Medically speaking, individuals with such a disorder have at least two distinct personalities and identities, and each has its own pattern of perceiving and interacting with the environment. James Kottak, the drummer in a classic rock German band, shapeshifts into Jimmy Ratchitt, a singer/guitarist in a Los Angeles punk rock band when the night turns into early morning. I was an in-person witness to this phenomenon recently on a very special evening when James and The Scorpions took the stage in New York City at 9:30 p.m. and Jimmy started singing with his punk band Kottak for a set beginning at 1:30 a.m. I can't envision what might have happened if that night began under a full moon over Manhattan, but it ended with the sun rising over the asphalt of the New Jersey Turnpike.

Dave: Hello James. Thanks for giving me the opportunity to do this interview. 2007 was another big touring year for the Scorpions, and it also marked the release of their new record, "Humanity - Hour 1." Before I ask you any questions about that record, please provide my readers with a sneak preview of the Scorpions' plans for 2008.

JAMES: The Scorpions will be closing out 2007 with shows in Japan, South Korea, and India. Our big plan for 2008, starting around May 1, is to play 60 to 70 shows in the United States.

Dave: What is the official release date for the highly anticipated Scorpions DVD titled "Live at Wacken Open Air: A Night To Remember - A Journey Through Time"?

JAMES: It don't know about the official release date. There was talk about a November or December 2007 release to get it in the stores for Christmas, but I think a Spring 2008 release is more realistic.

Dave: At the 2006 Wacken Open Air Festival in Germany, the Scorpions had a "family reunion" when drummer Herman Rarebell and guitarists Michael Schenker and Uli Jon Roth joined the band onstage. As one of the newer members of the band, what impact did the reunion have on you?

JAMES: That show was a once-in-a-lifetime experience. For me personally, it was very special because I got the chance to go back into the history of the Scorpions. I was able to analyze and get down to the nitty-gritty of where Uli Jon Roth came from. He was only there for a few years, but he had a tremendous impact on the band. The 70s was the Scorpions time until the 80s came around and changed everything. I grew up listening to the Scorpions and U.F.O. It was great to finally have a chance to play all those older songs onstage, but I had no idea how difficult it was going to be. We played 28 songs at the Wacken show. Interpreting three decades of Scorpions music was a challenge. Yet I learned so much about the band's history, and it took me back to an era where it was all about jamming and jamming, unlike the 80s where everything was so formulated and the 90s where it was so much more contrite. It took me back to a place in time that I almost forgot!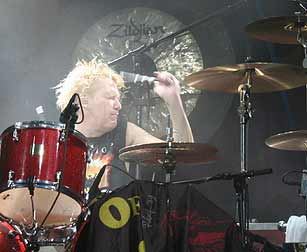 Dave: Uli Jon Roth was once quoted regarding a rumor about rejoining the Scorpions. He stated, "The idea is not to rejoin... the idea is to create some new and old magic together whenever the moment arises." Was there any new or old magic created during that performance at Wacken?

JAMES: From my perspective, it wasn't so much magical, but we definitely made a musical statement that evening in Wacken. Hopefully, the DVD will capture the spirit of that special performance.

Dave: Jumping back to 2007, congratulations and best of luck with the release of the new Scorpions' record "Humanity - Hour 1." The band spent time in California writing and recording with American songwriter/producer Desmond Child. What was the band's thought process using that strategy.

JAMES: Backtracking just a bit, in 2000, we released "Moment of Glory," where we played with the Berlin Philharmonic Orchestra. One year later, we released "Acoustica," which was acoustic versions of classic Scorpions songs. 2004's "Unbreakable" was our attempt to revisit our hard-rockin' roots with a classic-sounding record. It was a good record, but it wasn't great. For any band with a 30-year history, at some point in time it's good to look at other influences, and Desmond Child gave us that. He wrote a pile of songs that blew us away when he presented them to us. They were incredible. We had written songs as well, and we married the two of them together and came up with "Humanity-Hour 1." It's a reflection of the times we live in, a time of turmoil. The planet is in a different place since 9-11. This record is our comment, our statement on the human race and where we are right now. Without being too heavy, we are simply saying that if things don't change, we're all going to hell. The Scorpions aren't offering a solution. We want this record to be a wake-up call. Desmond Child offered us a concept and an idea. We took it and ran with it. The Scorpions feel this is the best record we've done in 15 years.

Dave: I think it's safe to say that the Scorpions took a different approach recording this album. With "Humanity - Hour 1," did the band have a pre-conceived musical direction in mind when they started writing and recording, or did the record's sound and theme take shape once the process started?

JAMES: There was no preconceived theme yet Rudy Schenker, Klaus Meine, and myself had different songs about the Apocalypse and things like that. When we met in Los Angeles with Desmond Child, he merged everything together in a neat little package. He blended our song titles and ideas with his incredible songs and notion of a concept album in a couple of days. We were never keen on the idea of a Scorpions concept album. Desmond offered us something we were looking for when we didn't know what we were looking for.

Dave: Most bands hit the studio to "pioneer" and push their abilities instead of trying to re-create a record or a sound from their past. Does "Humanity - Hour 1" explore new musical territories for The Scorpions?

JAMES: I don't know if we explored any new musical territory. What we did do was exploit the traditional aggressive hard rock vibe of the Scorpions and take it to a new level.

Dave: On one hand, it's great when bands try to explore new musical directions, yet it's a double-edged sword for veteran rock bands. How hard is it to balance creativity with the obligation to your long-time fans of playing a style of music that they are accustomed to?

JAMES: It's very hard. That's why bands like Bon Jovi and Aerosmith turn to producers like Desmond Child who try to help you grow and innovate without abandoning your musical roots. After so many years, you have to take a new approach without sacrificing the "signature sound" that your fans will expect. People change and the times change. The Scorpions couldn't take the same approach they did with "Animal Magnetism" and make it work in 2007.

Dave: In today's crazy music industry, dwindling record sales and the lack of radio airplay has forced many classic rock bands to stop recording new material. These bands continue to tour playing greatest hits sets, but they deprive their fans of new music. The Scorpions have a different approach. Please elaborate on the band's philosophy about recording new music.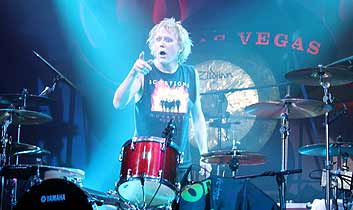 JAMES: Record sales are down, but ticket sales for live shows are not dwindling. We're playing to 10,000 people a night, and the people attending those shows want new music. It's our responsibility to give our fans new music. Maybe only 200,000 will buy it out of the 2 million that attend our concerts, but who cares? The Scorpions will never walk around like we were something years ago, or like has-beens, or like a greatest hits band. The Scorpions will never rest on our laurels. We'll always try to expand and move forward. That's what I love about being in this band.

Dave: Headlining status allows bands the space to play new material during their concerts yet many of those bands opt to only include a new song or two. The Scorpions are not afraid to play new material during their concerts as I witnessed at their recent sold-out show in New York City. They played two cuts from 2004's "Unbreakable" and three or four songs from "Humanity - Hour 1." How much effort does the band put into balancing the setlist?

JAMES: It's super important to have a balance, and we put a lot of thought and effort into deciding our setlist. With the Internet, we ask our fans at the forum on our website, www.the-scorpions.com, which songs they want to hear in concert. The reason we play so much new material is because the fans ask for it. The Internet gives them a voice, and we're a band that takes the time to listen.

Dave: Is the inclusion of newer material the Scorpions' way of challenging themselves musically night after night or can playing the classic material present its own set of challenges?

JAMES: We change our setlist nightly. That's how we challenge ourselves musically. We never tire from playing songs like "Wind of Change" or "Rock You Like a Hurricane." Presenting new material is a way of being bold and exciting and keeping things interesting. We'll never turn our backs on the past, but you have to keep looking to the future.

Dave: Your band hadn't played on the East Coast in quite a while until your September 2007 sold-out show in Manhattan's Beacon Theatre. Please comment on the Scorpions' triumphant return to New York City.

JAMES: Returning to New York was phenomenal. It's a funny town where they love you or hate you with no in-between. The Beacon Theatre is not the biggest place, but it has a history. On one hand, when you take the stage in a venue like that, you can't help but feel that the gig is important. Venues like that and Radio City Music Hall have their own vibe. On the other hand, to me, every gig to me is the same. I say that because whether it's New York City or Boise, Idaho, I play every show as if it's the last I'll get to play.

Dave: When you write a song and present a demo to the rest of your band, is it frustrating and disappointing when that song isn't selected for the album you're recording?

JAMES: Not really. The beautiful thing about being a part of this band is that Rudolf Schenker and Klaus Meine invited me to join and be an integral part of this band. I wasn't invited to just be the drummer and told to shut up. I have carte blanche to say what I want any time I want to say it. My bandmates are total gentlemen, and I'm proud to also call them my friends. When I bring a song in, it's considered. We work it up, and we play it. If it doesn't work, we don't record it. That's the same process we use for Rudolf's songs and for Klaus' songs. I'm lucky to have an outlet and an avenue to write for this band. Ten bad ideas are better than no ideas at all and often it's the eleventh idea that is used. I'm fortunate that all my ideas can be presented to the Scorpions.

Dave: Rudolf Schenker was once quoted that "Our aim as a band is to build bridges of peace between different nations." When you're playing up onstage in politically sensitive countries, are you aware that the performance that night is a small part of a bigger picture?

JAMES: We've played in every corner of the world, including Mongolia and Siberia. During the show, it doesn't really affect me until we near the encore and launch into "Wind of Change." When you play that song in Europe or Asia, the place takes on a different vibe and a cold chill goes down your back. You then realize that it's more than just another show and that the Scorpions will be leaving behind a big footprint. We were around when the Berlin Wall came down, and Klaus Meine wrote a timeless song that captured the feeling and spirit of that historic moment in 1989. When you play that song in the Czech Republic, Germany, or in Russia, it takes you back to a moment in time. It causes you to reflect.

Dave: I'm sure that music fans and media in certain countries you've played in would be more tolerant of European musicians than Americans. Have you run across any anti-American bias or prejudice in your stint with the Scorpions?

JAMES: Honestly, it's ironic that my beautiful wife Athena's family is from Greece, and we have a very strong Greek connection. After 9-11, the Scorpions were performing in Greece and during my drum solo I stood up and said "God Bless America." The entire Greek audience stood up and booed. I was distraught. The reason was that U.S. foreign policy at that time was very anti-Greece. Since then, we've played almost every year in Greece, and we play to 30,000 or 40,000 people. It's my favorite foreign country to play in and the fans are great: they are crazy and nutty. Overall, being in a German rock band, I'm assumed to be German and not American. I never get that prejudice.

Dave: Let's switch gears and please allow me to speak with Jimmy Ratchitt. In the late 90s, you founded the punk band KrunK. In 2006, you came back with a new name, Kottak, a new record, "Therupy," and a new lineup. Introduce the band.

JIMMY: I'm Jimmy Ratchitt, and I'm the singer and I play guitar. I can't really play the instrument but I look great doing it. Our lead guitarist is Chris Sheridan, and he's been a friend for 20 years plus. He comes from a bluesy and 80s rock background. Our bass player, Price, is just out of the mental institution, and my wife, Athena, is our drummer.

Dave: You once described KrunK's sound as "Cheap Trick meets Green Day on a bad day." Are you sticking with that same description for Kottak or did the band change its musical direction with "Therupy"?

JIMMY: I'll stick with that description unless there was a way to stick Foo Fighters in there as well. The musical direction got more solid. We originally recorded the record as KrunK, but our Scandinavian record label offered us money to change our name to Kottak.

Dave: What websites can music fans visit to give Kottak a listen or to purchase your records and merchandise?

JIMMY: The websites are www.jameskottak.com, www.kottak.net, and www.myspace.com/kottak.

Dave: The music business, as impacted by computer technology, the Internet, and MySpace, sure changed a lot between the release of KrunK's "Greatist Hits" in 1999 and Kottak's "Therupy" in 2006.

JIMMY: It's almost impossible to sell your CD these days. The great Velvet Revolver released its record, entered the charts at number three, and only sold 93,000 records. Two weeks later, it dropped off the charts. Gone. That's the state of the record industry. Everything has changed. A CD these days is for promotional purposes only. It's a sad state of affairs. I hope in a few years it will all balance out as CD downloading changes things. Until that gets sorted out, the music world is in trouble.

Dave: Because six years passed between your two records, what's the next logical step in the approach you are taking as you try to build Kottak?

JIMMY: Touring. It's the only constant in today's music industry. If you don't tour, nobody knows anything about anything. If Kottak could tour 100 shows a year, I'd be very happy. Then, if I could do another 100 shows a year with the Scorpions, that would be the ultimate. I want everybody to listen to our music and check out our band. The music is where it's at. But you can't force people. The world has changed, and there's so many other distractions like satellite TV and the Internet. The one thing that doesn't change is live rock and roll. That's where all of the passion and feeling comes from. Hopefully, touring will make it happen for Kottak.

Dave: Kottak also appeared at 2006 Wacken Open Air festival in Germany, giving you a chance to showcase the band to a European audience. What type of fan reception did an L.A. punk band receive at a European festival whose three-day lineup was dominated by metal bands?

JIMMY: We played on a side stage, for alternative and up-and-coming bands, unlike the Scorpions who played on the headlining stage in front of 30,000 people. It may have been only 500 people in a tent, but it worked. We got an okay response and a bit of press.

Dave: Did Kottak receive any feedback from Cyndi Lauper on your cover version of "Money Changes Everything"?

JIMMY: 99.9 percent of the people don't know who Cyndi Lauper is but Dave Iozzia does, and he recognizes our re-make of her song. Good for you, man.

Dave: Dude, I know her drummer, Sammy Merendino. I burned him a copy and sent it to him. He never told me what he thinks or whether he got it to Cyndi.

JIMMY: With all of the publishing money Cyndi will make off our CD sales, she'll never have to work another day in her life!

Dave: What feedback did you get from Klaus Meine and the rest of the Scorpions on Kottak's cover of "Holiday"?

JIMMY: Again, Klaus will never have to work another day in his life with all of the publishing money he'll make off our CD sales. Other than a guy from New Jersey named Dave Iozzia, Klaus Meine is the Kottak band's biggest fan. In Mexico City recently, at a Scorpions after-show party, Klaus got up with us and sang "Holiday." When I first stuck our CD on at a party in Germany, Klaus said it was incredible. He didn't even know it was me.

Dave: Does Kottak have any firm touring plans for 2008?

JIMMY: We'll be scheduling as many shows as possible when I have time off from the Scorpions. I hope to see everyone there.

Dave: Since my next questions are either drumming related or music in general, you'd better hand the phone back to James Kottak. The drumming community is a pretty tight-knit group. When I did an interview with your wife, Athena, she stated that she wished you would get recognized by your name and by the drumming community instead of just being known as the drummer of the Scorpions. Do you share those sentiments?

JAMES: I wish I was better known in the drum community, but I haven't milked it. I haven't pushed it. I haven't contacted Modern Drummer and other drum magazines. I'm comfortable as the drummer for the Scorpions. I don't need to see my name or face in drum magazines. It's not a priority. I have a beautiful wife and three wonderful kids. I drum in one of the world's greatest rock bands. I don't need anything else.

Dave: One of the legends of the drumming community was Buddy Rich. The only time I had the pleasure of seeing him drum in person, he hit on my best friend's girlfriend.

JAMES: You're not alone. I saw Buddy Rich drum in-person four times, and the first time I saw him he did the same thing to me and my friend Jerry. We went on the bus to meet Buddy and his band and the first thing he did was hit on my friend's girlfriend. I remember it like it was yesterday.

Dave: I'm just kidding with you James, that never happened to me, but I heard it happened to you. Your friend, drummer and author Billy McCarthy, fed me that information when he heard that I was interviewing you. I'm really looking forward to the television documentary Billy's working on.

JAMES: I'm proud to be part of that documentary, especially since it's titled "The Most Ferocious Drummers Ever."

Dave: Thanks again for the interview James, I mean Jimmy, I mean James. If time allowed, I'd love to chat about some of your previous bands like Buster Brown, Warrant, and Kingdom Come. Since our time is limited, I'll close by asking how you hooked up in the mid-80s with my favorite guitarist, Ronnie Montrose?

JAMES: I was in a band called Buster Brown out of Louisville, Kentucky. We were with a manager from Nashville, and he made a connection with Ronnie Montrose. We had a P.A. and lights, and Ronnie was planning a tour of the Southeast. We opened 30 shows and let Ronnie use our equipment. After the tour, he asked me and our singer, Johnny Edwards, to consider playing on his new record. We flew out to San Francisco in 1984 and recorded the Montrose "Mean" album. It was a mind trip, I'll never forget it, and I get cold chills thinking about it. It was the beginning of it all for me. From the time I went to San Francisco to work with Ronnie, I've never looked back.