When Black 47 guitarist/vocalist Larry Kirwan sat down to answer some questions for davesontour.com, he was sitting on his skinny arse at home in the depths of Lower Manhattan, with a couple of bottles of Sierra Nevada Pale Ale fermenting in his gut!

DAVE: Happy New Year Larry and best of luck to you and your band Black 47. Please give us some details about Black 47's upcoming CD, "Elvis Murphy's Green Suede Shoes." Also, what does Black 47 have planned for its fans and music fans worldwide as we kick off 2005?

LARRY: I had been contracted to do a memoir, "Green Suede Shoes," to be based on about 40 Black 47 and solo songs. But it seemed that some of the book needed new songs to explain what actually had happened during certain periods of my life. The songs came pretty effortlessly, and the idea of doing a new CD seemed like a good one. So, that's the genesis of "Elvis Murphy's Green Suede Shoes." As regards what we have planned - just getting from one week to another takes quite enough planning, thank you, without coming up with some master plan.

DAVE: One of the charms of Black 47 to me as a music fan is the unique blend of straight ahead rock, a horn section, Celtic instrumentation, and a touch of Gaelic lyrics. How did you develop that sound and how have you refined it since the band's inception?

LARRY: It came pretty organically. Chris Byrne and I started the band. He was on uilleann pipes, whistles, and bodhran; while I was playing a pretty effected electric guitar and a drum machine. Various musicians of my acquaintance came by to jam - some stayed and some didn't. It was more a matter of making sure that each musician had inventive musical chops, a good sense of humor and wouldn't fall over from playing a full night of intense, original music in a bar. I'm not totally sure we have refined the sound. We take a body of songs and interpret them every night. We've never done the same set twice and probably never played a song in the same way. Not rehearsing really helps with that. And, of course, with new CDs always in the offing, we're pretty much constantly trying out new material.

DAVE: For music fans that are not familiar with Black 47, is my description of your band accurate? It's never too late to start listening to a band, but what have these fans missed out on so far?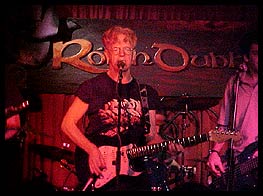 LARRY: Well, I think that we encompass a lot of the original vibe of rock 'n' roll. It's not that we play a lot of rockabilly, although there are elements there. It's more the living dangerous aspect of rock 'n' roll that we espouse. Getting up onstage and trying new things and living by our wits. The political aspect to some of the songs seems to help that too. I actually don't really like rock music, but I feel that the band has a direct link to the spirit of rock 'n' roll, which is something very different. Music to me is about rebellion and not fitting in. It's about refusing to toe the line politically. We try to live up to those ideals, in some form or another. But I've never quite known how to describe the band. There are so many different elements involved. If anyone's got any good five-word descriptions of the band's music, please let me know.

DAVE: Larry, I don't know if you appear on any music writer's "Top Ten" list as a guitarist or vocalist. Yet, as a songwriter, they are missing the boat if you're not on their lists. You've shown the ability to write songs about Irish heroes like James Connolly and Michael Collins, and in the next breath, you can write about American heroes like Bobby Kennedy and Paul Robeson. Tell us about your evolution as a songwriter. Is it your education, research, life experiences, or a combination of the three?

LARRY: Well, it's probably a lot of things but it's not consciously "research." I know what I'm writing about when I start. I also write books and plays, so I'm not all the time writing songs. Then when I turn to songs, the subject has to interest me. But it's not necessarily just about history or politics. Emotions have a large part to do with it. I have to believe in what I'm doing. Thanks for the compliment, by the way. People who have an ethnic background are not usually considered in mainstream Top Tens. I'm not even sure how valuable such things are. Personally, it's been many the year since I've turned on the radio and went "wow" after hearing a song. Then again, I'm not sure radio is the place to hear music anymore.. Basically now, I know when I'm on to something good in a song. I'm writing a musical with Tom Keneally (Schindler's List, etc.) right now. I get up in the morning and write one or two songs a day - not fully, but just getting most of the ideas down. Then all of a sudden after a couple of hours, the steam runs out as it were. But in those two or three hours, I know what's right and what's not. I guess I would go along with Miles Davis who said that "ideas are a dime a dozen, it's getting your voice that counts." I'm at that point in my songwriting career where I've found my voice - for better or worse. Refining it is another matter; and, hopefully, I'll continue to do that.

DAVE: Is Black 47's philosophy one night and one show at a time? Or, is it a philosophy of looking ahead to the next album and the next gig?

LARRY: No it's totally the first thought. All that counts is the gig ahead. It doesn't matter a damn if it's in front of 80 or 80,000. Musicians don't get pensions. What we do get are moments of transcendence. Without those nothing matters. So the gig is everything. I'm two people in music. The guy who sits at home writing and the musician who plays that guy's songs. I'm not even thinking about the guy at home when I'm on stage. I'm trying to link together a very greasy and great rhythm section and have them link with pipes and horns to interpret and put fire in those songs. Nothing else matters. The hell with the guy at home! He can write the songs, but he doesn't have to get out there 100-150 nights a year and perform them.

DAVE: I'll revisit some of your side projects later in this interview. Please introduce your bandmates and tell us something about each of them.

LARRY: Well, I go back furthest with Thomas Hamlin, the drummer. We played in Major Thinkers, Copernicus, and Chill Faction together. At this point, we have an almost symbiotic relationship. I listen to his high hat and snare as if they were my own. He has a great sense of humor, as has everyone in the band, and is an incredible mimic. He's also very song-oriented. I heard him give advice to a bass player who did some gigs with us once - "Just play the tunes. Don't get fancy." That about sums him up. He's very positive and on the money.

Fred Parcells (trombone) and I played in Copernicus together and Chill Faction. He is a consumate musician with an incredible ear. He is also a tremendous arranger. Listen to the string and horn arrangements on my solo CD, "Kilroy Was Here." A very dry sense of humor. If everyone forgets what's going on, we listen to him. He's rock solid onstage.

When Geoffrey Blythe (saxophone) dies, a part of music will go with him. They don't make them like Geoff anymore. He embodies all that English soul sensibility. He's a tremendous soloist and is a character almost beyond belief. We call him The Colonel. He is a tremendous musician and a great showman. He has a heart like a lion. His motto is, if there's a very small audience, then you have to put on an even greater show, so that those few people can go back and tell everyone: you really missed it tonight.

Andrew Goodsight is a tremendously accomplished musician, plays bass guitar with us but is also a wonderful guitarist and pianist and has a very nice and appealing voice. He too has a great sense of humor and, rumor has it, is very attractive to the ladies. An excellent arranger, he should make a good producer someday.

Joseph Mulvanerty is taking the uilleann pipes places they've never been before. I often hear him play Hendrix and Ornette riffs on that most Irish of instruments. If he sticks at it, he could become one of the great pipers. He has a great sensitivity in his playing and is just as adept at the flute, tin whistle, low whistle, and bodhran. A wild sense of humor and abandonment, he is having the time of his life. If Red Bull and Jameson's doesn't kill him, he'll take pipe playing to a new level.

DAVE: Black 47 is a New York City band. What is their favorite U.S. city to visit? Favorite U.S. venue to play? Favorite international city to visit? Favorite international venue to play?

LARRY: Those things mean nothing to me. I enjoy traveling but I'd sooner play in a shed in Jersey City with a crowd than in a castle in Bavaria with no one in attendance. Just give me four walls, a decent PA and a crowd,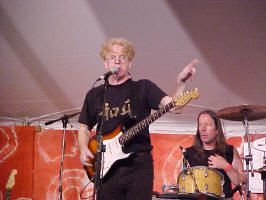 and I'm happy. I really enjoyed playing in Argentina, however, but the reasons were beyond music.

DAVE: What type of reception did Black 47 receive from music fans and the press when they toured Ireland for the first time? How about the reception in England?

LARRY: We have a small following in Ireland and they're fervent. In general, I would say that the opinion of the press over there would not be favorable. Of course, most of them have never heard or seen us; but, for the most part, they think that our politics are a bit too Irish Republican for them. Most people who see us tend to like the band. But our reputation is not the best. I would say that we're more popular in the UK, oddly enough. But the reality is that we don't play in either country often enough to make an impact.

DAVE: What is the one country, or one city, that Black 47 has yet to play that you hope one day to conquer?

LARRY: Well, I'd like to go back to Berlin, Paris, St. Petersburg and cities like that. I'd also like to play Australia and Japan. I think we've a lot to offer those towns and countries. But the economics of traveling with a large band are pretty prohibitive.

DAVE: Black 47 did cover versions of Bob Marley's "Three Little Birds," Bob Dylan's "Like A Rolling Stone," and Peter Gabriel's "Biko." Which Black 47 songs could you envision Bob Marley and The Wailers, Bob Dylan and Peter Gabriel covering?

LARRY: Now there's a question. I could see Peter doing a great version of "Bobby Sands MP." Bobby could make a fair fist of "Molly" from "Kilroy Was Here." And Mister Marley could really nail "Desperate."

DAVE: New York Dolls singer David Johansen sang on a Black 47 song, "Staten Island Baby" from your CD "New York Town." Which song would you pick if Black 47 was asked to record on a New York Dolls tribute album?

LARRY: Oh, "Personality Crisis," without a doubt. In fact, I've often thought of covering it anyway.

DAVE: As a resident of New York City, what impact did the fall of the Twin Towers have on you? Where were you when it happened?

LARRY: I watched it from my rooftop in Soho, about 800 yards away. To be honest though, I've answered that question so many times. I think anyone who is interested in my answer could go to www.black47.com - some of my replies must be posted there. And, of course, listen to "New York Town." That album was inspired by the disaster. Three of the songs therein relate directly to it.

DAVE: Is there one question that you've never been asked that you've always hoped an interviewer would ask? How would you answer that question?

LARRY: I think I've been asked about everything, including from Playgirl, my thoughts on the Irish Curse!!!

DAVE: In your opinion, is there one album that defines rock and roll?

LARRY: No. But my own favorite album continues to be "Astral Weeks" by Van Morrison, even though, for a reason, I can no longer listen to it.

DAVE: What band defines how rock and roll should be played?

LARRY: Well, I would say those shows at the old Academy of Music or the Palladium when The Clash played were as close to rock 'n' roll heaven as I'm ever likely to experience.

DAVE: What is the first album and the last CD that you purchased?

LARRY: I can't even remember the first album I bought but it may have been by Phil Ochs. The last was "Egypt" by Youssou N'Dour.

DAVE: What is the first concert and the last concert that you attended?

LARRY: I think my first was Fairport Convention back in Wexford, Ireland. The last...I don't know. I usually see bands now when we play at festivals.

DAVE: What new music artist has impressed you the most?

LARRY: I don't really listen to rock music, so couldn't say. However, I think Cristina Branco, the Fado singer, has been the best general artist recently.

DAVE: What CDs are you currently listening to?

LARRY: I'm listing to a compilation of Fado music; some Astor Piazzolla, Miles Davis, and I recently purchased a reissue of Velvet Underground.

DAVE: The phrase "desert island disc" alludes to a CD or a bunch of CDs that you'd want with you if you were stranded on a desert island. I'm going to take technology a step further and ask you for a list of "desert island DVDs." You can name 5 DVDs; two Hollywood films, two live musical performances and a compilation of one porn star's greatest scenes.

LARRY: I'd prefer a couple of books. Maybe Milton's or Shakespeare's Collected Works.

DAVE: Same porn star, same desert island. Would you rather be stranded with the porn star, with no chance of escape. Or would you rather be stranded with her husband, who has the brains and ability to possibly one day get you off the island?

LARRY: I'd like a couple of hours alone with the porn star and then a nice long bonding conversation with her husband.

DAVE: Please tell us about your solo CD "Kilroy Was Here" and how did the musical direction differ from Black 47? How about "Keltic Kids?"

LARRY: "Kilroy Was Here" came from a need to get down musically images of my youth in Wexford, impressions of my extended family and entrenched nostalgia. Oddly enough, it tended to sum up a portion of my life before 9/11. That life and the relationships sometimes feel distant to me now; but when I play "Kilroy" it all comes rushing back. I wrote "Keltic Kids" for my two children when they were very young. I thought that it might be a gift for them to look back on. That may still happen, but in the meantime, the CD has gone on to mean something to many other people.

DAVE: This March, you are releasing your autobiography, "Green Suede Shoes - An Irish-American Odyssey." Best of luck. What can you tell us about it and where can we purchase it?

LARRY: "Green Suede Shoes" will be in stores on March 1st, the same day as the new Black 47 CD, "Elvis Murphy's Green Suede Shoes," is released. It's an impressionistic look back on my life through 40 Black 47 and solo songs. Although it's in chronological order, there are many events left out. Still, it's a diary of a kind of a life. I hope people enjoy it. It's a voyage - from a small town in Ireland to the City of New York, the lives and loves I've had on the way, and the musical and political worlds that I've inhabited.

DAVE: You had another book published called "Liverpool Fantasy." When I think of Liverpool, I think of The Beatles. What is your book about?

LARRY: It's a novel that asks the questions: What would have happened to the Beatles if they hadn't made it? and How would our lives have been different? It was originally a play that has had a number of productions both in the U.S. and Europe. It's still selling well, mostly by word of mouth.

DAVE: I usually leave sex, religion, and politics out of my interviews. Sorry Larry, but I have to ask you at least one question about New York City politics. Please comment on Mayor Bloomberg's smoking ban.

LARRY: You're crazy then! That's like making love on quaaludes. But to answer your question: It's one of the best things that has happened to NYC. I personally can sing an extra two or three songs a night. That being said, I believe that smokers should have a right to congregate in clubs and smokers' bars and and puff away. It's just that the rest of us shouldn't have to endure the smoke, if we don't wish to.

DAVE: Are there any other thoughts you'd like to share with music fans?

LARRY: Not really. When all is said and done, to get a full understanding of Black 47, one should attend a show.

DAVE: My next to last question will not be understood by music fans unfamiliar with Black 47, but hey, these are my interview questions. Is there a real "Maureen" and can I please have her phone number?

LARRY: Yes, there is a Maureen. I hope she's happy wherever she is tonight. As for a phone number, well you had to earn it by being so bad.

DAVE: Thanks so much for the interview, Larry. My final question is what's up next for Larry Kirwan?

LARRY: Life in its fullness, and the more the better.