When Joey Vera, the bass guitarist for Fate's Warning and Armored Saint, kicked back to answer interview questions for davesontour.com, he was recuperating from a trip to Amsterdam (it takes him a while get back into normal sleeping patterns).

Dave: Hey Joey, thanks for letting me conduct this interview. Your temporary stay in Anthrax has ended, and the band is going back to its original lineup. Describe your mixed emotions as a musician departing that great band. What are your expectations as a music fan from the newly reformed Anthrax?

JOEY: Well I've stated that I had a great time while I was playing with Anthrax, and it was a bit sad when it ended. But I knew my time was temporary. I really had a great time working with them. I expect the band will have a blast with the original lineup,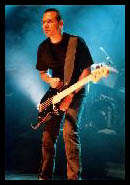 some good old reminiscing and some good laughs. I'm sure the show will be great.

Dave: Anthrax announced in 2004 that bassist Frank Bello was leaving the band, and that you'd be filling in for the Japan/Australia tour only. That changed really fast as you did two legs of a European tour, and you just finished tour dates in South America. Those tours took you to locations you've never been before. We've all heard the stories about the girls in Brazil and the awesome food in Italy. Please share a memory or two about some of the other countries you visited for the first time.

JOEY: Japan was amazing, like no other place I've ever been. There were times when I wasn't sure if I was on Earth. I had always heard in the old days that the crowds there were subdued, and they had to stay in their seats during a show. But it's different now, the crowds there are pretty nuts. Lima, Peru, of all places, was one of the most intense concerts I've ever played. The crowd there was insane! We had to have police escorts in and out of the venue because the crowd was like an angry mob.

Dave: The year you spent playing in Anthrax must have been filled with highlights. I'd guess Vinnie Paul sitting in on drums for a song at the Dimebag Darrell foundation concert in Chicago was one of them. Tell us more about that night, and how'd Anthrax drummer Charlie Benante do on guitar for that song?

JOEY: That was a pretty special night. There was such a good vibe in the house with all of the bands, and the crowd was showing so much love and appreciation. It was a pretty cool feeling. When Vinnie came out the place just erupted. He plays with such power anyway, but that night he was intense. I myself was in awe. It was a privilege to have jammed with Vinnie Paul on stage. Oh, and Charlie was rockin' on the guitar. At one point he was up front and had his leg up on the floor monitor rockin' out. His secret dream.

Dave: What was the biggest highlight during your stint in Anthrax?

JOEY: I can't say, there are too many. The highlights were by far the gigs, and there were so many that were just amazing.

Dave: What was your favorite Anthrax song to play every night? Why?

JOEY: Well there's several that made me go completely nuts: "I Am The Law," "Indians," "Refuse to be Denied," "Fueled," "Room for One More," "Only." Great songs and really fun to play.

Dave: Fate's Warning just returned from a one-off gig headlining the Headway Festival in The Netherlands. Tell us more about Fate's Warning's appearance at that show, including the performance of your rhythm section partner, drummer Mike Portnoy (Dream Theater.)



JOEY: It was in Amsterdam, and it was really cool. We had an eight-hour rehearsal the day before, and we did the gig the next day. For all of us it was a crazy thing just showing up for one show. We didn't have any time to get comfortable you know? By now we've done most of the songs so much that it's like riding a bike. For Mike it was harder as he had to learn a 90-minute set basically in a day. But it's Mike Portnoy, he's just a monster. We all had to learn an OSI (Office of Strategic Influence) song which took some work on my part! I had such a great time playing with Mike. He made the set really heavy. I never really realized how much power he added to our band until we hit the stage that night. Then he turned it up. A complete privilege for me as a bass player. He's one of those guys that makes you play better. He's also great guy to hang out with, we had a blast.

Dave: Fate's Warning fans can check out the new video for "Simple Human" and anticipate a live DVD from a headlining show in Athens, Greece. What else should fans expect from the band during the summer and fall of 2005?

JOEY: I'm pretty sure we're taking the summer off, but there are some loose plans for possibly something in the fall or winter. But nothing is confirmed.

Dave: A few months ago, Fate's Warning toured Europe with Nick D'Virgilio (Spock's Beard) on drums. How difficult is it for you, the bass player, to work with different drummers?

JOEY: Well we're talking about Mike Portnoy and Nick D'Virgilio here. There's not much to adjust to except raising your own self to the occasion. They are both different drummers yet they have the same great feel with grooves and the (more than) occasional odd time signatures. I loved grooving with both of them. You gotta stay on your toes!

Dave: I've read several different versions of the story on Mark Zonder's status as drummer for Fate's Warning. Is the official band lineup now Ray Alder on vocals, Jim Matheos on guitar and you playing bass? Is Mark drumming on future Fate's Warning studio releases but not on future tours?

JOEY: I never know what's going to happen.

Dave: Fate's Warning covered Rush's "Closer To The Heart" and DIO's "Sign of the Southern Cross" on two separate tribute albums. Let's imagine those two bands returning the favor. Pick a Fate's Warning song for each of those bands to cover.

JOEY: Rush doing "Still Remains" and Dio doing "Heal Me."

Dave: You must have racked up many frequent flyer miles touring the last year with Anthrax and Fate's Warning. When it's time to cash them in and take a little vacation to somewhere on planet Earth that you've NEVER been, where are you going?

JOEY: The French Riviera, the Italian Riviera or the Pacific Coast of Costa Rica. Do we see a pattern here?

Dave: Joey, please be as realistic and as optimistic as possible. When can Armored Saint fans expect a new studio album?

JOEY: This subject is still in a quagmire. I really can't say one way or the other at this point.

Dave: Armored Saint did release a new DVD recenty. It was titled "Armored Saint Magazine-Lessons Not Well Learned." What is the one lesson that Joey Vera never learned?

JOEY: That I should get a real job.

Dave: Joey, with all that you have learned, seen and heard, what is your philosophy of life?

JOEY: To quote a very infamous keyboard player: "Have a good time, all of the time."

Dave: Is there any one show that stands out to you as Armored Saint's greatest live performance?

JOEY: That's a tough one. But one of the more recent shows comes to mind. We played at the Wacken festival in Germany in 2000. It would be our first show in over eight years. We were not on the bill at first as John was busy with Anthrax, but his plans fell through at the last minute and we were put on the bill. It was all word of mouth though as we missed all of the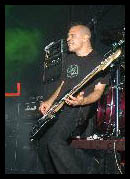 advertising. So, there was a huge buzz that we were to be playing. I don't think we've ever had that kind of energy buzzing around a gig before. So, we just lit the stage on fire. I spoke to several people later who said they had tears in their eyes. It was a pretty magical show. I myself almost jumped out of my skin.

Dave: Here's your chance to promote Gonzo and Phil Sandoval's solo project. Please tell us what you know and what you've heard from Yo Diddley. I'm guessing it's a bit different than Armored Saint.

JOEY: They have a blues/rock band, and they play around town a bit. I've actually never seen them but I think they mostly play covers. Hendrix, stuff like that. I think they're just doing it for fun.

Dave: As a 17-year-old, you played bass in the Greg Leon Invasion. Greg has a new version of the Invasion and a new CD. We were chatting about it the other night, and Greg shared a humorous story with me. He told me that he always affectionately referred to your high school classmate friends as "Joey's pot-smoking buddies." One night you phoned him, claiming you were too sick to rehearse with the Invasion. Yet later that night, he caught you red-handed, jamming and partying with those buddies. Was that the early, formulative days of Armored Saint? What's your version, since there's two sides to every story with the truth somewhere in between?

JOEY: Ha! That's exactly what happened and that's one of my favorite stories. You see, I had been friends with the Saint guys since grade school. They started Saint after I was already in Greg's band, and they used to always try to get me to join. I had been with Greg for almost a year by that time so I wasn't just gonna quit right away and leave him hanging. Saint had been together for a couple of months. But yeah, that night we were all stoned and in a jam heaven state when they walked in. It was classic stuff. I think from that day on Greg knew it was just a matter of time before I went and joined with my "pot- smoking buddies." I think I quit two months later. Greg was mad, but I think he understood after a while. I felt bad cause Greg was always cool to me. He was also fun to hang with and a really great guitar player. I learned a lot from him.

Dave: Seven Witches played a few gigs recently where Jack Frost tore up the place on guitar, yet it wasn't you on bass. Have you officially stepped down as the bass player for Seven Witches?

JOEY: Yes I have. Jack needs someone who is totally 100% dedicated to the band and I could not give him that. I like to have the freedom to play with many different people and that liberty was just getting in the way.

Dave: What is your involvement on the upcoming Jack Frost solo CD "Out In The Cold?"

JOEY: At this point I'm just playing bass on a few songs.

Dave: Please tell me a bit about two projects on your discography that I know absolutely nothing about, Engine and Tribe After Tribe.

JOEY: Engine is a side project band that I have with Fate's Warning singer Ray Alder and Agent Steel guitarist Bernie Versailles. We did two records on Metal Blade, and the stuff is a bit new school metal but with actual singing. Heavy grooves and melodies. It's a very fun band. Tribe After Tribe is a band fronted by Robbi Robb who is originally from South Africa. They've done several records, a couple of which came out on Atlantic. I've played on two records. This is kind of a hard rock/jam band. A little like Jane's Addiction meets some crazy tribe in the jungle. I love this band because the music is never played the same twice. It's all about the moment and spontaneity. There's a lot of room for improvisation, and it's a great way to interact with the other musicians. Some of my best times in a live performance have been with Tribe.

Dave: You played bass on one of ex-Dream Theater keyboard player Kevin Moore's Chroma Key CDs. Kevin has also played on a few Fate's Warning CDs. I once read a quote from you about your dislike of keyboard players in rock bands. To paraphrase, you stated that a band should sample, and let its guitar player hit a button on the floor to trigger keyboard noises. Please elaborate on your thoughts about musical collaboration with keyboard players.

JOEY: Wow you really dug up some dirt! I think I was referring to keyboard players in metal bands. And I must have meant bands of the 80's because some keyboardists are classic. Jon Lord, Don Airey, Darren Wharton to name a few. The thing is that I feel like the keyboard should be a supporting instrument in heavy rock music. It's different for progressive rock where it's an important part of the whole picture. I like keyboards and samples in small doses in heavy metal music. Having played with several keyboardists in Fate's Warning, I think it's essential for progressive music to have a player right there playing it live. The keyboard is gonna give you colors that no other instrument will and I'm all for more colors! There!

Dave: You've shared the stage and/or studio with so many great musicians. Here's your chance to form a supergroup for one CD/tour, with musicians you've never played with. You're on bass guitar. Who would be your lead guitarist, rhythm guitarist, vocalist and drummer? I assume you don't want a keyboard player in your supergroup.

JOEY: Actually in MY supergroup, I play guitar! Lemme is on bass and vocals. Phil Taylor is on drums. That's right, I want to join Motorhead!

Dave: Let's talk about balance, and I don't mean the Van Halen album. How does Joey Vera balance the logistics, demands and different mindsets when playing in multiple bands at the same time?

JOEY: Good question. You just do it (to quote a giant money grubbing slogan.) There's no other way. You can plan, make appointments, have all the items in order and then - it all goes south. You have to be ready and willing for almost anything. You need to be flexible and in a neutral state of mind. And once you're able to get into it, you have to be there 200%, totally focused. So, I go overboard usually and make sure I'm ready for anything. I do lots of homework. There's been times when I wasn't so ready for something and it all goes to shit. You only get once chance sometimes, so do your homework.

Dave: You've played in many rhythm sections with awesome drummers like Mike Portnoy, Nick D'Virgilio, Charlie Benante, Mark Zonder, Gonzo, and countless others. As a bass player, what qualities in a drummer are most important to you when you're onstage? With that in mind, who is the best drummer you've played with?

JOEY: I think I can be pretty demanding in what I want from my drummers because I tend to move my principles around at any given moment. But if I had to narrow it down I would say that I need the drummer to hold a tempo and groove (and this includes all the chops) with what is happening at that moment. That is to say that every night is different and the band is as a whole, one big living thing. The drummer needs to be in tune with everybody else. When that happens we can both push and pull the groove whichever way. That's magic for me. I find it distracting to play with musicians who are overly self-indulgent. I cannot say who is the best drummer I've played with. I've played with some amazing musicians who all have something unique.

Dave: That's enough about Joey Vera the musician. Tell us about Joey Vera the producer. What are you producing now or over the next couple of months?

JOEY: I mixed a demo for a band out of France called Maladaptive and they are looking for a deal. Other than that, nothing right now, but I am talking to Jack Frost about doing some work with him in the near future.

Dave: Has your biggest challenge as a producer been on projects that you both produce and play on? Or was it one band that stood out as being difficult to work with that presented the biggest challenge?

JOEY: The biggest challenge is usually working with a group of people who are not ready to make a record. It's an uphill battle.

Dave: What album in rock and roll history stands out to you as being so over-produced that less production would've made it a better album?

JOEY: I like production qualities so I've never looked at it that way. I can think of some records that would have benefitted from better production though, that's for sure.

Dave: Which new band would you like to one day produce? Why?

JOEY: I'd really like to produce some different kinds of music to be honest. R&B, Folk Rock, Funk. Stuff that really shines on the song and performance.

Dave: The Rock and Roll Hall of Fame recently announced its inductees for 2005, which includes rock bands U2 and the Pretenders. In previous years, this organization has even inducted punk rock bands like The Ramones, Talking Heads and The Clash. In my opinion, they have over-looked and snubbed heavy metal bands like Black Sabbath, Deep Purple and Judas Priest. Please comment on the fact that no metal bands, except for AC-DC, are in the Rock and Roll Hall of Fame.

JOEY: Well yeah if you're gonna acknowledge certain bands, you have to include lots of others. But really I don't care much about awards and labels of "fame." So and so says that this band is great. Says who? It's a little trivial to me. I don't think most music fans are using the Rock and Roll Hall of Fame as a yardstick. Have you been there? It's like a glorified Hard Rock Café except you can't order the swordfish!

Dave: At this point in the interview, would you like to switch places and ask me a question or two?

JOEY: Do you think the internet is helping or hurting the quality of music that is being created today? Why?

Dave: I think the internet helps with the quantity of music obviously. As far as quality, I think it hurts. Any band with a website can put up a soundclip or an mp3. I think that many new bands, in a rush to upload a song, sacrifice quality. First impressions mean a lot and these bands risk alienating listeners. On the other hand, established bands can take the risk, uploading 'b' side quality material at their websites.

Dave: Who is the one musician or music professional that has had the biggest influence on your career?

JOEY: I've been lucky enough to have surrounded myself with many different musicians. I learn from all of them and I cannot say that there is just one who was the biggest influence. They are all an influence collectively.

Dave: Imagine that there is a time warp that has opened somewhere in the hills of California. If you could reach into the past, and pull a rock band into the present so that this generation could see them perform, what band would you grab? If you could push a rock band from the present into the future, so that our generation would never have had to endure their pitiful music, which band gets the heave?

JOEY: Thin Lizzy. All the teenie pop crap gets the heave.

Dave: Here's your last chance to promote anything I've neglected to cover.

JOEY: Check out my website. It's real neat. www.joeyvera.com Also, I'm starting to work on my second solo CD.

Dave: Thanks again Joey for agreeing to do this interview. Best of luck in the future to you. Do you have any closing comments for music fans worldwide?

JOEY: I thank you for the interview and for everyone who stays interested in my work. I really appreciate it! Thank You! Metal!

ARTIST BIOGRAPHY
Full Name: Joey Vera
Website: www.joeyvera.com
Birthday: June 6, 1966
Birthplace: I was..... Borrrrrrrrrrn in East L.A.!
Hobbies: Relaxing
Favorite metal Band: Black Sabbath
Favorite metal song: "Black Sabbath"
Favorite rock Band: AC/DC
Favorite rock song: "Riff Raff"
Favorite venue to play: Peabody's DownUnder in Cleveland
Favorite film: John Carpenter's "The Thing"
Favorite beverage: Wine
Favorite food: Any that is cooked with fresh ingredients and lots of love.