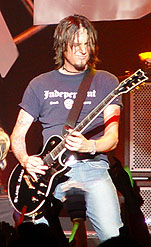 When Dave's On Tour caught up with ex-Vince Neil Group lead guitarist Jason Hook, he was at home relaxing and watching a Vietnam combat documentary on DVD.

DI: Jason, on behalf of metalforever.com, I'd like to thank you for doing this interview. Last spring, you toured as lead guitarist in Vince Neil's band. How many Motley Crue songs were in the setlist and which was your favorite to play every night?

JASON: We played 99% Motley Crue. The only Vince Neil solo song we ever played was "You're Invited (But Your Friend Can't Come)." My favorite song to play was "Too Young to Fall in Love" or "Kickstart My Heart".

DI: I've heard metal fans mumbling that Vince Neil will not be able to pull it off on the upcoming Motley Crue reunion. After playing with him night after night, what would you tell Vince's detractors about his voice quality, stamina and stage presence?

JASON: He'll pull it off, no probs. Out of all the Motley Crue guys, Vince is the only one who has been playing those songs. I doubt he'll even have to rehearse.

DI: Vince Neil did the reality show "The Surreal Life." Which TV show would you rather have seen him in:

• "The Apprentice," getting fired by Donald Trump?
• "Fear Factor," eating worms?
• "The Sopranos," getting whacked by Paulie Walnuts?

JASON: Fear Factor………..that show freaks me out.

DI: This summer your toured the United States, selling out the big arenas, playing lead guitar in Hilary Duff's band. Congratulations on landing that job, how did it happen?

JASON: Thanks, ………………how did it happen? It really has a lot to do with relationships that I made when I played with Mandy Moore. The pop world is a pretty small loop of musicians. I'm fortunate to have made those ties early on. Not too many rock guys are considered for pop gigs, I must admit it was a total head fuck to go from Vince's show to Hilary's show…………….I loved playing with Vince. I'm miss it terribly. It was tough, aggressive and angry…………….way more my vibe. I refuse to work a regular job, so I took the route of survival. Surprisingly a bunch of my buddies in well known rock bands asked me if I could help them get into the Hilary Duff group.

DI: Jason, bring us behind the scenes for a moment. How much better are the accomodations, travel and amenities on a huge arena tour?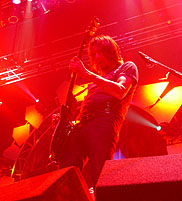 JASON: 5 star, A+ all the way. The Hilary Duff organization is extremely generous. Sometimes I'm stunned at the accommodations. It really makes long road trips more comfortable when you stay at the Four Seasons and not a Best Western, even though I'm perfectly fine with Best Western. My only hotel need is a high speed internet connection, not heated marble floors.

DI: How much material from the new "Hilary Duff" CD will be in the setlist during the Canadian/U.S. tour in January?

JASON: Honestly I don't pay attention, so I don't know what's on the new CD but my guess would be we'll play "Fly" for sure and ................no wait, I remember now, the new ones are "FLY," "Weird," and "Do You Want Me?" Oh yeah, and "Rock This World." It took me a minute.

DI: How much did your guitar rig change playing arenas?

JASON: I spent a bunch of money. My tech Brian and I built this new rig which was fancy but in retrospect unnecessary. I freak out before big tours. I want everything new and perfect, the truth is I have plenty of adequate gear to get the job done. I will say Randall have always supported me. That company kicks ass. All you guitar players out there MUST hear the RM100 module preamp Tube head. I use the SL+ module preamps (which are designed to emulate a hot rodded JMP 100w.) I have gear pictures that are on my website for people to check out.

DI: Jason, you have a new solo EP, "Safety Dunce." It won the award for Best Instrumental Record at this year's L.A. Music Awards. Congrats. Tell us about it's musical direction and how we can check out your sound?

JASON: Thanks! Musical direction?.................it's instrumental guitar music, but I must tell you it's not typical …………………………..the truth is I never liked guitar music. Most of the guitar albums I remember hearing were very clean and clever sounding with a ton of weird chords and changes. I hate educated sounding guitar music. I always thought "M.I" (Music Institute, a famous guitar school in Hollywood) was a security blanket for theory losers. I wanted to do something hard, angry and nasty sounding. Even when I listen to "Safety Dunce" now I think it's too safe. The new material is going to be ugly. I want parents to hate it.

DI: What other musicians played on "Safety Dunce?"

JASON: My favorite drummer and co-producer Jeremy Spencer, check him out at www.drumsfromhell.com.
Marty O'Brien from Methods of Mayhem came in for some bass.

DI: Do you have any solo gigs scheduled supporting "Safety Dunce?"

JASON: Not yet. I would like to mention that I'm shooting a "Making Of " documentary. "Safety Dunce" is half of what was supposed to be a full length album. That's why it's called an EP. I have been filming all of the "behind the scenes" writing, recording, arguing and laughing from the sessions which I'll edit into a DVD to be released when the full length CD is ready.

DI: Since your solo EP is instrumental, what is your favorite rock instrumental?

JASON: I don't really listen to instrumental music. Maybe I would say "Frankenstein" by Edgar Winter or "YYZ" by Rush. I wish some more of my favorite players would do instrumentals. Can you imagine Zakk Wylde doing an all guitar record, or Dime and Vinny from Pantera just riffing and jamming. It would be sick!

NOTE: Jason is a huge fan of the late guitarist Dimebag Darrell. This interview took place a few weeks before Dime's senseless murder. On December 8, I watched Jason play guitar in Hilary Duff's band and he wore a Damageplan t-shirt that I had given him as a Christmas gift. A few hours later, Jason e-mailed me with the tragic news. Dime, rest in peace.

DI: If you had a chance to form a supergroup and tour
"Safety Dunce," using musicians that you've never played with, who's in the band?

JASON: Well, let's see.....

Dave Grohl - Rhythm guitar/lead vocal
Vinny Paul - Drums
Glenn Hughes - Bass/ Vocals

DI: What is the one guitar you cannot do without? Why?

JASON: I built one cheap ass silly looking guitar in 1988 and I call the "Ugly Duckling." It's a total piece of shit. I use it for all my recordings. There's a picture of it on the back of my album, if anyone is curious.

DI: Who is your favorite guitar player and how did he influence your playing style?

JASON: Ritchie Blackmore. It's hard to explain in words what I took from him. I use my fingers on my right hand like he does, it's like having 4 different picks on one hand. By the way "Smoke on the Water" is plucked 4ths, it was never picked.

DI: Who are the first band and the last band that you've seen play live?

JASON: First real concert was the 1982 Rush "Signals" tour at Maple Leaf Gardens in Toronto. The last band I saw was Van Halen in Bozeman, Montana on November 14th.

DI: Can you share with us your favorite metal music moment?

JASON: My favorite Metal Moment was definitely with Vince Neil, actually it was a year of metal moments. I had to define one, it would be Vince , Nikki Sixx and myself having a meeting backstage at the Key Club in Hollywood, trying to figure out what songs Nikki could come up on stage for to jam. Vince couldn't really remember the set list, and Nikki had prepared "Shout at the Devil" and "Live Wire" which we opened the show with, so that wouldn't work. I was spitting out suggestions to both of them, Vince would say "yeah, come up and play that one" then Nikki would look at me and say "I have no idea how that song goes, and I wrote it." It was funny.

DI: Which band should put all their issues behind them, reform, record an album, and do one last tour?

JASON: Deep Purple with Ritchie Blackmore or Van Halen with David Lee Roth.

DI: What is the one question you've always wanted an interviewer to ask you? How would you answer that question?

JASON: Not sure, your questions have covered a lot of ground.

DI: What CD defined rock and roll in the 20th century? What's the best CD so far in the 21st century?

JASON: I would think Guns 'N Roses "Appetite for Destruction" was a defining rock album, although I never owned it. "Destroyer" by KISS, Deep Purple's "Made in Japan" or "Machine Head," Van Halen's first album. The best CD in the 21st century………..I like Damageplan's CD.

DI: Are you committed to Hilary Duff for another summer tour in 2005?

JASON: Yes, but it's a little frustrating for me. I love my job, but I'm really into establishing myself as a writer/player/producer. The reaction to "Safety Dunce" has far surpassed my expectations. It's a buzz, and makes me want to do more, but it's really hard to make records when you're on tour all the time.

DI: Thanks so much for the interview, Jason. Please share some closing comments for music fans reading this interview?

JASON: I'm one of you and I live for heavy music. I hope someday soon I'll be back on a stage tearing it up for metalheads everywhere.

ARTIST BIOGRAPHY

Full Name: Jason Hook
Website: www.jasonhook.net
Birthplace: Toronto
Former bands: Vince Neil, Monkey Head, Killer Dwarfs,
Hobbies: Websites
Favorite Metal Band: Pantera
Favorite Metal song: "Burn" by Deep Purple
Favorite film: "Platoon"
Favorite city to visit: New York City
Favorite venue to play: DTE Energy Center in Detroit