Dave: Thanks so much for agreeing to do this interview Joel.

Joel: It's all good, man.

Dave: We're going to chat about your solo CDs, a Broadway musical, and your stint in the rock band Night Ranger. Let's start off our musical journey in New York City with your solo music, take a side trip "on Broadway," and travel to the concert halls of North America with Night Ranger

Joel: All right!

Dave: You've recorded three solo CDs, and the latest is titled "13 Acoustic Songs." Music fans can purchase this CD through a link to the online retailer CDBaby, which I'll imbed into the text of this interview. Will you have copies of your CDs available for fans to purchase if they look you up at a Night Ranger gig?

Joel: Probably not. My solo CDs are more or less available online. When I'm out with Night Ranger, only their stuff is available at the merch booth. If anybody asks me about my solo CDs before or after a Night Ranger show, I'll steer them to the online websites.

Dave: CDBaby's notes to "13 Acoustic Songs" state that this record is "an acoustic guitar record with an emphasis on melody and arrangement rather than solos and technique." Why did you choose that musical direction at this point in your career?

Joel: I didn't really choose it; I was just doing a lot of that style of music at the time. I was writing a lot of vocal tunes. Instead of me sitting around and singing, I would play the melody up top, like a pop song. I came up with songs I was playing through that way, instead of singing along. It was very natural at the time. Instead of having a collection of tunes that I had written that wouldn't get used, I decided to lay them all down. I decided to do it in the acoustical style. Some are not so much directly that way as they are me experimenting with open tuning and finger picking. I wasn't trying to write things that would be difficult to play. I was trying to come up with stuff that would be nice to listen to.

Dave: I was listening to "Twigs" from that record when I typed that question. It's my favorite cut because of the mental imagery it provides to me as I listen. What's your favorite and why?

Joel: I guess my favorite is also "Twigs." Part of it was the visual image of me taking my dog that passed away to the park in the morning. Basically the dog would play fetch, grabbing twigs that I'd thrown. The tempo and pace of that song give me that visual. That song has a nice memory for me.

Dave: "Great Minds" is another track I really enjoy. It's been said that great minds think alike. A friend of mine who listened to this record had the same opinions I had about the range of emotions that you showcase on this record.

Joel: Thanks man. I like that track also, especially how it moves back and forth from G Minor to G Major. I love songs like that. A lot of 60s music moves that way. The main melody has a little classical thing in it. I have a little bit of a classical background. Both of my parents are classical musicians. I did a couple of years in college playing classical guitar.

Dave: How much effort did you put into sequencing "13 Acoustic Songs"?

Joel: Quite a bit. I labor over that a lot and I never know what to think.

Dave: Opening tracks and closing tracks are usually pretty obvious. I like to judge a musical artist by the way they sequence the middle tracks, and this record flows from 1 to 13 really well.

Joel: Thanks dude. That's a great compliment. I spend a lot of time sequencing.

Dave: Your second solo record is titled "The Moon is Falling." I'm sure that music fans will enjoy listening to the title track at your MySpace page, www.myspace.com/joelhoekstra. Would there be Joel Hoekstra solo CDs without the Internet?

Joel: I think I would have made the records regardless. The thing with all of my records is that I don't make them to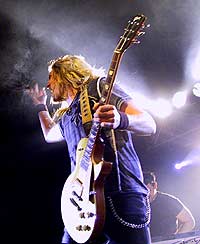 make a living. I make them because I want to make them from an artistic standpoint. It's too hard of a thing to make instrumental music and look at it that it's going to be your living. It's not happening these days for that type of musician. There's not enough of a market for instrumental music, but that doesn't mean I don't want to make records in that style. My future records don't have to be instrumental guitar albums. That's just what I felt like doing at the time I did them. I think my next record might be a band thing with other musicians around me. I'd like to have a singer on it. Someday I might do a real heavy record with me singing. I used to sing in a thrash band. I'd love to make a record like that. I have a lot of things in me musically that I still want to do.

Dave: If I mailed you a blank check and told you to assemble a dream band to tour supporting your solo CDs, who would it be?

Joel: My dream band would have Virgil Donati on drums and Ric Fierabracci on bass guitar. They were the rhythm section on my first two solo records. I'd want Brett Garsed on second guitar. He's one of my all-time favorites. I'd like to be involved with him musically in any shape or form. As far as keyboards, I couldn't even tell you. I don't think about things like that. It would be more fun to assemble a night of guitars. That would be a dream because you'd have to be so sharp on all of the elements. If you could pull it off, it would be the best thing for your playing. I wouldn't necessarily picture myself going out to tour with it. Instead, I'd love to hold down a residency in some club in New York City or Los Angeles and play once a week. It's too grinding a scene to tour full time.

Dave: Since the Internet is the distribution point for your solo records, do you spend much time these days on the computer marketing yourself through the social networking websites?

Joel: Not really. I did more social networking with my first two records. I didn't think "13 Acoustical Songs" would make much of a splash in the guitar community. It's a placement-friendly CD. Most of those songs can be used on television or in film. I'm concentrating more on that than trying to get guitar players to give it a listen. To further answer your question Dave, another aspect is that I'm so busy right now. I'm basically playing every day, whether it's in "Rock of Ages" or with Night Ranger.

Dave: "The Moon is Falling" is a record that touches upon many influences: rock, funk, classical, fusion, and jazz, and you intertwine these influences throughout many of the songs. My favorite, "Fire Island," has a jazzy, almost carnival-like sound in parts, but it transitions with ripping, hard-rock guitar. Why did you choose to incorporate differing styles and themes within individual songs?

Joel: I was doing a lot of practicing at that time. I was trying to come up with some odd time signature ideas during that era. Not necessarily playing fast, but there was a lot of time-oriented ideas on that record. It's massively layered, but you can take it down to one guitar at most points. The songs have the basic groove that I was playing with a lot of other stuff written over the top. It's still a riff-oriented album in a lot of ways, more than progression-oriented, if that makes any sense.

Dave: As I listened to your first solo CD, 2000's "Undefined," I heard elements of jazz fusion, instrumental rock, and a whole lot more. Is the record's title a subliminal or possibly blatant way of stating that you don't what to be labeled?

Joel: Yes. It was my first thing being put out there to the world. I had a lot of fear of having people say "he's just one of those guys." I don't like to be categorized as one thing. I've learned to play different styles, and I've been through a lot of things in my musical career. I like the fact that I'm versatile. I didn't use any pictures of me on my debut CD, again because I didn't want to be categorized. I always liked the mystery of wondering what a musician looked like if they didn't use pictures on their record. Today, because of the Internet, all of that magic is gone. Back in the day, you could listen to a record for a year and not know what the musician looked like until they went out on tour.

Dave: I think that "Space Cowboy" is a brilliant track from your "Undefined" CD. I don't know what I like more: the pickin' or the chickens. Or the vocals or the lyrics! Or the banjo and scratchy vinyl sounds in the background!

Joel: That's not me on banjo. It's a guy named John Rice. I got my banjo chops together to a degree after making that record. I had never touched a banjo when I made that record. John Rice is a great session player from Chicago. He played banjo and mandolin for me. We had a lot of fun with that song and that record. I wasn't writing anything that sounded like Planet X at that time. That's what's cool about that record. Virgil Donati, the drummer from Planet X, barely heard of me. He didn't know if the record would see the light of day. His playing is real carefree and off the cuff. You get to hear him playing thirteen tracks that are basically in 4/4 time instead of a million time signatures. He's really going for it on "Undefined." Basically, everything on that record from Virgil was a first take. He listened to a song once, went out and played it, and that was it. It's really cool to hear how he sounds going for it. With Planet X, he would spend hours and hours putting his parts together. A lot of Virgil's fans love "Undefined."

Dave: In a 1963 Drifters song "On Broadway," later made famous by guitarist George Benson, the lyrics state that the neon lights are bright. Since April 2009, those neon lights have been shining bright for a Broadway play titled "Rock of Ages." It's a musical built around classic rock hits from the 1980s. You are one of the guitarists in the stage band. Have you been in the show since Day One?

Joel: Not since Day One, but I've been in it since it landed in New York City. I did the show October 2008 through December 2008 off-Broadway. It closed down for a few months before it moved to Broadway. We started rehearsing in March 2009, and it opened as you said in April 2009.

Dave: "Rock of Ages" is not your first theatrical endeavor. What else have you done "On Broadway" and off-Broadway?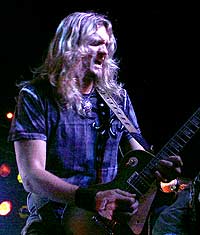 Joel: My first professional gig was a rock theater thing, playing in the show "Love, Janis" in Chicago. That was obviously about Janis Joplin. I was living in Chicago, teaching guitar, and playing a few good gigs here and there. "Love, Janis" had a nice run in New York City off-Broadway. I came east to join the show, telling my friends in Chicago that I'd be back in a few months. It ran for two years! By the time that it was done, I had played in more than 700 shows. I decided to just stay in New York. I also toured with that show. I also did a show called "It Ain't Nothin' but the Blues." That was directed by the same guy that directed "Love, Janis." I did five cities with that show. In New York City, I subbed on some more orchestra pit stuff. Low and behold, "Rock of Ages" came up. A lot of the theater stuff is a product of living in New York City. Theater is what's happening here. There are thirty Broadway shows, and I don't know how many off-Broadway. A lot of those shows need guitar players. If you live in the city, you get those gigs.

Dave: What was the audition process for "Rock of Ages"?

Joel: There really wasn't one. It was more about all of the other stuff that I had done in New York. I got hired because the music supervisor from "Rock of Ages" played keyboards in the Broadway version of "Tarzan." I subbed on guitar for that show. It was more traditional with the band in the orchestra pit. I did stuff like that to keep busy and for the challenge of getting my sight reading together. The music supervisor remembered me when it was time to find a guitar player for "Rock of Ages." Searching online, he saw that I had hair down to my back and that I was playing in Night Ranger. His choice was a total no-brainer. It was more that I was the right guy than an audition process.

Dave: Many a musician will state that his performance feeds off the energy of the crowd: whether it's in a small sweaty club, an arena, or outdoors in a stadium. How does a seated audience, in an air-conditioned venue like the Brooks Atkinson Theatre, differ energy-wise from Night Ranger audiences?

Joel: The rock audiences that I play in front of with Night Ranger have their own enthusiasm. You don't need to fan the flames. With theater audiences, you have to be like "it's cool. Don't worry about it. Make some friggin' noise." They usually do. They're waiting to do it but nobody wants to be the first. "Rock of Ages" is really different than any of the other shows that I've been a part of. It's the only Broadway show where you can drink in your seat. The content is such that it's pretty goofy, funny, and rockin'. People usually let go pretty well. It comes down to that rock audiences bring their own energy, and with theater audiences, you have to make it happen for them.

Dave: At a July 2009 matinee performance of "Rock of Ages," were you one of the 800 participants that broke the Guinness World Record for the Largest Air Guitar Ensemble?

Joel: Yeah. Sure. I went up there. What was funny was that they were playing the cast album of "Rock of Ages" that I had played on. So I was playing air guitar to myself. It was pretty ridiculous, but why not?

Dave: Poison lead vocalist Bret Michaels has had well-publicized health problems recently. He's also been all over primetime television the past couple seasons with his show "Rock of Love" and as the winning contestant on "Celebrity Apprentice 3." Possibly forgotten is his appearance at the 2009 Tony Awards. At that event, after performing the Poison song "Nothin' but a Good Time," Bret was struck with a descending set piece that fractured his nose and a bloody lip that required stitches. Were you in attendance at Radio City Music Hall for that Spinal Tap moment?

Joel: I was out back. It was during the opening, which had a quick 30-second "Rock of Ages" segment. The show's full segment was coming a bit later. Since Poison was out there for the opening; they didn't need the "Rock of Ages" band until later. Radio City doesn't have any backstage area whatsoever, so we were outside in vans and buses waiting. All of our cell phones started ringing at the same time. You knew it couldn't be something good. Then we heard that Brett was hit with the set piece. But he was good about it, and Poison has been really good to "Rock of Ages." I think they appreciate that "Rock of Ages" is exposing Poison music to audiences every day. Bret Michaels took it well.

Dave: Literally!

Joel: You got that right!

Dave: During the "Rock of Ages" performance a day before our interview, I heard there was an on-stage wedding.

Joel: You don't miss a trick, Dave. I was asked to be a part of it and it was a lot of fun. The wedding party came down the aisle to me playing the intro to the show, which is basically the intro solo to the David Lee Roth song "Just like Paradise." Then I go one more time around and do some multi-finger tapping. A little while after that, I played a rockin' version of "Here Comes the Bride" when she came down the aisle. It was a unique event to be a part of and I had a great time.

Dave: That show has to keep you on your feet. You never know what's going to happen next.

Joel: "Rock of Ages" is a blessing. I get to play eight shows a week at home and make a living out of it. The show is really cool, I like the music, and I get to be a ham up on stage. That's something that I love. It's a great gig, no two ways about it.

Dave: Will you be a part of the "Rock of Ages" U.S. tour planned for the fall of 2010?

Joel: They're letting me guest on the cities that I want to do. It is 16 months long. It would be too much to do the whole tour while coordinating flying back for the Night Ranger gigs.

Dave: The film rights to "Rock of Ages" were purchased by New Line Cinema. Do you know if they've began production or who is being cast for the lead roles of Drew and Sherrie?

Joel: The Movie has a real big budget, and I don't want to give away too much. The last I heard, it's scheduled to start filming January 2011 in Australia. I promise you that there will be some big names in the cast.

Dave: The second musical number in "Rock of Ages" is the Night Ranger power ballad "Sister Christian." Talk about your different approaches playing that song nightly.

Joel: They are different than each other with regard to what I physically perform. It's almost like playing two different songs for me. In "Rock of Ages," we play it once around, doing a verse-chorus, and then there's an underscoring section where we quote an REO Speedwagon song. I'm playing the melody on that. Then we go back in and we modulate. On the next chorus, we take it up a whole step. Then I add an ultimate Brad Gillis solo. On the opposite end, with Night Ranger, it stays in the key of C the whole time. There's no REO Speedwagon quote. Brad's playing the solos, and I'm singing background vocals. I don't sing any of it in "Rock of Ages." My list of responsibilities is completely different. It all takes care of itself. I haven't flubbed it in either one. If I decided to play the second chorus with Night Ranger in the key of D like I do in "Rock of Ages," they wouldn't be too happy with me.

Dave: A Broadway show is structured and choreographed from start to finish. Is the Night Ranger setlist rigid or can it change nightly depending on the crowd or mood of the band?

Joel: Night Ranger switches it up. A lot of times, Jack Blades does it right on the spot. You have to be careful to review your solos. Sometimes he'll say we're doing a song that we haven't done in six months. We'll play it and we'll have a good time with it. We always seem to come out the other end okay on those surprises. Jack loves to fly by the seat of his pants as far as the Night Ranger setlist goes, especially when we get to the acoustic sections of our show. He'll veer it into places we've never gone before, and that's a lot of fun.

Dave: Do you welcome that spontaneity because the "Rock of Ages" gig is so structured?

Joel: It's not even the spontaneity. I embrace the concept of being able to do both at the same time. It's an absolute blessing to have two great gigs at the same time like Night Ranger and "Rock of Ages." Not only that, but with each gig having something to do with the other makes this a very special era for me.

Dave: Jack Blades, Kelly Keagy, or Brad Gillis have probably answered this question in an interview. Now it's your turn. Rolling Stone magazine took a swipe at the band in a 1985 review of "Seven Wishes." To paraphrase, the critic mentioned the band's "formula of sub-Broadway ballads." How vindicating is it for the members of Night Ranger to have a song like "Sister Christian," possibly the ultimate power ballad, being played nightly in a hit Broadway show?

Joel: They never talk about vindication, and I don't think they spent any time worrying about it. Their ears are plugged with 17 million albums that they sold. That writer from Rolling Stone magazine probably never sold one. Night Ranger always got a raw deal. Since "Sister Christian" is their most memorable song, some people call Night Ranger a ballad band. That's not true. Night Ranger is one of the best rock bands out there. You can't please everybody and people will think what they want. The boys in Night Ranger don't care. They've been around for so long, and they've seen so many reviews. They're still out there doing what they love so what critics say doesn't matter.

Dave: But Joel, that review was from 1985. That was really early in Night Ranger history. It was a review from Rolling Stone magazine and not from some local daily newspaper.

Joel: I'll ask Jack and mention that you brought it up. I don't think he'll remember that reviewer's swipe at Night Ranger. I know that Night Ranger is one of the bands that is thrilled that "Rock of Ages" exposes their music on a nightly basis. Some bands are uptight about it. Def Leppard wouldn't let "Rock of Ages" use their song on the show. Other bands like Night Ranger, Poison, and Twisted Sister embrace it.

Dave: Night Ranger has a very loyal fan base, yet the band has endured more than their share of lineup changes. How accepting of you were Night Ranger fans when you came aboard in 2008?

Joel: Surprisingly, things went reallyl well. My modus operandi is to do the classic Night Ranger show and to come as close as possible to Jeff Watson's playing. I have a great time every night, but I'm not trying to re-invent the wheel. Jeff spent 25 years making the music for this band. I'm not going to hop in and play my own version of his classic solos. That would be insane. I have to keep it as close as possible to what Jeff would play. I do ham it up a bit more. My individuality comes across more on the stage show end of things. The Night Ranger fans have been great to me. I haven't had any problems. I'm amazed that hasn't happened. I grew up with Night Ranger. I had posters of Jeff Watson and Brad Gillis on my wall. I was shocked when I heard that Jeff was no longer in the band. There's nothing I can do about that. I just try to give the fans a classic show, and I hope they dig it. That happens 99.99 percent of the time.

Dave: I really enjoyed Night Ranger's mid-August New Jersey performance at Starland Ballroom. I knew the band sampled Deep Purple's "Highway Star" in the middle of "This Boy Needs to Rock." But mid-set when the band played covers, or bits of covers, from rock classics like "Crazy Train," Jump," and "Roadhouse Blues" was a blast. Let's have some fun and return the favor by picking a hypothetical cover of a Night Ranger song by one of the bands you paid homage to. I'll pick a Sammy Hagar-led Van Halen covering "Don't Tell Me You Love Me." How about you?

Joel: Of the bands you mentioned, your choice would probably be mine as well. I'd love to hear an R&B version of "Sister Christian" someday, or a Goo Goo Dolls take on "Goodbye" would be cool.

Dave: Night Ranger's stage set-up is unique with Kelly Keagy up front all the way to stage left and turned sideways. That's obviously done to let the fans see him when he's singing from behind his drum kit. Having all five members up front made me think that today's Night Ranger is truly a five-man band and not three mainstays and two sidemen. Were you "one of the guys" on Day One?

Joel: They gave me the same solos, staging, etc., that Jeff Watson had for all those years. The trick for me was the staging. They are an active band onstage and you have to join in the party, but not end up in the wrong spot at the wrong time HA HA!

Dave: Are there any plans in place to write and record new Night Ranger material?

Joel: Yeah, the band just signed an album deal. We're supposed to get after it in the fall and winter. Jack Blades has a new solo record coming out on Frontier Records that I play all of the guitars on. Cheap Trick's Robin Zander is on a few tracks, as are some of Jack's buddies that you'll know as well.

Dave: After a busy summer and early fall performing daily in "Rock of Ages" and touring with Night Ranger, what are your plans for the 2010 holiday season?

Joel: I'll be touring with Trans-Siberian Orchestra this November and December!

Dave: How did you land the gig with Trans-Siberian Orchestra?

Joel: I have some friends who have toured with them for years who recommended me, and I had to audition a couple times.

Dave: What will be your approach trying to learn all of their material?

Joel: Practice my butt off! I'll work with both studio and live versions of the material, and I'll work hard to do the music justice.

Dave: Is your main challenge with Trans-Siberian Orchestra leaving the comfort of a theater you play in daily, or the intimacy of some of the clubs Night Ranger played this summer, for the arenas that Trans-Siberian Orchestra will be performing in?

Joel: With Night Ranger, Dave, I've played plenty of arenas and sheds. With "Rock of Ages," I've had many high-pressure television spots, and I've played eight shows a week in a thousand-seat house. The main challenge playing with Trans-Siberian Orchestra is learning the material, playing it to their standards, and to my own.

Dave: Some musicians rave about the recording technology of the 21st century, stating that it's affordable, portable, and transportable. Another musician that I recently interviewed stated that if he could change one thing about the music business of the 21st century, he'd remove computers from the recording process. Which school of thought are you from?

Joel: For me man, it would be a little bit of each. There are pros and cons to both scenarios. I kind of miss back when people spent more time getting things together before they headed into the studio. Nowadays, a lot of people construct their albums in the studio. The days of a band practicing together before they go into the studio are gone. That sucks. I like that idea of practicing real hard before you go in. On the other hand, I'm not a big fan of all the technical issues when using Pro-Tools. When I can't open a certain file, it makes me want to scream. But there are certainly things you can get done with Pro-Tools that you couldn't get done in the old days working on two-inch tape. One way or another, I'm always happy to record. At the end of the day, it's all about being an artist when you're in the studio.

Dave: The song "New York, New York," made famous by both Frank Sinatra and Liza Minnielli, has the following line about the Big Apple: "If I can make it there, I'll make it anywhere." I'm a huge fan of New York sports teams like the Yankees, Giants, Knicks, and Rangers. I see the pressure the New York media and fans put on their athletes. Talk about the pressure and expectations placed on New York musicians.

Joel: New York audiences can be a lot more discriminating. The pressure we feel as musicians is that it's so friggin' expensive to live in New York City. If you're a musician and you want to do what you love, you have to be able to make a living out of it. You can't sit around and say you have a couple of gigs. You have to be able to generate income. Like I told you earlier Dave, living in New York I'm blessed to have had the gigs we talked about. Playing in Night Ranger or on Broadway in "Rock of Ages" are blessings. They give me the opportunity to do what I love. What more can a musician ask for?

Dave: Feel free to close the interview with a message to your fans.

Joel: Thanks so much for letting me do what I love and what I want to do with my life. Thanks for the support: I really appreciate it.