John Ashton is a British musician, songwriter, and record producer. He is best known as the lead guitarist from the Psychedelic Furs. John joined the band in 1978, and he played on their seven studio albums released between 1980 and 1991. Although the band had radio hits like "Love My Way" and "Heartbreak Beat," they had others like "Sister Europe," "Highwire Days," and "Dumb Waiters" that are songs on the soundtrack to my youth. Psychedelic Furs were on hiatus between 1991 and 2000. When the band reformed, John joined the band on occasion for many of their worldwide tours. The Furs remain a "can't miss" band for me every time they tour on the East Coast of the United States. John was not part of the Furs lineup that I saw play in New Jersey in 2015. As a producer, John has worked with Marianne Faithful, and the Sisters of Mercy on their debut EP, "Alice." In 2014, John recorded and released his first solo project, "Satellite Paradiso," a full length self-titled record. I was chatting with John on social media late 2015 when he told me about this record. I purchased a physical copy because this dinosaur does not download! "Satellite Paradiso" was the best new music I purchased in 2015. Hands down! I was thrilled when John agreed to do this interview for my website. We talked a bit about the Furs and a bit about record production, and we talked a lot about "Satellite Paradiso."

Dave: John, youíre the first musician Iíve interviewed in 2016. Happy New Year.

John: Thank you Dave. The same to you.
Dave: What factors led to the recording and release of your latest record "Satellite Paradiso"?
John: For a long time I wanted to do something on my own. After the Psychedelic Furs originally broke up in 1992, I wrote songs, still with the Furs in mind, but with an eye on releasing something on my own. I started writing for an album that I wanted to put out in 1994 or 1995. That would have been pretty good timing then. But life got in the way. One thing led to another. I put that record on hold several times. I'd stop and I'd start. One of the things that held me back was that Psychedelic Furs frontman Richard Butler initially showed some interest in working on those songs. But he never really came through. He became more focused on a solo career and his painting career. Without a lead vocalist to bounce ideas off, I was basically writing tunes. Fast forward to 2010 or 2011, and I got a visit from an old friend, Rob Sacher. He was a big champion of everything I had ever done. He was also a huge Furs fan.
Dave: Rob owned a few New York City nightclubs I believe?
John: Right. Rob owned a club called The Mission in the 80s. He started a new club called Luna Lounge, and I played there a few times. He had worked with a band called The Ancients, and he thought their singer Fred Schreck would be a good fit for me to work with. I started trading e-mails with Fred and I sent him some songs. The first song was "Angelic." He came back to me quickly with a finished idea for a song. Then another one and another one. At that time, I knew I had my guy.
Dave: You can't go wrong picking a singer from New Jersey (laughing).
John: I had already worked with Sara Lee, the bass player from Gang of Four. She is a friend and a neighbor of mine. She introduced me to Gail Ann Dorsey, who was David Bowie's bass guitarist. Between the two of them, I had my bass players for the album. I already had B.P. Hurding, a friend and another local guy who played drums on one track. He was the drummer from X-Ray Spex. Paul Garisto is back drumming with the Furs. But when we were recording, he was not with the Furs. He played on a couple of tracks. My original idea was to put out a record with different singers, kind of like what Carlos Santana had done.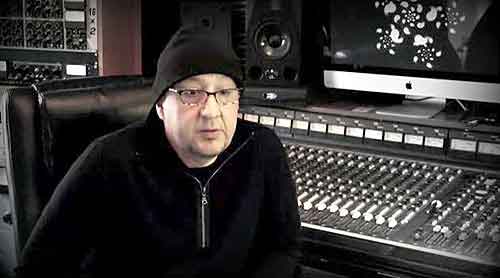 Dave: He stole your idea John!
John: Yeah. So I went back into my rabbit hole. Frank Coleman came along and played some drums. Fred introduced me to Big Paul Ferguson, the drummer from Killing Joke. He played on a few tracks and it snowballed from there. I had my ideas for the band, and then I called a few ex-Furs, guitarist Roger Morris and saxophonist Duncan Killburn. They played on a few tracks. Slowly but surely, and then very quickly at the end, I pretty much had an album.
Dave: If we go back to the year 2000, you rejoined the Psychedelic Furs in a reformed lineup. As a big fan of the band, I attended many of the subsequent tours. They recorded a new song "Alive" for a greatest hits package and two others for the companion DVD. Yet I sensed a reluctance to record new material. Was that a trigger that forced your hand to do the "Satellite Paradiso" record and depart from the Psychedelic Furs?
John: Yes Dave. That was the biggest trigger of all. I had given Richard Butler a version of "Angelic," and he wrote the Furs song "Cigarette" from that. Richard had written some stuff with a songwriter named Jon Carin. I didn't like the songs; they weren't in the right vein. I don't quite know how to explain it but they weren't Psychedelic Furs material. A big divide occurred, and over the next couple of years Richard's reluctance to get involved got me more and more depressed. I was still working with Furs bass guitarist Tim Butler trying to write for the Furs. He would come up and play. We'd hash out some ideas we had, and he'd take them back to Richard. But Richard never listened to them. Or if he did, he was indifferent to them. I got the feeling that we were done as a songwriting team. The other thing was he kept saying that he had these songs. I said you wrote them with Jon Carin and they don't sound like the Furs. Richard thought they did. I thought the songs were too polished. They had typical chord changes, bridges, and hooks that didn't sound like the Furs to me. I told him to put those songs on a solo record and he did. I got more and more depressed, and I thought it was time to move on.
Dave: You mentioned the contributions of David Bowie's bass player Gail Ann Dorsey earlier. The music world tragically lost David Bowie on January 10, 2016. Did your circle and David Bowie's circle ever cross?
John: A little bit. David Bowie was a fan of the Furs right from the very early days. We'd hear rumors that he was in the back of the room of some of the pubs and small clubs we were playing in London. I know for sure that he was at a few of those. Around 1980 in New York City, at The Ritz or maybe Hurrah's, David showed up and we all hung out. We'd continue to cross paths over the years. When Gail got the call in 1995 to work with David, her career took off big time. But we remained friends. A few weeks ago, I went with her to see Todd Rundgren play. She's very loyal and tight-lipped about the whole Bowie thing. We were talking about "Blackstar" and the handful of tracks that we'd already heard.
Dave: I was unaware of Fred Schreck until I purchased my copy of "Satellite Paradiso." After reading the liner notes and contacting him on Facebook, we are from the same home town: Paterson, New Jersey. What a small world.
John: Fred's work with The Ancients was good stuff. He and Morgan Visconti, son of David Bowie's producer, Tony Visconti, had written many of The Ancients songs together. Rob Sacher, who I mentioned earlier, wrote a book about his story running the music clubs in New York City. Rob kickstarted quite a few careers. He managed The Ancients for a while. Joey Ramone was a big fan of the band and wanted to do something with them. It was quite poetic how Rob brought Fred and I together and made it all happen.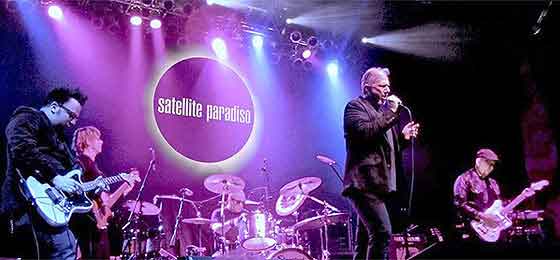 Dave: You mentioned earlier that you gave Fred demos and raw material long distance to add lyrics to and turn them into songs. Did he take your ideas in the direction you expected, or in a different direction?
John: For the most part, I was pleasantly surprised with what he came up with. I let him have free rein. I write the music and I have no preconception on what a lyric should be. I never did with Richard Butler either. I was pretty happy. They were pretty much finished tracks that I had given to Fred.
Dave: I'm hoping that I can add some tour dates later on to the text of this interview. Are you planning anything yet for 2016?
John: Fred and I just planned a week's worth of shows together. So far we have June 3 at the Tupelo Music Hall in Londonderry, New Hampshire, and June 4t at the Brighton Music Hall in Boston. Closer to you, Dave, we play shows on June 8 at the BSP Lounge in Kingston, New York, and June 10 at the Mercury Lounge in New York City. Fred lives in Nashville and I live in Woodstock. Gail and Sara both live in my area. The guys in the band Mercury Rev will come out with us: Grasshopper, John Donahue, and Anthony Molina. They played on a few shows we did in the past, opening shows for the Furs. That was very strange for me. It was a bizarre experience opening shows for a band that you pretty much helped form, write songs with, and tour all those years. Strange, but good, because we blew them off the stage in a lot of ways. The Furs are a very different band nowadays.
Dave: For Satellite Paradiso shows, do you have enough material or will you have to add some covers to round out the set?
John: I'll add a few Furs covers. If Sara comes along, we'll do a Gang of Four song. I don't have any problem doing a few Furs covers. I wrote a lot of them. It'll be fun.
Dave: And you know the fans will be yelling out for them. When you are out on tour, I've heard that you're a big fan of early morning swims in the ocean.
John: (laughing) Where did you hear that?
Dave: From Furs drummer Paul Garisto.
John: That was a fun time.
Dave: The way Paul tells the story, you were swimming early morning off the coast of Italy in the Adriatic Sea, during a 1980s tour with the Furs.
John: There was a big rock about 500 yards out that the guys in the Furs all swam out to. As we were swimming back, I tired and decided to just float and take a breather. Next thing you know, I couldn't see the coast. I got caught in a riptide. They could see I was having problems so they came out and got me.
Dave: You mentioned Tony Visconti and his son earlier. In a recent interview I read with Tony, he said, "There's always hidden depth to a piece of music. The more you live with it, the more you understand it." Do you agree with Tony?
John: Yeah. But it also depends on who the music is by. I'm on a little bit of a kick listening to Alice Cooper's stuff. I kind of forgotten the depth of the production and the sheer beautiful cabaret of it all.
Dave: My two current favorite cuts from the "Satellite Paradiso" record are "Big Block" and "Situation." With Tony's quote in mind, I can't wait to hear those songs live after you've had the time to play them. The studio cut is a newborn that you turn into a young adult after playing it live a few times.
John: I'm currently mixing a four-track live EP. It sounds really good. It's raw. It's different. It's not as polished as the album.
Dave: As a listener standing at the front of the stage, I look forward to spontaneity and an increase in passion when the song's played live.
John: That's true Dave. I always encouraged us, the Furs, and other bands to play the songs live before you record them. When you're on the spot, and you have to get from A to B and get through the song, it's good to know what works. That's the best type of pre-production that you can have. The Furs did that with "Talk, Talk, Talk," and it really paid off.
Dave: How much effort do you put into sequencing your records?
John: Quite a bit. For a long time I had a particular sequence in mind for "Satellite Paradiso." I wrote it down and it looked good on paper. I wanted to start this album off with "Super Anti-Hero." I wanted to say "Here I am. I'm back." But my wife, Catherine, didn't think it was the best track to start off with. Coincidentally, Anthony Molina was mixing the record with me. He was playing the sequence to his wife, Jamie, and she didn't like "Super Anti-Hero" as the opening track either.
Dave: After all, we do call our wives our "better halves."
John: I'm convinced that women listen to music in a different way. It's their genetic makeup. They look for different things; they look for vulnerability. So I worked a bit more on the running order. We settled on "Invisible" and wrote a big intro. So to better answer your question, I put a lot into sequencing. I have my mind made up to a certain extent, but I'm open to suggestion.
Dave: Why did you choose "Touch the Sky" as the closing track?
John: "Angelic" is the penultimate track on the album. I thought to bring it forward more. But with the flow, it seemed to sit right in its spot. That left only "Touch the Sky" as the closing track. Then I made an emotional decision. "Angelic" is the song that best describes where I come from. It's the first track I wrote for the record. I based it on Furs work. If I had to pick a track, it's in a "Pretty in Pink" mold. The chord sequences are not the same, but they share similarity. "Touch the Sky" was one of the last tracks I wrote. It's so different from all the others. It's a massive attack, more electronic type of approach to a song. I thought that if "Angelic" was where I came from, then "Touch the Sky" is where I'm headed next.
Dave: As a listener, I tend to listen to a closing track as a possible sneak preview of the logical next step. Yet you chose "Touch the Sky" as the first single and the first video.
John: I've always been interested in space. I grew up watching man land on the moon and all the Apollo space missions. I've always been a science buff. I love the juxtaposition of this great big universe and the small universe that we live in. If there was a record label involved, I doubt that "Touch the Sky" would have been that first single. We're working on video now for "Invisible." In-between we did a lyric video for "Angelic." We didn't have the ability to get everybody in the same room to film it as we played along. But they're not really singles. They are just tracks we're putting out. There is no publicity or P.R. company behind this album. It's not going out to radio stations like you would do if you were making a big push on it. I tried in the beginning, but in the end I decided this album is what I've been up to for the last couple of years. I'm glad I did it, I'm glad it's out there, but I want to move on. If I build up a body of work, maybe eventually people will catch on. You always have high hopes when you release a record, but in this day and age there are no guarantees. I'm just happy to do the work and move on.
Dave: So your reward is just that it's out there for people to find?
John: I think so. There is no master plan. The only plan is to keep working. To come up with the next and then the next. And maybe something will stick at the end of the day. I don't have a big budget to put a P.R. team in front of what I'm doing.
Dave: Please talk about your efforts using a fundraising campaign through PledgeMusic that allowed music fans to help support the recording project.
John: It was a natural avenue to take. There are other fundraising sites like Kickstarter and GoFundMe, but PledgeMusic felt like a bona fide record company. Everything they release is music-related. When I originally contacted them, they seemed open to what I was doing. There was an A & R guy. Obviously, they want to make money. But you are on your own. You have to put everything out on social media sites to make it happen, like postings and constant updates.
Dave: There must still be a lot of work to do once the record is completed?
John: If I had my druthers, I would finance it independently so I wouldn't have to spend time on fulfillments. That was a pain. I pressed vinyl and I pressed CDs. I made mugs, t-shirts, and posters. That was a big chunk of the money I had made. Another hidden factor is the cost of postage. That kills you. The next record I do might be internet only unless there's a demand for CDs. Pressing them is relatively cheap. CDs are good for cars. Not everybody has an mp3 player in their car or Bluetooth.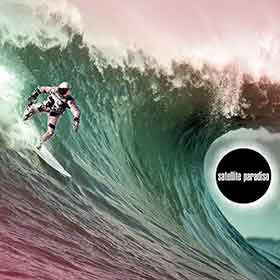 Dave: Vinyl aficionados are out there, and LP records are making a big comeback.
John: A lot of people do prefer vinyl. I don't know if I'll press vinyl records again unless there is a big demand for it. But "Satellite Paradiso" is available in that format.
Dave: You mentioned the effort on social media sites. In today's new school approach of a musician getting his music heard, do you consider the time you need to spend on the computer at social media sites a necessary evil?
John: I guess so. An established musician can use social media in a very powerful way. A band like Satellite Paradiso is an unknown commodity. Therefore, you're really selling to people who know me or some of the other musicians who play on those tracks. The returns are really small at this time. If I keep going, maybe I can garner a little bit more of success for the next record.
Dave: Yet a musician's time on the computer is not limited to social media.
John: Exactly Dave. I do online tutoring. I'm a member of a couple of different learning sites where they outline how to this or how to do that. Because so many people do this at home through their computers, it's really hit or miss. There's even online mastering, which to me doesn't make any sense. I took an online course on mastering, but I didn't master or mix the "Satellite Paradiso" record. There is also a lot of bad information out on the Internet. Given my years of experience in the studio, a lot of the online information is not at the "professional" level.
Dave: Records have been made for decades without the computer, including the Psychedelic Furs catalog.
John: I love real engineers. There's no beating a real engineer who has a lot of experience on an analog board. There's a tendency to plug and play, thinking the pre-sets will work fine.
Dave: I'll place links to Satellite Paradiso's Facebook page and their website in the text of the interview.
John: Thanks Dave. Fans can link to our online store there. Through a company called Big Cartel, we've integrated an online shop into our sites. Big Cartel collects the money through credit cards or Paypal. Once it's cleared, they send it to me and I handle the fulfillment.
Dave: You mentioned earlier a live EP. Please tell me more.
John: It's a four-track EP recorded live during New York and New Jersey shows in late 2014 where we opened for Psychedelic Furs. The songs are "Dream," "Bad Blood," "Situation," and "Touch the Sky." I'm mixing it now and it should be available real soon. People should stay tuned to our Facebook page for the latest information. That will be made available for downloading only.
Dave: I'll be glad to add any tour dates you have to this interview John. Let's keep in touch.
John: Sure Dave.
Dave: That's all the questions I have on Satellite Paradiso. What else is happening John?
John: I am starting to work on a new album. Nothing is finalized yet but I'm starting to work on it. I'm doing a lot more production these days. I've produced a few bands recently where I went straight to them with my mobile stuff, and I come as a package with everything you need. We set up and record. I do love real studios but not everyone can afford them. I can produce, arrange, mix, re-mix, and master records for people. I can offer people my years of experience.
Dave: You can't put a price on that.
John: I've learned a lot over the years from some interesting producers like Steve Lillywhite, Todd Rundgren, Chris Kimsey, and Keith Forsey. I started out in the days of reel to reel, but most of what I do know is digital. I'm working on a Theatre of Hate track right now that the band sent me. I hope to work with them on more tracks. A director named Josh Bishop approached me about doing a soundtrack for a documentary he's making about an artist who creates Dungeons and Dragons pieces. I'm almost done producing that. I don't really play on it too much. I may add some incidental music. I put him in touch with Sara Lee and drummer Jerry Marotta.
Dave: I know of Jerry from his early work with Peter Gabriel.
John: Those were great records. Jerry and Sara cut the drums and bass together in one day. I like projects that are quick and to the point, projects that don't take six months to complete.
Dave: Thanks for the interview, John. Feel free to close the interview with closing comments to your fans.
John: Thank you to the Psychedelic Furs fans and the new fans we've picked up along the way with Satellite Paradiso. I thank them sincerely for buying or downloading the record, and spreading the word. I hope we'll play shows this summer and that those shows branch out into more shows. I hope they'll check out the new EP when it comes out.