Bobby Ingram, a true "Son of the South" and the lead guitarist for the southern rock band Molly Hatchet, was kicking back at home on a sunny, Florida afternoon as he flirted with disaster answering my interview questions.

Dave: Hello Bobby, thank you so much for letting me conduct this interview. Molly Hatchet released a new studio record called "Warriors of the Rainbow Bridge" and spent most of 2005 touring to support it. For music fans who haven't heard it, tell us about its musical direction and the musical statement Molly Hatchet tried to make with the release of this record.

BOBBY: We're very proud of this record. Molly Hatchet has released softer records, and we've released harder records, but this new one is right down the middle and true to our foundation of southern rock. The musical direction is heavy, with a hard edge, and very emotional. We write from our own experiences and this record came about naturally, considering the circumstances since my wife Stephanie passed away halfway through the production of this record. She had heard the music of the song "Rainbow Bridge," and that was her favorite. In her memory, that song tells the life story of me and Stephanie.

Dave: How has the new material been received by your loyal fan base?

BOBBY: That question answers itself. Molly Hatchet has long-time fans who have been there from the beginning. They relate to the band so well, no matter what type of songs we record and release. Molly Hatchet is blue-collar, and we've stayed true to our southern roots. Molly Hatchet is about barbeque, Saturday afternoon parties, pickup trucks, and going to bed early Sunday night because work starts early Monday morning. We're a people's band, playing people's music for the people.

Dave: Speaking of your loyal fan base, over the years Molly Hatchet has received a lot of support from the biker community. Please share your thoughts on that.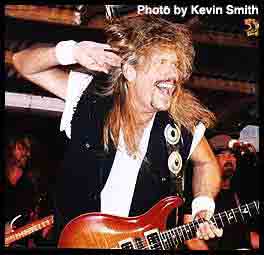 BOBBY: The biker community has always been very supportive of our band, and we are so grateful. Everywhere we go, whether in the U.S. or overseas, the biker community shows their love and support. We try to give back to them the same love and dedication. If it wasn't for them, there'd be no Molly Hatchet. Hell, they're what keeps me flirtin' with disaster.

Dave: It's a cold, blustery day during the winter of 2006. You're on the road in the middle of nowhere, tired and lonely, and there are many more miles to travel before you get to the next gig. You start thinking about your late wife Stephanie or Molly Hatchet's original Danny Joe Brown, who passed away in 2005. If I were in your shoes, I'd probably turn around and go home. Where do you get the drive and determination to keep it going?

BOBBY: God, being as wonderful as he is, through the tragedies and deaths of my wife, parents and grandparents, has given me the strength to continue with Molly Hatchet. If I didn't keep going, it would have all been in vain.

Dave: Stephanie passed away in April 2004. If it's not too difficult, please talk about the "Angel of Dixie" and how she changed your life and touched the lives of those around her.

BOBBY: Thanks for asking me that, Dave. I feel in love with Stephanie the second I met her at a show in Hazard, Kentucky. We got engaged under the moon on a beach in Waikiki, Hawaii, and we married a year later in Kentucky. She taught me to have a sense of responsibility; toward her, my beautiful wife, as well as to the band, and to our fans. God introduced me to the perfect woman, and there was nothing about her that I'd ever change. People called Stephanie one-in-a-million, but she was so much more. She was once in a lifetime! I live with the pain of her death every day, taking it one day at a time. Stephanie's spirit is with me every day.

Stephanie did so much work behind the scenes for Molly Hatchet, and she never wanted any credit or any of the headlines. That was so admirable. She loved the band and everybody in it. Together, Stephanie and I worked every single day of our married lives on Molly Hatchet. She was our 7th member.

Dave: For my money, the Molly Hatchet classic "Flirtin' With Disaster" is the definitive southern-rock song. It must be so much fun to play that one night after night. A whole new generation of kids are hearing it on the "Dukes of Hazzard" soundtrack.

BOBBY: "Flirtin' With Disaster" is used in the movie during a very important scene, a car race. It's given Molly Hatchet a lot of exposure. That film was number 1 in America for four weeks.

Dave: It's been said that southern-rock bands are defined by their on-stage performance and not by their studio recordings. With that statement in mind, talk about the DVD "Live in Hamburg" and how it captures the spirit of a Molly Hatchet show.

BOBBY: The spirit of Molly Hatchet and southern rock has been growing worldwide since the 1970's. This DVD and a live CD that we recorded in 2003 in Germany called "Locked and Loaded" shows the common denominator that everywhere in the world we've played has a love and passion for southern rock. There's a brotherhood. The spirit of Molly Hatchet's music and live performance translated well on the live CD and our DVD.

Dave: Molly Hatchet has had many line-up changes since 1978. Please introduce your band mates in the 2006 version, and talk about the strengths they add to the band's formula.

BOBBY: Phil McCormack has been our singer since 1996. Shawn Beamer is on drums and he's such a powerhouse, nothing but thunder. Tim Lindsay is our bass player. Dave Hlubeck is on guitar. He's back in the group where he belongs. He was a founding member of the band as is our keyboard player John Galvin. John and I haved played together over 26 years.

Dave: How challenging is it for a headlining band to balance their setlist when you have a brand new record to promote and your long-time fans want to hear all the old songs they grew up with?

BOBBY: Molly Hatchet balances their set by playing a walk-through history, beginning to end, without a concentration on anything in particular. With an hour and a half to play, a new record to promote, and a 15 album back catalog, you can't play everything. We try to give the fans the classic hits, the newer hits, and a few things they haven't heard before.

Dave: Now we'll travel back in time with some questions on the early days of Molly Hatchet. Let's start this trip to the past in 1975, when you brought a local singer named Danny Joe Brown into your band Rum Creek. How and where did you first meet Danny Joe?

BOBBY: Danny came to one of our rehearsals and asked to audition. He was an insurance salesman and had never sang in a band before. He was a great singer and a few rehearsals later I was smart enough to ask him to be a member of my band.

Dave: In 1978, Molly Hatchet was formed in Jacksonville. They were immediately signed to Epic Records and subsequently toured everywhere. How did Molly Hatchet influence and validate the southern-rock scene locally in Florida, as well as internationally?

BOBBY: A band named Lynyrd Skynyrd started it all in Florida, influencing every band that followed and validating the southern rock scene internationally. Then, the tragic and devastating plane crash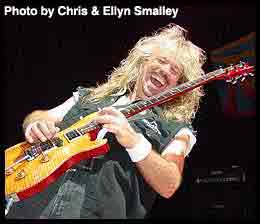 happened. Molly Hatchet only came in and filled the void left open by Lynyrd Skynyrd.

Dave: In 1980, Danny Joe left Molly Hatchet and hooked up with you again when he formed the Danny Joe Brown Band. Molly Hatchet was just starting to roll, and "Flirting With Disaster" was a big hit. Why did he leave the band?

BOBBY: That was an internal decision, and it was Danny's choice to leave. His decision, and the reason behind it, are confidential. I'm not at liberty to discuss it.

Dave: What is your best memory from your years as lead guitarist in the Danny Joe Brown Band?

BOBBY: Danny showed up late one rainy night at my family's door. He told me about what had happened in Molly Hatchet. He asked me for help in forming a new band and immediately going out on the road. We rehearsed non-stop to get the project going, and we recorded with Glyn Johns. Here I was, 22 years old, and I'm working with a legendary record producer. Those are my best memories from the Danny Joe Brown Band.

Dave: In 1982, Danny Joe rejoined Molly Hatchet, and in 1985, you were brought into the band. How difficult was it for you to step into an established band, replacing an original member, guitarist Dave Hlubeck?

BOBBY: We all knew each other so it wasn't like, "who's the new guy?" Rum Creek and Molly Hatchet shared rehearsal studios, and we all got along well. I was welcomed with open arms so I wouldn't say it was difficult.

Dave: Following years of recording and touring in the early '90's, Molly Hatchet took a hiatus from the studio to concentrate on writing new material. This culminated with the 1996 release of "Devil's Canyon," which was voted the number one rock record in Europe. You co-produced that record, which, like 1998's "Silent Reign of Heroes" and "Warriors of the Rainbow Bridge," was recorded in Germany. Talk about the unique relationship Molly Hatchet has, it's a southern rock band who records and tours in Germany.

BOBBY: We have a special relationship with Germany. Our parent record label is there and it's our home away from home.

Dave: Danny Joe Brown left Molly Hatchet in 1996 when health problems prevented him from touring and recording. He passed away in 2005 from complications of diabetes. Please talk about how influential your bandmate and friend was on your musical career, as well as your life in general.

BOBBY: Danny was my best friend for many years, and we were very close. He was a pallbearer at my mother's funeral. We influenced each other's lives. Together, we learned to never give up until the good Lord wants you to. Danny was a real man, he was honest and true to form.

Dave: Looking ahead to 2006 and beyond, what does Molly Hatchet have in store for its fans?

BOBBY: We'll continue touring, and we'll head back into the studio to cut another record. Molly Hatchet is going to do what we do best: bring the music to the people. We're going to keep it going. The sacrifices I've made to keep Molly Hatchet going have been immeasurable, but the love and support from our fans make it all worth it.

Dave: Here's your chance to form a rock supergroup for one CD/tour, with musicians you've never played with. You can remove egos, legal contracts, whether they are dead or alive, and all the other distractions from the equation. You're on lead guitar. Who would be your singer, guitarists, bass guitarist, keyboard player, and drummer?

BOBBY: Allen Collins (Lynyrd Skynyrd) and Duane Allman (Allman Brother) on guitar, Leon Wilkerson (Lynyrd Skynyrd) on bass, and Paul Rodgers (Bad Company) would sing. John Bonham (Led Zeppelin) would drum and Rick Wakeman (Yes) would be my keyboard player.

Dave: Who is the one guitarist that has had the biggest influence on your playing style?

BOBBY: Out of all the guitarists, Allen Collins meant the most to me. We were friends before Lynyrd Skynyrd got their record deal. He was older than me, but he taught me some licks and how to set up my amp. He had a feel. He was a spark plug and a firecracker onstage. Allen looked and sounded like a rock guitarist. He had it all.

Dave: I'm a big N.F.L. football fan, and I thought that the Jacksonville Jaguars were the team to beat in the A.F.C. playoffs this season. What do you think about the Jags, and how has landing an N.F.L. franchise benefitted the city of Jacksonville?

BOBBY: I love the Jaguars, and I had season tickets for years. I bought them the second day they were on sale, only because I was on the road and couldn't buy them the first day. The Jaguars have changed Jacksonville a lot. They've turned Jacksonville, a big little town, into a bigger little town. They've brought a lot of attention here; whether good, bad, or indifferent. The Jaguars show a lot of Jacksonville spirit, sticking to your guns and standing up for what you believe in. They're a blue-collar team in a blue-collar town.

Dave: How about college football, do you root for the Florida State Seminoles or the Florida Gators?

BOBBY: Gators!

Dave: Thanks again Bobby for agreeing to do this interview. Best of luck in the future to you and the boys in Molly Hatchet. Do you have any closing comments for fans of your music worldwide?

BOBBY: I just want to tell our fans that we appreciate them sticking by us through the member changes and through all of the good times, as well as the recent tragedies. If it wasn't for them, Molly Hatchet wouldn't be out there.

ARTIST BIOGRAPHY
Full Name: Bobby Ingram
Website: www.mollyhatchet.com www.myspace.com/mollyhatchet
Birthday: September 6, 1957
Birthplace: Jacksonville, Florida
Hobbies: model rocketry
Favorite beverage: Diet Coke
Favorite food: grilled chicken
Favorite southern-rock band: all of them
First album ever purchased: "Paranoid" by Black Sabbath
Last CD purchased: "Dukes of Hazzard" soundtrack
Favorite film: "Gone With The Wind"
Favorite U.S. city to visit: Las Vegas
Favorite international city to visit: Paris
Favorite venue to play: Olympic Stadium (Munich, Germany)