Frankie Banali is best known as the drummer for the 80's heavy metal band Quiet Riot, yet his discography includes drumming for a few bands and on a bunch of albums that may surprise you. Quiet Riot, whether you love them or hate them, was formed by singer Kevin Dubrow and guitarist Randy Rhoads in 1975. Quiet Riot had a Top 5 single, a number 1 record, many memorable videos, and they hold a spot on VH1's "100 Greatest Artists of Hard Rock." Frankie joined Quiet Riot in 1981, and he's the band's drummer and manager today as they continue to rock audiences in the 21st century. Frankie and Kevin Dubrow, self-proclaimed "career musicians," have kept busy touring. Quiet Riot released "Rehab," their first album of new material since 2001, to North American audiences on October 3, 2006. International and Japanese releases followed shortly afterward. I was thrilled when Frankie took the time to answer my interview questions on Quiet Riot old and new, "Rehab," and a whole lot more.

Dave: Hello Frankie. Thanks for allowing me to conduct this interview. Letís start off right here and right now in early 2007. First off, my compliments on "Rehab." I'm really digging the record, and it has the distinctive Quiet Riot vocals and drums. But it also combines old school rock and new school. Youíve called it "New Retro" and Classic Rock Revisited warned its readers that "it's not your Mommy's Quiet Riot." What was Quiet Riot's approach in the songwriting process on "Rehab"?

FRANKIE: Both Kevin and I decided long ago to make our record our way and to define our influences by the songwriting. We also wrote with outside writers. I wrote music with guitarist Neil Citron; Kevin wrote music with Alex Grossi and Michael Lardie; and lyrics and melodies on some songs, both his and mine, with Glenn Hughes.

Dave: How did your recording process differ from previous records?

FRANKIE: It's always a bit disjointed with Kevin living in Las Vegas and everyone else who participated in the recordings residing in the general Los Angeles area. Both Kevin and I had made very good demos of our respective songs and worked a lot over the phone and via mp3 files sent via e-mail back and forth. Once we had settled on what we thought were the best songs for the record, we rehearsed four days, recorded the drums in a day and a half, and started all the overdubs.

Dave: Did you and Kevin start the songwriting process for "Rehab" with a pre-conceived musical statement in mind?

FRANKIE: Yes, and no. Yes, in that we dug into our musical influences for inspiration while still retaining what we each bring musically and vocally to the table. No, in that we set no boundaries or created artificial obstacles to overcome or to impress anyone. It's a real honest record.

Dave: Quiet Riot hasn't released new material since "Guilty Pleasures" in 2001. Was it hard to get the record released and what are your expectations, if any, as you release "Rehab"?

FRANKIE: In this day and age I just look at the overall picture objectively. We knew we could make a very good record and we knew we could get it released. We also understand that the music market is very narrow now, especially at retail. We also feel that most of the real fans will like it, those who give it a chance might like it, and those who dislike Quiet Riot will of course dislike it.

Dave: Rock legend Glenn Hughes added some songwriting assistance on a few tracks. He also plays bass and does a vocal duet with Kevin on a song called "Evil Woman," which was released by the band Spooky Tooth in 1969. Your musical relationship with Glenn Hughes goes back to 1982 with the Hughes/Thrall record, and he and Kevin are good friends. Is it as simple as calling him up and asking for his assistance, or do lawyers, Glennís management, and the various record company executives all have to get involved in the process?

FRANKIE: Glenn is arguably the best singer there is in rock along with Paul Rodgers. It was a privilege to work with Glenn in 1982 on the "Hughes/Thrall" record. It was really the only time I've really worked with Glenn to any degree, so although we are friends, we are not particularly close. Any musician who has the opportunity to work with Glenn should do so even if it's only a once-in-a-lifetime opportunity because it's a musical high water mark, or at least it was for me. Kevin and Glenn have become very close, so all he has to do is pick up the phone, which is how it all came down. I leave all things "Glenn" to Kevin.

Dave: My favorite cut on "Rehab" is a song Kevin wrote with Quiet Riot guitarist Alex Grossi titled "Free." I hear the band has added it to their live set list, which is already full of classic Quiet Riot material. How challenging is it, and how necessary is it, to add new material to your set list?

FRANKIE: For me it was very easy because I constructed the drum parts that I thought fit the song best, so naturally I know all of these songs inside and out. I think it's the same for Kevin. Alex has had to really woodshed on some of the guitar sections and especially the solos, because although he wrote the music to "Free," Neil Citron made some valuable changes in the body of the song and played a great melodic solo. Neil is a very, very versatile guitarist and you just don't hear his parts and play them, you have to work at it. Chuck is having a great time with the Tony Franklin school of bass playing. Tony, as everyone likely already knows, is my favorite bass player to work with. Heís top shelf all the way. It's not necessary to include new material in our live set, it's a pleasure to do so. It keeps it fresh for both Kevin and I as well as the audience.

Dave: What bonus tracks are being added to the Japanese and international releases of "Rehab"?

FRANKIE: For the Japanese release only is a track that Kevin wrote titled "The Truth," and for all other international markets excluding the U.S., of course, is a track that Neil and I wrote titled "Wired to the Moon," which Kevin and Glenn wrote lyrics and melodies to.

Dave: Quiet Riot's 2007 live lineup, in addition to you drumming and Kevin singing, includes Alex Grossi on lead guitar and Chuck Wright on bass guitar. Thatís the same lineup Quiet Riot featured in 2005, but somewhere in-between, a revolving door had Tracii Guns, Billy Morris, and Sean McNabb coming and going. I don't want to get into any of the specifics on personnel changes. Since you're also Quiet Riot's manager, from that perspective do you feel the lack of continuity in the band lineup confuses or discourages your fans?

FRANKIE: The fans have to make up their own minds based on what they hear when they listen to the record and or see the band live. Changes happen in life all the time for many reasons. We do the best we can with the best of intentions. Some things work, some things don't, you make whatever changes the situation dictates and move on.

Dave: Have all of the lineup changes since the band's inception given music fans a reason to not take Quiet Riot seriously?

FRANKIE: In baseball you lose some fans and gain some fans every time a pitcher or a hitter gets cut from the team. I don't worry about it.

Dave: Keep that manager's hat on for a second. Many a musician has told me that the two hours up on stage every night are a piece of cake. The bigger challenge while touring is the other 22 hours spent traveling, trying to get sleep, and interacting with the media and fans. As Quiet Riot's manager, you have additional responsibilities when the band is not on stage. How do you self-relate to that statement?

FRANKIE: It's a true statement to varying degrees. I've learned that if you do the best you can within the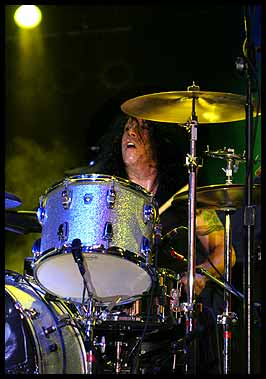 ever-changing parameters daily, you've done your best. I'm a very, very disciplined person. I take music and business very seriously and still manage to have fun. I can also step away from the business and enjoy the music while I'm onstage, which took some time to actually learn to do, but after nearly 12 years actively managing the business affairs for Quiet Riot, you develop a flexible system. The down side of it is that when I'm dealing with different musicians on the road outside of the band, they can't separate me the drummer from me the business entity. So I'm bound to ruffle more than a few feathers as the manager. That can't be helped, and I don't lose any sleep over it either because I'm not unfair or unreasonable, I only try to take care of Quiet Riot and our interests.

Dave: Now take off the manager's hat and put on a different one; that of a music fan. Quiet Riot has done its share of cover versions, Kevin Dubrow did a whole solo album of them, and you've drummed on many tribute albums. My next statement is not a knock on you, Kevin, or Quiet Riot, but it's one that addresses the entire rock music industry. As a music fan, I feel that Iím getting bombarded with cover versions and tribute albums, and that there is a lack of original material being recorded these days? Strictly speaking as a music fan, would you agree with my statement?

FRANKIE: It's very simple. I love to play, so if I'm asked to play on a tribute record and I feel like doing it, I do it. I get to play, hang out with like-minded musicians who don't often have a chance to see or play together, and I take in a little extra cash. No down side. My next statement is not a knock on you, but as far as you feeling bombarded, I don't see a musical target on your back or anyone aiming these recordings at your ears. It's the labelís choice to release it and your choice to listen to it or ignore it.

Dave: As a musician, what are the factors that have slowed down bands and musicians from writing more new material?

FRANKIE: Lack of interest by labels, radio, promoters, and fans. It's like putting on a tuxedo in prison, where do you think you're going and does anyone really care?

Dave: Let's go back to the early days of Quiet Riot for a second. You were not in the band with Randy Rhoads, but you attended concerts where you saw him play with Quiet Riot. What was he doing with his guitar that set him apart from so many other guitarists of that era?

FRANKIE: He had "Star Quality" at first sight. He played circles around most guitarists in L.A. and likely everywhere else at the time because he was unique. He looked great, dressed like a star, but unlike many "stars" he did not have the attitude. A genuinely nice and funny person. I've never thought about this before because I am an only child and have always been very secure, but if I had a little brother, I would have wanted it to be Randy.

Dave: Jumping back to 2007, in my opinion too many bands are yapping when they're up on stage in front of a captive audience about U.S. politics or making anti-George Bush statements. I'm a freedom-of-speech advocate, but I don't think the concert hall is the time and a place for talking politics, unless it's in the lyrics of the song the band is performing. Do you agree?

FRANKIE: Politics are for politicians. Yes, you should vote for the candidates who you feel best represent you, but music is for the musicians who create it and the fans who enjoy it.

Dave: Actions speak louder than words sometimes, and I admire Quiet Riot's philosophy of supporting our troops and traveling overseas to play for them on more than one occasion. I tip my hat to you.

FRANKIE: I've said it before, we in America sleep better knowing that our men and women in the military make many sacrifices on our collective behalf. I also salute their families because they too sacrifice a great deal to serve our country in their own ways.

Dave: When you're touring, do you pay much attention to the uniqueness or personality of the venues that you're playing in? The last time I saw Quiet Riot was in a new spot for me, the St. George Theatre on Staten Island in New York City. It was a cool place to attend a show, and the acoustics from where I sat were real good. I can't wait to attend more shows there.

FRANKIE: Yes and no. I've spent more than half my life playing live shows. Every once in a while you play a place that Elvis, or the Beatles or Led Zeppelin played and all of a sudden you're a little kid again full of fan goose bumps. Then there are the dates where you know production is off, load-in is terrible, the acoustics bite, or it just plain smells. And then you say to yourself, "We're Back!"

Dave: You're a big fan of Led Zeppelin and their drummer John Bonham, and you were lucky enough to see them perform on a few occasions. There's probably not enough space in this interview to ask about John's influence on you. Many young drummers who were born after John's death list him as a big influence. How is it that John Bonham continues to influence drummers almost 30 years after his untimely death?

FRANKIE: The great John Henry Bonham was so far ahead of anyone else when he first arrived on the music scene via Led Zeppelin that still today he impresses. No one has caught up to him in style, feel, creativity or excitement on any of the recordings he did with Led Zeppelin or through his career onstage behind the drums. Even now I still get a big smile on my face when I hear him on record out of pure unabashed sincere admiration and love. God rest you Mr. Bonham, you remain one of a kind and truly a treasure.

Dave: Did influential bands like Led Zeppelin during the 70's, Quiet Riot during the 80's, or U2 during the 90's have any direct responsibility in the successes of the bands they've influenced? Or, did they simply create a market for the bands they've influenced to work in?

FRANKIE: No, I think all musicians are influenced by the music that they love and that came before them. Every generation has its own soundtrack and musicians just supply it.

Dave: The Rock and Roll Hall of Fame has been pretty inconsistent, in my opinion, with the bands they've inducted. They've ignored performers like KISS and Alice Cooper yet they inducted The Pretenders. They finally inducted Black Sabbath, while ignoring other 70's metal bands like Deep Purple and Judas Priest. A bunch of punk rock bands have been inducted, and progressive rock bands, other than Pink Floyd, have been ignored. Some of the 80's metal bands that bought into the "hair metal" image are now eligible. What type of place in rock and roll history do those bands deserve, and do you think the Rock and Roll Hall of Fame will recognize them?

FRANKIE: First of all, I'm happy when any musician or band is recognized and especially by the Rock and Roll Hall of Fame, regardless of genre, because it's a tough business. Will the bands from the 1980's be recognized? Maybe, but likely only the most popular and the ones considered as the "safe ones" for nomination.

Dave: With Quiet Riot, on occasions you play one-off gigs or you fly out for "weekend warrior" duty. As a drummer, talk about the challenges of playing on a rented drum kit.

FRANKIE: Ah, yes, "Drums du Jour," every night a different percussive main course. Just like going out to dinner. Sometimes the food looks great, but it isn't, and sometimes you should have just cut out the middle man and thrown up ahead of time. In all honesty though, you just do the best you can. It's OK to complain about the equipment, but never blame the equipment for your own shortcomings. I just go out there and start swinging. Sometimes it's good, sometimes not so good, but always with conviction!

Dave: How different is the drum configuration on a rental kit from your personal drum kit that youíd take with you on an extensive tour?

FRANKIE: The number of drums and cymbals is fairly constant, five-piece drum set, three cymbals plus the hi-hats, and hardware. The main problem is that I love playing a 26" bass drum, all my personal sets have 26" bass drums, but no rental companies are crazy enough to stock them because not everyone can play them or make them sound good. The second problem is drum heads. You rarely get what you ask for. The real issue is that I play Ludwig Drums, which to me are the best drums made and the best sounding drums. You can give me any drum set no matter how expensive it is, but if it's not Ludwig, it will not sound good no matter what, period.

Dave: The glam metal band Faster Pussycat was touring in 1990 and their drummer was arrested and kicked out of the band. You filled in for the remainder of the tour. What techniques did you utilize to learn their material on short notice?

FRANKIE: I learned the songs on a three and a half hour flight from L.A. to the first show in St. Louis, then I discovered that the band liked Jack Daniels. It all sorted itself out after that.

Dave: I know I knocked the excessive amount of tribute albums earlier, but I'm prejudiced and there can never be enough tribute records to The Beatles. Talk about the cut you did on the upcoming release "Butchering The Beatles."

FRANKIE: The Beatles are the reason that every musician from my generation picked up a musical instrument. When I got the call from producer Bob Kulick to see if I'd be interested, I jumped at the opportunity to pay homage to my childhood inspirations. When he told me that I would play on "The Magical Mystery Tour" I was floored because I've always loved the mood of the track. The bonus came when I heard who else would be playing on the track, Jeff Scott Soto (Vocals), Yngwie Malmsteen (Lead Guitar), Bob Kulick (Rhythm Guitar), and Jeff Pilson (Bass), OH Yeah!

Dave: The only cut I've heard so far from that record is "Drive My Car." It features Kip Winger singing and your friend Tony Franklin, who's a monster playing bass on "Rehab." You've played with so many great bass players: Tony, Glenn Hughes, Chuck Wright, and many others. Who's the one four-stringer that you've never played with who you'd love the chance to join in a rhythm section?

FRANKIE: John Paul Jones, hands down!!!!!!! If bass players would take the time to just sit down and really listen to what a great bass player John Paul Jones is, they would all be better for it. His note selection and feel are the best. He is to rock bass players what Jaco Pastorius is to jazz bass players, and they each crossed over into the others musical realm with ease and distinction.

Dave: You drummed for W.A.S.P. on their 1989 tour for "The Headless Children" and on many of their studio recordings. Stagehands, musicians, and even W.A.S.P. fans all have a war story to tell about the notorious Blackie Lawless. Let's ignore all of that stuff. Because he can play all of the instruments, how demanding is he on musicians in the studio as a producer and onstage as a band leader?

FRANKIE: I never had a problem working with him in the studio or live.

Dave: Do you think Blackie gets his due as a songwriter? He's written some real classic material but it's seldom that you hear anybody give him credit as a great songwriter.

FRANKIE: Last time I checked I wasn't wearing a judge's robe or swinging a gavel. Itís not for me to say, although I think he's very talented.

Dave: I was going to ask how a hard rock drummer like you hooked up with a surf guitarist like Gary Hoey, but he didn't always play that style of guitar. When and how did you two start your musical relationship?

FRANKIE: We did a record together in the early 1990's in the group Heavy Bones for Reprise Records. I then went on to record his first two solo records along with super bassist Tony Franklin.

Dave: I mentioned Glenn Hughes before and his contributions to "Rehab." You drummed on one of my favorite albums, "Hughes/Thrall." Did you play any live shows supporting that record? If not, have you ever shared the stage and played live with Glenn?

FRANKIE: I played what I think were the last two shows of the Hughes/Thrall tour in 1982 at the Hollywood Palladium and the Orange Pavilion, both in southern California. Besides that we did some sort of a jam at a club in Hollywood in the late 1980's. I think that is the extent of my Glenn Hughes experience until the "Rehab" sessions.

Dave: Try to explain what it was like to be a young Frankie Banali back in 1982 at a studio somewhere in Hollywood. On one side of the glass, you're recording with Glenn Hughes, and he's only played in bands like Trapeze and Deep Purple. On the other side of the glass is producer Andy Johns. He's only produced bands like Free and engineered on "Exile on Main Street" by the Rolling Stones as well as most of Led Zeppelinís records.

FRANKIE: On the one hand, I was thrilled to have the opportunity to work with both Glenn and Pat (Thrall), who wouldn't be? On the other hand, I had to pay my rent. I had previously worked with Andy Johns when I was in a band called Monarch with the wonderful guitarist Michael Monarch, formerly of Steppenwolf and Detective. If there was ever a band that I loved and wished had made it, it would have been "Monarch," which was a great musical experience for me nonetheless. You also have to understand that before I worked on the Hughes/Thrall record, I had already recorded with Billy Idol, most notably the "Mony Mony" track, so I was having a great time all the time.

Dave: Many bands say that the music business has changed for the worse since there's no radio support and the bands receive little to no support from their record label. Let me play the devil's advocate for a minute. I saw so many bands from the 70's and 80's who were poorly promoted or marketed incorrectly by the whims of their clueless record labels. Here in 2007, I see how bands can use the Internet and websites like MySpace to self-market themselves the way they want, to build fanbases, communicate with fans, hear the opinions of their fans, and most importantly, to get their songs heard. All the computer technology bands have at their disposal to help them record and self-produce, and the new possibilities that satellite radio presents, must be good tools to have. Would you rather be trying to break a new band in 1977, 1987, or 2007? Why?

FRANKIE: Not to sound glib, but I loved the 70's, was successful in the 80's, survived the 90's, and here we are talking in the new millennium. I'm just happy to still be in the game, and I don't over analyze it.

Dave: Speaking of 2007, what's in your plans and Quiet Riot's plan for next year?

FRANKIE: To continue to tour in support of the "Rehab" record worldwide.

Dave: That's all of the questions I have Frankie. Thanks again for letting me interview you. Is there anything that I've neglected to cover that you'd like to mention or promote?

FRANKIE: Nothing other than I hope that anyone who may be inclined will give "Rehab" a listen or two.

Dave: Do you have any closing comments for your fans worldwide?

FRANKIE: All of you have made many of my musical dreams come true through your support and dedication, and I will always remember that and never take you for granted.

ARTIST BIOGRAPHY

Full Name: Frankie Banali
Website: www.frankie-banali.com
Birthday: It's been so long, I've forgotten, but I'm pretty sure I'm older than dirt.....
Birthplace: The Big Apple
Hobbies: Japanese Art
Favorite rock band: Led Zeppelin
Favorite rock song: Too many to choose from
First record ever purchased: "Meet the Beatles"
Favorite venue to play: Madison Square Garden
Favorite city to visit: Tokyo
Favorite film: Too many to choose from
Favorite beverage: Daytime: Coffee / Nighttime: Sake
Favorite food: Sushi