I chatted on the telephone with Eric Adams, the lead singer for the metal band Manowar, on March 1, 2007. Eric and I had spoken previously in the fall of 2006, mostly about a DVD he did with outdoorsman Chester Moore, titled "Wild Life and Wild Times." Eric ended that interview with a Manowar teaser about "the Earthshaker DVD" and a "Sons of Odin" EP. That DVD was released a few months after we spoke, and it was titled "The Day The Earth Shook - The Absolute Power." The DVD, a double-disc with almost seven hours of playing time, features Manowar's two-hour-plus performance in 2005 as the headliner of Germany's Earthshaker festival, as well a documentary filmed during Manowar's Mega Fan Convention.

Dave: "The Day The Earth Shook - The Absolute Power" is an incredible DVD. It really captured the power and the spirit of a Manowar concert and the passion of your legions of loyal followers at the Manowar Mega Fan Convention. I thought one of the highlights of the DVD was when Manowar performed "Battle Hymn" with a lineup of past and present members.

ERIC: I'm glad you dig the DVD, Dave. It's really been received well by the metal community. You and a lot of people have called "Battle Hymn" the highlight. Let me back it up a bit though. Just seeing all the guys again in the rehearsal hall up here in Valhalla, when it wasn't a stage atmosphere, was unbelievable. We sat around in a circle with Donny Hamzik and Ross going through the "Battle Hymn" album, talking about which songs we wanted to play live. When we played at the Earthshaker festival, the drum riser was on hydraulics, and they lifted as I announced the guys. It was such a cool thing. We let everybody have their own day in the sun when they played the leads. Everybody played their own version of the lead in "Battle Hymn," and the song probably took about fifteen minutes. It was magical up on stage.

Dave: What else will Manowar and metal fans find as they play the DVD?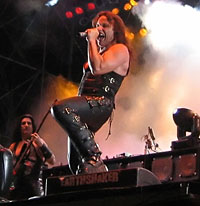 ERIC: They'll see excellent camera work. It was filmed with 27 high-definition cameras from all different angles, including the camera NFL football uses that goes down the center of the field. At the end of the show, there's a spectacular fireworks display. We weren't allowed to leave the stage because of all the explosions above us. I stood and watched the fans faces from the wings of the stage. I didn't see the fireworks until I watched the DVD. There's a bigger stage and a bigger light display than we've ever had. In the usual Manowar style, it's bigger and better and louder than it's ever been before. It's going to be tough to outdo ourselves. We'll have to wait and see but with the "Gods of War" show, I think we'll do it. On the DVD, they'll see the contract signed in blood at the fan convention. It was three days of mayhem with the fans and the band going crazy. The DVD includes interviews with all of us.

Dave: It looked to me like the cameras never stopped.

Eric: The cameras were always running, and they capture us backstage right after we're done playing. Everything is fresh in our minds when we're asked about the show. Sharing that moment with our fans is really special. The cameras are always with us: I just tell them to be as inconspicuous as possible. Fans want to see us when we don't know the cameras are rolling. They want the real deal backstage. We have four cameramen with us on tour. One is strictly with the band, backstage before and after the show, in the dressing room, and on the tour bus. Others are stage-only. One camera is crowd-only. Performance-wise, we film our shows every night. On the tour bus, we watch the two-and-a-half hour tape, making corrections, additions and subtractions so that the show works. Manowar is a well-organized machine, and I think we cover all of the aspects of our game for the fans.

Dave: The "Sons of Odin" EP, released in October 2006, had live and studio material that gave Manowar fans a sneak peek into the band's latest album, "Gods of War." When is the North American release for "Gods of War," which was released in late February 2007 to most of Europe?

ERIC: The North American release is scheduled for April 3. Releasing the record at different times was out of our hands. It's a business thing on how the United States record industry deals with metal music. Records get released on a certain day of the month and that's just the way it is. Here we are, an American band, and it gets released in North America last.

Dave: "Gods of War" is a concept album and its theme honors Odin, the Norse god of war. Manowar has always used warrior imagery to musically visit themes of the dark ages and ancient mythologies. A concept album, with its songs all intertwined, it takes a theme to a new level. Why did Manowar choose that path now?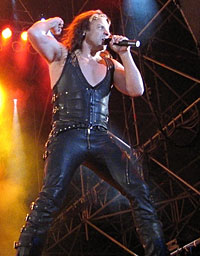 ERIC: Because we've never done it before. Manowar is always looking to do something new and exciting. We've never done a concept album and they really let the music, the narrative, and the vocals tell a story. I think it really worked out great. "Gods of War" is the type of album that needs to be listened to from the beginning to the end without any interruptions. It's like reading a novel; you can't start at chapter four. This record is over 70 minutes long, and it tells the story of Odin from the beginning until his death. It explains how he got his powers. We've all studied mythology, but as I researched Odin, there were so many things that I either forgot or never knew. We do a song called "Blood Brothers," which is about Odin's brother Loki. The set-up is really cool. When people listen, people will learn how everything fits together. At the very end, all of the fallen warriors are risen from the dead by Odin and brought into Valhalla. I can tell you this much Dave: anybody who comes to see this show will be taken to Valhalla. We're bringing the whole audience there!

Dave: Looking past the song titles and lyrics, Manowar never strays from its heavy metal style, so how does "Gods of War" take it to a new level musically?

ERIC: Manowar are innovators. We don't copy others, and we're not afraid to try new things. We have a set of nuts, and we use them! We try it, and we play from the heart. If we fall on our face, at least we tried. This new record isn't just metal; it's the birth of a different and new metal. We take it to another place. Metal doesn't just have to be ass-kicking guitars and fast track songs. Metal is a feel that you can also get from slow songs as well as fast songs if you use the right instruments. I think we've done that by letting the instruments speak for themselves. It really works! When I'm watching a scene in a movie, without music, it doesn't have the same feel. Music, not the visual effects, gives you the feelings of sadness or triumph. Manowar uses that approach a lot on "Gods of War" with orchestral music, including instruments like French horns, which indicate triumph, and strings, which will put you in a different place. We want the music to put you where you have to be, and then we bring in the vocals to tell the story. The music alone takes you to a fantasy place that we've put you in. That's the exciting part about the music on this album; everybody has a different feeling about what Valhalla would be like for them. We've taken a mythological story that's been written about for thousands of years, and we've put it to metal music.

Dave: Like most Norse gods, Odin is a complex dude. He's been called the Norse god of war, battle, death, and wisdom. He's also referred to as a god of magic, prophecy, poetry, victory, and the hunt. Did you look at Odin from all of those different perspectives, or did you narrow the focus to war and battle?

ERIC: It's all in there; we looked at the whole story of Odin. For the people unfamiliar with his mythology, we knew we had to explain everything from the beginning, including how he got his powers. As you said, he was a complex guy. Odin was hung upside down from a tree for nine days without food, and he gave one of his eyes for wisdom and poetry.

Dave: It's been stated that "Gods of War" will be Manowar's first entry into a cycle of concept albums, with each being a tribute to a different war god. Is that the plan, and if so, will you spread out the concept records or will they be released consecutively?

ERIC: That is the plan Dave, and each will be a tribute to a different god of war. It's not chiseled in stone, but to keep the concept going and the chapters moving along, we plan on releasing them consecutively. The new record is just chapter one of a book on the gods of war. The beauty of this is that every country has mythological gods who we can sit down to read and learn about. Writing about the different gods also let's us pay tribute to other countries and their cultures. There's a vista of opportunities to write about, but concept records are such a new thing for Manowar. We'll have to see what happens.

Dave: I originally thought I'd ask you why Odin was selected first. But as I read into his story, Odin welcomes all the great dead warriors into his hall of the slain, Valhalla. Those fallen warriors were assembled by Odin to hopefully fight with the gods of war during the final battle at the end of Earth, Ragnarok. Is that where the next chapter picks up?

ERIC: We haven't begun those discussions yet. This might be the end of the story as far as Odin is concerned, and we move on.

Dave: Odin has also been known to instigate war. Given the world politics of the 21st century, is Manowar giving music fans a subtle message about today's battlefields?

ERIC: Not intentionally, but if people get that out of the music, that's their interpretation. Manowar is not a religious band, and we're not political in any way. You get yourself in too much trouble, and we can't be bothered. We'll play the music based upon what's in our hearts at the time and the listeners can draw their own conclusions.

Dave: I've asked many a musician if they had a pre-conceived musical direction or theme in mind when the band headed into the studio and most will answer take the record evolved and took shape once the band entered the studio. Does a "concept album," by definition and its nature, have its complex structure not only pre-conceived but unchangeable once the recording process starts?

ERIC: It's never unchangeable, nothing's ever chiseled in stone. As far as the theme and story we hoped to tell, everything was definitely worked out and outlined before we went into the studio. Once you start writing the material, everything changes. A lot of the melody changed when I went to Belgium to lay down the final vocals, just hours before the songs were mixed. Shit happens. Sometimes you get a magical feeling in the studio where you have to change things. We were in the final stages of mixing "Hymn of the Immortal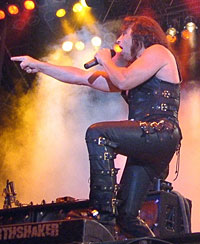 Warriors," and our drummer Scott woke up in the middle of the night knowing he had to change a bass drum part that was really bugging him. This music stays with you after we're dead and gone. Once it is laid down, that's it. So we put a lot of thought and planning into it. On one hand, it's safe to say that this album required the most planning and thought behind it. On the other hand, every album we do demands more and more thought. We're at a stage in our career where we can't fail and every album is more complex. That's music; it's the way it is. We have to grow with every record.

Dave: Manowar's "Demons, Dragons and Warriors" tour to support "Gods of War" starts in late March 2007 with dates in Europe and a just-added date in Russia. Are there any plans to tour Canada or the United States in 2007?

ERIC: There are always plans, but nothing is set yet. I really wish I could say we'll be playing somewhere in Canada or New York on June 15, but I can't. The plan so far is to play Europe and Russia. Because we had to cancel shows last time when Karl Logan was injured, promoters are a bit gun-shy. I guess they want to see that the record's been released and that we're out on the road before they book the band. The phone's ringing now, and we expect to be out this summer as well. Hopefully, in the fall we'll be booked all across Brazil and South America.

Dave: Since Manowar's bass guitarist Joey DeMaio was already quoted that the new CD "will fry the hairs on your balls," I'll ask you what fans should expect musically and visually on the upcoming tour?

ERIC: Anybody attending this tour WILL go to Valhalla. We'll not only be hitting their senses of hearing, we'll hit every sense they have. Without spoiling any other surprises, at least I can tell you that. We've been rehearsing here in upstate New York, and we'll be doing a solid week of full-production rehearsals when we get to Germany. It's that important to us.

Dave: Is the setlist a surprise or will Manowar perform "Gods of War" track by track?

ERIC: We will not do "Gods of War" track by track because people still want to here the music they have at home. We'll play some older songs we've never played before, songs we have played before, and bits and pieces from the new album.

Dave: I saw a photo of a real cool motorcycle, the "Gods of War chopper," that Manowar will be giving away during the upcoming tour. How do fans register for that competition?

ERIC: There's a number inside each CD that lets you register online and then you're automatically entered in the drawing. There are actually two bikes that we'll be giving away.

Dave: I also read that fans traveling to a different country for a Manowar concert can present their passport at the band's merchandise booth to receive a special edition t-shirt. What a great idea! But knowing how rabid Manowar fans are, you're going to be giving away quite a few shirts!

ERIC: Not only a special edition t-shirt made just for those fans, there's something else in the package. The fans are everything to us. Manowar not only says it; we do mean it. Some of these fans bought tickets to shows, and we had to cancel because of Karl's accident. Instead of bitching and complaining, they took the hit and still went out and booked flights and hotels and bought tickets all over again. How can you not do something for fans like that? Even though the cancellations weren't our fault, we feel that we owe them something. This is our little way of saying thanks to our brothers and sisters in metal who believe in Manowar.
Dave: A few years back, rock and wrestling joined hand in hand, with a few bands writing theme songs that professional wrestlers used as they took the stage. In February 2007, Manowar pitched in during a German television station's airing of a boxing match. Tell me more about that alliance.

ERIC: That was cool. It was a television show airing three boxing matches. We played in-between two of the matches. They used our song "Die For Metal" during commercials and then we played that song live. No lip-synching for Manowar; we played it and I sang it live.

Dave: Everything changes and everything evolves. These days, there is a real lack of epic metal music full of guitars and orchestration. Do you think metal music is evolving into a new form, spearheaded by all the newer metal bands that you see and hear when Manowar's in Europe?

ERIC: There's definitely a lack of epic metal and that's what prompted us to go in the direction we did with "Gods of War." Fans asked us to bring back that sound. Manowar are innovators like I told you earlier. We have evolved. If you'd ask me where metal is going, I'd answer the next Manowar album. We bring ideas to metal and to young musicians. If they say "look what Manowar did; it's new and different," or if they follow along, that's great.

Dave: I think there's a small handful of new U.S. bands trying to stick with a classic metal sound, but they're getting outnumbered fast.

ERIC: You've got that right Dave. They're getting outnumbered and there's nothing I can add to your statement.

Dave: The music industry in general sure has evolved since you got started. Manowar has always embraced new recording technologies. They also seem to embrace the new computer technologies, providing their fans with downloads of songs, CD booklets, and ringtones. Heck, Manowar even had a virtual CD release party over the Internet with streaming audio of the new CD. How has Eric Adams evolved as a musician?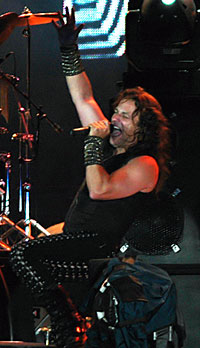 ERIC: That's a great question Dave; nobody ever asked me that before. First of all, Manowar had to evolve and keep up or die on the wayside. Where I've evolved is that I learned through my career that I sing and portray emotion. It's my job to be the character that I'm singing about. If I'm a warrior who's in battle at the time, I can't use a pretty sounding voice. I have to sound raunchy, down and dirty. I have to convince the listener that I am that guy. If I'm singing a song like "Master of the Wind," that's about your inner feelings and how you get the strength to go on with everyday struggles all around you, I have to dig deep to find the hero inside of me. I don't want a gravelly sound there. I need a pleasing voice, something almost heavenly and in the clouds. Learning how to do that is how I've evolved the most. Putting the character where it needs to be is so important. Not too many singers do that these days. I don't know if they can't do it but they don't do it. Only a handful of bands have a singer who can show a range of emotions when they're singing. To me, that's just as important in a band's performance as a guitarist hitting a power chord. If everybody in the band portrays the right emotion when it's needed, you'll have a helluva song.

Dave: That's enough talk about being up onstage or in the recording studio. Let's go outdoors. In 2006, you released a DVD called "Wild Life & Wild Times." It visually chronicles the hunting and fishing exploits of you and outdoorsman Chester Moore. First of all, please introduce Chester Moore to the music community.

ERIC: Chester's an outdoorsman and writer based in Orange, Texas, which is near Houston. He has a long-running radio show that can be heard in Louisiana and Texas. He's authored four books, and he's very well known in the South and in the hunting world itself. He certainly knows his stuff, and he's a pleasure to hunt with. Chester's an ethical hunter, which is pretty important to me. He's also a bass guitar player. It's funny Dave because I make my living playing music and my hobby is hunting. Chester makes his living in the outdoor world and his hobby is music. His band is called Freak 13.

Dave: As you mentioned, your hobby is hunting. What were your reasons for making a DVD?

ERIC: It all started in Dallas at a Manowar show. Chester asked to do an interview with me because he's an outdoor writer and he had heard that I hunted. When he asked me about it, I stuck a turkey call I had with me in my mouth in the hotel lobby and started calling! We ended up doing the interview for a Texas fish and game magazine. One of his friends has a television show and asked if I'd appear on the show as a guest. I flew down and hunted turkeys with a bow while I was down there. I had so much fun, and I asked Chester if we film something on our off time. In Manowar-land, I had all of the cameras we needed and a studio to edit it in. Texas has all of the spots to hunt. We started filming and thought maybe we could make a television show out of it. We still may. When you're going out to do something you like, you might as well have a camera so you can watch it later. That started it, and when Manowar's bass guitarist, Joey DeMaio, saw part of the footage, he suggested putting out a DVD. It would let Manowar fans know see what Eric Adams is all about offstage and what he does on his off time.

Dave: Where should outdoors enthusiasts or music fans go to purchase "Wild Life & Wild Times"?

ERIC: They can go to the band's website, www.manowar.com, or our record label's website, www.magiccirclemusic.com. They can also order it at www.wildlifeandwildtimes.com or at amazon.com. The DVD website is pretty cool, and it has pictures and video clips so the fans can see what it's all about.

Dave: To paraphrase a statement that I read in a press release, "there are no casual metal fans and it's impossible to find an outdoorsman that doesn't live and breathe his craft. Passion and devotion make these more than hobbies, they are ways of life." How does Eric Adams self-relate to that statement?

ERIC: That's a true statement for Eric Adams. When I'm touring, I'm a wild man on stage. When I'm in the woods, I'm a wild man also. I take everything seriously. My heart is really into both performing and hunting. I go out to score the animal I'm hunting or to perform the very best I can for the audience that's there. I believe in what I do, and my heart and soul are into it. I do both things to the best of my ability.

Dave: Hunting, more than fishing, can at times be very controversial. I don't want to discuss animal rights or the politics of hunting. That's not what we're here for. Yet, in the DVD, Chester and you justified your style of hunting by reinforcing that these were ethical, clean hunts and that you utilize all of the meat. Please elaborate on that statement and the message you were trying to convey to non-hunters and other types of hunters.

ERIC: When we made the DVD, we were well aware that a lot of the people who buy it will be Manowar fans from Europe. Over there, it's illegal to hunt in a lot of countries. As we made the DVD, we explained the situation of each animal, its habitat, and where and why we shoot. We wanted to stress that whatever we harvest, we bring home to our own dinner tables. If not, we get it into the hands of someone who will take it home. We follow the rules and regulations of the states we hunt in. You can only take a certain amount of animals during a specified time of year. We wanted to get all of those facts known. At the end of the day, wild game makes a great meal. I'd rather eat something that I harvested, I cleaned, and I put on my plate. It's better for you, it has less fat, and there are no chemicals in wild game.

An ethical hunt means that you're well-practiced with your weapon, such as a bow, so that you just don't fling an arrow, wounding an animal but not killing it. You should shoot at your known yardage, and you should know where to hit the animal. You have to put down your target cleanly. Plus, hunting with a bow is a one-shot deal, you only hit the target or it gets away. The animal has a chance. Chester and I both try to promote ethical hunting, you can't be out there just for a trophy head. It's called hunting, not murder. If you want the trophy, buy it from a real hunter who used the meat or gave it to needy families. Ethics, basically, is what you do out in the field when nobody else can see you.

Dave: In the process of filming the DVD, the two of you flew more than 50,000 miles and drove another 3,000 miles. You were able to travel from New York State, and the types of hunting and fishing you were familiar with, to experience some new "outdoor adventures." Which was your favorite and why?

ERIC: My favorite was definitely hunting wild boar, but it's tough to say. I almost got caught by the wild boar. The hardest, physically, was the wild elk hunt. Even though I'm in great shape, the altitude got to me. It was hard to breathe. It was really a tough hunt.

Dave: Please talk about the instrumental soundtrack you composed for the DVD.

ERIC: The soundtrack is new, original material written just for the DVD. It won't be available anywhere else. Creating a soundtrack was a cool part of the process, which I never thought about until Joey DeMaio mentioned that I needed background music. All of the guys in Manowar have home studios with computers so I sat back and started writing. I'd pick up instruments and start jamming, laying down guitar tracks and drum tracks. I couldn't nail all of the guitar parts so Manowar's Karl Logan and a few friends helped me out. I watched parts of the DVD and tried to write material that fit what was captured on film.

Dave: During the DVD, you mention "the adrenaline rush of being hunted while you're hunting." Even before I viewed the DVD, I thought of a Smokey Robinson song that Blondie, one of my favorite punk rock bands, covered called "The Hunter Gets Captured by the Game." What's the closest call you ever had hunting?

ERIC: The closest call I've ever had is actually on the DVD. It was while I was hunting wild boar. I snuck up on one, and when he saw me, he decided I was lunch. He got up and started chasing me. I know that a boar demands all the respect you can give him. I also knew that if I didn't find a tree in a hurry, well let's just say my singing career would be cut (so to speak) short. It's the whole adrenaline thing that I love. When I hunt an animal that hunts me...whoa!!!! That will remind you where all of your nerves are connected.

Dave: I once interviewed bass guitarist Barry Sparks, and he said it wasn't uncommon for his boss, guitarist Ted Nugent, to go out hunting following a concert.

ERIC: I only hunt on off-days. I've had friends invite me but Manowar puts on a pretty big show. I don't have much time. When the show's over, we're rolling to the next show. I like to go out into the field scouting locations and that takes time. Plus, in a lot of the European countries where Manowar plays, it's illegal to hunt. Ted Nugent plays more in the United States, Manowar plays more in Europe.

Dave: How do the emotions and rush you get when you're hitting the stage in a sold-out venue that your band is headlining compare to being out in the field with the target in your crosshairs?

ERIC: It's a whole different feeling brother! Up onstage, I'm looking at the crowd and I'm like a sponge. I absorb their energy and give it right back to them. I respect the fans so much because without them, the band doesn't exist. We know that's the bottom line, every night at every show. We try to treat our fans like family. Out on a hunt, the excitement is different. I have to decide whether I want to harvest an animal. When I pull back on my bow, and I know the target is in my range, I have to decide whether to release the arrow. Once I've successfully stalked my target, the hunt's already over, whether I release the arrow or not. Sometimes I let them walk away. The excitement is fooling the animal's senses. You're right there, you got 'em if you want 'em, and the animal doesn't even know you're there.

Dave: More than one musician has told me that the two hours up on stage every night are a piece of cake. The bigger challenge while touring, in their opinions, is the other 22 hours spent traveling, trying to get sleep, and interacting with the media and fans. What's the biggest challenge while hunting or fishing: traveling to the hunt, finding and stalking the prey, or making the shot?

ERIC: The worst part, or biggest challenge, is taking an airplane to a hunt. I'm traveling with weapons, and I have to make sure everything is secure and locked. I bring two bows in case one fails. Many airlines only allow one piece of luggage so I have to pay extra to fly with extra bows. If they lose my luggage, I'm at my destination with no weapons to hunt with. After paying for the flight, the hunt, and the license to hunt, having no weapons can be pretty frustrating. I love being up in a tree stand, I compare it to being up on stage. I'll spend hours up there. I love the actual hunt. I don't mind the work of looking for a spot to hunt. I don't mind the work of taking care of the animals after I harvest them, that's part of being a hunter.

Dave: There is a story, and it's been made into a film on many occasions, called "The Most Dangerous Game." Basically, its premise is about humans hunting down other humans. God forbid anyone is ever put into that situation, but what have you learned from hunting and tracking different types of animals that would make you more elusive if you were being hunted?

ERIC: One thing I've learned is that animals know their habitat and the area better than you. It's their living room. They know right where to go and how to hide. They know to keep low and keep still. They're already camouflaged as are the hunters. If you stay still and don't move at all, you can't be seen.

Dave: Let's have a little fun with this question, using "The Most Dangerous Game" as the theme. Who is the biggest idiot that you've run into in the music business whom you'd like to hunt down and eventually mount his head on your living room wall?

ERIC: He's out there all right, but I can't give you his name. If he happens to drop dead somewhere, I don't want to be arrested for it! I could try an alibi like, "I was cleaning my bow and it just went off." He's not a fellow musician, but he's somebody from the industry. It's a problem when we call it the music "business." If it was just music, we'd all have a good time up there. When the "business" starts to get involved it becomes a pain in the ass, and it's the fans who suffer.

Dave: Are there any aspects of the DVD that you think I've overlooked?

ERIC: On a personal note, you did a great interview. I've done a lot of these interviews and yours was well-thought out and well-planned. You had some great questions. On a closing note, I just hope everyone enjoys the DVD. Watch it and have a good time. There are bloopers that we kept on the DVD, and a separate music section. It's kinda cool and I think the fans will dig it. Knowing that we eat whatever we decide to take, knowing that we're ethical out there in the woods and that this is something we do as a hobby and we have fun doing it, keep all of that in mind and get out there and enjoy the DVD. I think you will.

Dave: Thanks for the interview Eric, and best of luck to you and Manowar in Europe touring to support "Gods of War."

ERIC: Thanks David, you ought to come over to Europe sometime and watch us play.

Dave: I'm going to keep my fingers crossed for something closer to home in North America before I head over to Europe.

ERIC: All right, you do that. Hopefully, we'll be playing for all our friends in North America someday soon. If you don't attend a show, you'll be reading about this one or hearing about it from people that did attend. No metal band has ever done what we're going to do on this tour!