Davesontour.com talked on the telephone recently with X drummer D.J. Bonebrake, who was getting ready to hit the road with his other band, The Knitters, on their summer 2005 U.S. tour. D.J. was relaxing on his couch at home in California when we chatted. Later that night, he was driving in the station wagon of Red Hot Chili Peppers bassist Flea to Big Sur, where the two of them were recording with folk singer Ramblin' Jack Elliott.

Dave: Thanks for the interview D.J. Congratulations and best of luck with the release of the new X DVD, "Live in Los Angeles." This DVD and companion CD celebrate the 25th anniversary of X's debut album, "Los Angeles." I'll be asking you some questions about X later in this interview. Since you're going out on tour with a band called The Knitters, I'll start there.

The Knitters released their debut album, "Poor Little Critter on the Road," in 1985, as a side project for X members John Doe, Exene Cervenka and yourself, The Blasters guitarist Dave Alvin and Johnny Ray Bartel on upright bass. How did The Knitters get started and what, if anything, was the band trying to accomplish musically with that album?

DJ: John and Exene were asked to play some folk songs at a local club's "folk night" so they put something together. I was the last one to join after Dave and Johnny Ray, and we started playing some benefit concerts. The record was off-the-cuff, trying to re-create what we did live. We tried to have fun.

Dave: The Knitters just released their follow-up CD, "The Modern Sound of The Knitters" 20 years later. John Doe has been quoted that "The Knitters, like their music, don't do anything hasty." With John's quote in mind, I won't ask you why it took 20 years. I'll simply ask you to tell me all about the new CD, which includes re-workings of a few X songs and a cover of Steppenwolf's "Born To Be Wild."

DJ: "Born To Be Wild" was John's suggestion. It's a classic rock song that we've played quite a while. John loved the odd contrast of a 60's rock song being done by a folk band. The Knitters can take different songs, X punk rock songs included, and make them all come out as folk songs. A good song is a good song and you could re-work it. It's all about good songwriting and the interpretation of it. That's what a good folk singer does, they deliver the song. The Knitters are a folk band on steroids, we play it a little louder, but we're still folky and country.

Dave: The Knitters' U.S. tour supporting the new CD just started with a week of shows on the West Coast and now it's heading east. How were those shows?

DJ: They were great! The first two nights were in San Francisco. The first night was classic Knitters: drunken and sloppy but fun. Seattle was fantastic, in front of a big audience. Portland was outside at a brewery and it was a lot of fun, like a big picnic. We did some radio interviews and in-store appearances also. Every time I go onstage with The Knitters, it's a hoot.

Dave: What should music fans attending The Knitters' concerts expect from the band's live performance?

DJ: Expect anything. We'll play the stuff from both CDs. Dave Alvin is a fantastic guitar player. John and Exene are funny on stage, and they sound great, as does the rhythm section. There's improvisation. If something goes wrong, we run with it. We use it. Something will go wrong, something breaks or we forget a lyric. There's a bit of comedy in it. There's a few cornball moments, but we are serious about the music and we honor it. The main thing is we love the music. We're not making fun of folk music. The Knitters will do ballads, we'll rock out, and we'll make you laugh. Then you'll cry!

Dave: Bloodshot Records released "Poor Little Critter on the Road - A Tribute to The Knitters" in 1999. This CD was a track-by-track re-creation of the debut album. It also included a previously unreleased song by The Knitters called "Why Don't We Try Anymore?" Who were some of the musicians covering songs by The Knitters, and in your opinion, how did they do capturing the spirit of your original album?

DJ: I haven't listened to it in such a long time, and my memory isn't very good about those type of things. I can tell you that I was blown away by the original idea of people doing that album.

Dave: Music fans may not be familiar with two of your side projects, the Bonebrake Syncopators and Orchestra Superstring. Tell me everything we need to know about the Bonebrake Syncopators.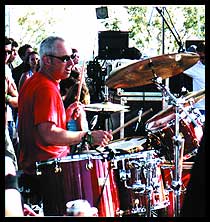 DJ: Bonebrake Syncopators is a five-piece band playing traditional jazz. We cover a lot of ground, the 1920's through the 1950's. I play vibraphone, T.K. Smith plays guitar, and Jeremy Wakefield, a.k.a. J.W., plays lap steel guitar. Wally Hersom is our upright bassist, and we have a drummer who sings named Dave Stuckey. We have a slight country swing sound because of the lap steel guitar. We do mostly traditional material with a few songs of our own. We've been together about four years. Nothing is recorded yet, but we have a few demos around that we'll print up and sell. The players are real good and we do it for fun. We don't have high aspirations.

Dave: Please talk about the musical direction of Orchestra Superstring and its self-titled CD. Also, where can music fans purchase that CD?

DJ: Orchestra Superstring is a Latin jazz band, borderline exotica. Our CD is on Dionysus Records. We're a six-piece band with two percussionists and a guitarist who doubles on guitorgan. That's a guitar that sounds like an organ. I play vibes and our trumpet player doubles on accordion. We've been together about eight years. You can buy the record through www.dionysusrecords.com.

Dave: I'm assuming that music fans can check for live performances of the Bonebrake Syncopators and Orchestra Superstring at your website, www.djbonebrake.com?

DJ: Yes you can, but we're not playing much right now.

Dave: The cool artwork for the Orchestra Superstring CD was created by your wife, the artist Diana Bonebrake. Please tell us more about her artwork and about her website.

DJ: Diana's main thing is oil painting. She does beautiful landscapes and you can check them out at www.bonebrakepaintings.com. Her website is linked at my website, www.djbonebrake.com. She is also an illustrator. She did the artwork on The Knitters' record. Diana is very natural and very talented.

Dave: How did you and Diana meet, how did you propose, and when did you marry?

DJ: We met in 1979. Billy Zoom introduced us, and we were in the same punk scene. The proposal wasn't anything dramatic. We were living together and when X signed to Elektra I wanted to make a commitment. It was kind of pragmatic. I was going on tour and I thought we should get married, which we did on December 3, 1981.

Dave: Speaking of marriages, I'll start the X questions off with this: How did you land the job as the drummer for X?

DJ: X was together a few years in the late 70's. When their first drummer left town, they were looking for a new drummer and they ran an ad in Slash magazine. But I missed it. Billy had always said that they needed a drummer who plays a big snare drum. I was playing at a club with another band called The Eyes. John Doe heard me play and asked me to join his band. Being a typical drummer, I said I'd check it out. Every drummer in L.A. was playing in five bands anyway. I did some rehearsals and then I joined the band because I really liked their songs.

Dave: Henry Rollins once stated that most L.A. punk bands had an English derivative, but that X came out of Hank Williams and Johnny Cash. The influence of those two on the songwriting and vocals of John Doe and Exene is obvious, as is the rockabilly influence on the guitar playing of Billy Zoom. Talk about your drumming, and what you try to do musically, as the final piece of the X formula.

DJ: I interpret what they give me and I try to make it as interesting as possible. I know that's a generic answer but I have to make it interesting, without getting in the way of the song.

Dave: Billy is such a great guitarist, John and Exene are so good together vocally and they write wonderful songs. Is it intimidating, or is it more of a challenge, trying to be the final piece to that wonderful band formula?

DJ: My attitude is that I'm complementing them, not competing with them. I get to be the invisible member, which I like. I try to do my job, and hopefully I do it well.

Dave: The first four X albums were produced by Ray Manzarek, an original member of The Doors. What a curious choice for a producer. A keyboard player from a 1960's rock band producing a 1980's punk band that had no keyboards. Was he the band's choice as producer or was it your record label's choice? Also, please talk about how Ray's production influenced the first four X albums.

DJ: He was the band's choice. The Doors were dark and poetic, similar to X, but from a different era. He was perfect! There were no other producers knocking on our door; punk bands couldn't get signed to record deals. Ray heard us play live at The Whiskey when he was there to see another band. We did a version of "Soul Kitchen" that was five times faster than his original version. Ray didn't recognize it but his wife Dorothy did. He liked our band, and he said he wanted to produce us and to try to get us a record deal. And even he couldn't get us the deal. He worked for next to nothing. Ray was so good at capturing the band live. He didn't try to change our sound. There's always a paranoia in a band that the label or producer will change their sound, adding things to make it sound commercial. Ray said, "Let's just go for performance." He stood back and let us do our thing, yet he had the experience to know when to intervene and suggest things.

Dave: Speaking of The Doors, X covered their song "Soul Kitchen" on your first album. Hypothetically speaking, which X song do you think The Doors and Jim Morrison could have covered and did justice to? I'll pick "The Unheard Music."

DJ: I can hear that, it's a good choice. I think "Nausea" would be another good one.

Dave: What is your favorite X song to perform night after night? What is the most difficult X song to drum on from your perspective? Why?

DJ: "Johny Hit and Run Paulene" is my favorite. "Because I Do" is difficult, because it's really fast, with a lot of drum fills. It's really hard to come up with interesting fills that work and don't obscure the lyrics.

Dave: Is there one song, or one live performance, that stands out to you as the defining moment of X? Or is that moment still to come?

DJ: Specifically, I can't name one. Statistically when we're out on the road, maybe once a week one show really stands out. And you can't tell when it will be.

Dave: Does X have any future plans to record a new studio album?

DJ: Not right now.

Dave: It's been years since X played in New Jersey or New York City. The last tour only got close with a show in Philadelphia. The show was great. I made the 90-minute drive and I even caught a drumstick you threw into a very physical crowd. The cuts and bruises I got healed pretty fast. Don't take this the wrong way but it's been too long. When is X going to play New York City again?

DJ: There is a possibility that we may play this Fall. It could happen.

Dave: Speaking of New York City, members of the band Talking Heads, Patti Smith, "E" Street guitarist Little Steven, and others are trying to get the nightclub CBGB's declared a landmark by New York City. This club appears headed for extinction, if the club owners' rent struggles with the building's landlords that have been in the news lately are factual. What are your memories of CBGB's as the premier New York City punk rock venue during the late 1970's and early 80's?

DJ: My perspective of CBGB's is different. In 1978, it was the first club we played in New York. My memory is driving coast to coast, three straight days in the rain, in a leaking station wagon. When we pulled in front of the club, I was cramped and stiff. The club was seedy, and the floor was uneven. My memory is just that strange first experience. CBGB's greatness is in the interesting bands they let play there, and the bands they nurtured.

Dave: In the late 70's, I was living 10 miles from New York City. As a punk rock fan I totally ignored U.S. punk bands that were not from New York City and I had a distain of U.K. punk bands. Silly me. Was there a real rivalry between punk rock bands from different locales, or was that something that just existed in the minds of punk rock fans and in the words of music writers and deejays?

DJ: It was both. Everyone wants their share. Sometimes that rivalry existed, sometimes not. Fans did boycott certain shows, only supporting their own bands. Now that we can look back over time and sort things out, we can see how wrong we were. Some of the British bands were great. Some of the same people knocking those bands were stealing ideas from them. It's never simple.

Dave: I read a quote once that said L.A.'s early punk scene was full of people that didn't fit in anywhere else. Please share a memory about the early punk scene in Los Angeles.

DJ: Speaking for L.A., we in the punk scene felt very isolated. We felt like outsiders.

Dave: X toured everywhere during that timeframe. From your perspective, how was the punk scene in L.A. different, both positively and negatively, from the punk scenes in New York City and London?

DJ: X didn't play in London until 1980, and we only played shows in the individual clubs. It's really hard to say. We didn't spend any time there so it was hard to judge "the scene." Even New York, I knew the bands that came out of there, and how influential they were. I just didn't have the perspective of how the New York scene worked. As an outsider, it's hard to do a comparison. We'd only be in town a few days, and we'd only see a random band or two.

Dave: There is an awesome quote in the X compilation CD, "Make The Music Go Bang." A writer named Claude Bessy was writing about X in Slash Magazine. He stated, "Everything has been said. Everything is true. They are the greatest, the baddest, the whole L.A. enchilada by themselves." I read another quote once where Joey Ramone stated that it was sometimes a burden for The Ramones being the number one representative of New York City's punk scene. For you and X representing Los Angeles, was it a burden, or was it a heavy flag that the band proudly held high?

DJ: It was neither. We accepted the title humbly. At that time, a lot of people didn't like us or they were indifferent to us. The accolades or title came so much later. At the time, probably The Weirdos or The Dickies would have held that title. It was because X kept growing, because we put out good records, and our audience grew. A lot of people in L.A. thought X sold out. When you win an award, you're honored but you're going on with your life. It's great for promotional purposes but we didn't take it too seriously.

Dave: In your opinion D.J., who was the punk rock band that was totally overlooked, getting no credit at all for their contributions? Who was the band that received too much credit, adding very little over all to the punk rock movement?

DJ: The Weirdos were that band, they were totally happening. They looked and sounded great, they were so complete. As far as too much credit, maybe The Germs, because Darby Crash died. He was great, the band was great, and you can't get too much attention. They are the band everybody tried to exploit, that people tried to cash in on. We thought The Dickies got too much attention because they got the record deal. After they got the deal, they bought a keg of beer and gave everybody a party. Then we loved them, they were the greatest.

Dave: The Rock and Roll Hall of Fame has inducted punk bands like The Ramones, Talking Heads and The Clash. Since 25 years have lapsed since your first album was released, X is now eligible for induction. In my humble opinion, X is more than qualified for induction. Some musicians have downplayed the Rock and Roll Hall of Fame's importance as a "measuring stick." Another commented in an interview I conducted, saying "it's like a glorified Hard Rock Café except you can't order the swordfish." What is the significance of the Rock and Roll Hall of Fame to X and to D.J. Bonebrake?

DJ: I don't think about it that much. In a pragmatic way, it gives you credibility. If they induct us, it'll be cool. Awards are great, it's people saying they appreciate you. Those are humbling experiences.

Dave: At this point in the interview, would you like to switch places and ask me a question?

DJ: Are you a musician? I'm guessing that you might be a drummer because of your awesome drumstick collection.

Dave: No, I don't drum. I just happened to catch a drumstick in 1977 and I started collecting them. A lot of people think that I drum and associate that to the collection. By the way, the drumstick of yours that I caught in Philadelphia in 2002 was pretty splintered. I have a pretty good story for almost every drumstick and yours is the only one I ever caught that drew blood.

Dave: Who is the one drummer that has been the biggest influence on your playing style? Why?

DJ: It was probably Buddy Rich. When I studied him, I learned about all the possibilities in drumming. He was a revelation that opened up a whole new world to me musically.

Dave: What effect has the Internet and today's music industry had on you, both as a musician and as a music listener?

DJ: I don't use the Internet, I don't download. I still go to record stores. It has affected me, in that more people can check out my work and my side projects. I teach drums and get students through the Internet. With e-mail, I'm in contact with, and I meet more people. Before e-mail, I felt more isolated, which I like. Now, its another venue of communication and the world is within my grasp.

Dave: My 9-year-old daughter Diana collects guitar picks. Billy Zoom and John Doe have kindly signed guitar picks for her collection. She has a guitar pick from L.A. musician Lysa Flores, and you drummed on Lysa's CDs "Tree of Hope" and "The Making of a Trophy Grrrl." Please tell me a little bit about Lysa.

DJ: Lysa's a great songwriter and I've played with her for about 15 years. I encouraged her to go out and record her solo stuff.

Dave: Are there any other projects in your discography that I've neglected to cover that you'd like to talk about?

DJ: I just did a session with and I've played on two previous records for Elani Mandell. She's a great songwriter. I've played on some things put out by Skip Heller, a real prolific writer, including "One More Midnight" by the D.J. Bonebrake/Skip Heller Quartet.

Dave: In the late 70's, a college professor in Philosophy 101 asked me my philosophy of life. I was a punk rocker then, an angry young man, and I answered "Fuck Everybody But Me." Obviously, I was young and stupid, and had experienced next to nothing at that point. With all you've done, seen, heard, and learned, what is D.J. Bonebrake's philosophy of life?

DJ: "Fuck Me and Nobody Else."

Dave: I'd like to thank you again for letting me conduct this interview. Feel free to add some closing comments or to promote anything that I've overlooked.

DJ: Actually, I lied before. I'm not in California. I'm sitting on my yacht in the Mediterranean, drinking champagne and smoking a cigar. I'm about ready to go to Monte Carlo, to gamble away my vast fortune.
ARTIST BIOGRAPHY
Full Name: Don Bonebrake
Website: www.djbonebrake.com
Birthday: December 8
Birthplace: Burbank, California, but raised in North Hollywood
Hobbies: Jogging
Favorite food: Pasta, which I homemake, with fresh vegetables and garlic
Favorite punk rock band: The Weirdos
Favorite punk rock song: "Destroy All Music" by The Weirdos
First record ever purchased: "She Loves You" by The Beatles
Last CD purchased: A boxed set by Lionel Hampton
Favorite film: Charlie Chaplin's "Modern Times"
Favorite U.S. city to visit: New York City
Favorite international city to visit: London
Favorite venue to play: the one where I had a good gig and it changes every time