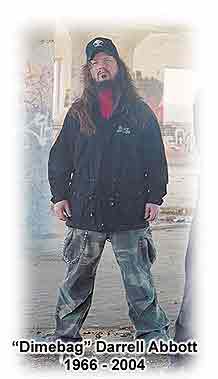 Dimebag
I met a rock and roller on Saturday, December 4. I was outside the backstage door at Starland Ballroom and a guy obviously in the band, holding a cymbal, stood nearby. I mistakenly called him Vinnie. He smiled and said "dude, my name's fuckin' Dimebag."
We joked about my mistake and I blamed it on the cymbal. He replied, "I don't know what the fuck I'm holding this for, I'm the guitar player."

Darrell let me ask him a question on tape for a story I'm writing that touches on today's Dallas rock scene. I was hoping to quote him on the Dallas scene in the late 80's when Pantera was starting up. As he was speaking, my four year old son tugged at my leg, laughing as he pointed out the leopard or cheetah fur slippers Dime was wearing. After he answered my question, still holding the damn cymbal, I called him Vinnie again. I quickly corrected myself and he replied "you got it man, it's all good." I left knowing I had met one serious and cool individual.

I couldn't attend Damageplan's gig that night but I bought two of their t-shirts. The following Wednesday, I attended a Christmas concert. My daughter Diana and I met a rock and roller, Hilary Duff's guitarist Jason Hook. He is a huge fan of Dimebag's, and our Christmas gift to Jason was a Damageplan t-shirt. When I phoned him at the gig, he asked how to find me. "At the soundboard, wearing my Damageplan t-shirt," I replied.

Jason wore the Damageplan t-shirt when he performed that night. "It's all about blowing shit up" or something like that graced the back of his t-shirt, and "Damageplan" graced the front. As he left the stage that night, he pointed out the shirt in case Diana and I hadn't seen it.

Dimebag Darrell died onstage that night, right about that time of evening.

I replayed the audio tape for the first time the following day. Darrell's voice was eerie, and his five or six sentences answering my question included the comment "kids don't respect music like they used to back in the day, you know."

Dime, I hardly knew you, but I'll never forget you. God bless.