"I've played in more bands than you" was once the headline on Damon Johnson's MySpace page. It should have also stated that he plays more styles of music than anybody else. Damon's played rock with Alice Cooper and Slave To The System, southern rock with Brother Cane, and now he's playing country music with his new band Whiskey Falls. Damon's also written songs for Ted Nugent, Carlos Santana, Stevie Nicks, Skid Row, Sammy Hagar, and a whole lot more. Oh yeah, he produces too. With the passing of James Brown, "the hardest working man in the music business," I'm going to go out on a limb and anoint Damon the newest "hardest working man in the music business."

Dave: Damon, thanks so much for letting me conduct this interview. Your latest project is a new country/southern rock band named Whiskey Falls. The band's MySpace alludes to an unconventional formation and a non-traditional approach to the music industry. Please elaborate.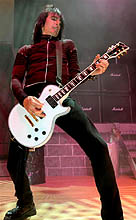 DAMON: Seven Williams and Wally Brandt had a pop record deal with Atlantic in 2000 that ended with their point person at the label losing his job. That marked the end of support for their band. They soon started a successful business writing theme songs for television. Yet, as artists, they missed writing songs. They went to Nashville to write, hoping to place songs on other people's records. That's the scene in Nashville as I'm sure you're aware of. Hundreds of songwriters are there collaborating and trying to place songs since country artists don't write as much of their material as rock artists. After writing a bunch of songs and singing them, they received immediate feedback from a bunch of record labels. They added my longtime friend Buck Johnson from Birmingham and started working on vocal harmonies. Buck made them call me when they decided that they needed one other guy, a guitarist/songwriter/singer. My initial vibe was that I didn't have time for it, but the music and the interaction with the guys when we got in a room to play just blew me away. Everybody I've played it for has been incredibly supportive and enthusiastic. For me, as it would be for anybody else in a band where they're systematically a sideman, getting your own thing launched, off the ground, and generating interest is what we all want. That's really hard to do in this business.

Dave: I love the boast on your MySpace page about Whiskey Falls taking over the world in 2007! Whether that's bravado or whether it was said tongue-in-cheek doesn't matter for the sake of this question. With respect to the music industry of the 21st century, what is the Whiskey Falls game plan for establishing the band?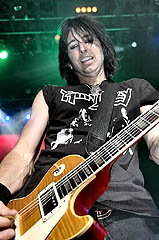 DAMON: One of the main reasons I'm with these guys is that collectively, we're marketing geniuses. We've created a think-tank where everything is out-of-the-box, and we're stubborn enough to believe that we can reach an audience and get to radio without going the traditional record label route. When an unproven band signs a deal, that record label gets your masters, the licensing for the songs, and they control everything. Any money you get to make the record, promote the record, or tour support has to be paid back after record sales. You end up having to sell a million or two units before you generate any income from the record sales. The Whiskey Falls way is to find other entities to bankroll the band whether it's automobile companies, soft drink companies, and labor unions. We're trying things that have never been done before. I was always the devil's-advocate guy, stating some of the ideas are crazy, but we've accomplished so much individually. We think pooling all of our brains and all of our talents into one unit will make us undeniable. With the more time we spend together, the more shows we play, and the more songs we write, I feel the same way. Without over-hyping it, when this record drops and that will be soon, I think everybody will understand. Other than my bold statement at the MySpace page, I've been laying low, just saying that it's coming. When people finally hear it, the music will speak for itself.

Dave: How much of this game plan changed when Whiskey Falls signed a deal with Midas Records?

DAMON: Midas made our best-case-scenario come true. They stepped up to the plate quickly and walked us right in the front door of all the major country radio stations. From a timing standpoint, this is better than we could have ever imagined.

Dave: When will Whiskey Falls release the debut record?

DAMON: We're out on the road visiting radio stations to set-up the May 7 release of our first single, "Last Train Running." The Whiskey Falls MySpace page has an acoustic video of our song "Highway 59." Our full-length debut record is being released sometime in August.

Dave: I hope that all of the music fans reading this interview will visit the Whiskey Falls MySpace page to hear song clips from the upcoming record. Until then, please give a detailed verbal description of the band's sound and musical direction.

DAMON: It's simply American music. Our format is country, because that's pretty much the only place where there is still a home for real songs with real stories and a focus on melody. That's certainly the kind of music I've been writing my entire career, and the same is true for the other guys.

Dave: From my perspective, the "last train running" is the train departing New York City for a train station near my home in suburban New Jersey. It departs around 2AM and if the concert I just attended runs long, or if I have after-show passes, I miss that train and have to wait around until they start up again at 6AM. Obviously, the Whiskey Falls' song "Last Train Running" is about something different.

DAMON: "Last Train Running" is about our chance as human beings to leave a positive influence on our friends and family while we're on this planet.

Dave: What are Whiskey Falls' touring plans for 2007.

DAMON: Whiskey Falls wants to release the record and hit the ground running, playing as much as we can. We have tie-ins to NASCAR, and we'll be playing at some of the racetracks. An organization called the American Tailgaters Association sets up events at football games and auto races, and we'll do some shows set up by them at National Hot Rod Association (NHRA) events.

Dave: I'm a Formula One auto racing fan and please don't hold that against me. Talk about the unique link Whiskey Falls has to NASCAR auto racing.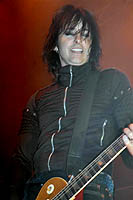 DAMON: We've partnered with a racing team from southern California called JLS Motorsports. They build the chassis for many of the cars people see racing on Sundays. They've given us the entire hood and back spoiler on one of their cars to show our awesome logo. Getting the timing to coincide is important, like having a song on the radio at the same time that the car is racing. We'll have some music on television at Fox Sports and that's where the idea of an "alternative approach" to build the band comes in. My whole career has been: put together a band, write great songs, get a record deal, try to get on the radio, and go on tour. That model has been beaten to death. Whiskey Falls is hoping to be one of the bands that starts a new different business model. I've heard everybody from Alice Cooper to Ted Nugent to Jack Blades say that television is the new radio. If you can ever get your music on television, you'll really reach a lot of people. Like everybody else, we're hustling and trying the best we can to figure out how to launch this thing and to reach an audience and build a fan base.

Dave: Personally, I don't have the time to listen to the amount of music that I did growing up so it's hard to pass judgment. But when I was growing up, southern rock bands like Lynyrd Skynyrd and the Allman Brothers had plenty of crossover appeal. Obviously, it helps when MCA Records sends Skynyrd out on a world tour opening for The Who. I don't see southern rock bands or country artists today actively striving for crossover appeal. Do you?

DAMON: No, I really don't. There is a division that exists between country and rock. The good news is that if you're a country act that finds success and gets radio support, you don't need that crossover. A number one country song gets 10 times as many spins as a number one rock song. You and me, we've lived in the rock world our entire lives. We've learned it, we know it, we've made relationships, and it's all great. Whiskey Falls is a good fit because I grew up as a kid listening to country and southern rock. Brother Cane was a harder-edged southern band and Whiskey Falls is visiting some of the same themes lyrically and texturally. It's not a big leap for me to participate in a band like Whiskey Falls. We'd love to go out with a rock band; we'll play with Aerosmith if they let us.

Dave: I do attend a lot of live performances and I see a reluctance from country artists and southern rock bands to play in New York City or my home state of New Jersey. It's my opinion that these bands should accept the fact that they can't play the same size venues that they pack down south. They should simply book smaller venues in the Northeast, take the smaller paycheck, and at least give it a shot.

DAMON: Bands have to follow the airplay. It makes sense to skip Philadelphia, where they get no airplay, and schedule Des Moines, Wichita, and El Paso instead. It's unfortunate but that division exists and it's broadening. A lot of major cities don't have country stations anymore. Bands have to work smart. If you come up and play Philly and nobody comes to the show, you piss off a promoter. A few states over in Indiana, there are cities with radio to help support and enough people to attend shows. You want to grow out from your starting base. Whiskey Falls will start in the southeast where I have a base, Buck has a base, and country has a base. We'll hammer a five or six state area and grow it from there. One of my regrets with Brother Cane is that we played everywhere, just to chase the airplay. We should have set up camp in the South and Midwest and pounded it instead.

Dave: Slave To The System is one of your other projects. It's a straight-ahead rock band you started with Queensryche drummer Scott Rockenfield, Jackyl bassist Roman Glick, and guitarist Kelly Gray. The self-titled debut record released in February 2006 was my favorite new release for that year, hands-down. It just has that groove that I'm looking for as a listener. What's the latest on the follow-up record?

DAMON: I'm proud to report that we're very close. We have eight songs finished, mixed, and ready to go. Kelly Gray was at my house recently and we wrote five more. I've got to get to Seattle, add Scott Rock's drums to the tracks, re-do a few vocals, and get it mixed. The beauty of the follow-up is we'll treat it just like the first one. We'll mix it, master it, package it ourselves, and walk it in and say we're ready to go. The record company, Spitfire, was bought out. We don't even know the name of the new label officially, but they're fond of the first record and they love and respect the band. We think they'll flip out when they hear the new stuff. You mentioned groove and that's always going to be a part of what Slave To The System does. There's a few kind of ethereal things that are new territory for us and some heavy tracks that are probably heavier than anything on the first record. I can't wait to drop it. I can't wait for people to hear it. I have some of the tracks on my computer, and I want to put them up at MySpace but I promised Rockenfield that I'd wait until we get it all finished.

Dave: Slave To The System played live sporadically in 2006, trying to squeeze in a few dates whenever Queensryche and Alice Cooper had breaks in their schedules. What are Slave To The System's touring plans for 2007?

DAMON: Scheduling is such a challenge; it's an even bigger challenge than we thought it would be. It's just so hard to find holes to book Slave To The System dates with all of the activity that everybody else has going on. In a perfect world, the record would be already finished and we'd be out on the road now. All I can tell you is I love this band; I love working with these guys. It's so much fun and it's so easy. That's an obvious appeal because when you're working with guys who have two or three other things going on, there has to be an element of ease for it to even be worth doing. Slave To The System will always what we dreamed of: a band that we can make a dozen records with, to use as an outlet to express ourselves, and to take advantage of the writing chemistry that Kelly and I have.

Dave: Slave To The System has built-in drawing power because of the names of the members and the bands they came from. What type of response did Slave To The System get from music fans and radio station programmers since the band doesn't sound like Queensryche or any of the other bands its members have also played in?

DAMON: The response was good throughout. We had the typical dilemma of what's the best song to release as a single. Hindsight's always 20-20. I thought "Stigmata" was a good choice but I don't know if it was the best choice. It's so hard and radio has changed even more in the last three or four years than it had in the previous five years. The good news is that the general vibe was very positive. People look at the band and recognize and appreciate the individual members. I dig it that people were surprised at how good the record sounded and how it wasn't about people showing how great they play. It was about the songs, good melodies, good lyrics, and good grooves. This band was put together with the goal being to get on the radio, and I don't see any reason why Slave To The System can't be on the radio as much as any other band. Our music is very radio-friendly. I just think radio is waiting for us to deliver them a slam-dunk single; a no-brainer that not only can they play but something they can play five or six times a day.

Dave: With regard to the feedback you've received from your label Spitfire and national concert promoters, is Slave To The System difficult to market in today's music industry?

DAMON: We're always going to be marketable because the guys are well-known. All concert promoters really care about is that there's a buzz on the band, that they're on the radio, and that the guys are touring. Slave To The System had a little buzz, we were on the radio a little, and we were touring a little. That was the best that we could do. If somebody says to me that we should wait in 2007 until the end of Queensryche's tour to release the record, I'd be fine with that. Or maybe even as the tour is winding down. The songs could get a little momentum on the radio, and we could roll out and do fifty or sixty dates in the winter. We still don't know how much Whiskey Falls and Queensryche will be touring this year. We're going to keep juggling and see what we can find. The promoters were also positive, trying to get us good nights, in good venues, and on some good opening slots with other bands.

Dave: When Slave To The System's debut record was released, I asked you if the band's attitude was one of high expectations, or one of "let's wait and see what happens." You replied, "more than anything, our attitude is that of validation, because all along we felt this record was really good." How does your expectation level change for the follow-up record?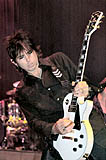 DAMON: It changes somewhat but it's still all about that very powerful word: validation. It's so hard to not only get a record deal but to maintain it. In the music marketplace now, they drop bands, they drop record companies, and they're firing executives more now than ever before. The fact that we're doing a second record is like winning another race. I won't get excited until it's actually released, but on that day I'll know we pulled off something worth noting. Not too many bands get to do second and third records so we count ourselves as very fortunate. For that matter, we're very fortunate that we can stay together. Every band has its own set of challenges and when you add multiple other projects into the mix, it's really tough. We've been unwavering about staying together to do this thing and to make as many records as we can. Once we get the last four or five songs mixed and added to the soup, we'll pick the ten or eleven songs to release. Then, once we have the release date, I'll start using the "validation" word again.

Dave: After any band writes, records, and then releases a record, the next challenge is getting the record heard. Self-critique Slave To The System. Did you meet to the challenge trying to get the record heard or did you fall short given the time commitments of your other bands?

DAMON: There's no question that we fell short because we couldn't give it the time it deserved. Records take time, promotion of bands and songs take time, and we, unfortunately, did not have that much time. When we had a run of shows in April 2006, we started talking about booking another run of shows in the summer and one later in the fall. The touring schedules of our other bands made that impossible.

Dave: No doubt your most high-profile gig was playing lead guitar in Alice Cooper's band. There are a few things about your stint with Alice Cooper that I'm dying to ask. First off, you were out with Alice for a few headlining tours across North America and Europe. Talk about the experience of stepping back and opening a few stadium shows for the Rolling Stones.

DAMON: It was everything that you'd think it was Dave. Everything was enormous: the backstage, the stage itself, the venue, the audience, and the sixty minutes that we had on the stage. A lot of times, when you're excited about a show, it goes by so fast. It's just a blur. With those shows, because all of us are experienced, we took it all in in real time. For me, it was a dream come true. I've been a real huge Stones fan for years. A generic question that everybody asks you as an artist is, "what's the biggest crowd you've every played for?" My answer was always a nebulous number from some radio festival in 1996, and the crowd probably wasn't as big as I thought it was. Standing in front of 60,000 people, we'll that's a BIG difference than 20,000 people. Instantly, those three Stones shows became the biggest crowds that I ever played for. The first show in Halifax was the most memorable because it was in a torrential downpour. The Stones' stage has no cover or awning on it. If you ask me what it was like, I'd say "go strap on your guitar, turn on your shower, and stand in it for an hour." It was not only amazing to play on that big a stage, to that big a crowd, but to stand up front after we were done and watch that band do their thing better than any band in history. The Stones are a one-of-a-kind experience.

Dave: Alice Cooper's Christmas 2006 show in Phoenix had him supported by his original band: Michael Bruce, Dennis Dunaway, Neil Smith and you filling in for the late great Glen Buxton. That must have been an incredible musical experience?

DAMON: That show was one of the honors of my life. I'll never forget it. It was so reverent because those guys haven't played together in so long. Knowing the love that they had for Glen as a person and as a fellow band member in the Alice Cooper Band, sharing the stage with them was special beyond expression. Hearing those guys play individually, I probably know two dozen musicians on each instrument that are better technically. But when those guys play together, they fall into this groove and pocket that no single lineup of Alice's since then can duplicate or replicate. It's debatable amongst fans which is Alice's best lineup, but for me, those guys are. Regarding my participation at that show, I just let them enjoy the moment because it was a huge deal for them. Alice totally enjoyed it, and he probably had more fun than he thought he would. It was more about playing with those guys than playing to an audience; we all kept turning around and looking at each other.

Dave: From the Christmas show, pick one of the Alice Cooper classics that was performed and tell me how they interpreted it differently and played it differently than Alice's current band.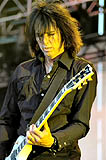 DAMON: They kind of interpret all of them differently. The one that stands out is "Billion Dollar Babies" and that's hands-down my favorite Alice Cooper song. I learned the parts in that song when I joined the band from a live recording of the 1995 lineup. We changed it even more because of where we placed it in the 2006 set. Their original version was more about the groove and the dynamics than anything else, and that's how they tried to play it at the Christmas show. Eric Singer and I have talked about this before, how unfortunately, we got into this "turn it up to 11 mentality" and we cranked everything and powered right through it. That's kind of the show that Alice wants to deliver. Plus, I was something like guitarist #27 with all of the different lineups that Alice has toured with. All of his songs have kind of morphed into some other thing at some point in time.

Dave: Your partner-in-crime for a few Alice Cooper tours was guitarist Ryan Roxie. The 2006 tour saw Ryan's departure and Keri Kelli stepping in to take his place. How difficult was the transition?

DAMON: Difficult is not the word I would use because everybody is so professional. It was just different. We had three or four days to rehearse and walk through the production aspects of the show. Keri did his homework and came in knowing all of the parts. In some cases he learned both guitar parts because I was moving over to stage left and taking some of Ryan Roxie's parts. The transition was probably easier because it had just happened to me a year and a half before. I knew exactly what he was thinking and the kind of things that he'd have questions about.

Dave: I loved the re-arrangement you and Keri did with "Black Widow."

DAMON: Thanks man, we were really proud of that. I'm kind of a "slow-hand" guitar player. I never was a shred guy, and Alice has had some of those cats in his lineups. Michael Bruce and Glenn Buxton were never like that and neither were Dick Wagner and Steve Hunter. It was more about being fiery and aggressive than how many notes you could type out on a typewriter. When the idea of a guitar duel came up for "Black Widow," straight-up I said that I didn't want to get into a note-fest. I wanted it to be interesting and visual. Alice was super-supportive of that idea.

Dave: While out on the road with Alice Cooper, the two of you managed to squeeze in a lot of golf. What's the one golf course that you've never played that you'd like to tee off on? Are you guys competitive or do you have to let the boss win all of the time?

DAMON: We've played so many great places that my wish list is kind of checked off. The Merion Golf Club in Ardmore, Pennsylvania, is one I'd like to play.

Dave: Where you and Alice competitive or do you have to let the boss win all of the time?

DAMON: Alice could almost go pro. He's the real thing, about a 4 handicap. He plays every day and I'm not able to do that. I have small kids and when I get back home I need to spend time with them, and I have to throw myself into my other projects. Golf takes a backseat once I get home. Maybe once, in my dreams, I'll be able to give him a run for his money. I've never come close, but if and when that day comes, I'm going for the kill and he would expect me to go for the kill.

Dave: With future tours in mind, here's your chance to create a little wish list. What's the one country on planet Earth that you've never played that you hope to see scheduled? The venue you've never played?

DAMON: Believe it or not brother, I've never been to Japan. I promised my wife she could tag along if and when I ever tour in Japan because we love the food and the culture. The year before I joined Alice Cooper, they played an outdoor venue in Athens, Greece. I've heard so many good things about playing in Greece that I'll pick that same amphitheatre. The guys said the audience went nuts. Playing a concert with an intense audience in a venue that's so cool would really be a home run.

Dave: Your band Brother Cane released three great albums on Virgin Records in the 90's. Will they ever take the stage or record together again?

DAMON: That's an absolute yes. When I was touring with Alice Cooper, I'd run across so many Brother Cane fans who said it was great to see me playing again or that they miss the band and those songs. We built a little audience out there. They've been supportive, and patient, and responsive through the Internet. Playing live again is our way of thanking the fans who have hung in there.

Dave: Do you have any video or live audio that Brother Cane fans should anticipate being released?

DAMON: Yes, we have a two-disc DVD almost ready to release. It looks great and it sounds great. One disc is home movie-type stuff that we filmed on the road and in the studio, and a performance that we did opening for Van Halen in San Jose in 1996. Our whole opening-slot performance is on the DVD, and it was a five or six camera shoot. The second disc is a full performance from a reunion show years later. That also was a multi-camera shoot and it looks great.

Dave: Brother Cane opened tours for Rock and Roll Hall of Famer's like Lynyrd Skynyrd, Aerosmith, and Van Halen. They also did a tour that I had the pleasure of attending, opening for Robert Plant in New York City at the Paramount Theatre in Madison Square Garden. Awesome musical experiences I'm sure, but I'd like you to comment on those tours as learning experiences.

DAMON: Robert Plant's tour was very influential. He was a legend with an amazing legacy, but he lived every night just to simply cop a great groove. They never played the same set twice, and they never played a song the same way twice. That really affected the way I looked at performing live. Brother Cane tried to go down that path in our own little way. Aerosmith and Van Halen taught us the other skill level and etiquette needed to reach and impact an audience when you're playing in a big arena.

Dave: Before I forget, how was NAMM 2006? I saw photos of you and Keri Kelli jamming with Lemmy from Motorhead!

DAMON: It was a blast. We didn't have much time to rehearse so we kind of just threw it together, playing songs like "God Save The Queen" and "Back in the U.S.S.R." The highlight for me was a slow blues jam, and Lemmy grabbed the microphone and handed me his bass. Playing his bass guitar, through his rig, with that tone, was fuckin' awesome! I had a big year brother! I can't complain.

Dave: Arena tours and stadium tours probably put a little more cash in your pocket, but as a music fan, I like the down and dirty shows in small clubs and bars.

DAMON: Dave, you've always maintained that bro, and I love you for it man. I wish there were more music connoisseurs like yourself. I guess they're out there but you just have to find them and reach them.

Dave: So who is the world's greatest bar band?

DAMON: Z.Z. Top?

Dave: Maybe in Texas, but I mean the best one in Alabama and the best in the world.

DAMON: Oh, you mean genuinely? That would be "The Welfare." That's me. Allen Park on bass, and Billy Wilkes on drums. All three of us were born the same year. We're the same age and we have the same influences. We started it about five years ago and it's totally for fun. It steamrolled, and we're playing all kinds of gigs in Alabama. We can do almost a three-hour show, I just call out the songs, and we never have a set list. We play everything that we think is cool.

Dave: You've said that "Dust," your solo acoustic record, was never planned as a release but it just kind of happened. Have you thought about a future solo record?

DAMON: I have five or six things tracked already. I'm a sucker for slower, mellow, acoustic material. I play and live so much rock. Whenever I pick up a guitar at home to write something for my personal enjoyment, it's got a vibe and it's laid back. My goal for a second solo record would be to bring in a rhythm section to play on some of it. I'd also love to do an obscure covers album. There are so many bands and artists that I admire and respect. I'd love to do my version of a dozen of their songs so people could get turned on to the artist or the song.

Dave: Looking beyond the bands you've played in, you've written a bunch of songs for some big name international musicians and bands. Please describe a typical day in the life of Damon Johnson when you're writing a song.

DAMON: I don't get enough time to write like I want to but I have to discipline myself to picking up the guitar that day and doing nothing else. For me, it's literally like punching a time clock. I block out time, turn off the phone, and try to stay off the computer.

Dave: Are there any advantages or disadvantages writing at the piano when your onstage instrument is the guitar?

DAMON: It's not a disadvantage. I usually just pick out melodies on a piano. The cool thing about being a hack on piano is that it makes you think simple and you keep it simple. The songs that I love most are very simple, nothing fancy, and not a lot of chords. It's all about the melody and lyrics which I can really focus on playing a very basic piano.

Dave: We've chatted about Damon the guitarist and Damon the songwriter. How about Damon the producer at Double Dragon studios?

DAMON: I was really cranking at Double Dragon until I started with Alice Cooper. Some really good artists have come my way but I really haven't had the time. There are a few bands regionally that I produced that I really am fond of. One is called Medusa Stone, a three-piece band out of Wilmington, North Carolina. They're right up my alley with a lot of retro influences. Their singer/guitarist Justin Fox is a wunderkind. He plays with so much soul and emotion. They're sending me demos right now on their new material and I'm dying to get up there to work with them. The schedule might not allow it but I'm really trying. Another is a country artist called Chris Scott. His was the last full-length record that I produced in here. His backup band was The Welfare and it was an outlaw-country kind of thing. I built the studio to have an outlet to get my own songwriting recorded and to produce some younger guys. So many bands come up to me when I'm on the road with Alice Cooper and tell me they want to come down and record. It's so much fun, and it's not out of the question, but I have so little free time.

Dave: Considering that this is a music interview, I've dragged in a few sports references including golf and auto racing. I promise that this is my last mention of sports and it's also my final question. College football: Auburn Tigers or the Alabama Crimson Tide?

DAMON: Auburn baby. Don't believe the hype. Nick Saban is an amazing coach but he'll have his hands very full at Alabama. The S.E.C. is the toughest conference in college football, but it's all about the Auburn Tigers baby.

Dave: Feel free to promote anything I've neglected to cover.

DAMON: Dave, this is the most thorough interview I may have done in my career. You are such a great music fan and supporter, and I have to say thanks to you more than anybody. You'll always been so passionate and diligent about talking to musicians and getting it out there to the people. Speaking for myself, the guys in Alice's band, Slave To The System, and Whiskey Falls, we really appreciate it.

Dave: Thanks again for the interview Damon. Any closing comments for your fans?

DAMON: I love my fans; they've been so patient and supportive. They've been extra cool to me because they let me meander all over the place. If I woke up tomorrow and started to play accordion in a polka band, they'll show up at the concerts. I appreciate all of the support and I appreciate that everybody listens. There's going to be a lot of new music this year so they better get ready!

ARTIST BIOGRAPHY
Full Name: Damon Johnson
Website: www.damonjohnson.com
MySpace pages: www.myspace.com/damonjohnsonmusic
www.myspace.com/whiskeyfalls
www.myspace.com/slavetothesystem
Birthday: July 13
Birthplace: Macon, Georgia
Favorite beverage: Stags' Leap Cabernet
Favorite food: Japanese
Favorite golf course: Pebble Beach
First record you ever bought: "The Joker" by Steve Miller
Last CD you bought: "The Raconteurs"
Favorite U.S. city to visit: Portland, Oregon
Favorite international city: Sydney, Australia
Favorite venue to play: The War Eagle Supper Club in Auburn, Alabama
Favorite film: "Tombstone"