The L.A. punk band KrunK just crawled out of the California desert, hungry and thirsty. They have a new name, the same attitude, a new record deal, a new lineup, new websites, and most importantly, a new record. Their drummer, Athena, started talking with me months ago about the pending record release, but things started changing with the band, and she couldn't answer all of the questions until late in the Summer of 2006. But it's all good. It's rock and roll, things take time, and good things come to those who wait!

Dave: Thank you so much for letting me conduct this interview, Athena. Krunk just finished recording their second album "Therupy." When's it being released?

ATHENA: First of all, Dave, we've changed the band's name to Kottak. The reason is because of Lil Jon's band Crunk. Even though we had the name first, we didn't want any confusion and we didn't want to spend the first year of press explaining the name KrunK. We just signed a record deal with Escapi Music! They released the debut record of Kottak in 29 countries on September 29, 2006. Our new website is www.kottak.net and our new Myspace page is www.myspace.com/kottak.

Dave: Tell me more about the songs on "Therupy." With a new band name and a new lineup, is Kottak changing its musical direction on this record or are you fine-tuning what was already in place with KrunK?

ATHENA: It's not much different style-wise. Artistically, we have control of the material but Escapi Music is probably brighter with the business and marketing end of it. The music is really cool. A few songs are more commercial-sounding, but that wasn't done on purpose. It just came off that way, reflecting what was going on at the time the songs were written. My husband James and I did most of the writing, and the record is a result of the different headspace we were in at the time. But it's still us! We do a remake of Cyndi Lauper's song "Money Changes Everything." We jacked it up pretty hard, it's not like her version, but you still know what song it is. Another song on the record is called "Funday," which has some great lyrics if I do say so myself. It's about the type of person that we all know who acts like an asshole, does drugs or lies, cheats, steals....you name it.... then thinks they can go to church one day a week and make up for it. "Song That Won't Go Away " is about the song that is stuck in your head for days and could be a great song, but it eventually ends up pissing you off because you can't get it out of your head!

Dave: You once joked with me that Krunk never left sunny Southern California because you didn't own jackets. I assume you've added some cold weather gear to your wardrobe with the big fat check Escapi Music handed you. What are Kottak's touring plans?

ATHENA: Yeah, we're set with a new wardrobe, and we're going to be playing everywhere now that the record is released. We just got back from Germany where Kottak played at the Wacken Open Air festival. It went GREAT!!

Dave: Kottak's lineup on "Therupy," in addition to you and singer Jimmy Ratchitt, includes guitarist Dave Whiston and bass guitarist Rev Jones. Dave was with Krunk back in 1997. Where's he been the last eight years, because he wasn't on the 1999 "Greatist Hits" album?

ATHENA: I LOVE the new lineup! Dave played with us for years but scheduling became a nightmare. He was also playing for Rick Springfield, who was always touring on weekends, so Dave couldn't make all of our shows. There were times Dave was available, but James was out with The Scorpions. Rick Steier, who played with James in Warrant and Kingdom Come, was here in California and available. It wasn't a personal decision to use Rick, it was just a matter of who was available. Dave is no longer with Rick Springfield, so we scored and he can now play in Kottak.

Dave: Why did Rick Plester, who mixed the "Therupy" record, play guitar for Kottak at Wacken?

ATHENA: Rick filled in since because Dave had made other obligations way before we booked Wacken.

Dave: Tell me more about your partner in the rhythm section, the new bass guitarist Rev Jones.

ATHENA: Rev Jones is insane, what a kook. He is one of the best bass players I have ever seen. Rev also plays in the Michael Schenker Group, but that's not the connection that got us together. You'd think it was, since James played with Michael, and he plays now with Michael's brother, Rudolf Schenker. It's just that Rev and we are neighbors out here in the California desert.

Dave: I've never seen you drum live, but the upcoming tour will change that. How is Kottak's live performance different from the studio performance of the band?

ATHENA: Being totally honest, some bands have records that sound great but when you see them live they suck. Kottak won't disappoint you like that. We're the opposite, we don't come off as good on record. Kottak is a better live band, we're crazy and super high-energy. We're a lot of fun live and under our old name we won some awards for "Best Psychotic" band. See Kottak live and you'll understand why!

Dave: Thanks Athena, that gives me a pretty good idea of what I should expect from Kottak when they appear live. What are the band's expectations from music fans, especially as you tour outside your home base in California?

ATHENA: Lots of energy! We expect them to leave a Kottak concert with a huge smile and a new favorite live band, if that's not asking too much.

Dave: KrunK headlined shows in L.A. clubs, and opened shows in arenas for bands like Motley Crue. How different is it playing drums in arenas and in clubs?

ATHENA: It's two completely different planets. Clubs are intimate and arenas are fierce. You can feel your drums in arenas and that makes you want to get that much more insane. Most clubs don't even have monitors for the drummer. You have fun hitting the drums, but you're lucky if you can hear them. Opening in an arena for Motley Crue, I almost had a heart attack. I freaked out because I had never heard or felt my drums like that before. In an arena, when you hit your kick drum, you can feel it in your chest and that's an amazing, insane feeling.

Dave: How and when did you start drumming? How have your drumming techniques evolved since you started?

ATHENA: I had real strict parents, and they wouldn't let me go to a dance one time. My brother Tommy knew I was pissed, so he took me to the garage where he had a sound-proof rehearsal space, and he handed me drumsticks. He told me hitting drums would work off my anger and change my mood. Once I got going, he told me I was pretty good and he started teaching me actual beats. Two hours later, I wasn't pissed off anymore and I've been playing the drums ever since. Watching Tommy, I always had the interest but I never had the opportunity. He was always using his drums. I play better these days. I still play the same style, but I'm a better listener now. I hear things musically now that I never would have picked up on before.

Dave: Do you consider yourself a full-time mother, a part-time student, a part-time musician, or a combination of the three? How do you balance those demanding tasks?

ATHENA: A little of everything, and I have to balance it very carefully. I've worked in the surgical field which I loved, and it's something I'll go back to. Eventually, it won't be cool for me to play drums in a rock band. Girls can't be fifty years old, on stage, and rocking out. It's not attractive. Working is difficult with James on the road nine months out of the year. When I was working, getting responsible childcare providers was a major hassle and a big problem. For now, unless something changes with James' career, I'm going to be a stay-at-home Mom and just do Kottak.

Dave: I hope I'm not letting the secret out of the bag. Your husband is James Kottak, drummer for The Scorpions. His alter-ego is Jimmy Ratchitt, the Kottak singer. Before I ask you any questions about James, would you like to tell us about your three beautiful children?

ATHENA: My kids are all dorks. Tobi, our oldest, is in the color guard, twirling flags and guns in the marching band. Miles is in the middle and he's a left-handed drummer. It's weird and so backwards drumming that I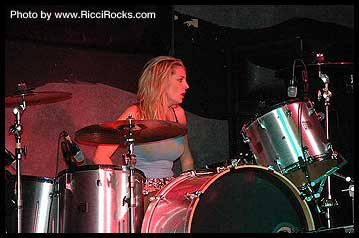 can't show him anything. Matty, the youngest, is the family comedian. One's in elementary school, one's in junior high, and the other is in high school. They all start school at a different time, it's such a mess over here.

Dave: It must be difficult being married to a Scorpion. How big is his stinger? Just kidding, Athena. His band is constantly touring, playing all over this planet. North America, South America, Europe, and Asia. Plus, he's the only American in the band, and they do their studio recording in Europe. Do you and the kids travel with him at times, or do you only see him the couple months every year that The Scorpions take a break?

ATHENA: We do travel when it's convenient and the kids are off from school. During the Summer of 2004, we drove around Europe following The Scorpions through twelve countries. Then, we flew to Greece and saw all of my cousins, aunts and uncles. The following summer, The Scorpions were doing different things and the world situation was so different. I didn't feel real safe traveling with the kids in foreign countries. I also fly out by myself sometimes, if James is playing somewhere cool that I've never been. The Scorpions recently played in front of the Pyramids in Egypt. I was really bummed because I had never been to Egypt and I couldn't go this time.

Dave: What is your favorite foreign destination that you've traveled to with The Scorpions?

ATHENA: New Caledonia in the South Pacific. When I heard about that gig, I couldn't find it on a map. The island was beautiful, half-French and half-something else.

Dave: Where is the one place on Planet Earth that you and James have never been to, professionally or on a holiday, that you'd like to visit?

ATHENA: Bali or Fiji, something tropical like that.

Dave: I think The Scorpions' latest CD "Unbreakable" is awesome and their DVD "One Night in Vienna" rocks. I've attended the last three Scorpions' U.S. tours and their live performances were incredible. Forget for a moment that your married to someone in the band. As a musician and someone who has seen the band perform many times, how would you critique The Scorpions and their drummer?

ATHENA: The Scorpions are one of the best sounding live bands I've ever heard. They're like machines, it's always perfect and I don't think they'd have it any other way. I don't want anybody to take this wrong. It's not like they're soldiers, but they take what they do very seriously, right down to the final note. Their drummer sucks!! Actually, he's pretty amazing. I wish he'd be more acknowledged than he is in the world of drummers. He's insane and one of the best. I hate when boneheads with cool hairdos get the attention when James is out there busting his ass and playing better than 90% of what's out there. Don't get me wrong, he does get acknowledged. I just wish he'd be recognized by his name and by the drumming community, instead of just being acknowledged by the name of the band he plays in. Those same sentiments go for many drummers who just don't get the recognition they deserve.

Dave: I see you husband as a serious musician one moment, the next minute he's clowning around and smashing a beer bottle over his head following his drum solo. I can't picture him in a suit and tie, dropping to his knee in a five-star restaurant, and asking you to marry him. If it's not too personal, how did he propose?

ATHENA: I was in bed with a plate of food. That's my favorite way to be, in bed with food!! James asked me to put my food down. He knows how much I love food so I knew it was serious. He said, "I can't wait any longer, will you PLEASE marry me." I said, "Bitch, you could have waited until I finished eating." But I was just fucking with him and I said "Hell Yes!!"

Dave: You can't pick your husband, or your brother, so the pressure is off. Who is your favorite male drummer to watch in concert?

ATHENA: Dave Grohl.

Dave: Who is your favorite female drummer to watch in concert?

ATHENA: Samantha Maloney can kick some ass.

Dave: Speaking of your brother, before reading this interview, there may be some music fans that do not know he is none other than Motley Crue drummer Tommy Lee. You've shared the stage with him years back when KrunK opened shows for Motley Crue. As his younger sister and as a drummer, you must be his toughest critic. What should music fans expect from Motley Crue and Tommy's performance as a drummer these days?

ATHENA: Their 2005/2006 tour was sick. It was insane and it had a circus theme. Tommy had an incredible drum solo. Motley Crue sounds better now than they did back in the day, you've got to see them! It was always about the music, but it was also about the party that went with it. I think they take it more seriously now.

Dave: Tommy the Motley Crue drummer, Tommy the rapper, Tommy the singer in the hard rockin' Tommy Lee Band, Tommy the D.J., Tommy the porn star, Tommy the celebrity. The public thinks they know all about those aspects of his life. Please tell us about Tommy the father, Tommy the uncle, and Tommy the brother.

ATHENA: Tommy's a real good Dad. He's real grounded with his kids, and they're not spoiled little brats who get everything. My kids love him and they have a blast, he's just crazy Uncle Tommy. As a brother to me, he was a real ass!! No, actually he was pretty cool, but very protective. If I was out somewhere, he'd always mysteriously show up. We were really tight, we had the same friends and we hung out together. We didn't grow apart until he started going out on the road touring. Tommy introduced me to James. He forced him to come out after a show so that he could introduce us. My brother knows me so well that he picked out my husband for me. We were married at Tommy's house, and to this day James tells Tommy that it's his fault we got married. It's funny how things work out.

Dave: Tommy was featured in a reality TV show called "Tommy Goes To College" and now he's doing "Rock Star-Supernova." Is there a reality show that you can picture yourself appearing on, "Fear Factor" or maybe one of the "Survivor" series?

ATHENA: No, I don't like those types of reality shows. I like comedies. I'd watch that type of show before I'd watch a big competition like "Survivor," or somebody eating a bug or lying in a vat full of snakes.

Dave: Last question about Tommy Lee, I promise. I'll tell you a funny story about him and you do the same.

Last year, I'm at a book signing where I purchased his new book and I'm waiting for Tommy to sign it. It's my turn, he looks up and smiles, probably because I'm wearing a Krunk t-shirt. As you know, I'm also a drumstick collector. I handed him one of his old drumsticks. I asked him to sign it, and write number one thousand on it, as my collection had just surpassed that total. Tommy says "no problem dude, how do you spell one thousand?" Trying to be funny, I say one-zero-zero-zero. He grins and says "you're fucking with me dog." Then he grabs me and puts me in a headlock, and his nose ring was digging into my eyelid. It hurt like hell, but I laughed as it happened, and I laughed the whole ride home. I was almost blinded by Tommy Lee's nose ring!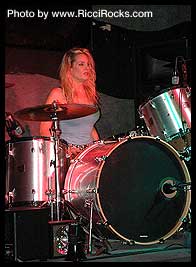 ATHENA: I'm like thirteen and Tommy came into my room. He was bored, and he had a can of hair spray and a lighter. He sprayed it all over the ceiling fan, and he lit it on fire. He made me turn off the lights and turn on the fan. Little pieces were falling off and starting tiny fires on my bed which we had to put out. My mother came in and thought we were smoking. I told her no, but there were like fifteen mini-fires throughout the room. Tommy thought he was screwed, but I took the blame. I told her the lamest story, that we were reading a satanic bible that Nikki Sixx had given Tommy, and that the fires just started everywhere. How stupid, right? My Mom believed it! She called the Greek church and had the priest come over to bless my bedroom and the rest of the house. Years later, over Thanksgiving dinner, we told her the truth and she was so pissed off that she believed that stupid story. I couldn't tell her when it first happened that Tommy almost set my room on fire. He would have been grounded for months. It was a stupid excuse, but we got away with it for years.

Dave: At this point in the interview, would you like to switch places and ask me a question or two?

ATHENA: Yeah. Who the fuck are you?

Dave: Is there one question that you've never been asked that you've always hoped an interviewer would ask? How would you answer that question?

ATHENA: Yes. Are my tits real? One is and one isn't.

Dave: If you could form a supergroup for one CD/tour, with musicians you've never played with, who would be the singer and the guitarists in your band?

ATHENA: I can't pick out individual musicians, that's too hard. I'll just be the drummer, playing with the rest of Earth, Wind and Fire.

Dave: What is the first album and the last CD that you purchased?

ATHENA: "Animal Magnetism" by The Scorpions. Tommy bought albums that he liked, giving them to me as presents, hoping that I wouldn't like them. He hoped that he'd get them back. The last CD I purchased was something by Matchbox Twenty.

Dave: What is the first concert and the last concert that you attended?

ATHENA: The first was Rainbow/Pat Travers and the last was this year for Motley Crue.

Dave: What new music artist has impressed you the most?

ATHENA: That Joss Stone chick can sing and so can Alicia Keys. I like people with talent.

Dave: You've struggled with your own health issues. What advice do you have for the sick and suffering?

ATHENA: Stay positive and stay away from negative thinking. That can be the difference between life and death. I saw that first-hand when I first started undergoing chemotherapy.

Dave: You've seen all of the rock and roll excesses first-hand. What advice would you give to parents whose children attend concerts and play in bands?

ATHENA: Know what your kids are doing at all times. That's hard, but I'm different, nothing can get by me. If I haven't seen it done, I did it myself. I know what to look for. Kids have to know that if they goof up, that their parents will find out, and make them pay the consequences. Kids with involved parents are not the ones turning out to be psychos.

Dave: Thanks again for agreeing to do this interview. Do you have any closing comments for music fans worldwide?

ATHENA: I'd like to thank people worldwide for their support and their love of my art form, music. Without you I wouldn't be me.

ARTIST BIOGRAPHY
Full Name: Athena Kottak
Website: www.kottak.net
Myspace page: www.myspace.com/kottak
www.myspace.com/athenakottak
Birthday: December 8
Birthplace: Covina, California
Former bands: Hardly Dangerous
Hobbies: writing children's stories
Favorite beverage: water
Favorite food: seafood, no red meat
Favorite Band: Earth, Wind and Fire
Favorite song: "September" by Earth, Wind and Fire
Favorite film: "Willy Wonka and the Chocolate Factory"